What Is 'Wynonna Earp' Creator's New Series 'Axeholes' About?
The spring and summer are often exciting times in the world of TV, when we hear about new series that are potentially headed for a pickup. Right now, one concept that is making headlines is that of Axeholes, which comes from Emily Andras, creator of the cult-favorite Wynonna Earp. Here's what we know about the new show. 
Emily Andras is the creator of Wynonna Earp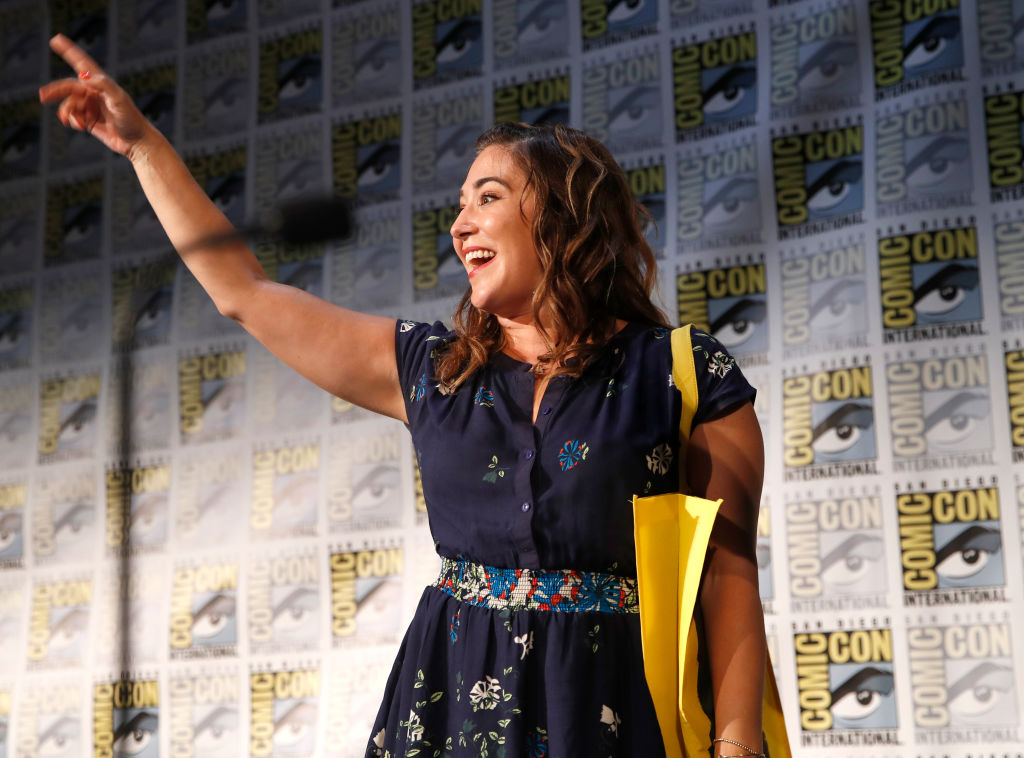 For those unfamiliar, Wynonna Earp is a Canadian series that airs on Syfy in the U.S. The show, which has aired for three series, follows the eponymous heroine, a descendant of outlaw Wyatt Earp, as she protects her hometown of Purgatory from the supernatural creatures that take up residence there.
At San Diego Comic-Con in 2019, Andras spoke about how the fantasy series' themes line up with the reality of our world today. "Not to get too political, I feel like there's a lot of people feeling like they're part of a resistance right now. And I think that's very indicative of what our show stands for," she said.
The creator has fought hard for the series
Wynonna Earp was renewed for a fourth season, but due to monetary issues with production company IDW Entertainment, it was put on hold for months. At Comic-Con, Andras thanked the fans and the show's cast, who fought for it the entire time.
"Look, when you are a creative person you hope against hope to make something that makes people feel like this and fight for it," she said. "There are so many incredible people involved with Wynonna Earp — first, this incredible cast. And they deserve all the love you have to give. So thank you so much, everybody."
Here's what you need to know about Axeholes
Now, Andras is working getting a new show, titles Axeholes, picked up for a series order. Axeholes, which she's working with Syfy to get off the ground, has a very meta concept — it's about a group of fans at a comic convention, which summarizes much of Wynonna Earp's fandom.
According to The Hollywood Reporter, these fans find themselves in "the worst role-playing game ever" — aka, the world of a fictional fantasy series Blue Bar'Bara. Then, "the unequipped party must learn to navigate a dangerous land of profanity-spewing battle axes, sociopathic fairies, disturbingly sensual dragons, and a chainmail-bikini-wearing shield maiden as they struggle to find a way back home."   
It will be on Syfy like Wynonna Earp
Andras has released a statement about the new project. "I am excited to take on a new adventure series that is an adoring, tongue-in-cheek love letter to fandom in general, and fierce barbarian princesses in particular," she said. "I am especially thrilled that it will allow me to continue working with Syfy, who have been endlessly supportive of the hilarious, moving, action-packed feminist genre shows I love to create for television."
Josh Van Houdt, a producer at Syfy who has championed Wynonna Earp, has also spoken about the potential series. "Emily Andras leads with a distinct voice and tremendous vision. Syfy is committed to Emily's brand of creative storytelling, and we are thrilled to continue our partnership with this project," he said.
Andras already has an actor she'd like to appear in the series
Though Axeholes isn't even in production yet, Andras is already excited about the prospect of one TV star making an appearance. After THR shared the news, Brooklyn Nine-Nine actress Stephanie Beatz retweeted the article, simply writing, "OMG OMG OMG" and tagging Andras.
The next day, Andras retweeted Beatz's own tweet, responding that she was "getting up the guts to ask" the star if she would portray the aforementioned shield maiden. At the time of publication, Beatz hadn't yet responded, but this is a collaboration that we all desperately need.