When Does 'Wynonna Earp' Season 4 Begin Filming? The Series Heads Into Production
It's tough out there for any TV show. With new streaming services like Disney+ churning out fresh content constantly, a series has to be scrappy in order to survive. Well, Wynonna Earp is 100% that show. Here's what we know about the supernatural program's upcoming fourth season.
'Wynonna Earp' has aired for three seasons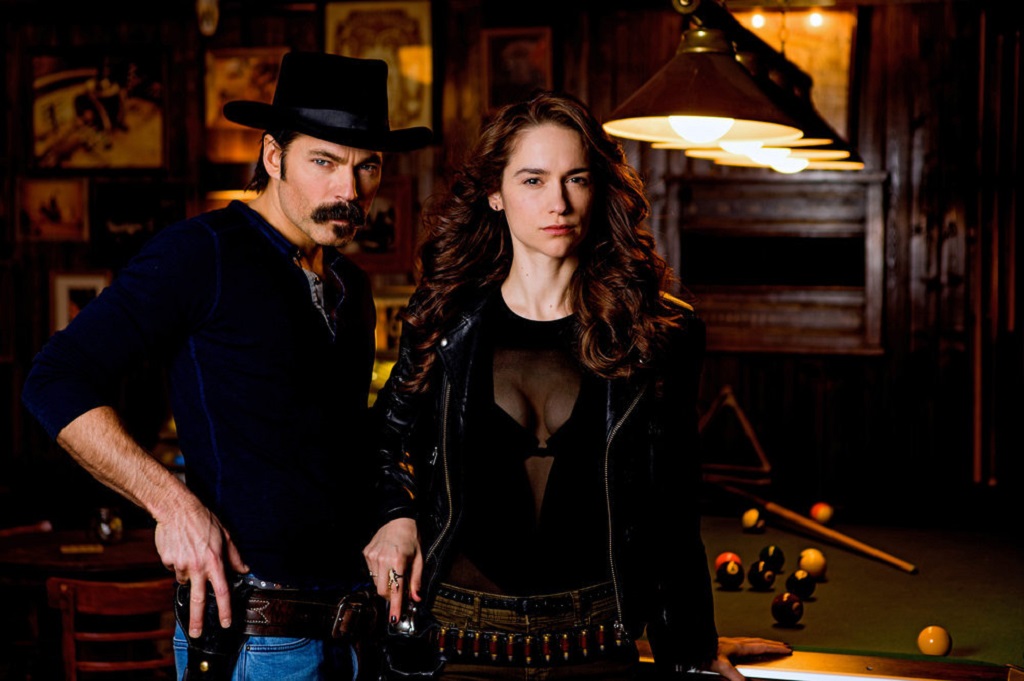 For those who aren't familiar, here's what you need to know. Wynonna Earp first began airing in 2016. The Canadian series, which airs on CTV Sci-Fi Channel there and Syfy (owned by NBCUniversal) in the U.S., is very unique. It follows the titular character as she returns to her hometown of Purgatory to fight off demons using the pistol of her long-deceased namesake, Wyatt Earp.
Based on the comic series of the same name, Wynonna Earp sees the heir take on her familial duties. She's assisted by her sister Waverly, a couple of local law enforcement officials, and a few others who join along the way, including Doc Holliday — yes, that Doc Holliday. Trust us, it's a wild ride.
Why has 'Wynonna Earp' Season 4 been delayed so much?
Season 3 of Wynonna Earp aired in 2018. The season came to a close in late September with a massive cliffhanger. As time passed, many viewers became worried that they hadn't heard about a Season 4 return date. When was it coming?
As it turns out, Season 4 was supposed to be in the works. The only problem was, there were financial difficulties at IDW Entertainment, the series' home studio. After a lot of work on the part of the fans and those directly involved, an agreement was reached. On July 2, 2019, it was announced that Wynonna Earp Season 4 was on its way.
Fans have rallied around the show
Wynonna Earp is, without a doubt, an unusual series. So it truly is the rallying cry of the fans that helped to get it back on the air. (All three seasons are currently on Netflix in the U.S., which also aids in it getting attention.)
After winning the People's Choice Award for Sci-Fi/Fantasy Show of 2018, Fans were more enthusiastic than ever before. It also helps that the cast, including Melanie Scrofano, Dominique Provost-Chalkley, Katherine Barrell, and Tim Rozon, are very active in promoting the show and attending fan events.
'Wynonna Earp' is back in session
It's taken some time, but finally, the cast of Wynonna Earp is together once again. Creator Emily Andras has shared a number of updates with fans over the past few months, indicating that they were gearing up to being production. And now, it looks like that time is here.
On Dec. 12, 2019, Andras shared a photo of herself with Scrofano on social media. The two appear to be on set at the homestead. Andras wrote, " We're back. We're still here. We're home. We're together. We're with you. We're ready. We're #Earp."
When does'Wynonna Earp' Season 4 premiere?
Now that they've begun filming, the question on every fan's mind is: When will we finally get to see Wynonna and the crew back in action? Well, it looks like we're going to have to wait a little while longer.
According to Deadline, Season 4 won't debut until Summer 2020. That means it will have been nearly two years since we've seen the fearless crew. But not to worry, we're sure that they'll pick up right where they left off in Season 3.