'X-Men' Lacked the Superpower to Be the No. 1 Movie of the Year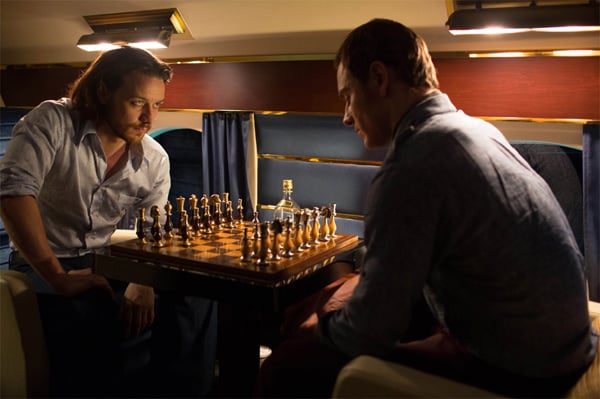 As predicted, X-Men: Days of Future Past came in number one at the box office over the long weekend, bringing in $110.5 million over four days, according to figures from Box Office Mojo. That figure beats estimates made before Memorial Day weekend from both the film's studio, 20th Century Fox, and industry analysts, both of which placed their guesses around $100 million.
When looking at three-day figures (Friday-Sunday) in order to compare it to other films from this year that weren't boosted by an additional day of ticket sales, the movie didn't do so well as some had been expecting. The biggest opening weekend of 2014 thus far was for a different Marvel franchise – The Avengers installment Captain America: The Winter Soldier made $95 million when it came out at the beginning of April, according to figures from Box Office Mojo. Days of Future Past came in behind that, making $90.8 million between May 23-25. That was an even lower figure than the disappointing opening of The Amazing Spider-Man 2, which came in just ahead with $91.6 million.
Days of Future Past benefited from the long weekend, a large cast of stars, and positive reviews, as well as the fact that audiences have remained interested in the mutant superheroes over the course of many films. The movie has a respectable 91 percent fresh rating among the critical reviews aggregated by Rotten Tomatoes. That's an impressive figure, especially for a comic book-based summer blockbuster. Critics are calling it the best movie of the entire franchise, mostly due to solid performances from the actors that pull audiences through an often convoluted plot.
Days of Future Past was not the biggest earner of the franchise, though. The third installment in the original trilogy, X-Men: The Last Stand, came out over Memorial Day weekend in 2006 and made $102.6 million over three days. Box Office Mojo also noted that while Days of Future Past out-earned X2: X-Men United and X-Men Origins: Wolverine, it didn't sell as many tickets as either of those films.
Coming in behind Days of Future Past was Godzilla, which had another strong weekend during its second week in theaters. Over three days the film made $30.9 million, and over the long weekend it made $38.4 million. That film also benefited from strong reviews and its monster movie material.
Adam Sandler's comedy Blended spectacularly bombed both critically and at the box office. The movie, which saw Sandler co-starring alongside Drew Barrymore, only made $14.2 million over three days, and $17.7 million over four, figures far behind Godzilla's. Blended, which focuses on a pair of single parents who hate each other but coincidentally end up on the same African vacation, has a paltry 14 percent rating on Rotten Tomatoes.
The New Yorker had a particularly snarky review of the film, saying: "It's packaged with such a repellent batch of stereotypes and prejudices that it's unpalatable even to contemplate." While the movie is meant to be a family oriented comedy — nothing anyone was expecting to be a work of genius — according to critics, if you don't want your children to absorb some backwards and offensive ideas about gender and race, it's best to steer clear of this film.
Movies set to premiere this coming weekend include Maleficent, which sees Angelina Jolie starring as the famed villain from Disney's classic princess movie Sleeping Beauty, and the Seth MacFarlane Western spoof A Million Ways to Die in the West, which features a large ensemble cast including Charlize Theron, Amanda Seyfried, and Liam Neeson.
More From Wall St. Cheat Sheet:
Follow Jacqueline on Twitter @Jacqui_WSCS