Yankees Great Derek Jeter: What is his Net Worth?
Derek Jeter became a household name in the 1990s when he first appeared on the New York Yankees roster. During his illustrious 20-year career, he amassed numerous baseball accolades and received praise for his leadership skills both on and off the field. In 2012 the then 38-year-old shortstop fractured his ankle. He battled back from the injury, but announced in February of 2014 that he would be retiring after the 2014 season. He embarked on a goodbye tour that traversed the country, with many teams paying homage to the baseball great.
Jeter walked away from the baseball diamond with a lifetime of memories, several championships and a ticket to the Baseball Hall of Fame in Cooperstown. He also walked away from the Yankee franchise with a lot of money.

What is Derek Jeter's net worth?

During his time on the Yankees Jeter signed multiple contracts with the franchise. In 2001 Jeter signed a 10-year contract worth $189 million, according to The New York Times. The contract, which was the second largest in MLB history at the time, took over a year of negotiations. In 2013 he signed a one-year deal for $12 million.
Throughout his 20-year career with the Yankees, the team captain earned $266 million on the field. He also amassed lucritive adversiting and sponsorship deals. Today Derek Jeter has a net worth of $185 million.

Derek Jeter becomes a team owner

After his exit from the baseball world, Jeter spent a significant amount of time away from the field. Jeter notoriously stated he had no desire to coach, even though many of his teammates have spoken fondly of his leadership abilities. In 2017, however, his hiatus in the baseball world ended when he, along with 16 investors, purchased the Miami Marlins for $1.2 billion.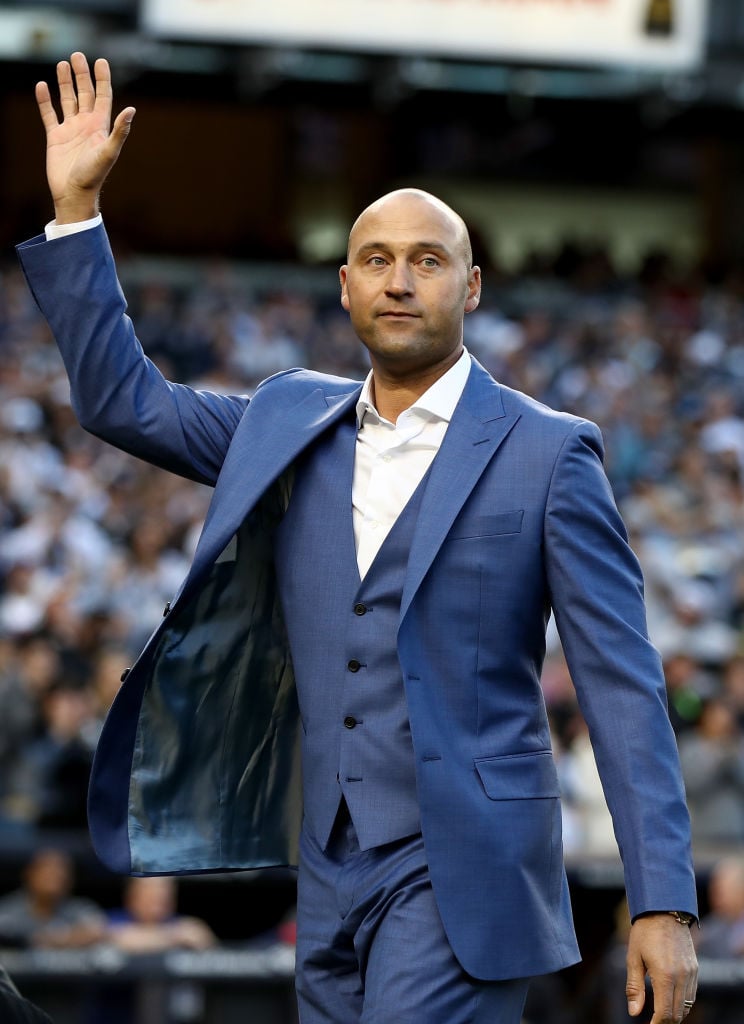 Jeter invested $25 million into the deal and currently serves as the team's CEO. Bruce Sherman, a New York-based businessman and Marlins' co-owner, oversees the teams operations and finances. To ensure all is running well with the team Jeter uprooted his family from their 32,000 square foot Tampa mansion to live full-time in Miami.

The Marlins have historically struggled to amass a winning team and have failed to lure fans into the ballpark. Jeter hopes to change that in his role as the team's CEO. He is working hard with the management team to create a farm system that produces great players in hopes of replicating the success he found in New York as a player.

Derek Jeter's legacy beyond baseball

Following his retirement, Jeter decided to try his hand at publishing. The baseball great is dynamic in his interests and wants to bring books about intriguing individuals to the world. Jeter Publishing, an imprint of Simon & Schuster, focuses on non-fiction adult books but also operates an arm that focuses on non-fiction titles geared towards children in the middle grades.

The imprint, now in its 6th year, has acquired the rights to books created by Comfort Cases founder, Rob Scheer. Scheer grew up in foster care and later became a foster father himself. He went on to start a foundation that ensures foster children have proper luggage for their belongings. He and his partner have gone on to adopt several of the children they have fostered.

The retired slugger also founded The Players' Tribune, a media platform that allows sports figures to interact directly with their fans. The Tribune was first launched in 2013. Jeter also remains active in the Turn 2 Foundation, a not-for-profit he founded in 1996. The foundation aims to help underprivileged youth make better life choices. The foundation focuses their work in areas that are close to Jeter's heart, including Michigan, New York City, and Tampa.
Read more: 10 of the Most Unfortgettable Moments in Derek Jeter's Career
Check out The Cheat Sheet on Facebook!