YG Explains Why He Honored Nipsey Hussle On Album '4REAL 4REAL' Cover
Rapper YG is releasing his fourth studio album, 4REAL 4REAL this Friday, May 24. He has already premiered singles including "Stop Snitching" and "Go Loko." He also released the album cover art. At the bottom of the cover, in cursive, it simply reads "In loving memory of Nipsey Hussle." In a BigBoy interview, YG explains why he honors his longtime friend on his album.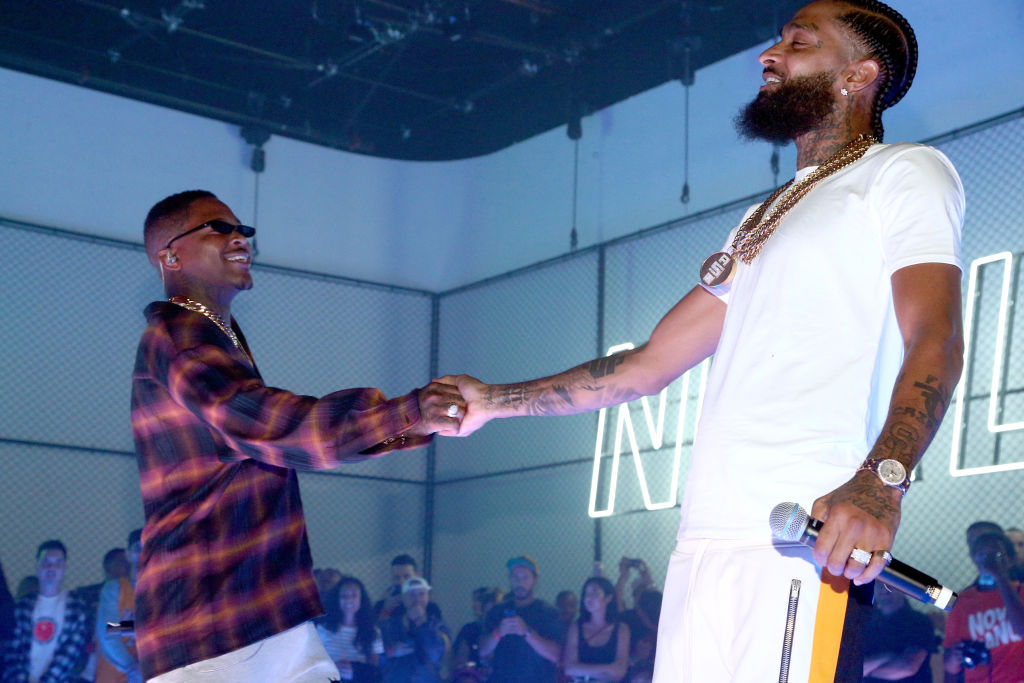 How '4REAL 4REAL' came together and what to expect

YG, real name Keenon Racks, and DJ Mustard have a well-documented history of working together. However, they had a falling out in 2015 over late payments for YG's first studio album, My Krazy Life. In the BigBoy interview, YG discusses the beef and says their relationship got stronger after that. Although they still argue over music, YG and DJ Mustard have joined forces again for this summer album.

The album title 4REAL 4REAL is a West Coast saying. YG says he wants all his music to represent Los Angeles culture. His previous album, Stay Dangerous, is also slang mostly spoken and heard on the West Coast. YG describes 4REAL 4REAL as "YG and Mustard vibes." He says it's gonna "sound like the city, with a little elevation" and has club hits as well as meaningful songs. YG claims the two most in-depth songs on the album are "Keisha had a Baby" and "Heart to Heart" featuring Meek Mill.

Why does YG honor Nipsey Hussle on '4REAL 4REAL' cover

Nipsey Hussle, real name Ermias Asghedom, was a rapper and community activist from Los Angeles. A man shot and killed Nipsey in front of his store on March 31, 2019. YG was going to drop a surprise album the Friday before his Coachella set, on April 12. While YG did perform a new single at Coachella, he decided to push the album back. He claims he could not promote the album with Nipsey's death fresh on his mind. Although, YG admits he still thinks about him every day.

YG felt like the music on the album does not represent his city after losing Nipsey. However, he already made the songs and turned it in before Nipsey's untimely passing. YG put Nipsey's name on the cover because he will be giving Nipsey's children a percentage of each song. Therefore, by the time they turn 18, they'll have "a bag," or a lot of money, from YG.

In the BigBoy interview, YG remembers first meeting Nipsey at a studio around 2009. They kept seeing each other around the city, and Nipsey became an older brother figure for YG. He recalls their long and frequent talks about building a brand that lasts long after them.

YG also recalls the day he found out about Nipsey's untimely passing. He says he was at DJ Mustard's house watching a college basketball game. Then, his girlfriend's friend, Jay, called him and told him what happened. YG says he and DJ Mustard immediately left the house to go to the hospital. However, he passed before they were able to get there.

"I have a big question mark on life right now, you know what I'm saying? Nipsey was talking about it, and then the past year or two, we've been seeing him doing community work and a whole lotta other business ventures that aren't regular. That aren't typical for a young black rapper that is from the gang culture, from the streets. How do God take somebody like that away from the people? I don't get it."


YG speaking about Nipsey Hussle's passing