You Can Thank Spider-Man For Kevin Feige's Upcoming 'Star Wars' Movie
Two of the biggest franchises at the moment are Marvel and Star Wars. Both are ending major eras this year; the MCU's Avengers: Endgame and Star Wars: Episode IX — The Rise of Skywalker. But even though the Skywalker saga is coming to a close, there are plans to make more movies and shows within that universe that don't necessarily deal with the characters from the three trilogies of movies. The Mandalorian and Rogue One are examples of this model Star Wars will be aiming for down the line.
Because Marvel is such a major franchise, a lot of people were excited to hear that Marvel president Kevin Feige was developing a Star Wars movie. Now, the president of Lucasfilm explained why Feige got involved.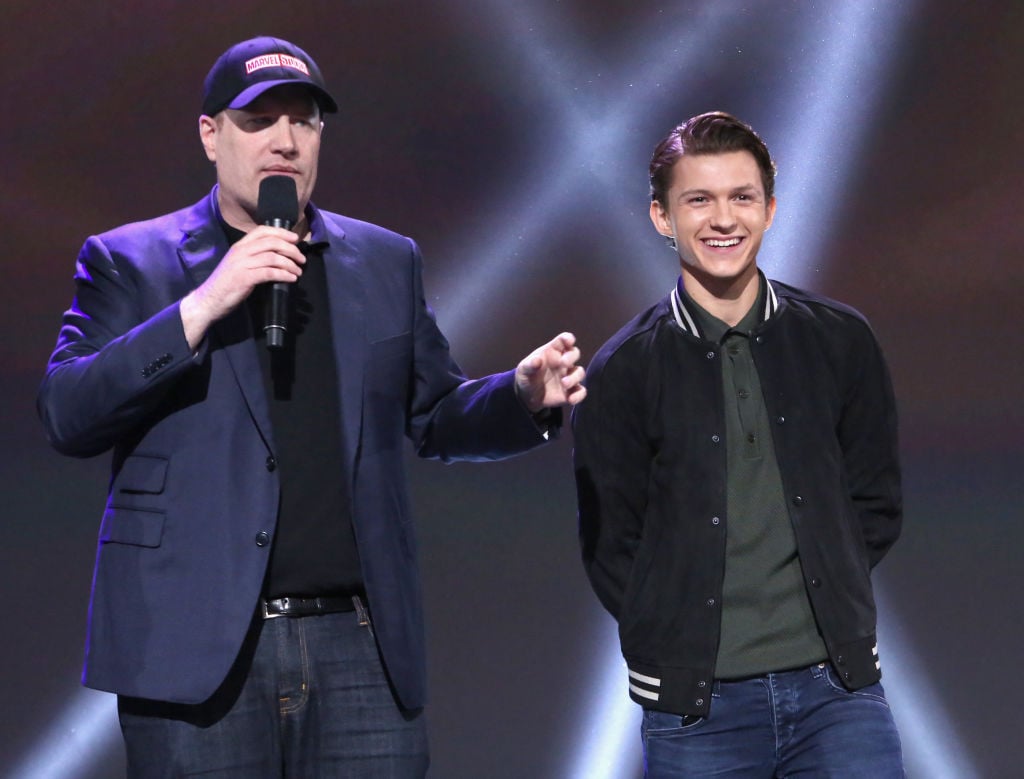 Kevin Feige's work on Spider-Man opened his eyes to working elsewhere
On Sept. 25, The Hollywood Reporter broke the news that Feige would dive into the Star Wars universe. Now, in an interview with Rolling Stone, Kathleen Kennedy is sharing more on how Feige came to that decision. "Kevin has been a huge fan of Star Wars, and he's made that pretty clear," the president of Lucasfilm said on Nov. 19. "And I think when he went off to do a couple of the Spider-Man movies, he realized that he could kind of step in and out of what he's doing specifically with just Marvel."
Marvel made two Spider-Man films with Sony in a deal that allowed Tom Holland's Peter Parker to be included in the MCU. Even though those negotiations almost had an abrupt end, Spidey will stay in the MCU for a little bit longer. "He talked to us, and he talked to the studio and said, 'You know, is there any chance I could step in and do one of the Star Wars movies?'" Kennedy continued. "And I thought it was a pretty cool idea."
The future of 'Star Wars' is still in the planning process
Considering Bob Iger, Disney CEO, said there will a sort of hiatus with Star Wars films after The Rise of Skywalker, Kennedy also confirmed that future films are "a ways off." But they have ideas. "I think whatever this next movie is, and how it begins to define a new way forward, it's something we want to take plenty of time and plenty of conversation and careful thought before deciding exactly what we're going to do," she told Rolling Stone.
They haven't decided on the next 'Star Wars' movie yet
Even though they're in the middle planning the future of the franchise, and Feige is thinking of various plot points and characters, there aren't any decisions on where they're going next. "We've got various things we're looking at and various ways in which we can begin or not… Do you go back? Do you go forward? All those questions are being asked. Do we stay in this galaxy? Do we go to another? The universe is never-ending. The good news and the bad news. They have endless possibilities. It's liberating, it's exciting, and it creates a lot of pressure and anxiety as well."
But, of course, there are already rumors. THR reported that Feige has a Marvel actor already in mind for his film, with other rumors going so far as to link Brie Larson to it. Nothing is official yet, and won't be for a while. But judging at how much admiration fans have for Marvel, Feige's Star Wars film will do just fine.