You Won't Be Able to Look Away From These Insane Celebrity Tattoos
Celebrities do crazy things sometimes and that includes getting strange tattoos. Some stars have told stories in the past about how a drunken night or losing a bet led to an odd ink choice and some equally odd placement. Others got tats that are symbolic or artwork they really wanted to have displayed on their body.
From cartoons getting it on to another celeb's face inked on them, we've compiled a list of some of the most insane celebrity tattoos, whether they love to show them off or have come to regret them.
1. Angelina Jolie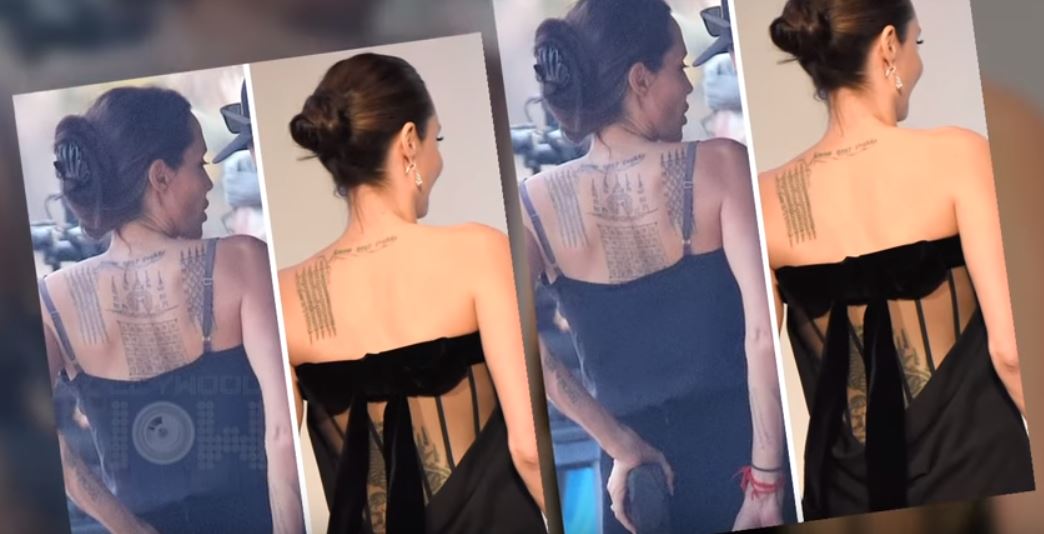 Angelina Jolie has multiple tats on her body, but it's her massive back tattoos done by former Thai monk Ajarn Noo Kanpai that made headlines when she showed them off at a movie premiere in 2017.
Jolie's three large tats were reportedly applied with steel rods and a surgical needle, a process said to be painful. Something that could have been even more painful though is that the ink was supposed to "symbolically bind" the actress and Brad Pitt as husband and wife for the rest of their lives. But, as we know, Jolie filed for divorce in 2016.
Next: The "garish tattoos"
2. Ben Affleck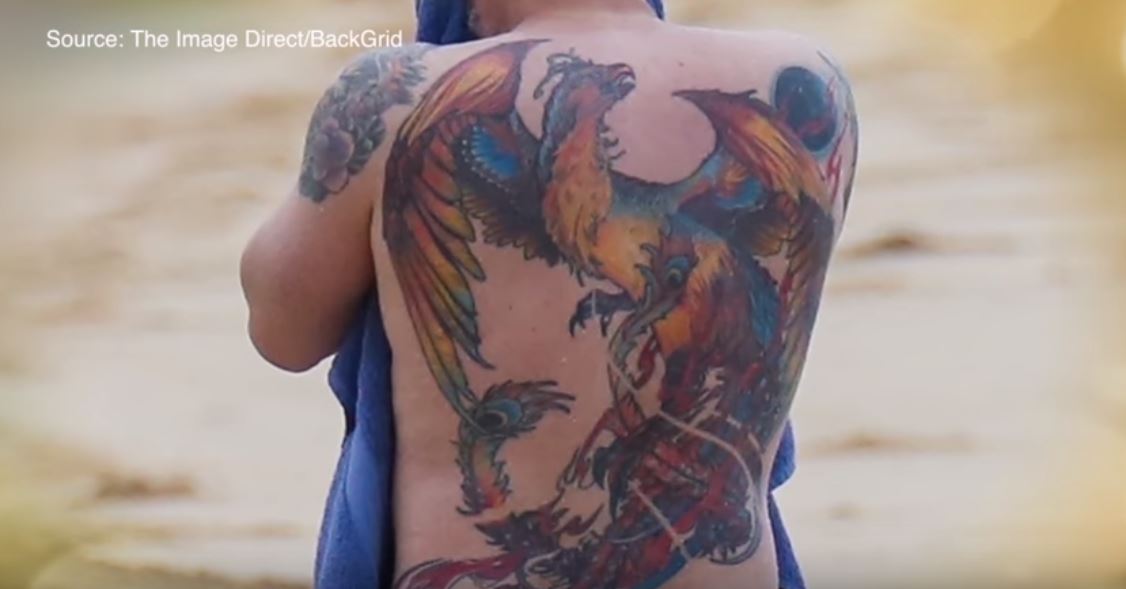 Ben Affleck's gigantic back tattoos have made plenty of headlines over the years and not everyone is a fan of them. When asked about his ink on Watch What Happens Live with Andy Cohen, the actor's ex-fiancée, Jennifer Lopez, said they're "awful," adding that "his tattoos always have too many colors. They shouldn't be so colorful."
Then, in March 2018, The New Yorker magazine mocked the actor's tats calling them "garish" while body shaming him. Affleck responded to the publication's criticism via Twitter writing, "@NewYorker I'm doing just fine. Thick skin bolstered by garish tattoos."
Next: Nothing compares to this singer's face tattoos.
3. Sinéad O'Connor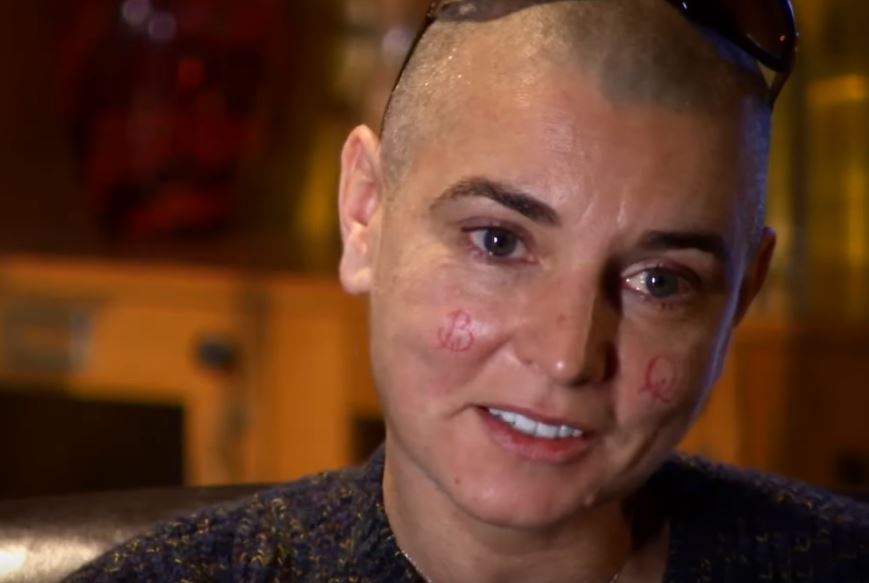 People have debated about whether or not it's a good idea to get someone's name tattooed on them, but many can agree that it's probably a bad idea to display that dedication on their face. "Nothing Compares 2 U" songbird Sinéad O'Connor proved that when she got the initials of a boyfriend tattooed on each of her cheeks in 2013 before they ended their brief relationship.
The star later admitted how much she regretted the ink describing it as "stupid s**t on my face" and eventually had the tats lasered off.
Next: This actor did his ink himself. 
4. Ryan Gosling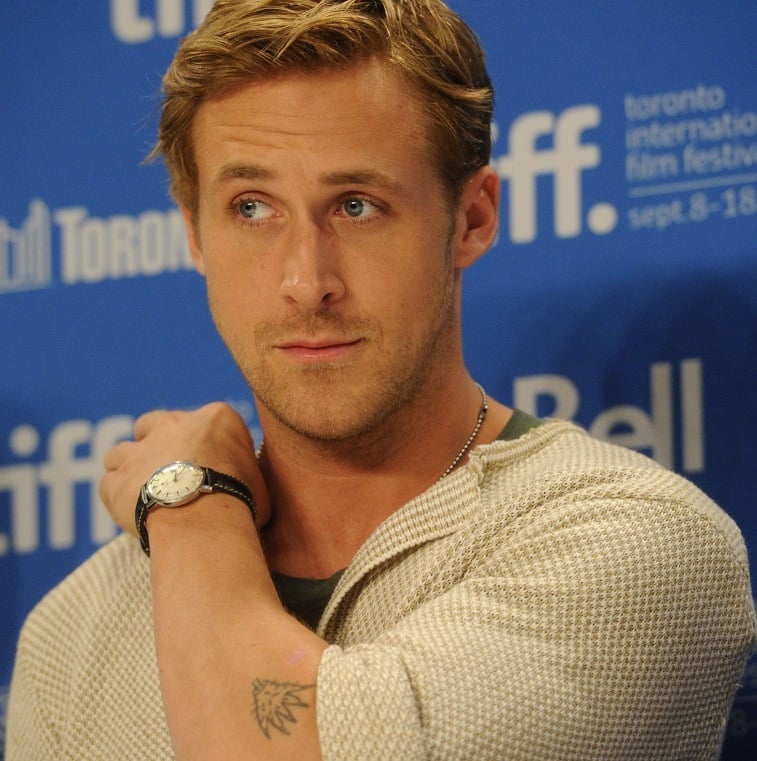 Ryan Gosling has a tattoo that resembles something other than what it's supposed to be. "One of my tattoos is supposed to be a monster's hand dropping a bloody heart but I did it myself with a tattoo kit so it looks like a cactus," he said.
It's safe to say that the Academy Award-nominated actor probably won't be pursuing a career as a tattoo artist in the future.
Next: This star got a tattoo of Ryan Gosling. 
5. Ryan Cabrera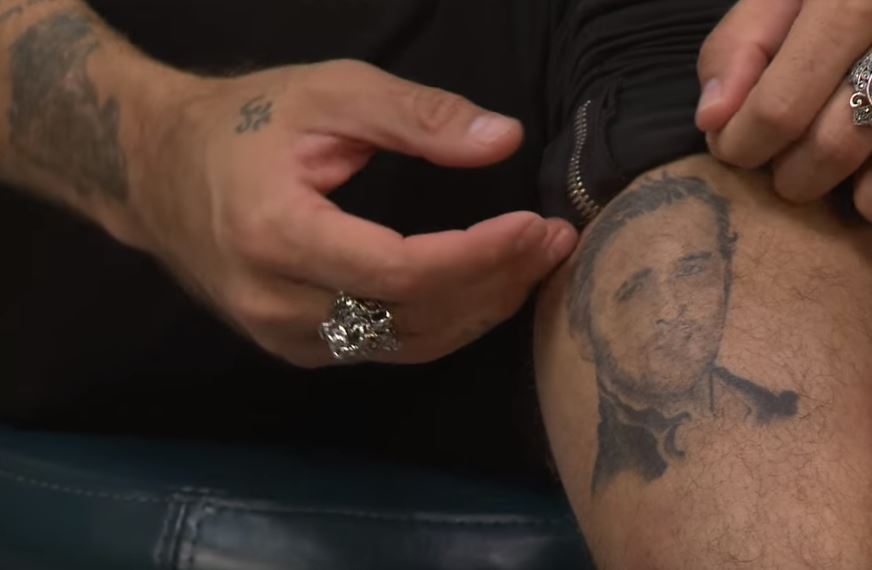 Musician Ryan Cabrera has a tattoo of Ryan Gosling. Yes, you read that correctly. Cabrera's reasoning behind getting the ink of the La La Land star's face on his leg is all thanks to "Tattoo Roulette," which is a game he and his buddies like to play.
The way it works is one friend gets blindfolded and has to get a tattoo of anything another friend chooses, but the blindfold never comes off and they don't find out what it is until after it's completed.
Next: This artist really wanted to remember her Rolling Stone interview. 
6. Miley Cyrus
Miley Cyrus has lots of tattoos, and in 2013, she got the words of a famous magazine inked on the soles of her feet to commemorate her cover story with Rolling Stone.
She had the word "Rolling" tatted on the bottom of her right foot and "$tone" with a "$" symbol in place of the "S" on the bottom of her left foot.
Next: Her brother also has an insane amount of ink. 
7. Trace Cyrus
For all Miley's tats in strange places, they're nothing compared to the head to toe ink on her older brother, Trace.
Face tattoos, neck tattoos, leg tattoos, you name it —  pretty much all of Trace's body is covered so it would be impossible to point out just one or two that are eye-catching.
Next: A prankster got this ink of himself to make others laugh. 
8. Steve-O
Several years ago Jackass prankster Steve-O got an enormous tattoo on his back of … himself. The tattoo is of him smiling and giving the thumbs up with the words "Yeah dude, I rock" and his signature over his hands.
Steve-O said he actually got the crazy ink in hopes that other people would find it humorous. "I never get a tattoo unless I know it will make somebody smile," he said.
Next: This model made her favorite food a permanent part of her body. 
9. Cara Delevingne
Like many of us, Cara Delevingne loves bacon, but most of us wouldn't choose to get the word of our favorite snack tattooed on our feet like the model did. In 2014, Delevingne shared her tat, which also has an ellipsis, on Instagram.
She was later asked about its meaning during an appearance on Jimmy Kimmel Live! "It's bacon colored — it's maroon, also. The 'dot, dot, dot' — it's an open-ended statement, it's not a question. It's just however you want to take it," she said.
Next: Some artists have tattoos in their mouths. 
10. Kesha
In 2012, Kesha shared her new ink on the inside of her lower lip via social media. The "Die Young" artist posted a pic of the words "SUCK IT" tatted on her inner bottom lip.
The photo also showed off some expensive dental work the singer had done — a single gold tooth.
Next: This reality TV star also got ink inside her mouth. 
11. Kendall Jenner
Kesha isn't the only celeb to have gotten the inside of her mouth inked. Model and reality TV star Kendall Jenner also has a tattoo in the same spot.
In 2018, during an appearance on The Ellen DeGeneres Show, Jenner revealed that she got the tat, which spells "Meow," when she was intoxicated. "I was drunk! I was not thinking clearly," she said. "It was literally the first thing that came to my mind. I don't know. Just like, my drunk thoughts."
Next: We all like ice cream, but …
12. Gucci Mane
Gucci Mane has a few tattoos on his face, but the one he got in 2011 of an ice cream cone is the most eye- catching.The tat on his right cheek is three scoops of ice cream with the word "Brrrr" on it and red lightning bolts shooting out of the top of the design.
There is a meaning behind the rapper's choice to get an image of the sweet treat permanently inked on his face though. His spokesperson said that the tat is "a reminder to fans of how he chooses to live his life. Cool as ice. As in 'I'm so icy, I'll make ya say Brr.'"
Next: This rapper is the king of face tattoos. 
13. Lil Wayne
When it comes to face tattoos, Lil Wayne is the king. The "Mr. Carter" artist has a "C" for his mother's initials between his eyes, "Misunderstood," "Tune," and "Lucky Me" on his cheek and the words "I AM MUSIC" in caps above his eyebrow to name a few.
Not to be outdone by Kesha or Jenner, Weezy has a tattoo on the inside of his lip as well that's of a smiley face. He also has a flower inked on the inside of his ear and the words "Fear" and "God" tattooed on each one of his eyelids.
Next: Jolie's ex has plenty of tattoos as well.
14. Brad Pitt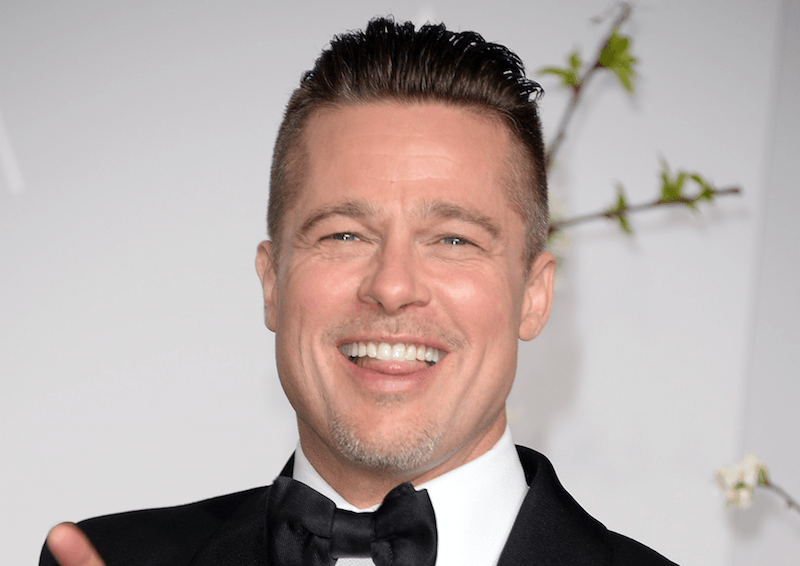 Brad Pitt has quite a few tattoos, but when he was first spotted with a collection of lines on his back, no one was really sure what to make of it. There were several theories, however, about what the linear pattern could be ranging from a New Orleans levee system to roads he traveled to architectural drawings.
All of that speculation was put to rest though in 2008 when Jolie admitted that she just fooling around and doodled the lines on him. Pitt liked her design so much though that he decided to get the sketch inked on his body permanently.
Next: This entertainer has a tat of Disney characters behaving badly. 
15. Janet Jackson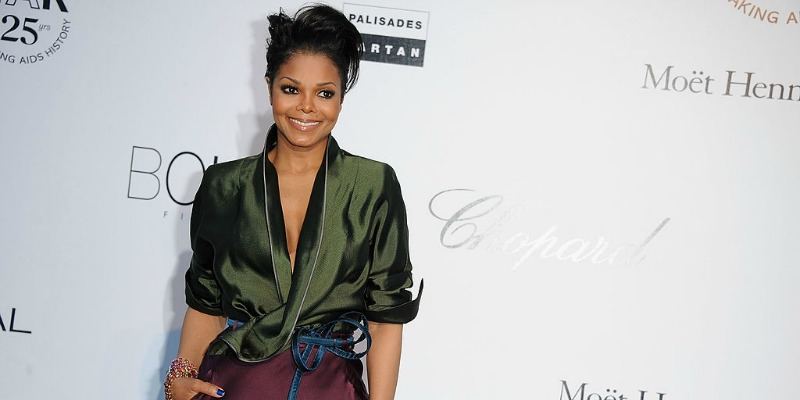 Janet Jackson has a tattoo that would make most people blush. The singer has a tat of the beloved childhood characters Mickey and Minnie Mouse engaged in some adult behavior.
"I have a tattoo on my most private part of Mickey and Minnie Mouse involved in a sexual act. It's my sense of humor," Jackson said about her ink.
Follow Michelle Kapusta on Twitter @philamichelle.
Read more: Why So Serious? Celebrities Who Never Smile on the Red Carpet
Follow The Cheat Sheet on Facebook!