You Won't Believe How Much Apple Is Paying Jennifer Aniston for 'The Morning Show'
Apple made waves on March 25 when it unveiled Apple TV Plus, its new subscription service for original Apple content. While the announcement left many with more questions than answers — the company didn't reveal anything about pricing and didn't specify a launch date, only saying that the service would launch sometime in fall 2019 — the star-studded presentation did offer a glimpse at the kind of programming viewers can expect.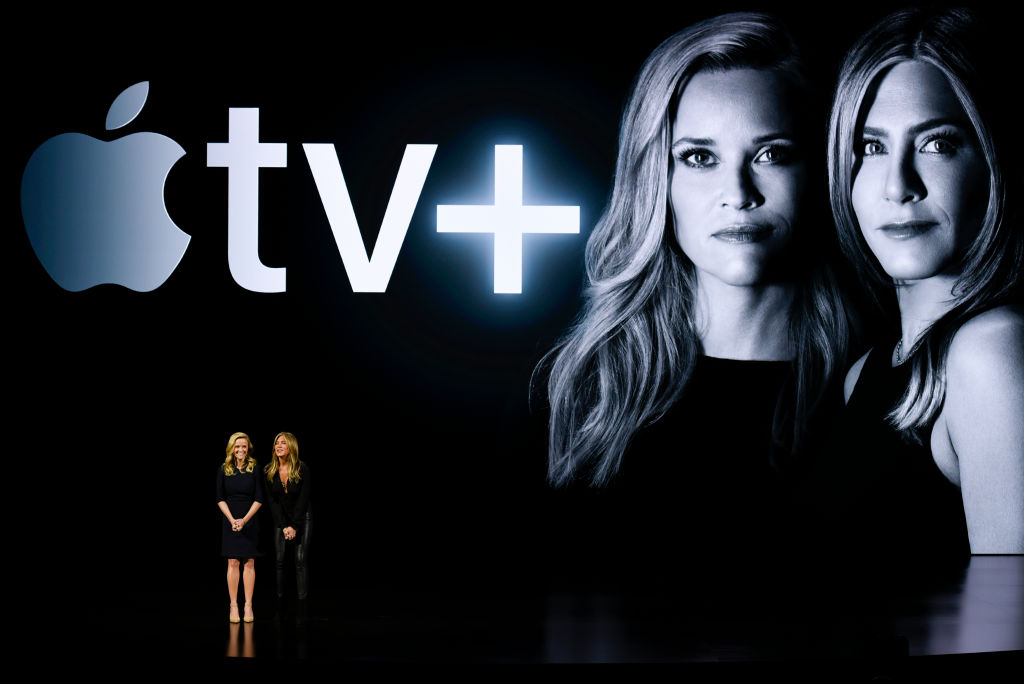 The tech giant has rounded up some big names for its originals, many of whom were on hand for the launch event at the company's headquarters. Oprah will bring her famed book club to the streaming service, along with two documentaries. Jason Momoa and Alfre Woodard promoted their new series See, a show about a future where everyone is blind. Even Big Bird was there to talk about a new show that will teach kids to code.

And then there were Jennifer Aniston, Reese Witherspoon, and Steve Carrell, who showed up to support their new drama The Morning Show.

Aniston's return to TV

The Morning Show is a drama about the people who produce a daily morning TV show in the vein of Good Morning America or Today. In addition to Aniston, Witherspoon, and Carrell, it also stars Gugu Mbatha-Raw, Billy Crudup, and Mark Duplass.  

"In The Morning Show, we pull back the curtain on the power dynamics between men and women in the high-stakes world of morning news shows," Witherspoon said at the Apple TV Plus event.
"Through the prism of those under-slept, over-adrenalized people in front of and behind the camera, we take an honest look at the complex relationships between women and men in the workplace, and we engage in the conversation people are a little too afraid to have unless they're behind closed doors," Aniston said
The show marks the first time that Aniston has returned to TV in a recurring role since Friends ended in 2004.
Apple is paying Aniston more than $1 million per episode
Getting Aniston to come back to television didn't come cheap. Apple is paying her $1.1 million per episode of The Morning Show, according to Variety. Witherspoon is earning the same. Apple has ordered two, 10-episode seasons of the show, so Aniston and Witherspoon will both earn more than $20 million. The pair are also executive producers on the show, which means they stand to earn even more. Carrell is earning $600,000 per episode.
Overall, Apple has sunk more than $1 billion into its slate of shows for Apple TV Plus in the last year, according to the New York Times.
What other shows will be on Apple TV Plus?
In addition to The Morning Show, here are some of the other shows that are coming to Apple TV Plus:
Amazing Stories: Steven Spielberg will reboot the classic anthology show
Little Voice: J.J. Abrams and Sara Bareilles are executive producers of this comedy/drama about "the universal journey of finding your authentic voice in your early 20s."
For All Mankind: A drama that looks at what might have happened if the global space race had never ended.
Home Before Dark: A drama inspired by real-life pre-teen journalist Hilde Lysiak.
Dickinson: A period comedy about the early life of Emily Dickinson, starring Hailee Steinfeld as the famous poet.
Check out The Cheat Sheet on Facebook!