You Won't Believe This Surprising Actor Is the King of Christmas Movies
The holiday season is full of traditions. Every year, families get ready to decorate their Christmas trees, open presents, and of course, watch their favorite Christmas movies. However, that last one is particularly subjective, as different people consider different films to be must-watch holiday viewing.
Some fans will revisit the entire The Lord of the Rings or Harry Potter series as part of their annual festivitie. Others will embrace less traditional holiday fare like Die Hard, Gremlins, or any film written by Shane Black — whose films are often set during the season — as their go-to Christmas movies.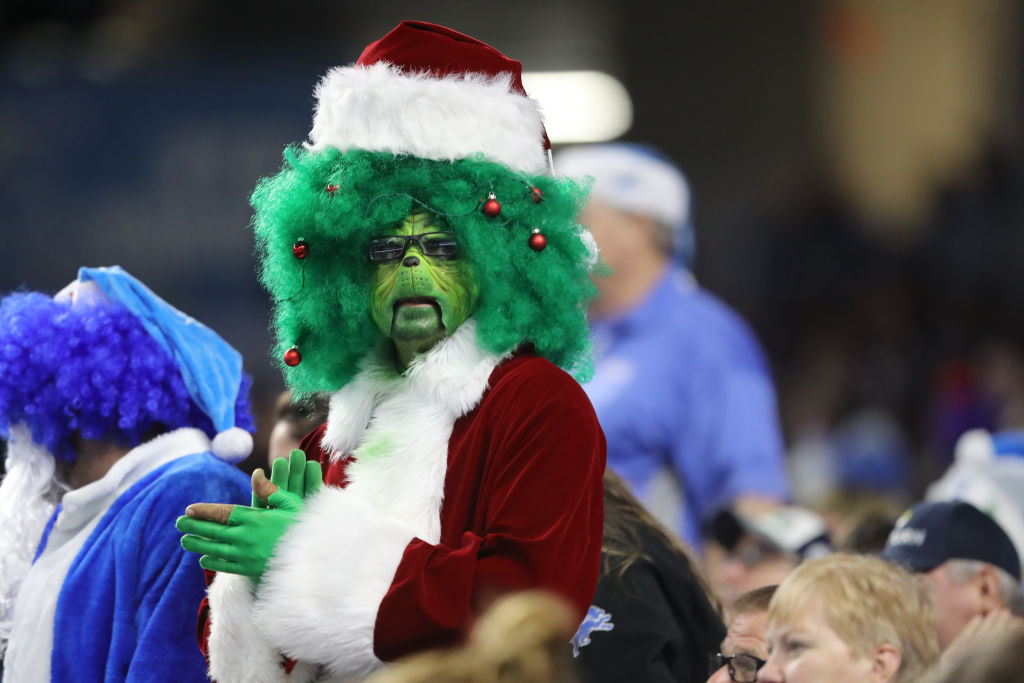 The most successful Christmas movies ever
Some people love to take in as many Christmas movies as possible during the holidays. After all, Hallmark is counting on this core yuletide audience. Yet, when it comes to theatrical releases, holiday films aren't nearly as successful as you might think.
All in all, only 11 feature films have brought in more than $100 million at the domestic box office. Modern holiday classics like The Polar Express ($183 million) and Elf ($173 million) are up there, as are 2009's Jim Carrey-led A Christmas Carol ($138 million), Four Christmases ($120 million), and Daddy's Home 2 ($104 million). But let's get to the holiday heavy hitters.
Dr. Seuss' green-skinned curmudgeon The Grinch takes up two slots on the list. Both the 2018 animated version ($270 million) and the live-action 2000 film ($260 million) — also starring Carrey — were box office champs. And Disney's The Santa Clause trilogy took flight with a combined $369 million. Yet, neither the Grinch nor Tim Allen earns the title of Christmas king.
Macaulay Culkin rules the holiday season
That distinction belongs to a former child star named Macaulay Culkin. Of course, 1990's Home Alone and 1992's Home Alone 2: Lost in New York have endured as holiday classics since their respective releases. But they're also two of the most financially successful Christmas movies ever.
The original Home Alone earned $286 million back in 1990, easily making it the biggest Christmas movie ever made to this day. In fact, for a long while, the Chris Columbus-directed film was one of the highest-grossing films of all time. Add the sequel's $174 million to that total, and the first two Home Alone films — we'll ignore the Culkin-less follow-ups — make the actor the undisputed big-screen ruler of the holiday season.
Even though Culkin might not be a movie star anymore, he still has kept busy on a number of different projects. Remarkably, he first played the resourceful Kevin McCallister nearly three decades ago. But Home Alone remains just as beloved today as ever.
Disney is making a new 'Home Alone'
Now that Disney has acquired Fox — the studio behind the Home Alone franchise — the original three films are now available to stream on Disney+. Of course, the family-friendly series fits in well alongside Disney's own live-action offerings. But there's more to Home Alone's inclusion on Disney+ than meets the eye.
Like so many other beloved properties, Home Alone is headed for a reboot. The film, Variety reports, will star Jojo Rabbit breakout Archie Yates and be produced exclusively for Disney+. Unbreakable Kimmy Schmidt star Ellie Kemper and Catastrophe star Rob Delaney will co-star alongside Yates.
We don't know exactly when the film will be released, but longtime fans can rest easy that Yates will not be playing Kevin McCallister. Instead, the new Home Alone will introduce an entirely new character. The last time the franchise tried this — in 1997's Home Alone 3 — it didn't go so well. But we'll see if director Dan Mazer can successfully resurrect the fan-favorite series.