You Won't Believe Where Eva Mendes Gets Her Hair Cut
Eva Mendes might be a Hollywood star, but that doesn't mean she doesn't still love a good bargain. The We Own The Night star has been hitting the talk show scene lately, appearing most recently on The Kelly Clarkson Show. To keep herself camera-ready, Mendes loves a good haircut, and she sees no issue with stopping by a Supercuts to get it done.
What is Supercuts?
Supercuts is a hair salon franchise with over 2,400 locations spread across the United States. The franchise's claim to fame is affordable, no-frills hair cutting services. Sure, they'll shampoo your hair, give you the cut you desire, style it and send you out the door, but that's about it. Unlike high-end salons, you won't be getting your scalp massaged, you won't be offered the beverage of your choice, and you certainly won't be pampered over. The business' model is simple; cut as many heads of hair as possible.
That doesn't mean you can't get a good cut. One writer for Town and Country bit the bullet and put Supercuts to the ultimate test by comparing a haircut from the franchise to a haircut from a high-end salon. He went for a full day of pampering at a Manhattan-based salon first. At the tune of $350, he was pampered and walked out the door with a good haircut. Weeks later, he took the plunge and ventured into a Supercuts. There he signed in, got a quick shampoo and a haircut, and walked out the door reasonably satisfied for a grand total of $23. He alleges both cuts were good enough to pass the test, but Supercut's price point means he'd probably be back.
The chain offers services for both men and women, and a variety of options are available. Full cuts, as well as wash and blow-dry services, are all on the menu. Mendes noted she sometimes stops into the chain for quick styling, too.
Eva Mendes continues to prove she's incredibly relatable
Mendes has a strong social media following. In fact, much of her interactions with fans happen directly on Instagram. The reason why her social media profiles are so popular is simple. Mendes is nothing if not relatable.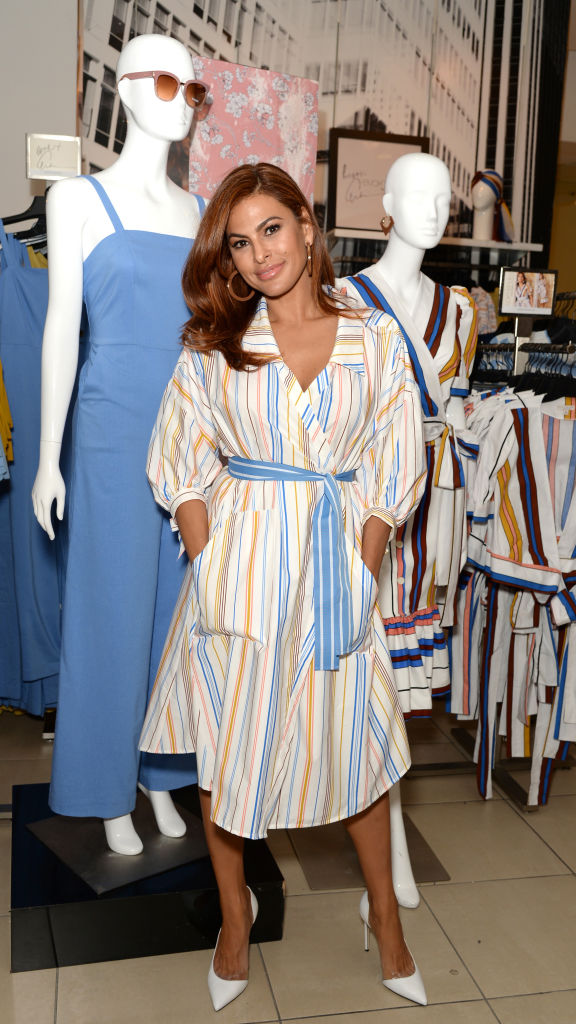 The starlet, who shares two children with her partner, Ryan Gosling, has always been a bargain shopper. According to Parade, the mother of two boasted about her first-ever red carpet dress in a surprising way. Mendes didn't chirp on about being styled by someone famous; instead, she let everyone know she scored her gown at a thrift store for a whopping $6. She didn't bother with getting her hair and makeup done by a professional, either. She glammed herself up at home.
Between her thrift store boasts, and cost-cutting snapshots, Mendes shares her life with her fans humbly and adorably. Scrolling through Mendes' feed, she feels more like a local friend than a Hollywood star, and that's part of her appeal. She even responds to comments on a semi-regular basis.
What has Eva Mendes been up to lately?  
Mendes stepped out of the spotlight in 2014 after the birth of her first child. She told Today that she primarily enjoys being at home with her daughters, and doesn't have any concrete plans to return to the screen anytime soon. She noted that her kids are still so young. Esmarelda, the couple's first child, was born in 2014. Amada joined the family in 2016.
Instead of hanging out on movie sets, Mendes spends her days with her daughters and designing her fashion line for New York & Company. She's stepped back into Hollywood in some capacity more recently and has appeared on a string of talk shows. Fans don't need to see Mendes in movies to keep up with her, though. That is what her social media profiles are for!