You Won't See Kendall Jenner — or Any Angel — Walk In the Victoria's Secret Fashion Show This Year
There won't be any angels on the catwalk this year. Victoria's Secret parent company L Brands has pulled the plug on the store's famous fashion show. 
That means Kendall Jenner, Gigi Hadid, Adriana Lima, Stella Maxwell, and the other Victoria's Secret models won't be strutting their stuff on the runway in 2019. It's the first time since 2001 that the lingerie chain won't have a televised fashion show. 
Ratings for the Victoria's Secret Fashion Show have plummeted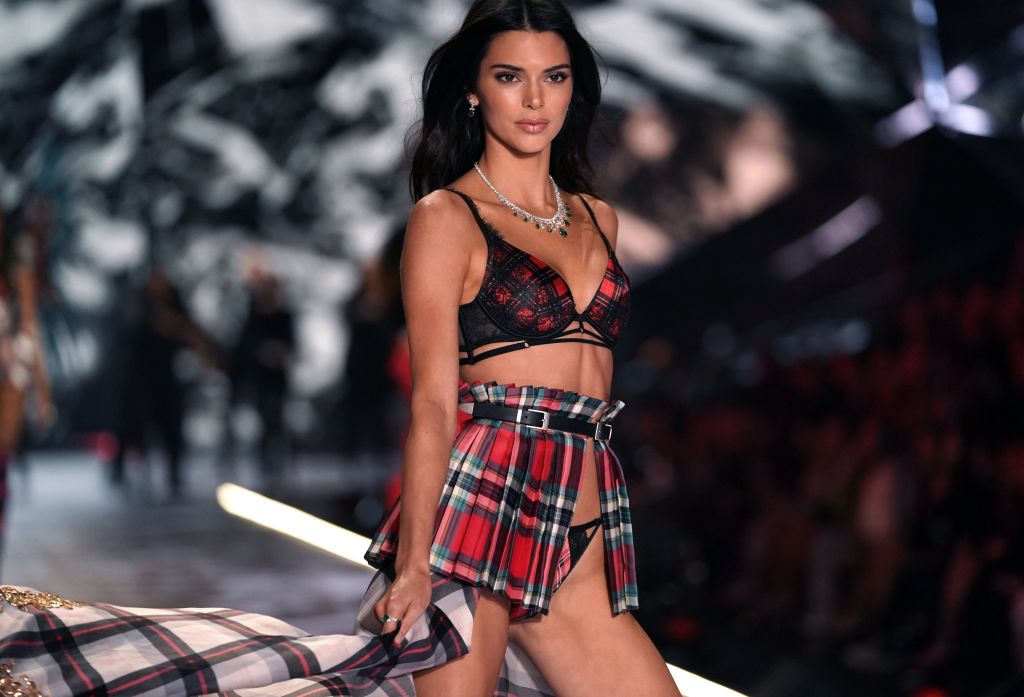 Plummeting ratings and controversy are behind the cancellation of the Victoria's Secret Fashion Show. 
In 2018, only 3.27 million people tuned in to the December broadcast, a historic low. At its peak in 2001, more than 12 million people watched the show. As recently as 2013, it had a television audience of more than 9 million.
The show, which critics say objectifies women and promotes a narrow idea of beauty, seems out-of-step with the current cultural moment. Comments about transgender models from former chief marketing officer Edward Razek in a 2018 interview with Vogue didn't help. 
"It's like, why doesn't your show do this? Shouldn't you have transsexuals in the show? No. No, I don't think we should. Well, why not? Because the show is a fantasy," Razek said.  
Razek also said that Victoria's secret had tried doing a TV special with plus-size models in 2000 but "no one had any interest in it, still don't." 
Victoria's Secret is rebranding 
The cancellation of this year's Victoria's Secret Fashion Show is no surprise to those following the chain's fortunes. The company had already said in May that if there was a show in 2019, it wouldn't be broadcast on network television. In August, model Shanina Shaik let it slip that the whole event had been called off. 
L Brands confirmed the cancellation in its third-quarter earnings call on November 21. Chief financial officer Stuart Burgdoerfer said the company was looking at ways to reposition the Victoria's Secret brand. 
"[W]e'll be communicating to customers, but nothing that I would say is similar in magnitude to the fashion show," he said.
"We are taking a fresh look at every aspect of our business – from merchandising, marketing and brand positioning, to our real estate portfolio, digital business and cost structure," the company said in a May statement.
Karlie Kloss and Erin Heatherton have criticized the show 
Many models have had positive things to say about walking in the Victoria's Secret Fashion Show. But some have criticized the brand.
Erin Heatherton has said the pressure to lose weight for the show was intense. "My last two Victoria's Secret shows, I was told I had to lose weight," she told Time in 2016. "I was really depressed because I was working so hard and I felt like my body was resisting me," she recalled. "I realized I couldn't go out into the world — parading my body and myself in front of all these women who look up to me — and tell them that this is easy and simple and everyone can do this."
Model Karlie Kloss stopped working with Victoria's Secret after she had a feminist awakening, she told British Vogue.
"The reason I decided to stop working with Victoria's Secret was I didn't feel it was an image that was truly reflective of who I am and the kind of message I want to send to young women around the world about what it means to be beautiful," she said. "I think that was a pivotal moment in me stepping into my power as a feminist."