You'll Be Surprised How Much These 'Star Wars' Toys Are Worth Today
Star Wars is one of the most iconic brands ever created. Although the popularity began with the 1977 classic and the ensuing sequels that make up the original trilogy — known to diehards simply as the OT — Star Wars has become so much more than that. It's television shows, video games, novels, comic books, action figures, and other assorted Star Wars toys and memorabilia.
In fact, some of the older Star Wars toys are actually worth quite a bit of money these days. If you grew up with the movies and have a bunch of toys packed up in a box in your basement, you may want to check and see if you're sitting on a gold mine. Let's take a look at a handful of the most valuable Star Wars toys ever created.
1. Anakin Skywalker figure with coin
For many Star Wars fans, there can only be one Anakin Skywalker. That's British actor Sebastian Shaw, the man seen at the end of Star Wars: Return of the Jedi when Luke finally removes the mask. At the end of the original cut, Shaw even appears as a Force ghost with Yoda and Obi-Wan Kenobi. It's a cool moment, if you can forget all the horrible stuff he did.
But in later versions, Shaw is replaced in that scene by Hayden Christensen, the actor that portrayed Skywalker in two of the three prequels. Lame. At any rate, back in 1985 there was an action figure created in Shaw's likeness that came with a collector's coin. It's an extremely rare item and can be found on eBay and other for-sale sites ranging anywhere from $500-600 in price.
Next: Vader's shuttle.

2. LEGO Imperial Shuttle
There seems to be some disagreement on the value of this item, but either way it can cost some serious cash. Imagine that you ran right out in 2010 and purchased a LEGO Imperial Shuttle set with five mini figures included. But rather than open the box and put it all together, you decided to put it on a shelf and forget about it. Well, today that could be worth over $2,000, depending on who you ask.
But because the item is still relatively new, it can be found for less in some corners of the internet. On Amazon, the set currently sells for just under $700. What makes this LEGO set valuable apparently has to do with the mini figures, which includes Darth Vader, Luke Skywalker, a Stormtrooper, a pilot, and an Imperial Commander.
Next: Chewie and his bowcaster
3. Chewbacca with green bowcaster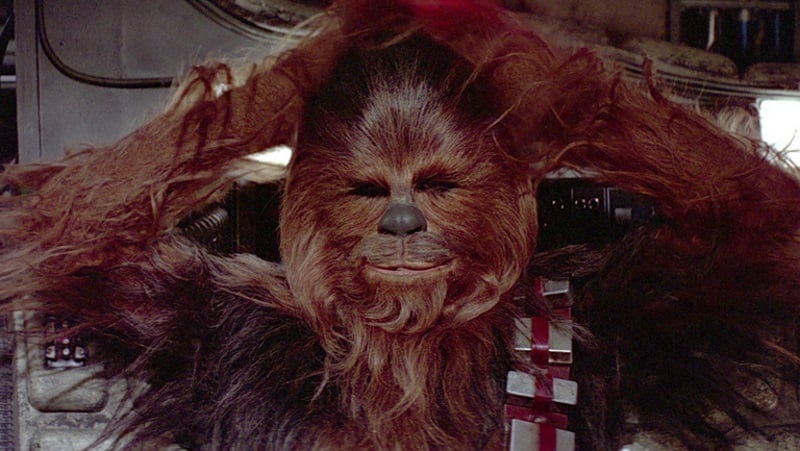 Here is another old toy that ranges in value, depending on the condition. Kenner released a Chewbacca action figure in 1977 that comes with a green bowcaster, rather than the typical black weapon that you might find with most Chewie toys these days. This one is particularly valuable, fetching up to around $4,000 on the open market.
There was one action figure listed for quite a bit less, around $1,500, but there's no telling what the condition might have been. The same toy listed on eBay runs just under $200 if you're willing to accept it without the original packaging. So if you happen to have this one lying around, you could still get some money for Chewie and his green blaster.
Next: Boba Fett? Boba Fett? Where?
4. Boba Fett figure from DROIDS TV series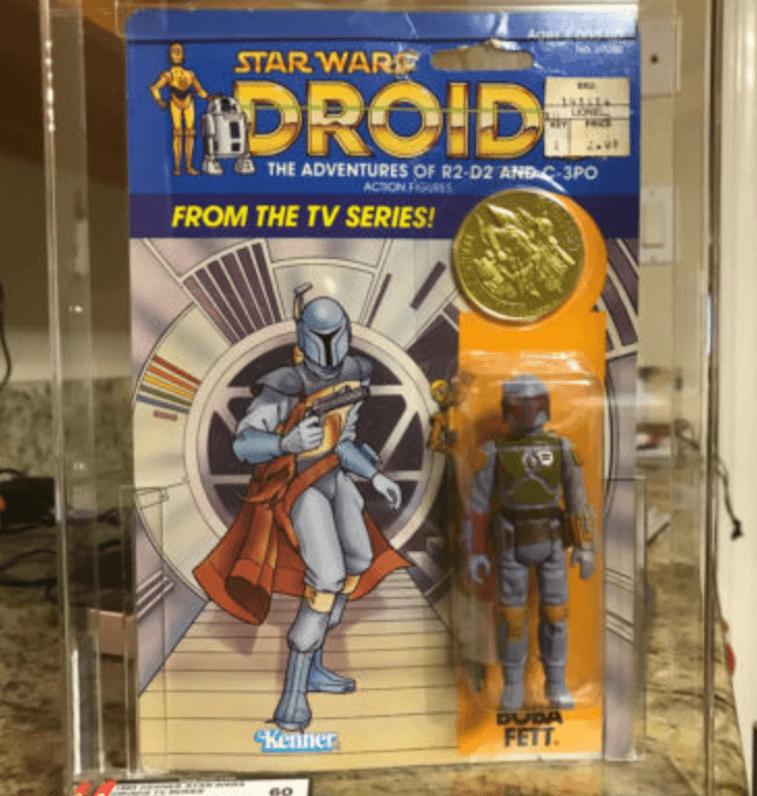 Back in the day, R2-D2 and C-3PO had their own Saturday morning cartoon series named DROIDS. Boba Fett occasionally made an appearance in the show, but that's really not what's important here. As is customary with Star Wars toys, Fett's action figure derived from the series garners some serious cash on the open market.
A mint-condition Boba Fett figure with gold coin in box is listed on eBay for around $3,500, and if you're looking for one that's a bit cheaper you could probably find Fett out of the box for less than $2,000. Again, Boba Fett is always going to be expensive. There are around five or six different iterations of the character in action figure form that have some serious value.
Next: What a piece of junk.
5. LEGO Millennium Falcon
Back in 2007, LEGO released an extremely comprehensive, 5,195 piece Millennium Falcon set that has become somewhat of a collector's item. It was the biggest LEGO Star Wars set ever released until a new Millennium Falcon was put out with over 7,000 pieces in 2017, including a tiny LEGO BB-8.
Although the newer Millennium Falcon version sells for around $800 in stores, making it one of the more valuable Star Wars toys at retail value alone, the older version has it beat. The 2007 LEGO Millennium Falcon sells for as high as $6,000 on eBay. Did Lando Calrissian even pay that much for the real thing?
Next: A very old comic book
6. Star Wars Issue #1 1977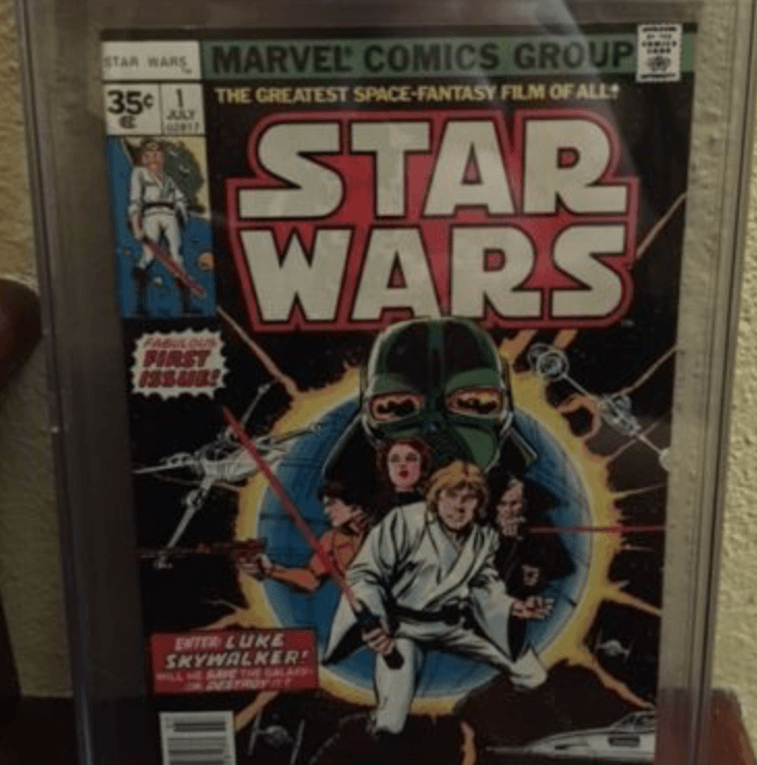 Ahead of the release of Star Wars back in 1977, Marvel put out a comic book at the price of $0.30 for the issue. However, there was a $0.35 variant that was briefly released in select markets, and it's believed that just around 1,500 copies of this version were actually sold. That makes this version of Star Wars Issue #1 extremely rare, and extremely valuable.
You want to be careful if intending to find one and buy it, as the most valuable version is definitely the $0.35 variant. There is also a $0.35 reprint, but that's worth a fraction of the original. Currently on eBay, the key comic runs around $10,000.
Next: An obscure character from Empire Strikes Back
7. Medical droid FX-7 figure
One of the unsung heroes of Star Wars: The Empire Strikes Back is the medical droid that takes care of Luke Skywalker while he's in the bacta tank. Okay, it's kind of a minor role, but don't tell the toy collectors that. In 1980, Palitoy released a medical droid FX-7 action figure that, for some reason, is quite valuable.
Currently, there is a medical droid listed on eBay for around $3,900. That's enough to qualify for this list, on its own. But apparently one of these toys once sold for around $11,500 when two collectors got into a bidding war and just couldn't let it go. Maybe they each had some serious wounds they were hoping to heal?
Next: Vader and Kenobi with a special lightsaber
8. Darth Vader & Obi-Wan Kenobi telescoping lightsaber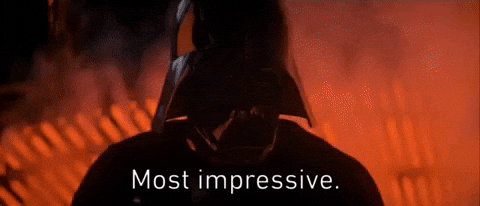 Back in 1977, Kenner released original action figures for Darth Vader and Obi-Wan Kenobi that were sold for around $2.50. But there was something special about these toys, and it would make them extremely valuable on the market 30-plus years later. That would be the small, telescoping lightsaber that came with the figure.
There is some debate about how much these figures are actually worth, but the best evidence we have is one actual sale of the Vader figure. A mint condition, in-box Vader with telescoping lightsaber was sold on eBay back in 2013 for just under $30,000. If you happen to have one of these lying around at home, consider listing it! Even out of the box, Vader and Kenobi could fetch some serious cash.
Next: An obscure character from A New Hope
9. Vinyl cape Jawa
One particularly hard to find item is a Jawa action figure from 1978. This is no ordinary Jawa, however. This figure comes with a vinyl cape, and is rare enough that buyers need to be extremely careful. There may have been instances where scheisters have tried to pass others off as the real deal.
At any rate, at least one authentic vinyl-caped Jawa has been purchased recently. When one eBay sale was all wrapped up, the seller was pulling in a cool $52,000 in exchange for the mint condition Jawa figure. All that money for a character that played little to no role in any of the movies.
Next: The most rare Star Wars toy of them all
10. Rocket launcher Boba Fett
In an episode of Pawn Stars, we were privileged enough to see "the Holy Grail" of Star Wars toys. An original Boba Fett action figure with a rocket strapped to his back was briefly produced, but never actually sold. Apparently, at least one made it out to the public, because a guy wandered into the store with one still in the box.
Once an expert could be brought in to verify that this is, indeed, the only such toy in circulation, a potential sale price of $125,000 was given. And it could even be more than that. The expert believed that $125K was on the low end, and the seller held firm at needing $150K in exchange for his prized possession. It has to be the most expensive Star Wars toy in circulation today.
Check out The Cheat Sheet on Facebook!