YouTube Star JoJo Siwa Is Currently Worth More Than Some Celebrities Twice Her Age
JoJo Siwa's cheery, bubblegum image is a huge hit with kids, and it's earning her millions. She's only 16, but this girl is running an empire. From YouTube ad revenue, a huge line of merch, and her music career, Siwa is on top of her game.
If you're curious just how much money JoJo Siwa is making, we've got the answer. First, let's go over how she makes all that money, and then we'll reveal her giant net worth.
JoJo Siwa makes bank from her 10 million YouTube subscribers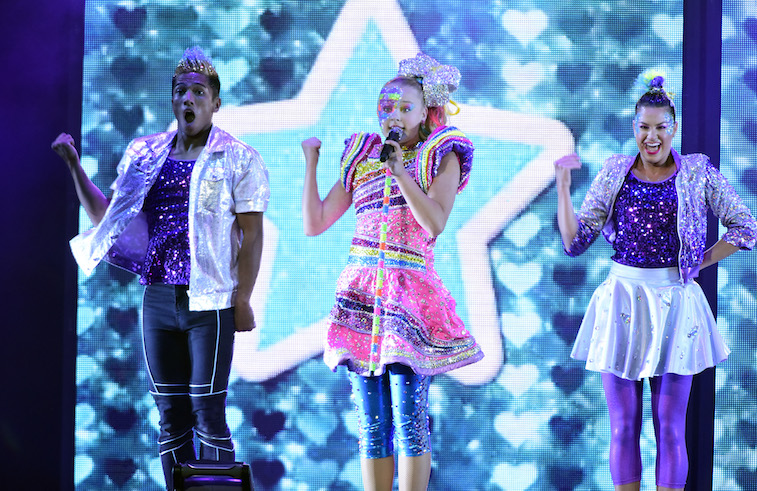 Siwa has two YouTube channels, It's JoJo Siwa with over 10 million subscribers, and JoJo Siwa Vlogs with 3 million subscribers.
YouTubers make money from ad revenue and corporate sponsors, and more subscribers means more revenue. We don't know exactly how much Siwa makes from all those subscribers, but Cosmopolitan estimates it's around $9 million.
Her YouTube videos consist vlogs about her life, and babysitting videos, where she invites kids over to hang out and do fun stuff. Like the time Kim Kardashian's daughter North West came to play.
She also puts her music videos up on YouTube, like BOOMERANG, which has over 730 million views. Please excuse the use of all caps, that's how Siwa titles all of her videos, which coincidentally, sounds just like her voice- always excited.
Jojo Siwa bow sales are off the charts
All of Siwa's fans support her giant line of merchandise. This girl has practically everything you can imagine in merch. She's partnered with Nickelodeon to develop a wide range of products. There's a clothing line, including underwear and swimsuits, a line of bedding and home décor. She also has dolls and toys made in her image.
According to Viacom, at Walmart, the JoJo action-figure doll hit the number one spot in sales for several weeks last summer, beating out both Barbie and My Little Pony. And at Payless Shoes, her collection of JoJo shoes consistently sells out of stock. But her biggest seller is her line of hair bows.
Since Siwa's signature look is a high pony with a giant bow on top of her head, she's able to make a lot of money selling bows to fans that want to copy her image. In 2018, she sold a whopping 40 million bows at $9.99 a bow.
She doesn't get to keep all that money, but we're betting she makes a pretty large chunk off those sales.
Jojo Siwa's music career is making her millions
A large number of singles have been released on Siwa's YouTube channel. But she stands to make a lot more money from her music career in the next few months from her concert tour.
The D.R.E.A.M. tour, Siwa's first-ever tour is currently happening in more than 50 cities, and many of those have already sold out. Tickets for her concerts are going for as high as $250.
What is JoJo Siwa's net worth?
She's only 16, but Siwa has a net worth of over $12 million dollars. That's a huge amount for someone so young. Her career started from appearances on the show Dance Moms, but since then she's used her own talent to skyrocket into success. Hopefully, this is something she'll be able to keep up into adulthood.
Our only concern is her squeaky clean image, filled with bright rainbow colors and bows. Is this something she'll be happy with as she grows older, and will she be able to make the transition into a more adult image in the future?
Siwa may be already getting tired of her super-young image. Only time will tell if she'll able to keep her success in the future.