The 1 Thing Zoey Deutch Learned While Filming 'Zombieland: Double Tap'
Actress Zoey Deutch may have grown up in show business, but there are still a few lessons that you have to pick up along the way. Here's what she says she learned during the filming of her new movie Zombieland: Double Tap.
Here's what 'Zombieland: Double Tap' is about
Our four central characters from Zombieland are back: Woody Harrelson as Tallahassee, Jesse Eisenberg as Columbus, Emma Stone as Witchita, and Abigail Breslin as Little Rock. Just like in real life, ten years have passed, but they're still in the throughs of the zombie apocalypse.
Now, they're back out on the road, and they've come across plenty of other survivors. Amongst them are Rosario Dawson's Nevada, Luke Wilson's Albuquerque, Thomas Middleditch's Flagstaff Avan Jogia's Berkeley, and Zoey Deutch's Madison.
Zoey Deutch stars as Madison in 'Zombieland: Double Tap'
While we're excited to have all of the original characters back, it will also be fun to see them interact with new people. Deutch's Madison is featured heavily in the trailer as very much the stereotypical blonde, ditzy, girly-girl — in other words, the opposite of Witchita — who catches the eye of Columbus.
"I get to live out all of my wildest Valley Girl fantasies," Deutch told Jimmy Fallon of playing Madison. Like her character, the actress grew up in the San Fernando Valley area of Los Angeles, and, putting on the voice, says she "got to research this voice and character for 24 years."
What was it like working with the other stars of the movie?
While speaking to Kimmel, Deutch explains that she recently had her DNA tested, and she's more than half Jewish. This isn't surprising to her, given that she was raised Jewish by her father, director Howard Deutch, and mother, actress Lea Thompson.
Her co-star, Eisenberg, is also Jewish, and she felt that, personality-wise, that was apparent when they acted together. "When we're doing a scene it's like battle of the Jewish neuroses," she joked. Deutch contrasted that with two of the other stars. "And then Woody Harrelson and Emma Stone are like, 'No, I think that was good.'"
Deutch learned this important lesson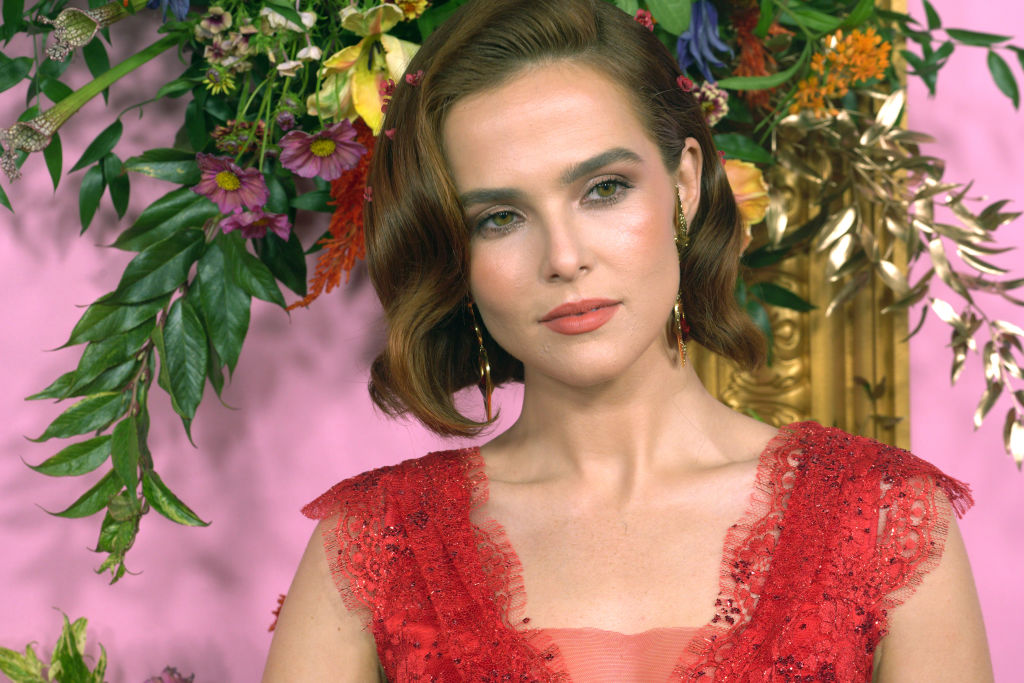 Harrelson is definitely a more relaxed kind of actor, something he is well-known for. He's also known for partaking in marijuana usage (which is legal for recreational use in California, where he resides).
But apparently, Harrelson has some very high-quality product — and it's a bit much for Deutch. "If there's one thing I learned from this movie it's: Do not smoke Woody Harrelson's weed," she said. "It's like the Olympics of weed smoking. I didn't — or did I?"
You may also know her from 'The Politician'
Deutch has been very busy over the past couple of years. While promoting Zombieland: Double Tap, she has just recently finished doing press for another project: The new Netflix series, The Politician.
The series, which, as Deutch explains, is "very much an allegory for the current political climate," sees her as Infinity Jackson, a high school student who is brought in as the running mate in a high-stakes student council race. All eight episodes of Season 1 are available to stream now.