10 Must-Haves to Keep in Your Gym Locker
When you head to the gym, you need to have an expertly packed gym bag filled with essentials that will leave you feeling refreshed after a great workout. There are no compromises when it comes to packing for the gym — you're a man and you need to take every precaution not only to rid yourself of stink and sweat, but of something even more horrible than that, like athlete's foot or other fungus's that may be lurking in the locker room. If you're lucky enough to have a locker that you can call yours, here are some essentials you need to have on hand.
1. A pouch to keep your products
You need to have a zip pouch to prevent your products from floating around your gym bag. It will also provide easy access to all your shower goodies, so if you're pressed for time, you don't have to waste previous minutes hunting around for products. Try the Double Zip Travel Kit by Fossil.
2. Flip flops
These are probably the most important items to put in your gym bag. You shouldn't ever walk around the men's locker room without shoes, and you definitely shouldn't step in the communal shower without them. Doing so could put you at risk for athlete's foot, just one of the many fungi variety that belong to a group called dermatophytes, which can also cause jock itch and ringworm. This fungi tends to thrive in warm, moist environments and feed on keratin, a protein found in hair, nails, and skin.
It's mildly contagious and is easily spread through direct contact with the infection; it can be easily caught in the men's locker room (and walking barefoot increases your chances of contracting it) if you're not being cautious. Make sure to always pack a pair of rubber flip flops for the shower.
3. An all-over wash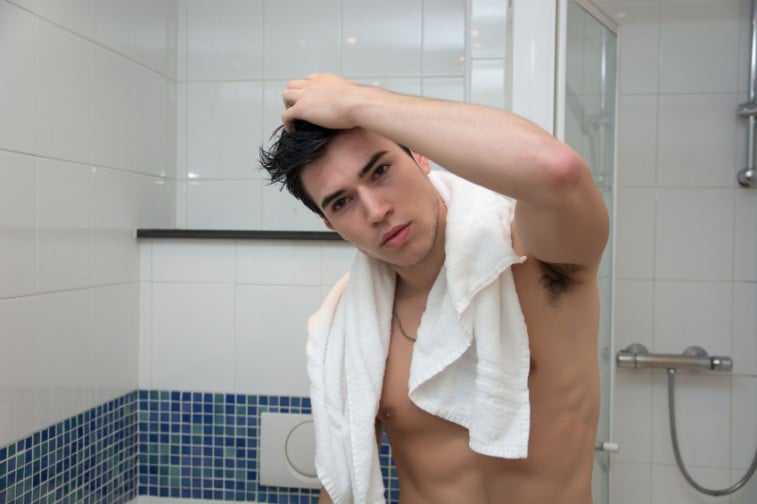 When you're in your gym's shower, you're going to want to get in and out and out as quickly as you possibly can, which is why you want to use products that multitask. Try Jack Black's All-Over for Face, Hair, & Body to get the job done quick and right.
4. Compact shave cream or gel
For gym-packing purposes, get a travel size of your favorite product and throw it in your zip pouch. Try Beard Destroyer Shave Cream by Grooming Lounge
5. Disposable razors
You need a highly effective, light disposable razor to get the job done right without nicks or cuts. Look for one that comes with a flexball for expert contouring around your jawline and under your nose. Try Bic Flex 5 disposable razors.
6. Powder
Keep the area down below dry after an intense, sticky workout to prevent any discomfort or chafing. Apply Super Powder by Grooming Lounge to keep your boys comfy.
7. Solid cologne or a travel size of your favorite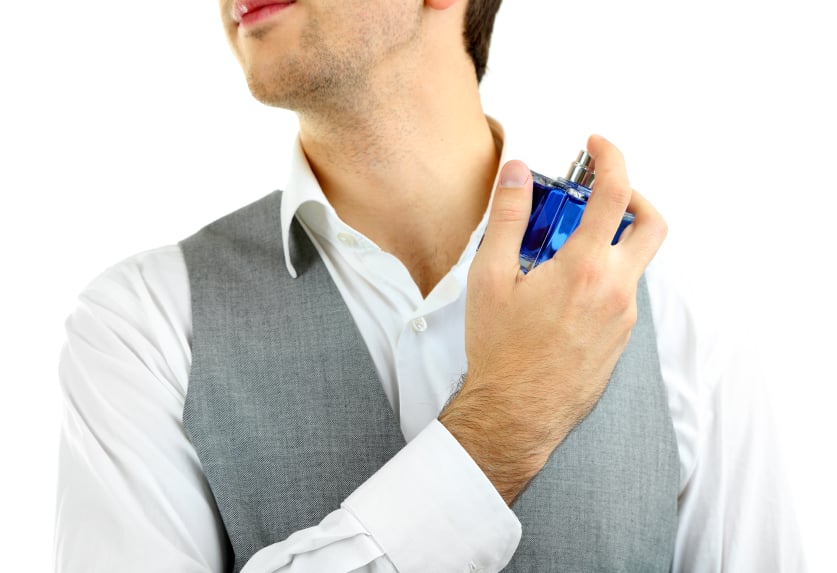 You can't forget about smelling good, can you? Opting for a solid cologne is best, so you don't have to worry about any spillage or bottles breaking. It's also very easy to use. Simply dip your finger in the balm and apply to the spots you normally would, or aim for your go-to pulse points: wrists, neck, and behind the ears. Try Bravado Solid Cologne by Alfred Lane.
8. Styling gel or paste
Apply a quick paste to your hair to keep it in place for the rest of the day. Opt for your go-to paste, either use what you have or buy a smaller version.
9. Deodorant
The same goes for your favorite deodorant. You're not going to want to leave home without this one.
10. Dirty clothes bag and shoe bag
To prevent your sweaty, smelly gym clothes from offending the rest of your gym bag, make sure to put your dirty clothing in a different bag so that it doesn't contaminate anything else in your bag. Do the same for your sneakers if you have a second pair of shoes to wear outside. Try this incredible Wet and Dry Bag by The Laundress, which is waterproof and will keep your sweaty workout gear separate from the clean, dry items in your gym bag.
More from Gear & Style Cheat Sheet:
Want more great content like this? Sign up here to receive the best of Cheat Sheet delivered daily. No spam; just tailored content straight to your inbox.