5 Pajamas You'll Want to Wear All Day and Night
So, maybe you don't sleep in the buff—or maybe you do. That's your business. But that doesn't mean you shouldn't carefully consider a few bed-ready ensembles.
Every fine gentleman needs some equally polished sleepwear options, which is really code word for lounge wear. After all, lounging is the new luxury.
Why wear grubby sweats to sleep or veg in when you can have a pillow fight or a midnight snack in a pair of handsome PJs? Forget ready-to-wear; these not-quite-ready-to-wear (at least not in public)  options will have you catching some Zs — or savoring breakfast in bed — in style.
Sleepy Jones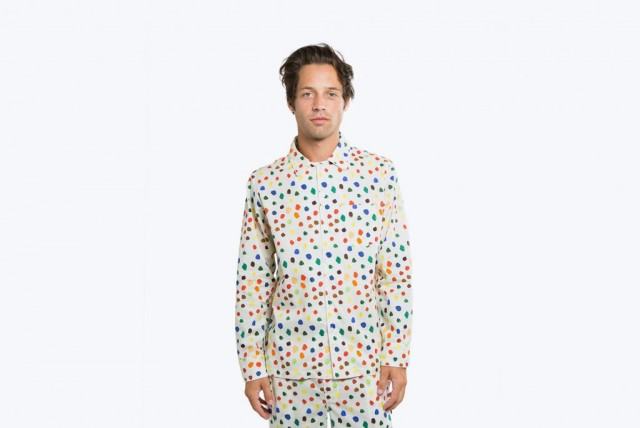 Inspired by the fact that Picasso churned out masterpieces in little more than shorts and a robe, Andy Spade and long-time collaborators Anthony Sperduti and Chad Buri launched Sleepy Jones sleepwear and loungewear in 2013. While the pieces prize comfort, they aren't slovenly — far from it. They exude a timeless style manifested in classic fabrics, some with a playful edge such as the John Derian Painted Artist Edition PJ set. And, their button-down pajama tops are cut like dress shirts for the ultimate off-duty style. According to Sleepy Jones, they are essentially creating "an everyday uniform for reading, writing, painting and playing—whether you're in or outside the bedroom." Sounds pretty dreamy to us.
Derek Rose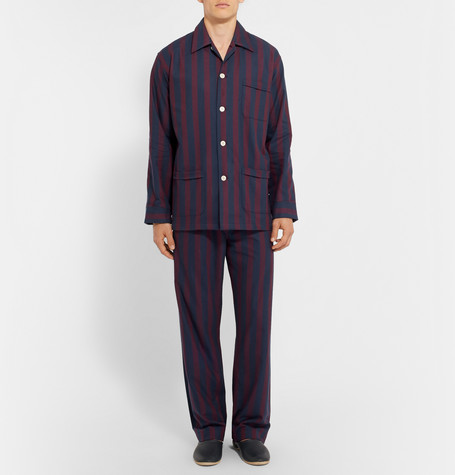 Called a "peerless name in nighttime style," Derek Rose has all the traditional, cinematic appeal of old Hollywood blended with contemporary comfort and masculine elegance. Based on Savile Row in London, the family business has made supremely tailored pajamas since the 1920s, now in both classic and modern fits plus shorts—all with luxe appeal, sophisticated details, and super-soft fabrics including silk, cotton satin, jersey, and more. You'll be channeling James Stewart in Rear Window in no time.
ALAS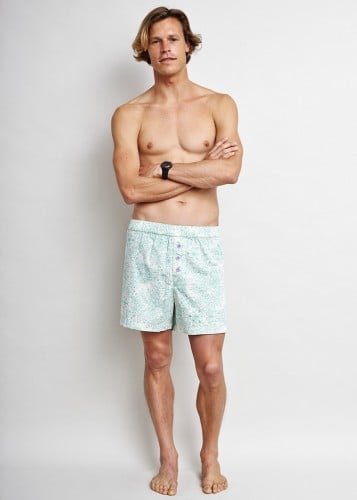 Creating pieces for the quieter times in life, ALAS (All Light, All Shadow) is a Sydney, Australia-based sleep and loungewear label with pieces rendered in enigmatic prints and relaxed silhouettes. The designs may be minimalistic but they are thoughtfully constructed and simply stylish. You'll want to choose boxers over briefs when it comes to ALAS's Balance shorts that feature a hand-drawn illustration of leaves and natural forms repeated in a kaleidoscopic pattern — it's tranquil and hypnotic all at once. You may only have the bottom half of your pajama set covered, but you can sleep well knowing that you're wearing something that was produced with an eye towards social and ecological responsibility with organic cottons and fair labor, sweatshop-free facilities.
Brooks Brothers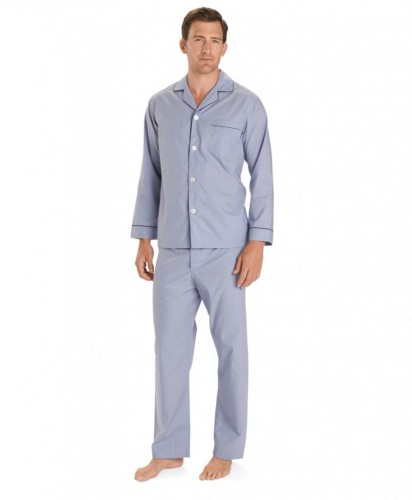 Creases and crinkles can ruin a good pair of PJs. Brooks Brothers' wrinkle-resistant broadcloth cotton pajamas insure that your look stays calm, cool, and collected after a good night's sleep — or a day's worth of lounging. The top is styled with a notch collar and a chest pocket for refined detailing to go over the matching drawstring waist bottoms. The iconic American retailer also has a host of other quality sleepwear options including flannels, nightshirts, and robes — plenty to choose from for the ultimate day in.
Hanro of Switzerland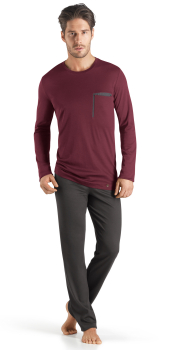 With impeccably simple style, Swiss-based Hanro elevates a pair of pajamas into modern, cool-kid territory. Fusing innovation and timeless, understated design, a Hanro bedroom ensemble is considered "pure luxury on the skin." We love the Emilien cotton sleepwear set that features the subtle distinction of a chest pocket with avant-garde edging for a touch of boho flair.
Follow Rachel on Twitter at @rachellw and on Instagram at @rachellwatkins
More from Gear & Style Cheat Sheet:
Want more great content like this? Sign up here to receive the best of Cheat Sheet delivered daily. No spam; just tailored content straight to your inbox.