Want Younger-Looking Hands? Give These Anti-Aging Hand Treatments a Try
When it comes to aging skin — whether you're in your mid-20s or mid-60s — we can all agree: Your hands go first. Although a number of factors are at play, neglect is the biggest culprit. If you've never thought to apply sunscreen to your hands before going for a drive or hate using hand cream, this one's for you.
From a hand cream that gets rid of wrinkles and improves elasticity in less than two weeks to a sugar scrub that sloughs off rough skin and impurities, we're sharing the best anti-aging hand treatments here.
1. The Chemistry Brand Hand Chemistry
Say goodbye to aging hands with The Chemistry Brand Hand Chemistry ($20). The highly concentrated, multifunctional hand cream works simultaneously to treat eight signs of aging — firmness, elasticity, brightness, texture, density, evenness, smoothness and hydration — and promote younger-looking hands. Formulated with a 19.5% active complex, the hydrating hand cream is enriched with a biotechnological derivative of the mushroom, Tremella Fuciformis Sporocarp. This amazing plant is 400 times more powerful than the body's natural hydrator: hyaluronic acid.
The cream causes the skin's moisture level to increase by 11% in just 12 hours, 21% in 24 hours, and a whopping 32% in one month. The results? Skin that appears smoother, firmer, and more youthful in just 10 days.
2. Supergoop! Forever Young Hand Cream
Want to know the easiest way to protect the hands from the premature signs of aging? Slather them in SPF. Sunscreen protects the skin from the sun's powerful UV rays that are responsible for wrinkles, sun spots, and more.
Enriched with deeply nourishing meadowfoam and argan oil, Supergoop! Forever Young Hand Cream ($12-38) is an award-winning broad-spectrum SPF 40 hand cream that protects your hands from falling victim to the sun's damaging UV rays. So whether you're driving on the highway, playing tennis outside, or enjoying a nice cocktail on the beach, we recommend keeping this cream on hand (pun intended).
3. Karuna Age-Defying+ Hand Mask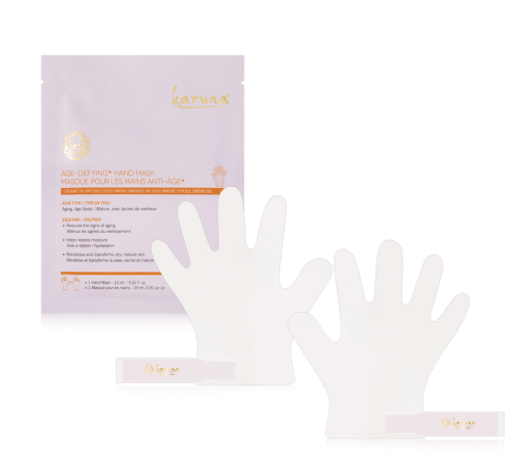 Wouldn't it be great if there were an anti-aging sheet mask for your hands? Well, guess what. There is! Enriched with nourishing shea butter, soothing aloe vera, and anti-aging antioxidants, the Karuna Age-Defying+ Hand Mask ($32) consists of two sheet gloves that work to treat some of the biggest skin-aging concerns. Also, the slip-on gloves come fully equipped with a wrist-tape, allowing you full mobility to relax and refresh while the mask works its magic.
4. Bionova Age Control Hand, Knee & Elbow Treatment with UV Chromophores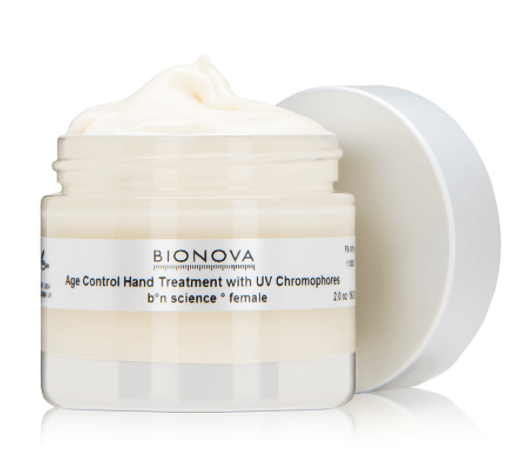 Let's be honest: When it comes to skin care, our hands are one of the most neglected areas of our body. However, as one of the first places to show signs of aging, skin care plays a major role in preventing and treating signs of aging. Neglect no more with Bionova Age Control Hand, Knee & Elbow Treatment with UV Chromophores ($69). Enriched with powerful anti-aging ingredients — think: vitamin A, amino acids, hyaluronic acid, and niacinamide — the hand, knee, and elbow treatment was specifically designed to mimic your body's natural self-restoring process to regenerate and rejuvenate upon application. With use, you'll see an improvement in elasticity and a decrease in wrinkles, fine lines, and other imperfections that leave your hands looking older than they actually are.
5. Chantecaille Retinol Hand Cream
Did you know retinol is one of the most powerful anti-aging ingredients out there? Also known as vitamin A1, retinol is an antioxidant-rich powerhouse that treats signs of aging in the skin. That being said, a retinol-infused hand cream is absolute must. We love Chantecaille Retinol Hand Cream ($78) for its ability to re-texturize the surface of the hands and brighten the skin's overall appearance. Because it's formulated with antioxidant-rich vitamin C, lemon extract, and Chilean tree bark extract, the hydrating hand cream works to soften the skin while promoting brighter, more youthful skin.
6. L'Occitane Shea Butter One Minute Hand Scrub
One of the best ways to take years off your skin is through exfoliation. Exfoliating dry skin not only sloughs off dry, dead skin cell buildup, it improves circulation, regenerates, softens, and smooths for a brighter-looking surface. Once or twice a week, reach for an abrasive hand exfoliator, such as L'Occitane Shea Butter One Minute Hand Scrub ($24). Formulated with nourishing shea butter and sweet almond oil, the sugar scrub works to slough off dry skin and promote a softer and smoother surface that glows.
7. Lavido Nurturing Hand Cream
Pro tip: Keep a nourishing hand cream — such as Lavido Nurturing Hand Cream ($14) — next to your sink as a reminder to moisturize after washing up. Rinsing your hands is one of the biggest culprits for dry hand skin, but applying a moisturizer to your paws helps lock in moisture, counteracting frequent washings. Moisturized skin naturally looks and feels softer, plumper, and healthier.
We love the Nurturing Hand Cream from Lavido for its ability to soften and soothe even the roughest of skin. Additionally, thanks to its high concentrate of herbal ingredients, the hand cream utilizes the powers of nature to minimize fine lines, wrinkles, and more.