How to Dress Like a Minimalist Without Getting Bored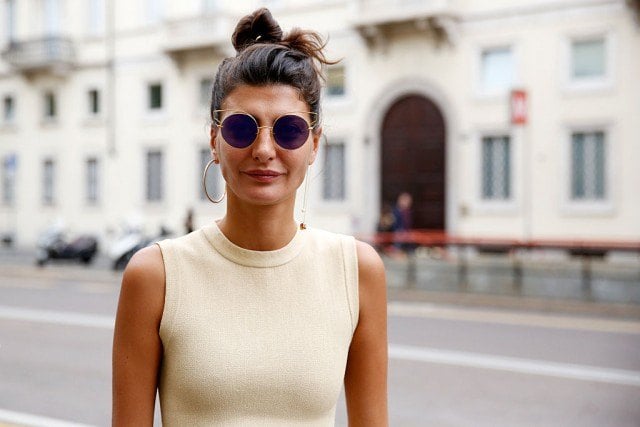 Small closets, few colors, no prints: Minimalist dressing sounds awfully boring. If you currently have a big wardrobe packed full of prints and trendy silhouettes, trading that variety in for a wardrobe full of basic styles and timeless pieces can sound like the perfect recipe for a yawn when you stand in front of your closet choosing your outfit for the day. But a wardrobe — or at least a few outfits — in which navy might be the only "color" and silhouettes are less trendy and more sculptural doesn't have to be boring.
In fact, a minimalist wardrobe can be anything you want it to be (and "boring" probably isn't on your wish list). The basic principles of a minimalist wardrobe are about paring down to the essentials, having only the pieces that you love, choosing quality over quantity, and choosing pieces that are versatile instead of trendy. Along the way, you're going to save money because you'll buy less, even if the individual pieces you purchase are higher quality and more expensive than what you currently own. But you'll also save time because your wardrobe will be smaller and most of the items in your closet will work together, so no more marathon sessions of trying on outfits to figure out what to wear.
That all sounds great. But if you're used to maintaining a huge closet and experimenting with all kinds of colors, prints, and trendy silhouettes, you might still be worried that you're going to end up bored if you pare down and switch out most of your bright colors for neutrals. Minimalist dressing isn't for everyone, but great fabrics, interesting proportions, and beautiful clothes are things that everyone can enjoy. Read on for our tips on how to dress like a minimalist without getting bored.
Your basics don't have to be basic
The beauty of minimal dressing is that it takes the spotlight off trends and loud prints and focuses on the silhouette of your clothing. That means that this is the perfect time to experiment with interesting new takes on classic pieces. Instead of the same white shirt you can find at any retailer, look for one that manipulates a familiar shirting fabric into a new silhouette, with a unique neckline or an interesting sleeve.
Choose a focal point
If you want to make a minimal outfit more compelling, make sure that you choose a piece to act as the clear focus of the ensemble. Wear a simple pair of trousers with a sculptural top, or a simple dress with an interesting jacket. Similarly, a basic tee pairs well with a full, pleated skirt, and a pair of dark skinny jeans is the perfect companion for an artfully draped poplin top. You can even consider your accessories as prime candidates as the focus of an outfit, and pair some statement shoes with a sleek and streamlined outfit.
Less is more
When you're first trying minimalism on for size, it may be tempting to add layers or accessories to add visual interest to an outfit comprised of solid fabrics. But if you love the cut of your clothing, you should trust them to make a statement for you, without layering all of the accessories you own on top. Put back the oversized scarf and try an understated piece of jewelry instead, or resist the urge to wear a flashy pair of heels and opt for a simple pair of flats instead. You may just find a favorite new look when you step outside your comfort zone.
Try out new silhouettes
As you place a new emphasis on buying fewer clothes and wearing them more, it's the perfect time to look beyond the styles you're comfortable with and look for new silhouettes to elevate your look. Many women are most comfortable in trim and tailored clothes, but a favorite style of minimalist dressers is an artfully oversized look. If all of your current clothes are tight, try something loose and draped for a change of pace.
Use contrast to your advantage
Many minimalists have only a few colors in their closets: white, gray, navy, and typically lots of black. That certainly isn't the only way to do minimalism, but if it is the strategy you choose, then know that you won't be limited to monochromatic ensembles. Some well-placed contrast will go a long way in adding interest to an outfit comprised of simple pieces and few accessories.
Consider your accessories, too
One of the biggest selling points of a minimalist wardrobe is that you'll buy less, but get better pieces constructed of superior materials and destined for a longer lifespan. So why not try to extend those benefits to your lineup of accessories, as well? Instead of having and wearing dozens of pairs of shoes, consider which styles will be the most versatile and long-wearing. Instead of switching out your handbag with every outfit, try to find a bag that will match everything or almost everything in your closet.