Everything Apple Announced at Its September 9 iPhone Event
Opening Cupertino's annual iPhone announcement, Apple chief executive Tim Cook told an audience of press and employees at San Francisco's Bill Graham Civic Auditorium that Apple was making "some monster announcements" across its product lines. Here's everything you need to know about what Cook and fellow Apple execs announced at what very well could be the most hyped and most highly anticipated event of the year. From the Apple Watch to the Apple TV, the iPad Pro to the iPhone 6s and iPhone 6s Plus, there's something for every Apple fan to be excited about.
Apple Watch
The presentation began with some updates about the Apple Watch, which Cook said has been life changing for many of the users who love using the device. Customer satisfaction is at 97%, according to Apple. While the watch launched just months ago, senior vice president of operations and Apple Watch chief Jeff Williams announced that there are now 10,000 watch apps. Williams reiterated many of the announcements that were already made at Apple's Worldwide Developers Conference in June, when the company announced watchOS 2 and features like Time Travel, custom watch face collections, and the advent of native apps, which will gain capabilities like playing videos and accessing more of the watch's hardware.
Williams also announced some new cosmetic options for the Apple Watch, including a new collection of watch options created in collaboration with Hermes using traditional Hermes iconography and hand-stitched leather bands. These watches will be available in October. Other new models and bands include a gold and rose gold finish in anodized aluminum, available at the same price as the rest of the Sport lineup; a new all-black option in the stainless steel Apple Watch collection; a new two-tone classic leather band; and a stainless steel face with a Product(Red) band. All of these new options are shipping beginning today.
iPad Pro (and iPad mini 4)
Cook announced "the biggest news in iPad since the iPad," which, as many expected, is the iPad Pro. Phil Schiller, Apple's senior vice president of worldwide marketing, reported that the iPad Pro brings a bigger screen — 12.9 inches with a 2732 x 2048 resolution — and more powerful performance than any previous iOS device. The iPad Pro features the third-generation 64-bit A9X chip. The chip has twice the memory bandwidth of the A8X, and storage performance that's twice as fast for "desktop-class performance," plus twice the graphics performance for "console-class" performance. The iPad Pro also features 10-hour battery life, a four-speaker audio system, an 8MP camera, Touch ID, 802.11ac WiFi, and optional LTE networking.
The iPad Pro also introduces two new iPad accessories. The first, called the Smart Keyboard, consists of a keyboard that's formed out of woven fabric and connects to the iPad Pro via the new Smart Connector. The second accessory is a stylus, called the Apple Pencil, which enables precise input variable by the position, force, and tilt of the stylus. It can be recharged via a Lightning Connector.
Interestingly, throughout much of his demonstration, Schiller highlighted consumer use cases for the iPad, like scrolling through photos, creating documents, and watching movies. Later on, Kirk Koenigsbauer from Microsoft's Office team demonstrated the new Office for iPad app, a mainstay of professional in every field; Adobe director of design for mobile apps Eric Snowden demonstrated Adobe Comp, Photoshop Fix, and Photoshop Sketch for creative professionals; and Irene Walsh of 3D4Medical demonstrated the app for physicians.
The iPad Pro will be available in three color options: silver, gold, space gray. It will cost $700 for a model with 32GB of storage, $949 for one with 128GB, and $1079 for one with 128GB and LTE networking. The Apple Pencil will cost $99 while the Smart Keyboard will cost $169, and all will be available starting in November. The addition of the iPad Pro makes the iPad mini 2 the entry-level iPad, and it now starts at $269. The new iPad mini 4 — which, as Schiller announced with little fanfare, packs the performance of the iPad Air 2 into a smaller body — starts at $399. The iPad Air also starts at $399, while the iPad Air 2 starts at $499.
Apple TV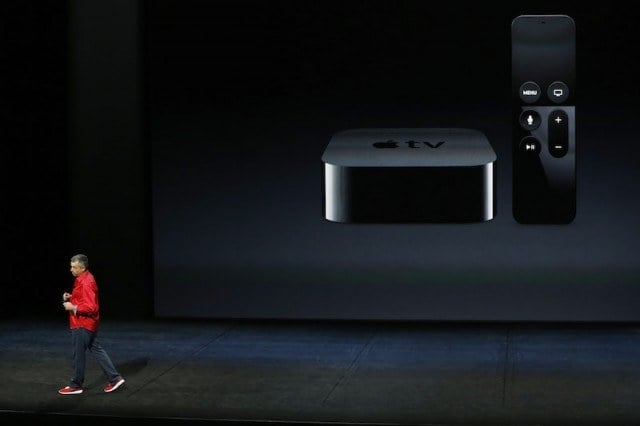 Next, Cook switched gears to focus on the Apple TV, declaring that "the future of TV is apps." To provide what Cook characterizes as a "new foundation for TV," the company announced the new Apple TV. Eddy Cue, Apple's senior vice president of internet software and services, announced a new Apple TV remote with a glass touch surface, a button to activate Siri for voice input, and universal search capabilities that give you options acrossing iTunes, Hulu, Netflix, HBO, and Showtime.
The Apple TV's interface has been updated with a light, fluid new design that takes the focus off of networks and channels. You can swipe on the remote or use voice commands to go back or skip ahead, and you can ask Siri, "What did she say?" to quickly rewind 15 seconds. You can ask Siri to find you Bond movies — or only the ones starring Sean Connery — and you can ask for sports scores or weather information while you're watching. All of Apple's Apple TV apps are redesigned, and Apple Music is also available on the big screen.
Cue also introduced a new operating system for Apple TV called tvOS, which is available as a developer beta starting today. The new operating system will enable developers to create universal apps, where one purchase gets you the app on your iPhone, iPad, and Apple TV. The company gave some developers early access to the platform, and developers have already created "incredible games, including games that have only been available on consoles." The new remote can be used as a game controller, and in Hipster's Whale's Crossy Road, for instance, you can swipe to move right and left and click to move forward. In a new Harmonix game called Beat Sports, you play by swinging the remote — which confirms that the new remote is equipped with motion control. Additionally, up to four players can join with their iPhones or iPod Touches.
The new Apple TV will be available in late October, and features a 64-bit A8 chip, support for Bluetooth 4.0, support for 802.11ac WiFi, and an IR receiver. The remote supports Bluetooth 4.0, features volume control, an accelerometer and gyroscope, and gets approximately three months of battery life, plus a Lightning connector to recharge. An Apple TV with 32GB of flash storage will cost $149 and a model with 64GB of storage will cost $199.
iPhone 6s and iPhone 6s Plus
Finally, Apple turned to the iPhone, the "most loved phone in the world" and the reason for the frenzy around the annual event. Cook said that the company has changed "everything" about its the new iPhone 6s and iPhone 6s Plus, starting with a new custom alloy of 7000-series aluminum offered in four finishes: silver, gold, space gray, and a new rose gold. The phones also feature new glass made with a "double ion-exchange" process.
More importantly, the phones feature what Schiller characterized as the next generation of Multi Touch: 3D Touch, which recognizes force and enables new gestures, like "Peek" and "Pop." 3D Touch works on the home screen to give you shortcuts, and also within apps to preview or navigate to content. A video demo explained that you can "dip in and out of where you are, without losing sense of your context."
Apple senior vice president of software engineering Craig Federighi demonstrated the way 3D Touch streamlines your workflow, and enables you to take action in apps without opening them. To peek into message, you can apply light pressure and let go to move back. If after your quick look, you realize you need to go deeper, just press deeper to jump to the message. You can press on an app icon to see a contextual menu of actions, and the new-to-iPhone Taptic Engine offers 10 and 15 millisecond haptic feedback.
The new iPhones feature the 64-bit A9 chip and new transistor architecture, and the chip is 70% faster at CPU tasks than the A8 and 90% faster at graphics tasks. The M9 motion coprocessor is always on — as is the "Hey Siri" feature, which now works whether or not your iPhone is plugged in. The phones also feature a second-generation Touch ID sensor that's twice as fast as the original version.
The iPhone 6s and iPhone 6s Plus are also equipped with a new 12MP iSight camera, which features 50% more pixels than its predecessor, more accurate autofocus and exposure, reduced crosstalk and noise, and can capture more accurate skin tones and better depth of field. The camera can take HD videos and 4K videos, and features TrueTone flash. A new 5MP FaceTime HD camera uses the Retina display as a flash in a new "Retina Flash" feature. A new feature called "Live Photos" extends the capture moment by 1.5 seconds on either side of a photo. That means that when you're scrolling through your Camera Roll, you can press on a photo to see a short video — which reportedly takes advantage of "efficient frame-to-frame technology" to avoid taking up too much storage space.
The iPhone 6s and iPhone 6s Plus support 23 LTE bands and faster WiFi, and, of course, run iOS 9, which will be available on September 16. Like the iPhone 6 and the iPhone 6 Plus, the new iPhones start at 16GB of storage — which will disappoint some, though Schiller does note that new iCloud storage pricing puts 50GB at just $0.99 per month, 200Gb at $2.99, and 1TB for $9.99. On-contract prices for the new iPhones begin at $199 for the iPhone 6s and $299 for the iPhone 6s Plus. You can pre-order the iPhone 6s or iPhone 6s Plus beginning on Saturday, September 12. The phones will be available in retail stores around the world on September 25.
With the advent of the new iPhone 6s and iPhone 6s Plus, the iPhone 5s becomes the entry-level, free option, and the iPhone 6 and iPhone 6 Plus each get $100 cheaper. Schiller notes that "on an installment plan, any iPhone you want is pretty affordable." On carrier installment plans, the iPhone 6s will start at $27 per month, and the iPhone 6s Plus will start at $31 per month. Apple is also beginning its own leasing program called the iPhone Upgrade Program. The program enables you to not only get a new unlocked iPhone each year, but also choose your carrier and get the AppleCare+ plan. The program starts at $32 per month, and we're likely to hear more details about it soon.
More from Gear & Style Cheat Sheet:
Want more great content like this? Sign up here to receive the best of Cheat Sheet delivered daily. No spam; just tailored content straight to your inbox.