9 of the Fastest Acne-Clearing Products You Can Buy
As if suffering through acne weren't bad enough, finding a working solution can be a massive battle. And with so many acne-clearing products on the market, it's nearly impossible to know which ones will fulfill their promises. To help you sift through the hordes of skin care products on drugstore and department store shelves, we've compiled our nine all-time favorites.
1. Neutrogena Rapid Clear Stubborn Acne Daily Leave-On Mask
This Neutrogena mask has a unique gel formula that's perfect for fast absorption. Unlike a peel or wash-off mask, this one vanishes into your skin for all-day use, and it can reduce redness, breakouts, and large problem areas in just four hours. Since it dries clear, you can continue with your normal routine of applying moisturizer and makeup.
2. Kate Somerville EradiKate Acne Treatment
One of the most effective ways to clear acne is by using sulfur-rich products, and Kate Somerville's Eradikate Acne Treatment has the absolute highest sulfur level allowed. This treatment heals blemishes, reduces the appearance of large pores, and helps keep skin acne-free in the future. It's especially great for anyone who can feel an oncoming pimple but can't yet see it, as this will stop it dead in its tracks.
3. Murad Clarifying Cleanser
The most obvious way to clear your acne is to invest in a strong pore cleanser, and none are as good as Murad's Clarifying Cleanser. Formulated by dermatologists and adored by everyone who tries it, it's easy to see why this cleanser has been a bestselling product for two decades. First, wet your face with warm water, then lather this cleanser into your skin to strip away pore-clogging grime, oil, and irritants.
4. Burt's Bees Natural Acne Solutions Targeted Spot Treatment
If your acne problem comes in the form of just a few unsightly blemishes, you ought to try the Burt's Bees Natural Acne Solutions Targeted Spot Treatment. This product is 100% naturally formulated and includes salicylic acid derived from willow bark extract. It works hard to penetrate clogged pores, eliminate acne-causing bacteria, and ultimately reduce the appearance of blemishes in as little as 48 hours.
5. Clinique Acne Solutions Cleansing Foam
For those with sensitive skin, Clinique's Acne Solutions Cleansing Foam is medicated but mild enough to prevent further redness and irritation. It works to gently remove dirt and excess oil, leaving skin smooth, soft, and acne-free.
6. Pure Body Naturals Dead Sea Mud Mask
The Dead Sea is full of beneficial vitamins and minerals, so it's only natural the Dead Sea Mud Mask is so highly rated by users. It clears acne by repairing pores and wiping out blackheads. After using this mask, you'll swear the hands of time have been turned back based on your youthful glow.
7. Humane Benzoyl Peroside 10% Acne Treatment Body & Face Wash
Humane's face and body wash is the strongest acne treatment you can get without needing a prescription. With 10% benzoyl peroxide, this cream kills acne-causing bacteria anywhere it's applied, meaning you can the clear your face, body, and back. You can also feel guilt-free knowing this product hasn't been tested on animals and is free of all parabens and fragrances.
8. Bioré Pore Unclogging Scrub
Biore's Pore Unclogging Scrub rids your skin of dirt and blackheads, and the microbeads work to exfoliate your face at the same time. The final result is a much smoother, clearer complexion, and the great news is that you can find it at your nearest drugstore. You might want to pick up a few. 
9. Clean & Clear Advantage Mark Treatment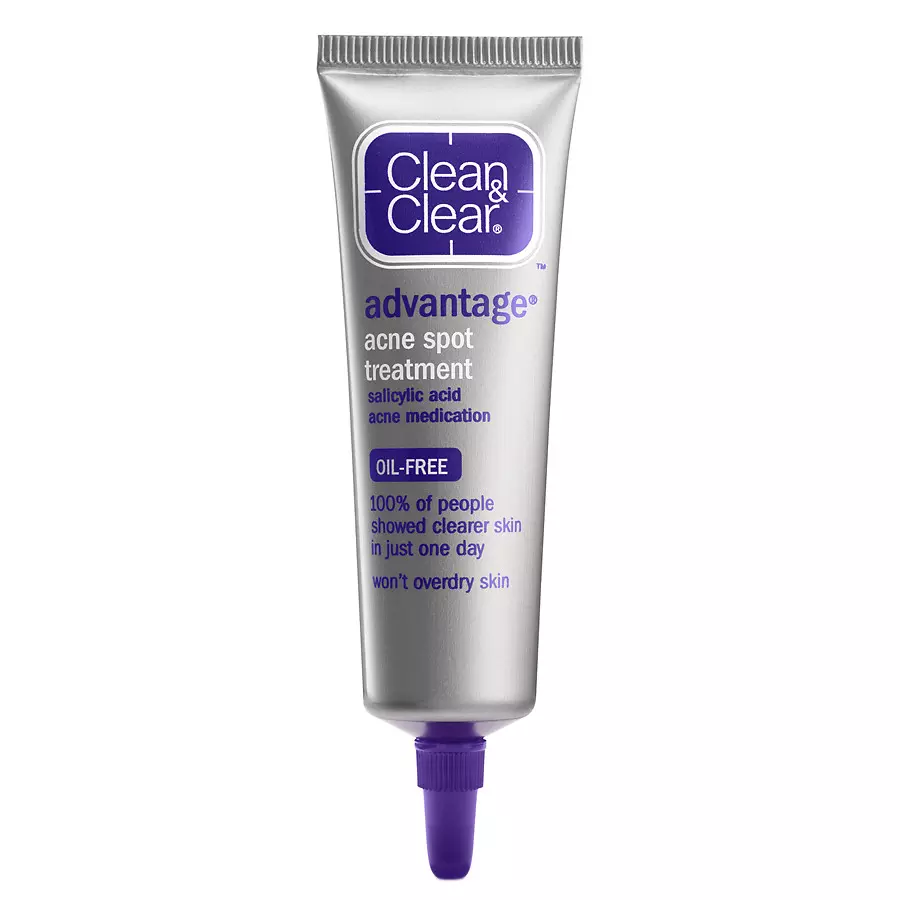 Anyone who's dealt with long-term acne knows the frustration of seeing acne scars long after you've cleared your skin. Luckily, the Clean & Clear Advantage Mark Treatment is formulated with salicylic acid, which helps to quickly treat breakouts and diminish the look of post-acne marks. That's a two-for-one we can definitely get behind.