Google's Nexus Phones: Showing What Android Should Be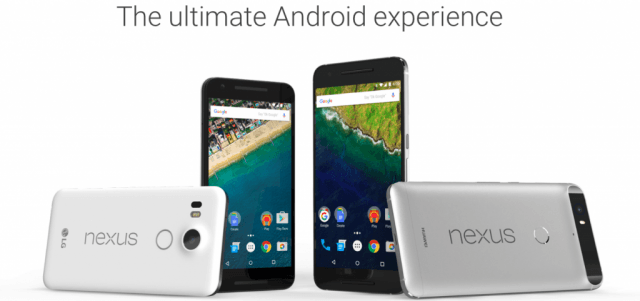 New Nexus phones are always an exciting opportunity for Google to show off the best version of its software. But this year's Nexus phones have even more to offer. Google's latest Nexus phones illustrate quite clearly what Android should be: a smoother and more secure version of the sprawling Android ecosystem that's widely fragmented and left vulnerable to security threats.
Dan Gillmor reports for Backchannel that the Nexus 6P and the Nexus 5X are not only beautiful phones — lighter, slimmer, and more impressive than their predecessors — but also form "the capstone of recent Google initiatives that send the company's plain but urgent message to the sprawling Android industry: 'Come on, folks, let's clean up our act.'" While Gillmor writes that he wouldn't bet that Google's new Nexus phones are the "harbinger of a more coherent, consistent and secure end-user experience for Android," the message could have substantial implications for both Android competitors and consumers.
But Android devices, Nexus-branded or otherwise, have a purpose beyond advocacy for the de-fragmentation of Android. Gillmor points out that devices running Google's version of Android "will keep feeding data into the global brain that knows more and more about everything, including you and me, and is the company's beating heart. You will find this enthralling and creepy, in proportions that vary depending on how much you trust Google's managers today and in the future."
Nexus phones and tablets demonstrate what Google, as the company behind Android, considers best practices for the software. They also give Google's manufacturing partners an opportunity to show off their ability to build excellent hardware. The Nexus 5X and Nexus 6P are no exception, and the hardware of the new smartphones is universally regarded as excellent, even elegant.
Android 6 Marshmallow also bring significant upgrades to the latest generation of Nexus devices. While Android phones have had full encryption capability for several years, it's always been an after-the-fact option. But with the new Nexus phones that run Marshmallow out of the box, the phone comes fully encrypted. Marshmallow also makes it easier for users to restrict mobile apps from invading their privacy by limiting the permissions that apps are granted. The out-of-the-box encryption catches Android up with Apple's iOS, while the more granular control over apps' permissions catch it up with security-minded, third-party Android operating systems.
While it hasn't had much of an effect on the security of smartphones made by Google's hardware partners, Google's commitment to releasing monthly security updates for the operating system is, in Gillmor's estimation, a game-changer for Nexus phones. Google can't force other companies to update the Android smartphones they sell, even though doing so would be in their best interest.
But in setting an example with timely updates for Nexus phones, Google is likely hoping that Android phone manufacturers will follow suit. Gillmor hopes that "manufacturers and carriers will widely take this opportunity to stop being so negligent in updating their devices with the latest security fixes and operating system upgrades." In the meantime, users who value timely and automatic security updates should be looking at the Nexus lineup. But it's worth noting, as Gillmor points out, that when Google strengthens security, it strengthens its software against intrusions by everyone except Google. To use Android, you still have to trust Google, and of that, many users are wary.
As Android evolves, with functionality moving from the base operating system to apps that it regularly updates, Android phone manufacturers are following suit, cutting the bloatware from their own versions of the operating system to improve the user experience and expedite the deployment of security patches. However, neither a stock version of Android nor a lightly modified version is as secure as community-based versions like Cyanogenmod, which are highly protective of users' privacy and even count some intrusions by Google among the security threats they protect against.
Which makes it even more obvious that the way Google envisions Android — the way that Android should evolve in order to become a complete, elegant, and secure operating system — is as a piece of software that can offer increasing levels of functionality by sending ever more data back to Google for processing and parsing.
Nonetheless, many users realize that they need to share some data to get access to modern, cloud-enabled features, and are willing to do so with an operating system that is smoothly designed, securely architected, and implemented on elegant hardware. That's a vision that seems almost realized in the Nexus 5X and Nexus 6P, which illustrate a better Android we can only hope will be more widely realized throughout the Android ecosystem.
More from Gear & Style Cheat Sheet:
Want more great content like this? Sign up here to receive the best of Cheat Sheet delivered daily. No spam; just tailored content straight to your inbox.