High Tech Camping Gear: 15 Gadgets You Need
There are plenty of gadgets that can make your life easier, whether you anticipate spending lots of time in the kitchen or in the garden this summer. But if you plan on venturing away from home and getting a camping trip or two under your belt, there are even more great gadgets — ones that can help you pack light, carry the essentials, and stay connected no matter how far into the wilderness you venture. Read on to check out 16 pieces of camping gear that we wouldn't leave behind.
1. BioLite CampStove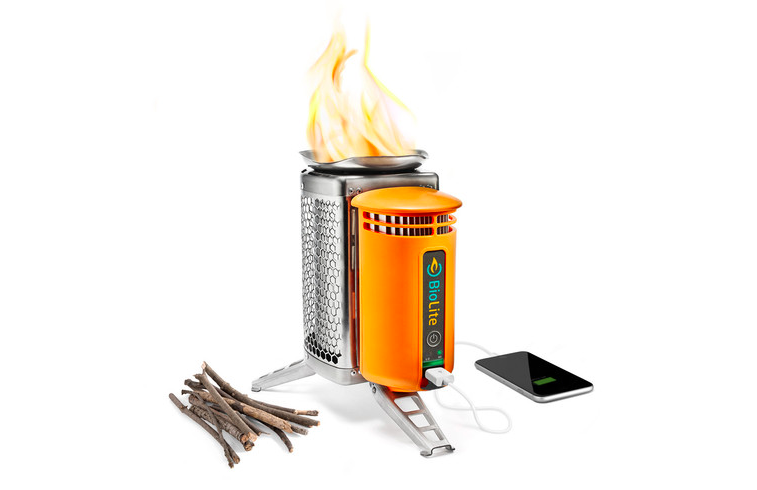 The BioLite CampStove generates electricity for charging LED lights, smartphones, and other devices by burning wood. The stove can cook meals and boil water in minutes, and can power most USB-chargeable devices (like smartphones). For fuel, all you need are sticks, twigs, pinecones, or other biomass, which means that you won't have to buy and carry a gas canister. Additionally, you can cook over the fire without smoke, which means less harm to the environment and no stinging eyes. Perhaps best of all is the fact that the stove nests inside itself to save space in your pack.
2. DeLorme inReach SE
The DeLorme inReach SE is a satellite communicator that enables you to send and receive text messages via the Iridium satellite network, which boasts 100% global coverage. You can also turn on tracking to view or share your GPS coordinates, and you can even post to social media. In the event of an emergency, you can trigger an SOS, receive delivery confirmation, and have a text conversation with the search-and-rescue monitoring center until help arrives. The device is powered by a lithium battery that lasts about 100 hours in continuous operation when set to 10-minute tracking intervals, while extended battery life is possible with the extended tracking mode.
3. Genesis Stove
The Genesis Stove is the perfect way to cook a great meal even in the middle of the woods. The stove is a compact propane cooking system with two burners and a foldable design. It features a "Jetboil" valve for advanced simmer control, but can still boil a liter of water in just three minutes. The Genesis stove is also available as part of a Base Camp System, which bundles in a nonstick frying pan and a 5-liter pot, all in a nesting system that's easy to pack but can still cook a lot of food.
4. GRAYL
The GRAYL Ultralight purifier bottle can make clean, purified drinking water in less than 15 seconds. A great water-filtering bottle should be at the top of your list when it comes to camping gear, and the GRAYL will enable you to refill at any stream, lake, or sketchy water source, not only in the wilderness but also when you're traveling in urban areas. To use the GRAYL, you'll simply press the filter down (just like a French press) to get rid of contaminants including viruses, bacteria, protozoa, particulates, chemicals, and heavy metals.
5. Heimplanet Cave
If you're searching for a tent that's easy to set up at your next campsite, consider the Cave from Heimplanet. This model is the company's first inflatable tent and will accommodate two to three people. The tent can be pitched in less than a minute with a pump, and the inflatable geodesic structure makes the Cave extremely stable. The inflatable frame and inner and outer tent only need to be assembled the first time you set it up, and after that, all you need to do is pump it up to inflate your tent.
6. Helix Bluetooth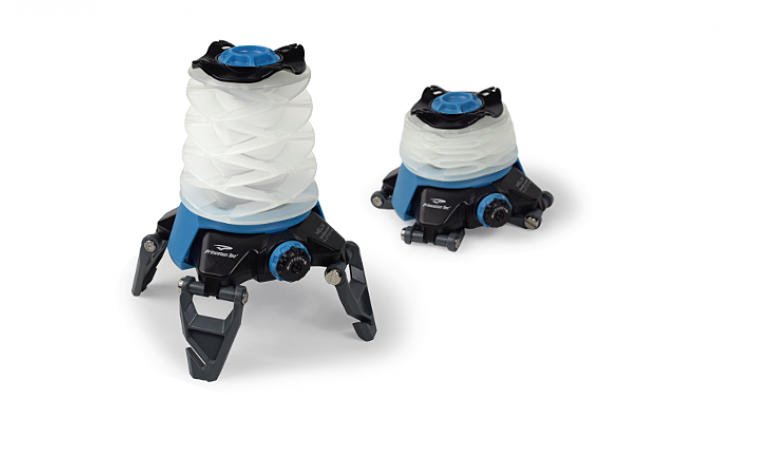 Princeton Tec's Helix Bluetooth is a lantern with a rechargeable battery and Bluetooth connectivity that enables you to fully control it from your smartphone or tablet, no cell signal required, with the companion app for iOS or Android. The included straps enable you to hang or carry it, and a removable globe and folding legs allow for a flexible variety of configurations and setups. The lantern packs down to half of its full height, and you can use the USB port to charge your phone, GPS, or other electronics.
7. Jaq fuel cell charger
The Jaq fuel cell charger is reportedly the world's smallest pocket-sized fuel cell charger, and is a great solution for charging your smartphone, tablet, or other devices on your next camping trip. Jaq generates power from the water and salt in a slim power card, which you insert into the charger to produce hydrogen that fuels the cell and powers your devices. Each power card provides 900mAh of power, and each card and its fuel are made of recycled materials, water, and salt. You can discard the card after use. Jaq charges USB-compatible devices, including iPhones, Android phones, and Windows phones.
8. LIFESAVER Bottle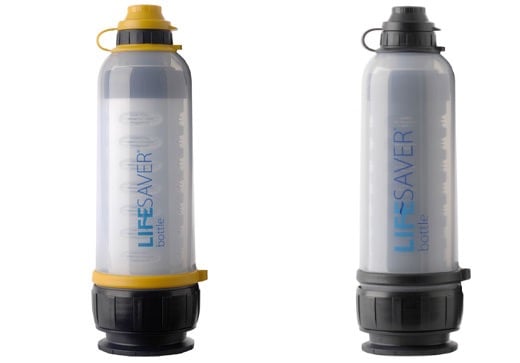 The LIFESAVER Bottle offers an easy way to make sure that you always have clean water when you're camping. The company's water filters use "ultra filtration technology" to filter out viruses, bacteria, cysts, and parasites from contaminated water sources and meet an adaption of NSF Protocol 231 based on recommendations of the U.S. Environmental Protection Agency. Various LIFESAVER Bottle models are ideal for use from one to four people, so that you can make sure everyone you want to take with you on your next camping trip will have clean water to drink.
9. Luci Outdoor
The Luci Outdoor is an inflatable solar-powered light that collapses down to just 1 inch, which makes it an ideal addition to your arsenal of camping gear. Each light is waterproof and "super bright," plus extremely durable and completely solar-powered. That makes the Luci Outdoor the perfect addition to your arsenal of camping gear, whether you're just a few miles from home or halfway across the continent.
10. NanoGrid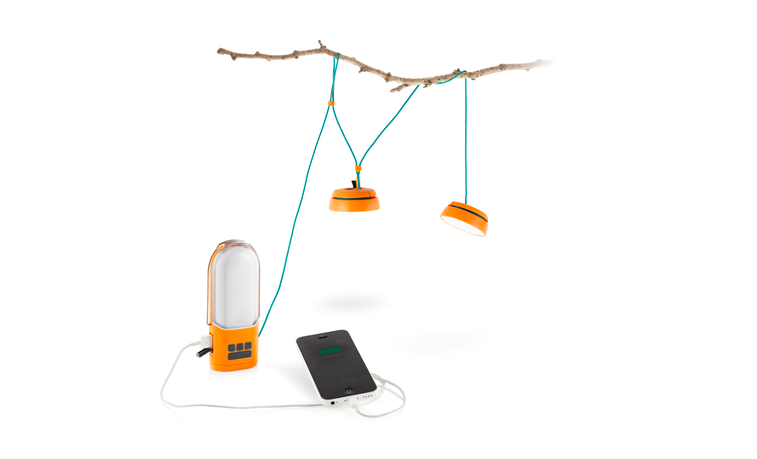 Another great product from BioLite, which offers the CampStove, is the NanoGrid, a portable lighting and energy hub. The NanoGrid is a compact but powerful system of rechargeable lighting and power storage. The system is comprised of the PowerLight, which stores shareable energy, and the SiteLights, which can be set up to provide a network of overhead lighting. You can even charge your phone via the PowerLight, which makes it a great all-around solution for campers who want to keep their packs light.
11. Oomph
For many people, clean water isn't the only must-have beverage in the wilderness. The Oomph is reportedly the world's fastest hand-powered portable coffee maker. To make the perfect cup of coffee with it, you add coffee, fill the Oomph with hot water, and press down on the outer shell of the Oomph to force pressurized water through the coffee grounds. The brewed coffee will then travel up the exterior walls and back into the internal chamber. You can even add sugar and milk once the coffee is brewed.
12. PowerTraveller SolarMonkey Expedition
The SolarMonkey Expedition is a lightweight solar panel that can charge your smartphone, GPS, headlamp, action camera, or any other device that you can't live without while camping. The solar charger features a hard-wearing aluminum case, and the device can charge an iPhone 6 in three to four hours, a GoPro Hero 4 in three to four hours, and GPS systems in two to three hours. The SolarMonkey Expedition can charge your devices even in low light. The panels are designed to withstand some bumps and spills, and the clamshell design protects them when not in use The device is also IP65-rated waterproof and dust-tight. It also opens to a 225-degree angle, which means that you can secure it around your backpack, across your bike, or on the roof of your tent.
13. SpareOne Emergency Phone
The SpareOne Emergency Phone is a great piece of camping gear that enables you to stay connected in just about any situation. When you set up the phone initially, you'll be able to set contacts who will receive alert messages in the form of text messages or email, and choose up to nine contacts to have on speed dial. The device doesn't need to be charged and instead runs on two AA batteries, and has Locate and Alert buttons for emergencies. Additionally, the device makes emergency calls on AT&T's network.
14. SteriPEN
For people who like to pack light, the SteriPEN can be a great way to purify water on the go. The UV Water Purifier features patent-pending technology that uses an "optical eye" to sense water and ensure effective treatments. The UV lamp purifies up to 8,000 liters of water, and will work in any container with an opening 1.75 inches or larger in diameter. The water sensor also doubles as an LED flashlight so you have to pack one fewer camping gadget while hiking or camping.
15. Tentsile Tree Tents
Tentsile is the place to go if you want a lightweight tent that you can suspend in the trees on your next camping trip. The company's various tent models create usable space via tension, and offer a great alternative to a ground-based tent when you're camping on wet, rocky, or uneven ground, or trying to protect yourself against insects, snakes, or other wildlife. (Though in dry conditions or on flat terrain, they can also be pitched on the ground.) Tentsile's tents combine the versatility of a hammock with the multi-person occupancy of a tent.
More from Gear & Style Cheat Sheet: