How to Care for Your Skin Without Using a Single Beauty Product
Think beauty products are the only way to care for your skin? Think again! According to Jolene Hart, beauty and health coach and author of the Eat Pretty book series, they're not even the most powerful way to care for your skin. "Topical products can only do so much to change your skin," Hart says. "Real change happens from the inside, in the way your body performs and the nutrients it has to nourish your body and beauty."
With that in mind, we're on a beauty mission to discover all the ways you can care for your skin without touching a single beauty product. From incorporating anti-aging foods into your diet to giving beauty-enhancing supplements a try, keep reading for some of the most effective ways to care for your skin, sans product.
1. Change your diet
As Hart mentioned, one of the most effective ways — read: the most effective way — to change your skin is to change your diet. As your body's largest organ, your skin needs hydration and nourishment to not just look great, but to function properly, too. After all, when you look good, you feel good (literally).
According to Hart, these are the fruits and veggies you need to help detox, brighten, fight aging, clear acne, and nourish dry skin:
Detox: Leafy greens (think: kale and spinach), asparagus, and cilantro
Brighten: Pumpkin, lemon, and beets
Clear skin: Sweet potato, fermented foods (think: sauerkraut and kimchi), and pumpkin seeds
Anti-aging: Turmeric, blueberries, and raw cacao
Dry skin: Raw nuts and seeds, wild salmon, and mushrooms
In addition, you may also want to consider incorporating cinnamon into your diet — especially if you have a sweet tooth (this includes fruit lovers). In Hart's books, Eat Pretty: Nutrition for Beauty Inside and Out, and Eat Pretty Every Day, she explains how "cinnamon naturally moderates the wrinkle-promoting blood sugar spike that occurs when you eat high glycemic foods." In addition, cinnamon is extremely high in antioxidants that slow the aging process in the skin and prevent blemishes and redness. What's more? One of its phytochemicals can actually block "a key wrinkle-forming process in the body." Long story short: Eat more cinnamon.
2. Juice antioxidant-rich fruits and veggies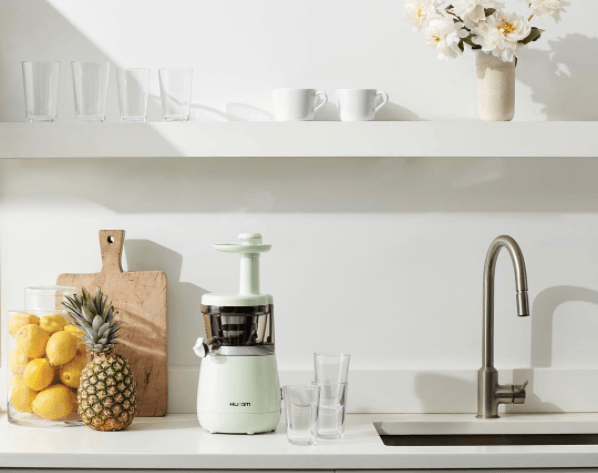 If you're having trouble adding more beauty-benefiting fruits and veggies to your diet, try juicing them. Homemade juice can be a great — and surprisingly easy — way to add more beautifying nutrients in your diet. We love the Hurom HP Slow Juicer ($299) for its compact size and natural motion technology, which allows for a juice that is richer in color and full of soluble fiber.
New to juicing? Hart explains the beauty benefits of some of our favorite beauty foods to add to a fresh pressed juice:
Kale: "Leafy greens like kale nourish healthy bacteria in your gut — supporting optimal digestion — while the nutrients in kale (vitamins A and C) support smooth, youthful skin and collagen-building."
Spinach: "Again, leafy greens are excellent for digestive health. Spinach in particular is packed with detoxifying chlorophyll and vitamin A to support cell turnover, aiding in smooth skin texture and a glowing complexion."
Blueberries: "Blueberries are loaded with antioxidants that slow the aging process in the body and the skin. Their skins contain anthocyanins that support elasticity, and they may even help reduce fat storage in your body."
Blackberries: "Like blueberries, blackberries contain anthocyanin pigments that preserve the elasticity in your skin. They also contain a phytochemical called ellagic acid that defends against skin wrinkling."
3. Take a beauty-enhancing supplement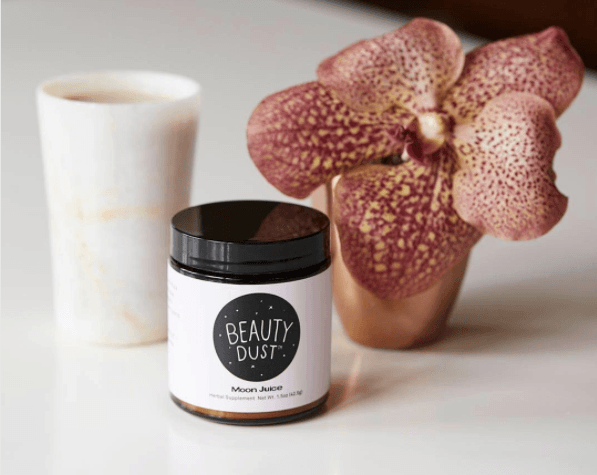 In addition to juicing and incorporating more beauty-benefiting fruits and veggies into your diet, taking a beauty-enhancing supplement may also promote beautiful skin. Here are some of our favorites:
OLLY Vibrant Skin: Enriched with hyaluronic acid and collagen, the Vibrant Skin ($14) gummy vitamins from OLLY help maintain skin moisture and structure from the inside out. Not to mention, they're delicious.
Jane Iredale Skin Complete: When a must-try beauty brand launches supplements, you know they're going to be good. The Skin Complete ($75) from Jane Iredale is a duo pack with two premium beauty supplements: Skin Vitamin A and Skin Antioxidant. Both work to enhance beauty and promote healthier, more youthful-looking skin.
Moon Juice Beauty Dust: Not a pill-popper? Try adding a powdered supplement like Moon Juice Beauty Dust ($38) into your matcha tea, water, smoothie, lemonade — you get the picture! A powerful, broad spectrum antioxidant, Beauty Dust works to preserve collagen protein, enhance the skin's elasticity, help the body cope with stress, and protect from free radical damage.
4. Add collagen to your smoothie
Another way to care for the skin without using beauty products? Collagen. As you may already know, collagen is a structural protein that is responsible for the structure of your skin. As we age, the body produces less and less collagen on its own — which is why collagen peptides can be ultra beneficial. Adding a scoop of collagen peptides — such as Vital Proteins Collagen Peptides ($25-$43) — to your daily smoothie can result in healthier-looking skin and strong hair and nails.
Not a smoothie person? Try these chews from Reserveage. Enriched with hyaluronic acid and vitamin C, the Collagen Replenish Chews work to promote skin elasticity and suppleness. And that's not all. With regular consumption, the supplement reduces pesky eye wrinkles by 20% in two months' time.
5. Sip on a healthy beverage
If you're looking for something that requires zero effort — meaning, you won't have to blend, press, or pop — look no further than a ready-made healthy beverage that supports skin health. We love Dirty Lemon Collagen ($45/case) for its ability to improve the skin's health. Formulated with hydrolyzed marine collagen peptides, shavegrass, red clover, and cayenne, the beauty-benefiting blend works from the inside out to increase collagen production and improve the skin's density, elasticity, and hydration levels.
6. Steam your complexion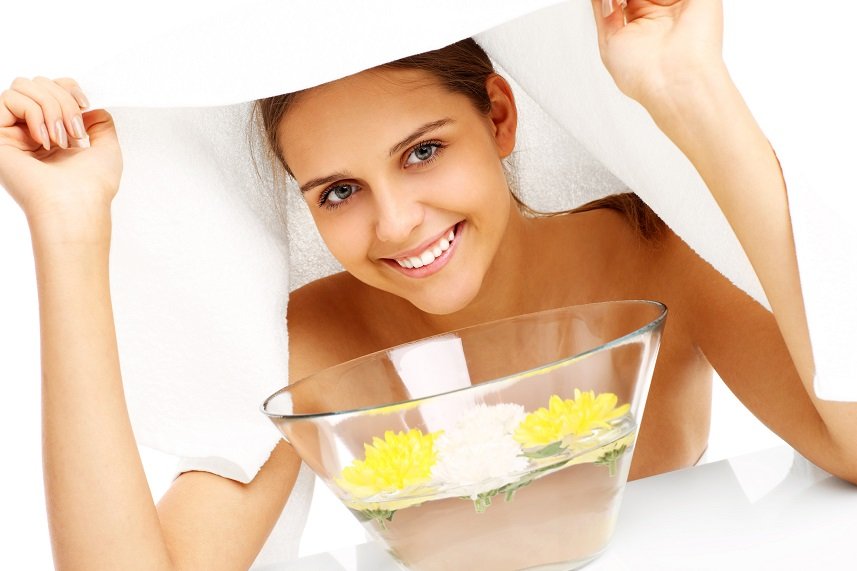 In addition to consuming nutrient-packed foods and supplements, there are a few other ways to take care of your skin without skin care products. Case in point? Facial steam. Steaming your complexion boasts some serious skin care benefits. For one, it warms up the skin's surface and helps open pores. This in turn softens blackheads, promotes detoxification (through perspiration), and leaves the complexion feeling ultra supple and hydrated.
To steam your complexion, simply hover your face over a pot of hot or near-boiling water. Then, place a large towel over your head to help trap some of the steam. Allow the steam to work its magic for five to 10 minutes. Repeat this a few times a week, and you'll be on your way to clearer-looking skin in no time.
7. Switch your pillowcase
Did you know your pillowcase might be the cause of both breakouts and premature signs of aging? It's true! If you don't change your pillowcase every few days and sleep on your side or stomach, your beauty sleep could actually be the cause of your beauty ailments. No need to worry, there are pillowcases out there that were made with your anti-aging and anti-acne efforts in mind:
Déjà Pillowcase: Remembering to wash your pillowcase every few days can be quite the challenge, so Déjà came up with an alternative: a pillowcase designed to give your complexion a clean surface to sleep on every night. Equipped with eight sheets, the Déjà Pillowcase ($44) allows you to turn over to a fresh pillowcase every night of the week.
Slip Pure Silk Pillowcase: Your regular old pillowcase can wreak havoc on your aging skin, but a 100% silk pillowcase will not. Made specifically with aging skin in mind, the Slip Pure Silk Pillowcase ($79-$99) is an anti-aging, anti-sleep crease, and anti-bedhead pillowcase that allows the skin to breathe — i.e., it doesn't draw moisture from your face, hair and scalp. It also regulates temperature naturally. What's more? Because it's 100% silk, it won't suck up your nighttime skin care products.
8. Use an anti-aging skin care device
Wouldn't it be nice if there were a device that could diminish visible signs of aging? Oh wait, there is. Proven to reduce visible signs of aging around the eyes — think crow's feet and wrinkles — and promote collagen production, Dr. Dennis Gross DRx SpectraLite EyeCare Pro ($159) is the one anti-aging skin care device you need in your life. For just three minutes a day, the LED eye mask penetrates the skin and works to reveal rested, revived, and more youthful-looking eyes. And get this: It only takes two weeks of everyday use to start seeing results.