The Best Corduroy Picks of the Season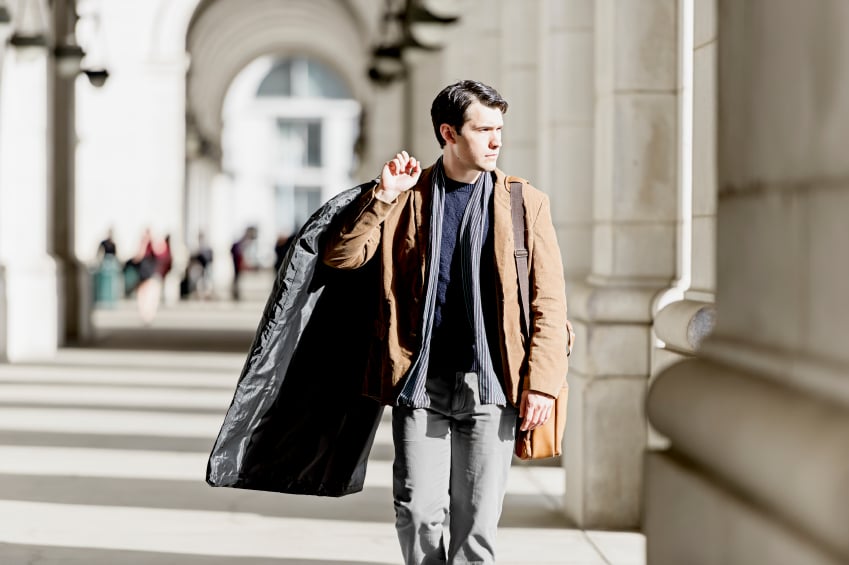 Thick and warm, corduroy is one of those fabrics that is perfect for the fall and winter. The word "corduroy" comes from the French expression, "corde du roi," which translates to the "cord of the King." It's made from twisted cotton fibers that form a cord. It's a great break from your everyday cotton or wool, so feel free to pick up some corduroy pieces to make your cold weather wardrobe more interesting. From outerwear to pants and even shoes, here are some of the best corduroy picks of the season.
1. J.Crew Vintage Cord in 770 Fit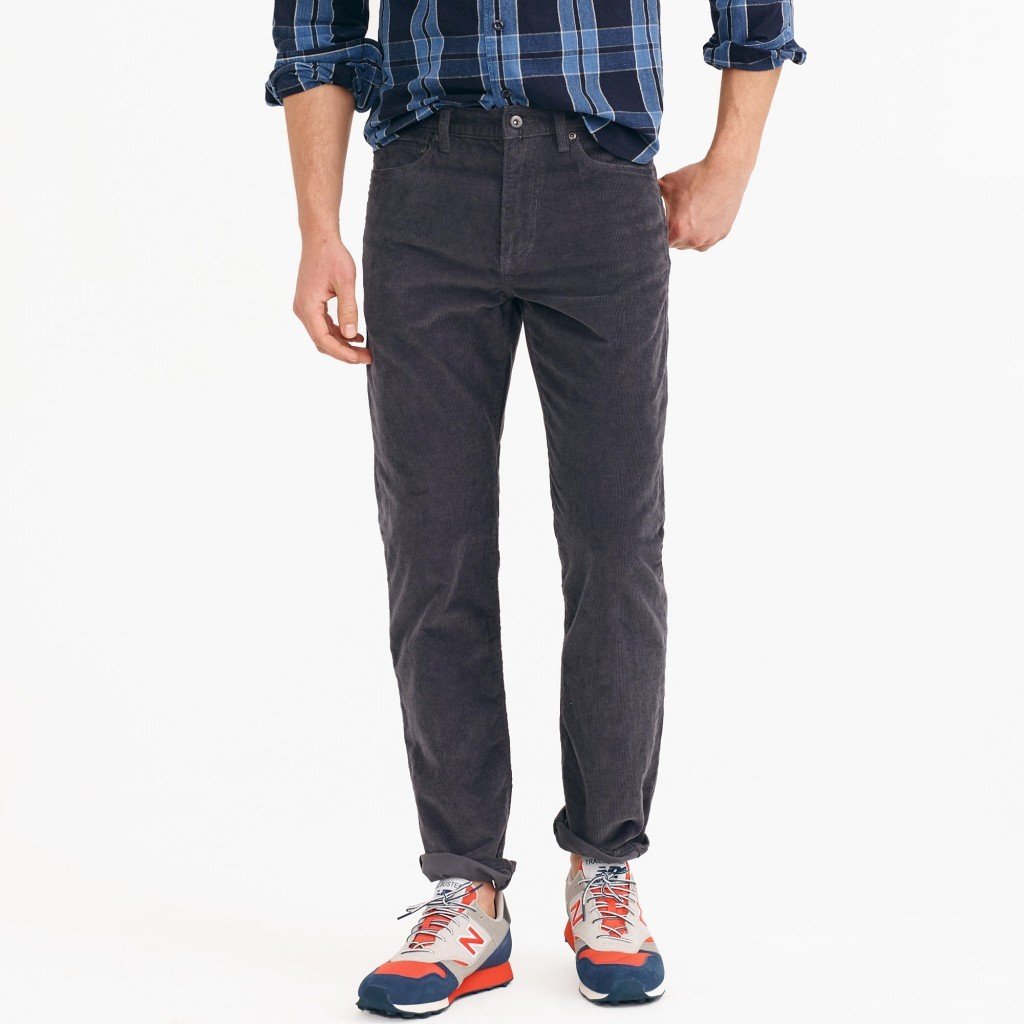 When you first think of corduroy, you probably think of pants. Corduroy pants are cool, causal, and look great with everything from T-shirts to sweaters. If you need a basic but not boring pair, J.Crew's Vintage Cords in 770 are a great choice. As implied, they have a vintage feel and wash. Available in seven colors including Dark Ivy and Belgian Chocolate, these are sure to become a staple.
---
2. Thom Sweeney Green Slim-Fit Cotton and Cashmere-Blend Corduroy Three-Piece Suit
If you really like corduroy and want something incredible unique, Thom Sweeney's Green Slim-Fit Cotton and Cashmere-Blend Corduroy Three-Piece Suit has that in spades. A deep forest shade, the blended fabric makes it luxurious. Like most suits, this one is lined in satin for maximum comfort, durability, and structure. Three pieces of corduroy go a long way, and you could even wear the pants, jacket, and vest as separates for more causal occasions.
---
3. Gucci Burgundy Slim-Fit Corduroy Blazer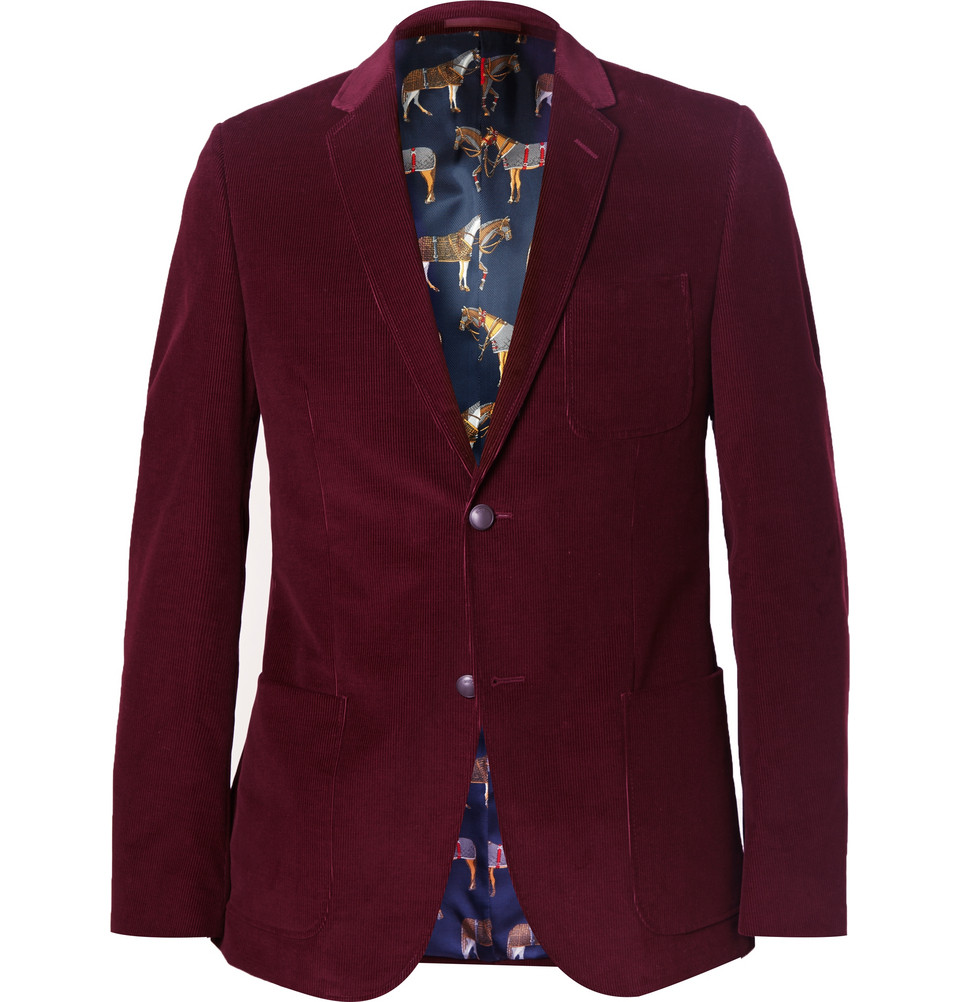 Burgundy is the color of the season, and Gucci's Slim-Fit Corduroy Blazer is one of the richest shades. Incredibly sharp, it is perfect to dress up jeans and a great alternative to a sport coat for events. While it is certainly an investment, you will look forward to the colder months for years to come just so you can wear this blazer again.
---
4. Converse Chuck Taylor All Star Lo Corduroy Sneaker
Sneakers are a great way to add just a touch of corduroy to any ensemble. These charcoal-colored Converse Chuck Taylor All Star Lo Corduroy Sneakers are cool, casual, and have a great price. Comfortable, the corduroy was designed to be soft so that these shoes are easy to walk around in and not stiff.
5. Barbour Chelsea Fit Regular Quilted Jacket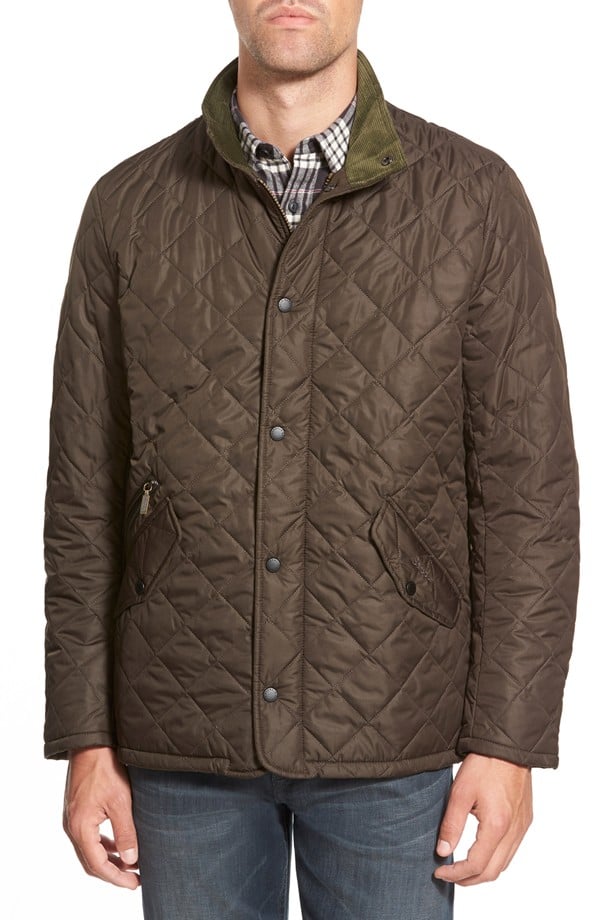 Barbour's Chelsea Fit Regular Quilted Jacket is accented with a corduroy collar. A classic, this jacket will stay in style season after season. The corduroy collar is designed not only to look good, but also to help your body retain heat and stay protected from the wind. Featuring a front zip closure and snap placket, this fine piece of outerwear is also machine washable.
---
6. Vineyard Vines Straight Leg Stretch Corduroy Pants
Vineyard Vine's Straight Leg Stretch Corduroy Pants are a deep crimson color and a more polished and comfortable alternative to skinny or straight-leg jeans. Wear these pants with a black, navy, or even camel colored sweater.
---
7. Joe Fresh Men's Corduroy Blazer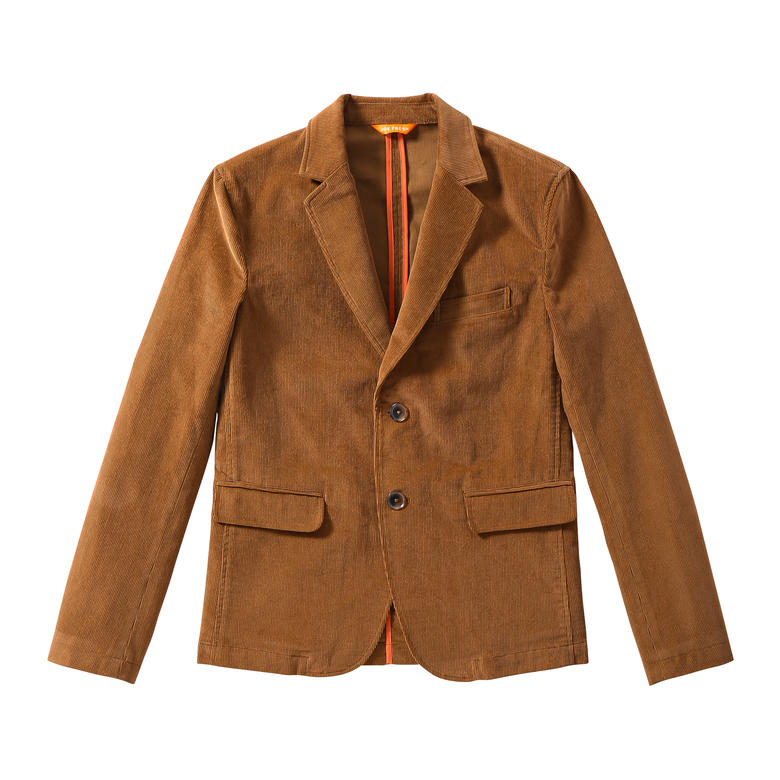 If you are looking for an inexpensive and versatile corduroy piece to add to your wardrobe, check out Joe Fresh's Men's Corduroy Blazer. A camel color, it features two front pockets. It could even be worn as outerwear in the spring.
---
8. Ben Sherman Fine Corduroy Shirt
An ideal layering piece, Ben Sherman's Fine Corduroy Shirt looks even more than fine with your favorite pair of jeans. Available in purple, which is burgundy-hued, as well as black, which has a faded, grey-ish look, this shirt has a vintage look and feel. For a '90s-inspired look, wear it with a white or black T-shirt underneath and open up a few buttons.
More from Gear & Style Cheat Sheet:
Want more great content like this? Sign up here to receive the best of Cheat Sheet delivered daily. No spam; just tailored content straight to your inbox.