The Best T-Shirts to Support Your Favorite Presidential Candidate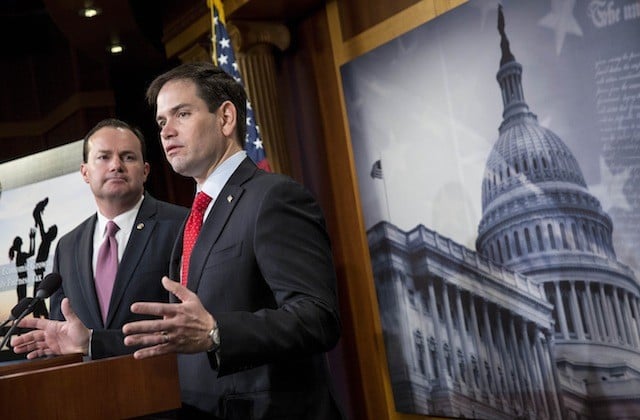 Now, it's easier than ever to wear your politics on your sleeve with a new batch of custom T-shirts designed exclusively for the 2016 presidential race. Of course, we know each of the candidates has a go big or go home mentality, but some have upped the stakes even more with bold-named designers and artists behind their apparel.
So, rather than try to emulate the actual style of the 2016 presidential candidates, which has been rather uninspiring at best and downright tragic at worst (ahem, pantsuits and comb overs aren't always advisable), here are a few ways to tee up support for your White House top pick.
Spoiler alert: The Democrats are winning the race when it comes to presidential merchandising, with both Hillary Clinton and Bernie Sanders upping their shirt game with cool-kid, designer options that you'll actually want to wear.
Hillary Clinton
Just last month, Democratic candidate Hillary Clinton released a set of T-shirts designed by the fashion powerhouses of Marc Jacobs, Dao-Yi Chow and Maxwell Osborne of Public School and DKNY, and Tory Burch.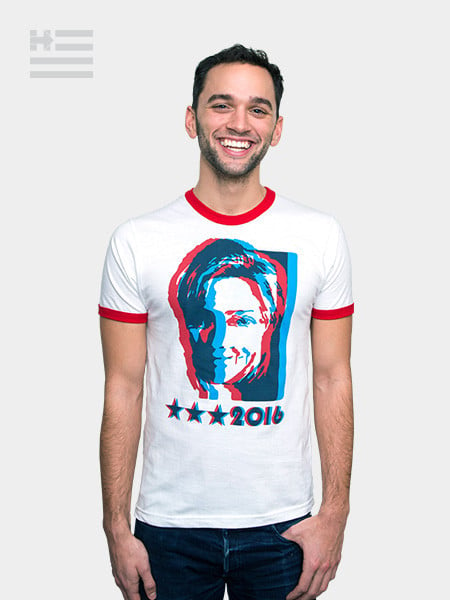 A darling among the fashion set, Marc Jacobs is making waves with his shirt, which features an artsy, patriotic rendering of Clinton's likeness. It's clear he had some serious motivation to channel his talent into the design. "My support for Hillary is grounded on our long-standing shared belief in equality," Jacobs said. "I am proud to share this T-shirt as a champion for equal rights, for the progress we have made and for the hope of continued progress with Hillary as president." Kendall Jenner has already rallied in support by posting a photo of it, which is quite the endorsement — at least among some followers.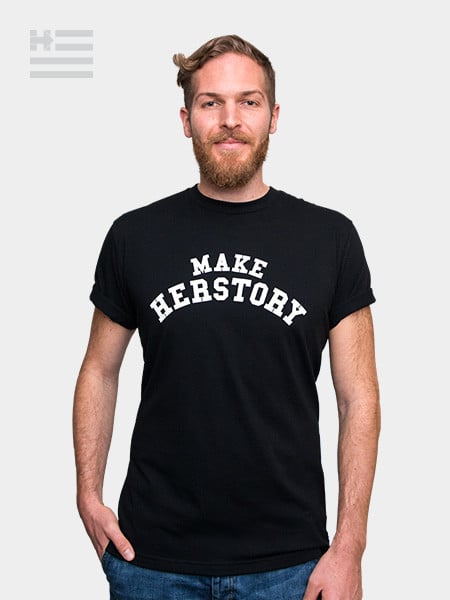 Chow and Osborne put a clever message on their T-shirt, with the "Make Herstory" tagline. "A Hillary Clinton presidency would mark an exciting and bold new chapter in America's story — and in the story for women's equality," said the design duo of the inspiration for the tee. "Change doesn't happen by keeping things the same. Real change comes from being brave, being different. We have a long way to go but it's not only time for history but herstory, as well." As an added punch, the back of the shirt has the number 16 in big letterman-style font with Hillary's signature below it, which clearly tugs at the fashion heartstrings of all of you jersey-wearing, sports fans.
Bernie Sanders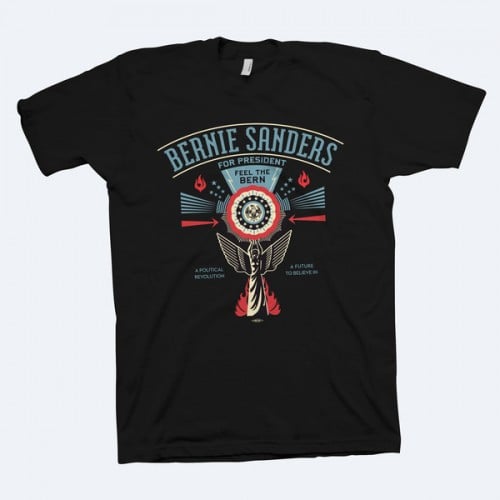 As you may remember, Shepard Fairey designed the iconic Obama "Hope" poster in 2008. So it's no wonder that Democratic candidate Bernie Sanders called upon the artist to sprinkle the "Fairey" dust around and create a T-shirt for him in hopes of spreading the same sort of powerful imagery. But, not only did Sanders get a hot "Feel the Bern" shirt, he also received a ringing endorsement. "Bernie Sanders is the real deal and I feel it's important for me to voice my support for his bid for President," said Fairey. "I think he's the candidate who will look out for the interest of average Americans and the candidate who to me embodies the principles of justice, equality, liberty, and access to the American Dream. Bernie needs help from people like you and me and I think he'll look out for the needs of people like you and me."
Donald Trump
While there may be plenty of pro- and anti-Donald Trump trends and no shortage of creative message tees circulating the scene, official T-shirts from Trump's Republican camp are a bit less imaginative. Plain Jane options pull no punches and basically feature Trump's slogan, "Make American Great Again" — and little else.
Ted Cruz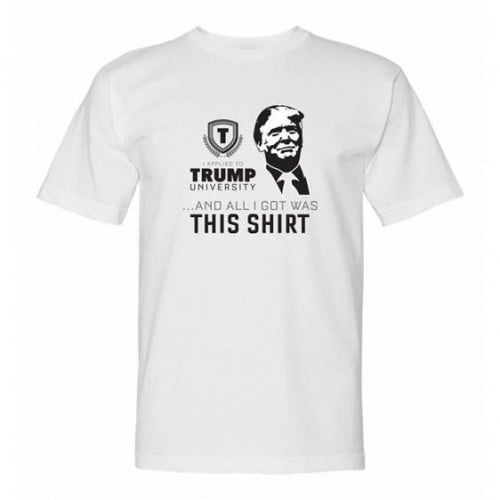 In addition to Republican candidate Ted Cruz's "Reignite" tees with his flame campaign logo, the most creative version we could find was his own sarcastically funny jab at his opponent, Donald Trump. The shirt reads: "I went to Trump University and all I got was this shirt."
Marco Rubio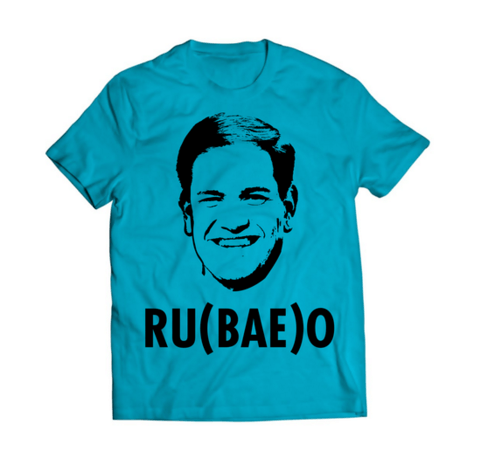 Three cheers for the GOP party's Marco Rubio for having the most fun (at least out of the GOP group) with one of his shirts. In the absence of a Marc Jacobs or a Shepard Fairey designing his shirt, he still made a statement with his "Ru(bae)o" option, which you have to admit is pretty genius — all for the sake of those millennial "baes" and their votes.
Follow Rachel on Twitter @rachellw and Instagram @rachellwatkins

More from Gear and Style Cheat Sheet: