10 Ways to Make Your Eyebrows Look Fuller
In the '90s, skinny brows reigned supreme, but these days it's all about the bold look. "Forget the shoulder pads and heavily contoured blush — the bold brow look is modernized in 2017 with cleaner lines and less overall bushy-ness," Joey Healy, NYC-based eyebrow specialist and celebrity brow guru, said in an interview with The Cheat Sheet. And celebs like Cara Delevingne, Lily Collins, and Demi Lovato are proving bigger, natural-looking brows are back. 
Even if you fell victim to the brow trends of the past, there are still countless ways to enhance, and even grow back, your brows. We asked some beauty gurus to share their best-kept secrets for remedying even the most over-tweezed, over-plucked, and over-waxed eyebrows.
1. Schedule an appointment with a professional
The best way to get eyebrows rehabbed is with a professional. "Look for a licensed esthetician who not only waxes your eyebrows, but will spend the time designing the perfect shape according to your bone structure and will use tweezers to work detail on your brows," Nikol Johnson-Sanchez, brow expert and owner of Fresh Beauty Studio in Fort Lauderdale, Florida, said.
Before booking your visit, it's important to avoid plucking, waxing, or picking of any kind for at least two months, as your brows should be totally untouched by the time you seek out the help of a professional.
2. Use a brow pencil
Accenting the brows with color will allow you to highlight key points in your shape and can help give your brows a polished look. They also tend to last longer than the powder kind. "When shaping your brows through tweezing, you can only remove hair, but using a brow pencil to fill in the gaps can really help redesign your shape," said Healy. Eyebrow stencils usually come in a pack of five, which gives you the freedom to play around with the shape and thickness of your brows.
"Choose a color that's closest to your natural eyebrow hair,"Johnson-Sanchez recommended. To apply, always start with a small amount of product, then build intensity.
3. Opt for a brow powder
Brow powder will come in handy to help fill in the gaps while you're trying to grow out those sparse eyebrow hairs. "Brow pencils can be considered more corrective, while powders 'turn up the volume' on your shape," explained Healy. "In addition, working with a powder is easier for a novice because you can gradually build up the color with simple, light strokes."
Whichever brow color you choose, make sure to always use waterproof brow products to ensure everything stays in place throughout the day. "For powders use a stiff, angled brush for control and go through the hairs several times at the end," Healy said. "To finish, always set with a non-crunchy clear gel for hold, which will help groom unruly brows into submission if they attempt to make a run for it in different directions!"
4. Try tinting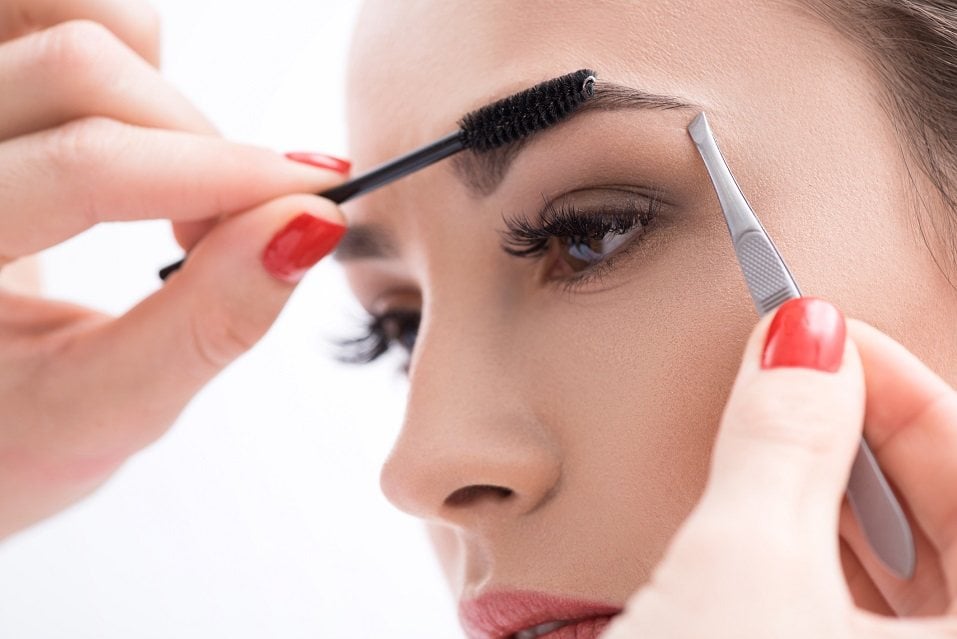 If cosmetic enhancements just aren't cutting it for you, consider having your eyebrows tinted by a professional. "The eyebrow tint is a dye that deepens the color which will help give you a fuller, even-looking brow all the way through," said Tammy Fisher, brow specialist and founder of Browtiste. "Keep in mind, however, that the dye will only color the hair, not the skin."
For women with light blonde brows or for those with grays moving in, tinting your eyebrows is an excellent way to bring the most out of your existing shape. "A richer brow tone will also immediately enhance your iris color and make the whites of your eyes look brighter," Healy said.
5. Use a serum
If you find that your eyebrow hair is not growing back on its own, this may be the result of the damage done to the hair follicle from years (or decades) of continually pulling the hair from its root. "This is when an eyebrow serum can really come in handy," said Fisher. "Serum will instantly help stimulate the hair follicle and increase new hair growth."
Healy suggests searching for a brand that contains botanical ingredients such as chamomile, white tea, licorice and cucumber, like his Brow Renovation Serum. "Thicker and fuller brows will result in just two-three weeks if used properly every day," he said.
6. Pluck in the right kind of lighting
"Avoid a magnifying mirror at all costs," Healy said. "A classic case of not being able to 'see the forest for the trees,' is taking the tweezer to the brow when you're too zoomed in and sitting in dim light." By looking at your brow hairs so closely, you'll instantly fall under a deep tweezer trance resulting in over-plucking.
Pluck in good light close to your bathroom mirror and continue to step back and assess the overall shape from a short distance. It's also extremely helpful to use a hand mirror to review the shape from both sides.
7. Try not to tweeze more than one hair at a time
When cleaning up your brows between professional shapings, or when attempting to self-groom, be as patient as possible. Taking just one wrong hair can spell eyebrow disaster. "You must step into your role as an artist and judiciously remove only the necessary hairs with care," said Healy. "To tweeze, use a quality pair of slant-tip tweezers, hold the skin slightly taut, and gently pluck one hair at a time in the direction of hair growth." Remember, you can always take more, but you can't put them back.
The same rule goes with trimming — overdoing it often leads to unattractive gaps in your shape. "This is because, when you trim your brow hairs too short, they stick straight out instead of lying down," Healy explained. "Often, it's the longer brow hairs lying flat that give the entire area shape, fullness and depth." Instead, simply brush down the rebellious few hairs that spring up now and then.
8. Don't wax or thread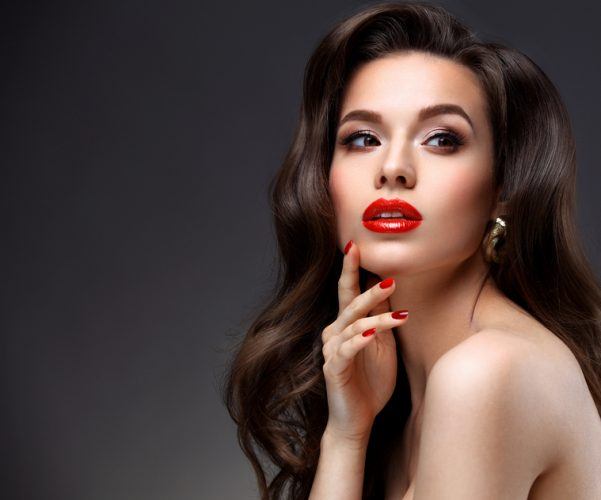 "Waxing can cause burns, involves chemicals, and will ultimately break down your collagen, giving you wrinkles," warned Healy. "And threading creates brow shapes that are harsh, thin and asymmetrical." Instead, stick with your trusty tweezers and small trimming scissors for optimal results. Not only is it a chemical-free approach that can be used on all skin types (sensitive, retinol users, etc.), but the results are simply more precise and thus more flattering.
"Artistically speaking, you're given complete control to sculpt the brow in a manner best-suited to your bone structure," he explained. "Additionally, chances of ingrown are highly diminished and it's a method that you can uphold at home!"
9. Don't take too much hair from above
Some will preach that you must never tweeze the hair above the eyebrow, only beneath. But Healy warns that following this outdated rule will leave the brow shape looking unfinished. With that said, there is some merit to this principle.  "Simply go after the peach fuzz above the brow and the hair in 'no man's land' — aka the area that creeps across the temple toward your hairline," Healy explained.
In other words, most of the shaping should come from underneath to lift the brow up. If too much hair is plucked from above, it instantly flattens the brow and can give you a scowling effect. Use your best judgment when working above the brow and be sure to keep it to a quick clean-up.
10. Microstroke with permanent makeup
Yes, this involves the word "permanent" because it's not coming off unless you seek professional laser-removal treatment. But brow experts say if you're filling in your brows every single day and are tired of doing it, this might be the right move for you. "Microstroking lasts about two years before the color starts to fade and you'll need a refresh," says Johnson-Sanchez.
But be warned: This is a serious procedure that takes research on your part to find a licensed, knowledgeable, and certified permanent makeup artist with more than two years' experience.
[Editor's note: This story was originally published April 2017.]