What You Should Know About Amazon's New Fire TVs and Tablets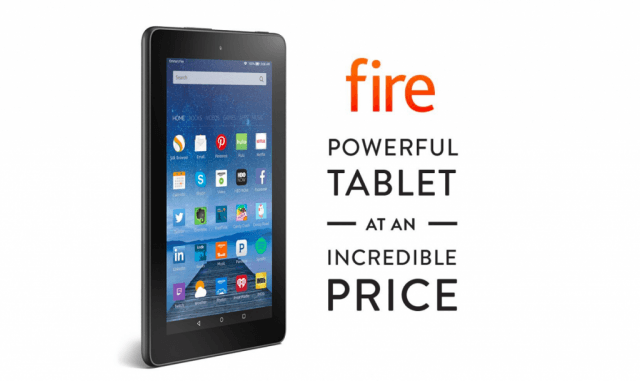 Apple isn't the only major tech company to unveil an assortment of new devices in recent weeks. Amazon just announced six new devices — four tablets and two set-top boxes — aimed squarely at making it easy for users to watch movies, read books, and listen to music. Just like at Apple's event, there were a lot of new additions to keep track of. The new devices are as follows:
An upgraded Fire TV box with 4K support for $99.99
A new Fire TV stick with voice search and Alexa voice control for $39.99
A 10.1-inch Kindle Fire HD tablet for $229
An 8-inch Kindle Fire HD tablet for $149.99
A 7-inch Kindle Fire tablet for $49.99
A kid-friendly Kindle Fire tablet (with a bumper and two-year replacement guarantee) for $99.99
David Pierce reports for Wired that the Fire TV's 4K support, especially paired with Amazon's "impressive" selection of 4K content, represents a significant upgrade, "not to mention a pointed victory over the new Apple TV." The integration of Alexa enables users to get most of the capability of the voice-powered Amazon Echo from their TV. The Fire TV also gains a new controller for gaming, upgraded hardware within the box, improvements to the ASAP feature that pre-caches video to enable it to play faster, and a better kind of video coding, called HEVC, that uses less bandwidth to stream video — increasing your chances of getting a high-definition stream even on a bad connection.
Amazon's new tablets, in turn, have been upgraded with bigger screens, but have gotten thinner and remain easy to hold and are impressively durable. Pierce explains that all of the products have obviously been designed "with reading and watching in mind," and notes that the new Fire OS 5 operating system is a welcome upgrade. The new software brings a light background, a grid of content, all of your favorite content on one page and your recent content on another — which makes the interface feel usable "really for the first time."
Pierce thinks that Amazon has gotten things right with its latest devices because the company has finally figured out what the Fire devices are all about: watching movies, reading books, watching TV shows, and listening to music. In Pierce's estimation, Amazon has already proven that it can build good hardware, and sell it for less than most of its competitors. The new devices make finding and consuming content easier — "books, music, movies, TV shows, games, all the things you do when you're not doing the work everybody else wants you to do on their tablets."
While there are sizable gaps in Amazon's content offerings, and you're still paying $99 per year to access them, there are 3,000 channels, apps, and games for Fire TV, which enables you to find any content that you can't get from Amazon on Netflix, Hulu, HBO Now, Sling, etc. Amazon has finally realized that its devices don't need to compete with the iPad or the Roku, but should both be as cheap as possible and focus on making content easy to access. Additionally, its software simply needs to be easy to use, and offer you accurate recommendations so that you'll never run out of content to consume.
Rachel Metz reports that the key word in all of this is that Amazon's new devices — especially its new tablets — are priced so affordably. Amazon already sells its cheapest tablet for $99, but is going a lot lower with the new $49 7-inch tablet. Amazon has long chosen to set the prices of its devices as close as possible to what it actually costs to build them, while making money on Prime memberships, plus sales of e-books, videos, games, and music. The aggressive pricing of Amazon's new devices continues that trend, and positions the tablets as appealing options for users who don't want to spend a lot on a tablet from Apple or Samsung, but are wary of buying a cheap device from unknown manufacturers.
Metz notes that some compromises are necessary when making a cheap tablet — which could explain why the $49 tablet's resolution, battery life, and processor are lower and slower than the specifications of the existing $99 tablet. Metz reports that in the brief time during which she tested the tablet, she noticed that its display wasn't as crisp as that of other tablets, but it responded well to taps and swipes and seemed "fine" for web surfing, reading, and watching videos.
While Amazon's executives aren't yet sure what people will use the tablets for, beyond standard media consumption, the company is hoping that people will buy the new devices in multiples. In addition to selling the $49 Fire tablet on its own, Amazon is also offering a six-pack for $250, which costs about $19 less than the price of the 16GB iPad Mini with WiFi.
As Richard Nieva reports for CNET, there's a rivalry between Apple and Amazon, but the two companies come at the tablet segment from opposite ends of the market. "For Amazon, the goal of selling hardware is to get people to spend money in its marketplace on items like movies, books, music and clothes," Nieva notes. "For Apple, the goal of selling expensive hardware is selling expensive hardware. That's where Apple makes its money, but it also ties people to Apple's world of software and services — where people also buy music and movies."
While Amazon unveiled its cheapest tablet yet, Apple recently unveiled the most expensive iPad it's ever introduced. David Limp, Amazon's devices chief, said that the companies' tablet customers "don't really overlap." The companies'  latest devices seem to reinforce that notion, as Amazon seems increasingly determined to offer low-cost options that aren't premium devices, but are more than good enough to enable you to consume as much content as you want.
More from Gear & Style Cheat Sheet: