Are Investors Taking Advantage of Lower Gold Prices?
Last week, gold futures climbed 1.3 percent on Friday, but still posted a 6.9 percent loss for the week.  It was the biggest decline for gold in three months.  Some were quick to announce the gold bull market dead, but many investors disagree.  Furthermore, actual demand for physical precious metals continue to show strength.
In a recent Bloomberg survey, only 10 of 21 traders expect gold prices to rise this week, which represents the lowest proportion since July.  "Bears are in the driver seat," said Miguel Perez-Santalla, vice president of sales at Heraeus Precious Metals Management LLC in New York.  However, this does not mean the fundamentals have changed, or the decade long bull market is dead.  Perez-Santalla goes on to explain, "The problems in Europe have not been solved and buying will come back and we will see higher prices because of a lack of confidence in the financial system."
Investor Insights: Will Moving Average Deter Gold Investors?
As the chart below shows, there is significant support for gold between $1,500 and $1,600 per ounce as investors step in to take advantage of lower gold prices.  More importantly, gold's multi-year upward channel is still intact.  A similar channel can also be found in silver.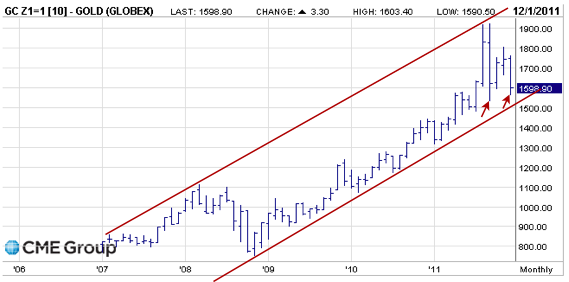 Many investors viewed the pullback in precious metals last week as a another buying opportunity in the gold bull market.  Gerhard Schubert, Head of Precious Metals at Dubai-based Emirates NBD explained, "I was resigned to the fact that the physical buying in our market had finished for the year, and then came Thursday, December 15.  We saw excellent buying from customers which reminded us very strongly of the heydays in August and September."
The pullback seen last week was not exclusive to gold and silver.  Commodities across the board declined the most in nearly three months as the euro hit its lowest level since January.  Looking at the options market for gold, it appears that investors are betting on the gold bull market to continue.  The most widely held option gives owners the right to purchase gold at $2,000 by March.  "The fundamentals remain positive," said Adrian Day, the president of Adrian Day Asset Management in Maryland. "Both the European Central Bank and the Federal Reserve remain easy. After this cleansing, gold will move up again."
Recently, the House passed a $1 trillion budget bill paying for day-to-day operations of the U.S. government and avoiding a partial government shutdown.  Overseas, EU finance ministers are seeking an additional 200 billion euros in IMF crisis funds in order to deal with the euro zone debt crisis.  These latest developments should serve as a firm reminder to investors that the global debt and spending problem is not going away.  In a world of fiat currencies, precious metals are still the best hedge.
If you would like to receive more professional analysis on equity miners and other precious metal investments, we invite you to try our premium service free for 14 days.