On Thursday, gold futures for December delivery fell $32 to settle at $1,759.60 per ounce, while silver futures declined 26 cents to settle at $34.11.
Europe remained the center of attention.  The European Union has dramatically cut its growth forecast for the euro zone in 2012, down from 1.8% to just 0.5%. "Growth has stalled in Europe and there is a risk of a new recession," said European Commissioner Olli Rehn.
"The outlook is unfortunately gloomy," Rehn told reporters in Brussels today. "The forecast is in fact the last wake-up call. The recovery has now come to a standstill and there's the risk of a new recession unless determined action is taken." In its report, the European Commission identified the region's sovereign debt crisis as being among the main threats to the economy.  In announcing its revised growth forecasts today, the commission predicted that, without any change in political policy, Italian public debt would remain unchanged at 120.5% of gross domestic product next year, before falling to 118.7% in 2013. The commission also forecast that Greece would see its debt level rise to 198.3% of GDP.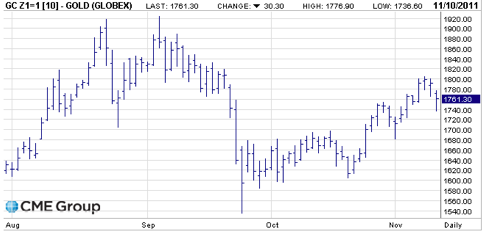 It was a choppy trading day for gold and silver investments.  In afternoon trading, the SPDR Gold Trust (NYSEARCA:GLD) declined by .44%, while the iShares Silver Trust (NYSEARCA:SLV) edged .15% lower.  Gold miners (NYSEARCA:GDX) Barrick Gold (NYSE:ABX) and Yamana Gold (NYSE:AUY) dipped slightly lower, while AngloGold (NYSE:AU) gained 1.30%.  Meanwhile, silver miners (NYSEARCA:SIL) such as First Majestic (NYSE:AG) and Endeavour Silver (NYSE:EXK) fell more than 1%.
Despite what central banks may claim, inflation is alive and well.The cost of Thanksgiving dinner will be 13% higher this year than last, as prices rose for everything from turkey to green peas. A meal for 10 people will rise to $49.20 this year, up from $43.47 in 2010, the biggest increase since 1990.  The American Farm Bureau Federation has based its estimate on prices for foods traditionally served on Thanksgiving, including stuffing and pumpkin pie. Turkey was the most expensive item on the bureau's report, and also had the biggest gain, with a 16-pound bird up 22% to $21.57.
If you would like to receive more professional analysis on equity miners and other precious metal investments, we invite you to try our premium service free for 14 days.