September continues to be a roller coaster ride for investors. The Dow (NYSE:DIA) closed 303 points lower on Friday as the Eurozone soap opera got the volume turned up.  One day after credit default swaps on Greek government debt soared to a record high, internet rumors swirled of a possible Greek default over the weekend.  Although Greece denied the rumors, Germany was not taking any chances.  Bloomberg reports, " Chancellor Angela Merkel's government is preparing plans to shore up German banks in the event that Greece fails to meet the terms of its aid package and defaults, three coalition officials said."  The recent developments caused investors to seek safety in the U.S. Dollar (NYSE:UUP).
As the chart below shows, the U.S. Dollar Index finally broke out of its range between 73.50 and 76.  On Friday, the dollar rose to hit a six month high against the euro and franc.  The dollar also rose above its 200-day moving average, which it has not accomplished since last year.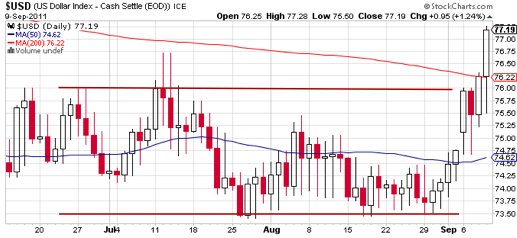 Although the U.S. Dollar jumped on Friday, investors may be skeptical of long-term strength in the dollar.  The Federal Reserve is expected to launch more forms of easing later this month. With central banks around the world debasing fiat currencies, some investors seek safety in gold (NYSE:GLD) rather than the dollar.  Gold is considered the ultimate safe-haven around the world, thus it is important to track the price of gold in other currencies beside the U.S. Dollar.  By looking at gold only in the U.S. Dollar, gold prices closed only slightly higher on Friday, and ended 1% down for the week.  However, gold is hitting new all-time highs against the euro and franc.  The chart below shows gold against the Swiss Franc.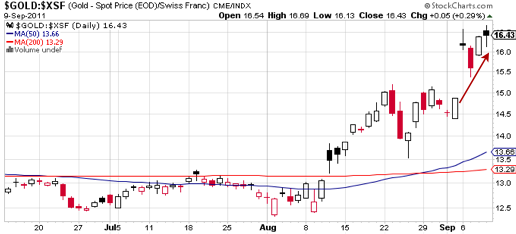 Gold has shown a great deal of strength against the franc after the Swiss National Bank decided to peg the franc to the euro.  Gold prices also received a boost after ECB's Juergen Stark, a top German official, resigned unexpectedly three years before his term expired as policy makers fail to reach an agreement on how to save the Eurozone.  Stark was against bond-buying programs and advocated government spending cuts.
More Insight on Europe:  Is the Swiss Franc to Euro Peg Bullish for Gold?
Gold and silver (NYSE:SLV) have seen volatile trading recently with the developments coming from the Euro crisis.  After gold formed to what looked like a typical head and shoulders pattern last month, many people were calling gold a bubble, again.  However, U.S. Dollar gold prices have held steady, despite being called a bubble that has popped.  In terms of other currencies such as the franc and euro, gold prices continue to reach new highs even though the U.S. Dollar shows strength.  Going forward, it will be even more important for investors to watch the price of gold in different currencies as countries around the world turn to gold as the ultimate safe-haven.  When the U.S. Dollar rally loses steam, gold priced in dollars will easily climb back above $1900 and challenge its previous highs.
Investors looking to hold precious metals in their portfolio may want to consider gold plays such as AngloGold (NYSE:AU), Newmont Mining (NYSE:NEM), or Market Vectors Jr Gold Miners ETF (NYSE:GDXJ). Hot silver plays include First Majestic Silver (NYSE:AG),Endeavour Silver (AMEX:EXK), and Global X Silver Miners ETF (NYSE:SIL).
Is Gold the Safe Haven? For more analysis on support levels and ranges for gold and silver, consider a free 14-day trial to our acclaimed Gold & Silver Investment Newsletter.
Disclosure: Long AGQ