Thursday was a sobering day for financial markets.  Investors were obviously expecting more than just Operation Twist from the Federal Reserve's FOMC minutes.  To make matters worse, HSBC released their preliminary PMI survey that showed China's manufacturing may shrink for a third month in September, the longest contraction since 2009.  Gold futures for the highly traded December delivery contract headed $66 lower to settle at $1741. Although gold was thrown out with the bath water during the selloff, the fundamental picture remains intact.
The FOMC failed to announce another official quantitative easing program, and even added to global slowdown concerns by saying, "There are significant downside risks to the economic outlook, including strains in global financial markets." This helped to cause a broad selloff as investors rushed to the US dollar as a safe haven.  In fact, the dollar hit an eight month high against the euro on Thursday.  Senior technical strategist at Schaeffer's Investment Research said, "On the one hand you have a lot strength in the US dollar, historically gold and the dollar do trade inversely.  The hedge funds are long gold and they need to raise cash and it looks like they are definitely selling some gold."  Gold has been one of the few winners this year, but hedge funds are under pressure as redemptions heat up.  Earlier this month, Goldman Sachs announced it will be closing its flagship Global Alpha fund due to client redemptions.  The fund managed $11 billion assets in 2007, but had less than $1.7 billion at the end of June.
Investing Insights: What is the Mining Industry Forecasting for Gold?
With the rush to the US dollar, many investors are now starting to question gold's status as a safe-haven asset.  As I write, gold is down nearly $250 from its highs above $1900. However, investors should keep in mind that the fundamentals have not changed for gold. Gold can not be printed and has no credit rating.  It still represents a hedge against fiat currencies and a lack of confidence.  Jim Rogers explained, "The dollar is going up against everything right now.  There are various reasons for that, one of which is everyone is panicking, and for some reason they are rushing into the US dollar.  The US dollar is not a safe haven if you ask me, but I do own it."  As the Euro zone continues to deal with its massive debt crisis, the US dollar appears to be the best looking egg in the currency basket.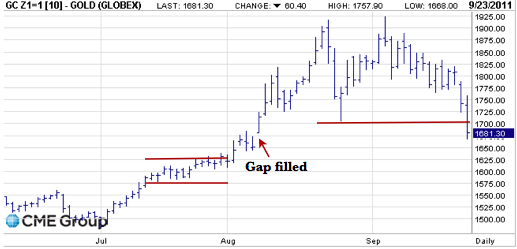 Although the fundamentals remain, the short-term technical picture for gold is in question as the selloff continues today. As the chart above shows, gold failed to bounce off the late August selloff level.  After which, gold continued to decline and broke through the psychological support level of $1700. With the recent selloff, the gold gap near $1680 has now been filled.  This gap provided some resistance, but gold continued to decline to nearly $1650.  Investors will now be looking for support between $1575 and $1625 for gold.  A pullback to these levels would represent a total retracement from the early August breakout.
Get more analysis on our support levels and ranges for gold and silver >>