6 Things You Need For the Perfect Gym Date
Are you tired of dinner and a movie? The dating game can get stale, so it's important to mix things up a bit. If you're serious about staying fit and you're also serious about a new love, why not combine the two? Go on a gym date. Having a romantic meet-up at the gym is a creative way to spend time with your date while engaging in an activity that will help you get one step closer to your health goals.
"You might not learn much about trust, loyalty, and honesty while at the gym, but at the same time, you can learn a little about their work ethic, ability to have fun, how they take criticism, and their level of attention seeking. To me, that's huge. I think when you strip away a person of their prized materials as in not seeing the car they drive, the jewelry they may or may not own, make-up, hair done, and see that person in raw form, the only thing they have in the gym is their personality," said personal trainer Louie Guarino.
Here are a few tips for making sure things go smoothly.
1. Pick the right gym
Take the time to find a gym that will make both you and your date comfortable. If you're having a hard time locating the right place to work out, you can also consider exercising at a local park or the beach.
2. Dress the part
Don't just throw on your old college sweats and a pair of ratty sneakers. Even though you'll be sweating it out at the gym, make an effort to look nice. There's nothing worse than your date looking a lot better than you. Looking presentable shows that you're excited to spend time with your honey and that you actually care. Set aside some time a few days before to select an outfit that accentuates your best features. You don't have to go on an expensive shopping trip, but you should replace any clothing items that are noticeably worn or have holes in them. Working out is not an excuse to look like it's laundry day.
3. Get creative
Take a look at the gym schedule and pick activities that are fun and offer opportunities to interact. Don't just go to the gym to lift weights together or hold each other's feet while you do sit-ups. Try taking a dance class or some other activity that involves a little flirtation and playfulness.
4. Anticipate needs
Impress your date by anticipating his or her needs. For example, bring an extra bottle of water or an extra towel. Pay attention to the little things. Did your date's shoe lace come untied? Get on your knees and tie it. You just might get another date.
5. Mind your manners
Even though you're on a date, this should not be used as an opportunity to have a make-out session in the gym locker room. Save that for later. Show your fellow gym goers some courtesy and behave.
6. Plan a post-workout meal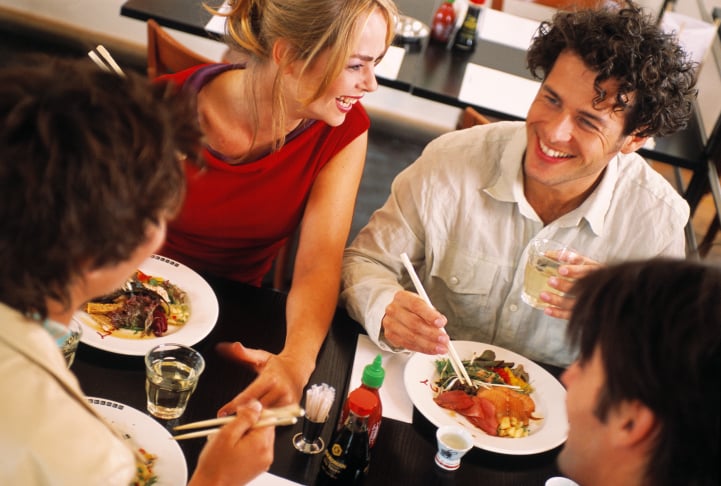 All that blood coursing through your veins may put you in a frisky mood, but you still need to nourish your bodies after the workout. You and your date will be hungry after working so hard. Make sure you both refuel with these six essential nutrients.
 More from Health & Fitness Cheat Sheet: