Tom Hanks and Other Celebrities Who Have Hidden Health Issues You'd Never Expect
From million-dollar homes to exciting careers, celebrities seem to have it all. However, there's more going on than meets the eye; some celebs are actually battling serious and life-threatening conditions. Here are the famous folks with surprising health issues, including a funny man with serious depression (page 10).
1. Tom Hanks has Type-2 diabetes
There are a lot of ways to protect yourself from Type-2 diabetes — and a clean diet and regular exercise are a good place to start. Unfortunately, Tom Hanks didn't heed these warnings in his youth. Tom tells Today that his unhealthy lifestyle choices led to his diagnosis, which he's had since at least 2013. He says small changes, like taking the buns off his hamburger, weren't enough to avoid the disease altogether. But he seems more aware of what he needs to do for his body, so things are looking up.
Next: Selena Gomez has this condition, but so does another star.
2. Toni Braxton and Selena Gomez have lupus
You've heard about Selena Gomez's condition, but she's not the only celeb with lupus. It turns out other famous folks, one of them being Toni Braxton, also live with this chronic health issue.
In the case of lupus, your immune system attacks healthy cells, which means organs can take some damage, too. As Toni tells HuffPost, "Pretty much when you have lupus you feel like you have the flu every day." And unfortunately, there's still no cure.
Next: Basketball stars aren't immune to disease, either.
3. Magic Johnson has HIV
You probably remember when Magic Johnson announced he was HIV-positive back in 1991. At the time, Live Science notes most people thought the former basketball star wouldn't live past a few years post-diagnosis. But thanks to antiviral medications, Magic is still going strong, proving HIV is no longer the death sentence it used to be.
Unfortunately, there are still over a million people in the U.S. alone who are living with HIV, and 1 in 7 of them have no idea. For this reason, it's important to get tested.
Next: Angelina Jolie was hit hard with many health issues.
4. Angelina Jolie had Bell's palsy
Angelina Jolie's health seems to have taken some hits since her split with Brad. Not only does she have high blood pressure, but USA Today reports she was also diagnosed with Bell's palsy, a condition which affects the nerves in her face and causes facial drooping on one side. Angelina says acupuncture is responsible for her recovery, but she didn't state what caused the nerve damage in the first place.
Next: This handsome star deals with some serious pain.
5. George Clooney has chronic pain
Do you often wake up with severe back pain? If so, you and George Clooney have something in common. Prevention explains back in 2005 when Clooney was filming Syriana, he hit his head and tore the outermost membrane that holds spinal fluid. He's since gone through surgeries to help with the pain, but he says the injury has never completely healed. It has even caused him to drop out of other movie projects that would have required him to do some stunts.
Next: This singer had a condition similar to PTSD.
6. Mick Jagger had acute traumatic stress disorder
This singer's been performing longer than most, but even The Rolling Stones had to take some time off for Mick to recover after his partner of 13 years committed suicide. The Daily Mail reports Mick developed acute traumatic stress disorder after the death took place, and he was also warned he shouldn't perform for a few months.
If you're unfamiliar, Healthline explains ASD is an anxiety disorder that typically lasts between three days to a month following a traumatic event, and it has symptoms similar to PTSD.
Next: You'll never believe who has bipolar disorder.
7. Catherine Zeta-Jones has bipolar disorder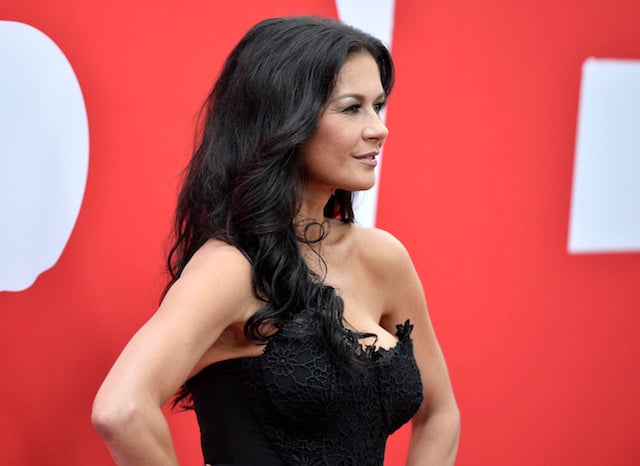 Many celebs deal with mental illness, and Catherine Zeta-Jones is one of them. People.com explains Catherine has bipolar II, which is characterized by cyclical periods of highs (mania) and lows (depression). And stressful life events as well as a changing sleep schedule can trigger the depressive or manic periods.
Catherine has been open before about her struggles with the disorder, and she's even checked herself into facilities for help before. And she's not the only one — Carrie Fisher was diagnosed with bipolar disorder as well.
Next: This actor's still going strong years after his diagnosis.
8. Michael J. Fox has Parkinson's disease
This isn't a new diagnosis for Michael J. Fox, but even so, he continues to live and work with this debilitating neurological disorder. Today says Michael learned he had Parkinson's back in 1991, and he managed to hide the neurological condition from the public for seven years. Doctors told him he'd only have roughly 10 years before he'd be completely disabled, yet he still remains mobile and optimistic about his future.
Michael also has his own foundation dedicated to Parkinson's research, where you can donate and learn about the disease.
Next: Most people who develop this disease are never cured, but this celeb was.
9. Pamela Anderson had hepatitis C
After living with this deadly virus for 16 years, Pamela Anderson announced a few years ago that she had been totally cured from the virus thanks to a life-saving medication, Health.com reports. She reportedly got the disease from sharing tattoo needles with her ex-husband, Tommy Lee.
Because hepatitis C is a blood-borne virus that attacks the liver, doctors told her at the time she may have 10 years to live. But thanks to her life-saving meds, she's able to live a happy and healthy life once again. Remember, hep C is often symptomless, so getting tested is vital if you think you're at risk.
Next: Even Hollywood's funniest deal with this mental health disorder.
10. Jim Carrey battles depression
It's no secret some of the world's funniest folks use their humor to help them (and others) get through life's difficulties, and Jim Carrey is no different. When Jim's mom became sick in his younger years, he used his jokes to make her feel better. But after having to drop out of high school to help his financially unstable family, depression really set in.
After some time with Prozac, he decided to get off the med because he didn't want to depend on it long-term.
Next: Even this famous tennis star lives with an autoimmune disease.
11. Venus Williams has Sjogren's syndrome
This famous tennis player doesn't let this chronic condition get in her way, but she has spoken out about its effects before. The Sjogren's Syndrome Foundation explains this autoimmune disease affects the entire body and often causes excessive dryness and dysfunction of certain organs. It also affects women in 9 out of 10 cases. As far as Venus is concerned, she says she's had to make some adjustments since her diagnosis, but she continues to fight for awareness of the cause.
Next: This rapper deals with an autoimmune disease.
12. Missy Elliott has Graves' disease
This iconic rap star has a disease you might have never even heard of. CBS News explains Graves' is an autoimmune thyroid disease that can cause anxiety, tremors, menstrual irregularities, and weight loss. Missy was diagnosed back in 2008 after she almost crashed her car due to tremors. Though doctors aren't sure what causes the condition to develop, it's way more common in women and can be treated with medications, therapy, or radiation.
Next: A beauty with a secret skin disease
13. Kim Kardashian has psoriasis
Yes, even the most beautiful of Hollywood's elite are plagued with skin problems. The Daily Mail says Kim was diagnosed with psoriasis back in 2010, and she likely inherited it from her mother, Kris Jenner. Right now, there's no cure for this disorder that produces itchy red patches on the skin, but she's reportedly able to manage it through her diet and cortisone shots. When she's feeling the need to cover it, she also applies concealer.
Next: You'll never guess what young celebrity has a heart condition.
14. Miley Cyrus has a heart condition
Miley's known for her partying ways and iconic tongue-out poses in front of the camera, but there's more to her than meets the eye. Us Weekly reports she has tachycardia, which causes her heart rate to be abnormally high. There's good news for Miley, though — her condition isn't dangerous, and she should be just fine. Still, she says it does scare her, as she says, "There is never a time onstage when I'm not thinking about my heart."
Next: This star underwent five surgeries for her condition.
15. Lena Dunham had endometriosis
After five surgeries, Lena Dunham finally announced she is free of endometriosis — but it was certainly a long road to recovery. Endometriosis happens when tissue from your uterus continues to grow to other areas of your body, and this can result in intense pain and heavy periods. People.com explains she tried plenty of non-surgical options to treat it, but going under the knife ended up being the one thing that worked.
Check out The Cheat Sheet on Facebook!