This Man Shows Off 'Perfect Girlfriend' with a Heartbreaking Story
They say "We don't know what we've got 'til it's gone," and that unfortunately seems to be the truth much of the time. This man, who just goes by "John" shared a story that, while not tragic, certainly will open your eyes about not taking the great things and great people in life for granted.
It's a wonderful look at a relationship and will almost certainly cause you to re-evaluate yours.
Thanks for this reminder, John.
Here's the whole story, told out in captioned pictures:
He paints a picture of a wonderful, quirky, caring girlfriend…
And what did she do for him anyway?…
But when you see why he went through the trouble of documenting this, you'll get chills. Because we're all guilty of what happened to him.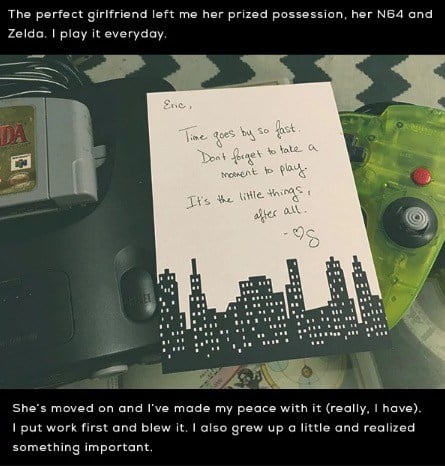 It's a punch in the gut, but as difficult as it is to read, it's something many, if not all of us have actually lived through. And if we just had the perspective that we get in hindsight, we can work to make our relationships as perfect as we remember our significant others being.
Again, thanks to John, we get one more reminder not to take these things for granted, and to imagine how we'd feel if something wonderful went away.