The Worst Foods From Walmart You Should Never Have in Your Kitchen
Some people love Walmart, others hate it. But most agree the discount store has rock-bottom prices on groceries. Not all Walmart foods are created equal, however. Whether they're a waste of money or horrifically unhealthy, these are the Walmart items you should steer clear of, including one common grocery staple you should avoid at all costs (page 10).
1. Seafood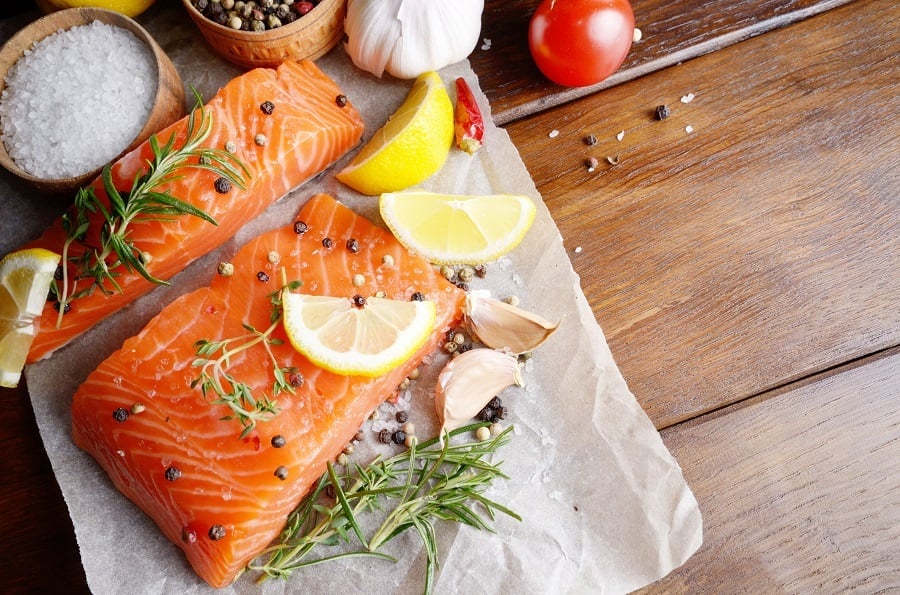 Why: Some Walmart fish offerings are very high in mercury.
Fish like salmon is much healthier when it's wild-caught versus farmed. While Walmart's seafood selection has come a long way, but it still has a lot of work to do as far as both quality and sustainability.
Next: If you need to snack on the best, snack elsewhere.
2. Name-brand snacks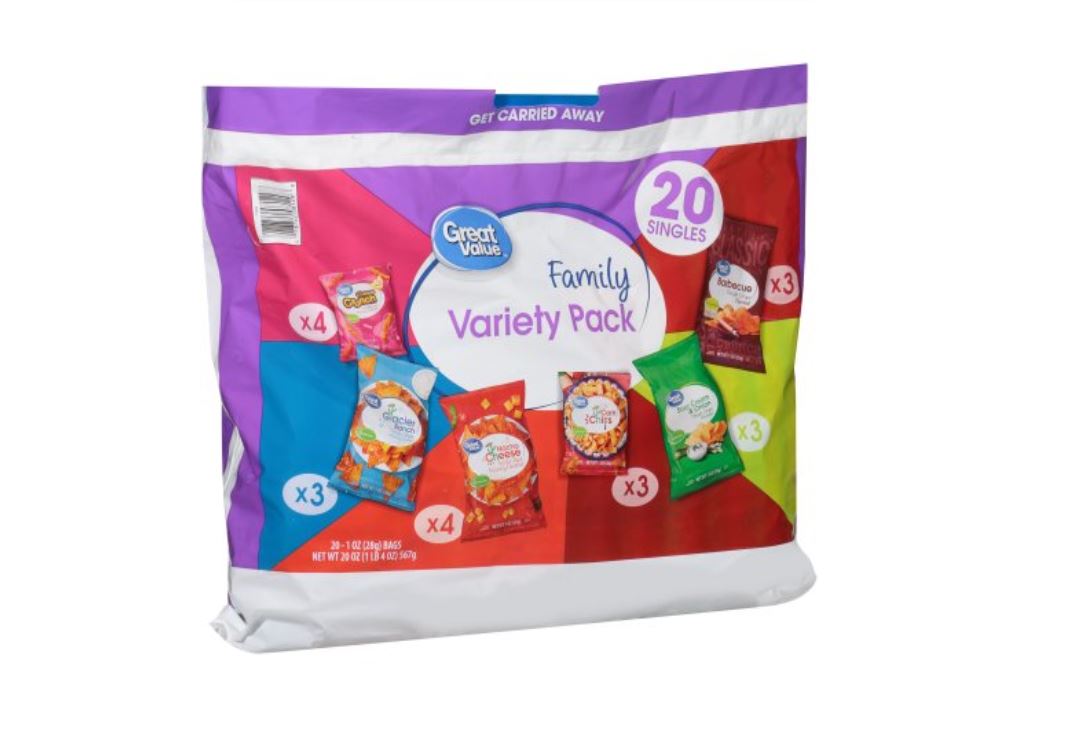 Why: Walmart's store brand is cheaper.
You may see name-brand snacks on the shelves for a lower price than you would elsewhere. But the Walmart brand, Great Value, is usually even cheaper; typically, it's a better deal all around.
Next: A cautionary tale on healthy habits
3. Vitamins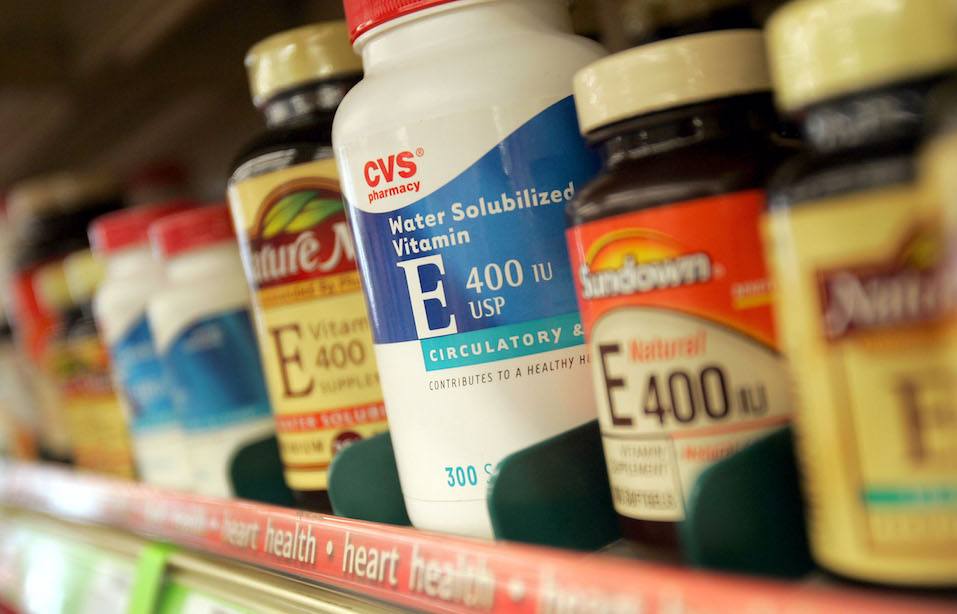 Why: An inquiry found only 4% of tested products showed DNA from the plants on the labels.
A scary situation with Walmart vitamins and supplements: An investigation led by the New York Attorney General found Walmart to rank the worst — compared to Target, GNC, and Walgreens — with many supplements containing DNA from other random plants. Only 4% of products showed DNA from plants listed on the labels.
Compare prices before buying vitamins at Walmart, especially gummies like Vitafusion MultiVites. Amazon often beats Walmart in cost and variety.
Next: Two foods for the price of one
4. Great Value Pizzadilla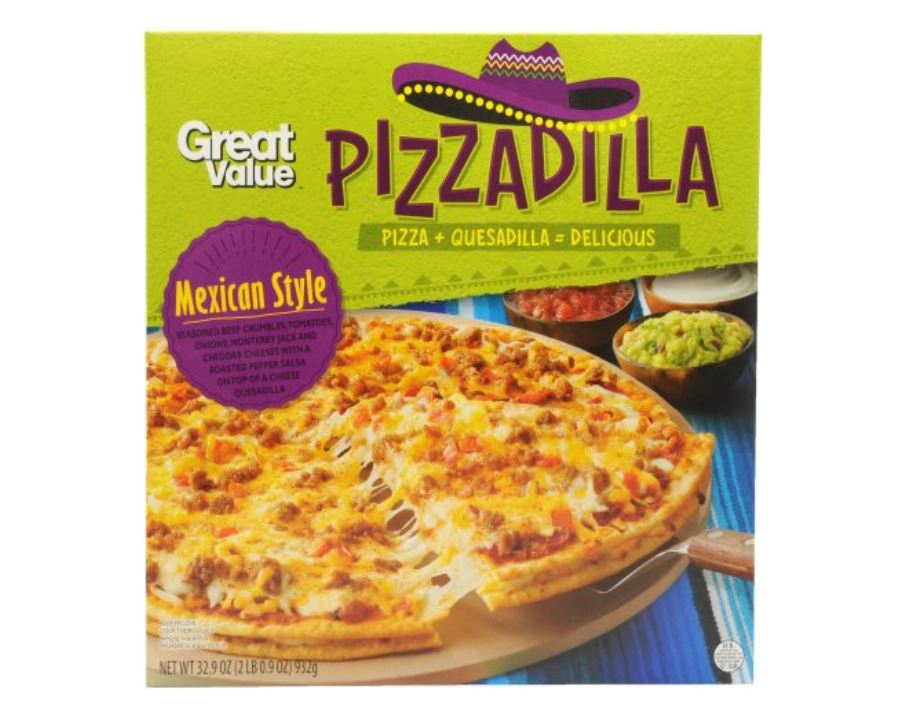 Why: One small slice is nearly 400 calories and has 1,770 grams of sodium.
For roughly $7, you can eat a pizza and quesadilla at the same time. This may be a college student's dream, but based on the Great Value nutritional info you should avoid it at all costs. The price seems ideal but no Pizzadilla flavor — Mexican, Carne Asada, or Chicken Enchilada — is worth it.
Next: This breakfast deal isn't so sweet.
5. Maple syrup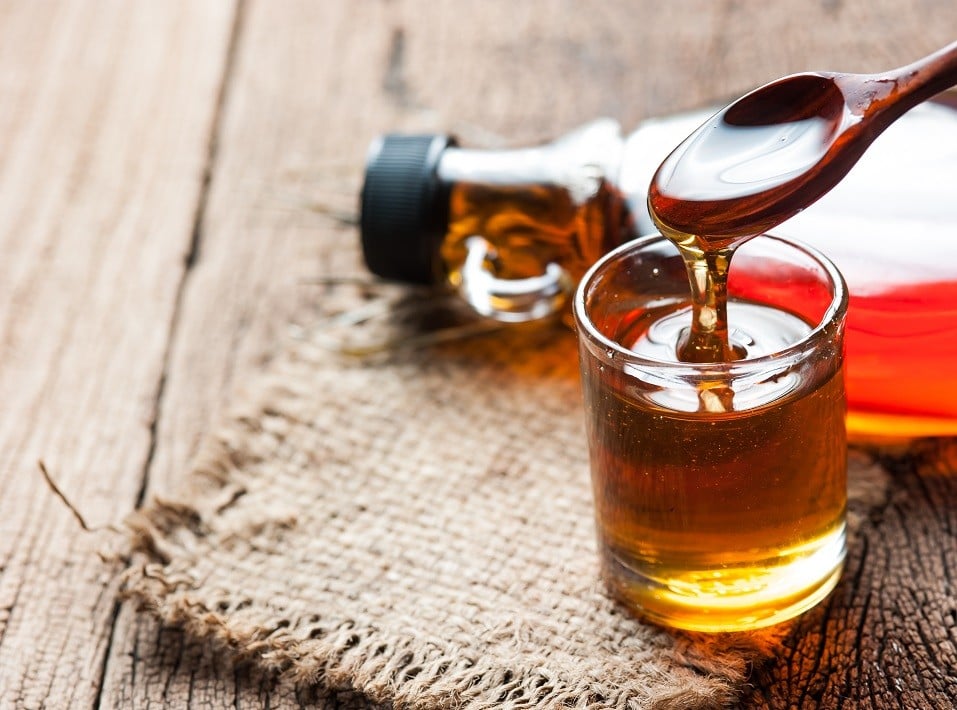 Why: Pure maple syrup costs half as much at Costco as it does at Walmart.
Kerry Acker, the "Krazy Coupon Lady" and a Costco deal expert, found that not only is maple syrup from Costco cheaper, but it also tastes better. "It's a no-brainer," Acker told Today. "It's 100 percent real maple syrup, and it should last up to 6 months in the refrigerator."
Next: Don't "stew" on this price at Walmart.
6. Broth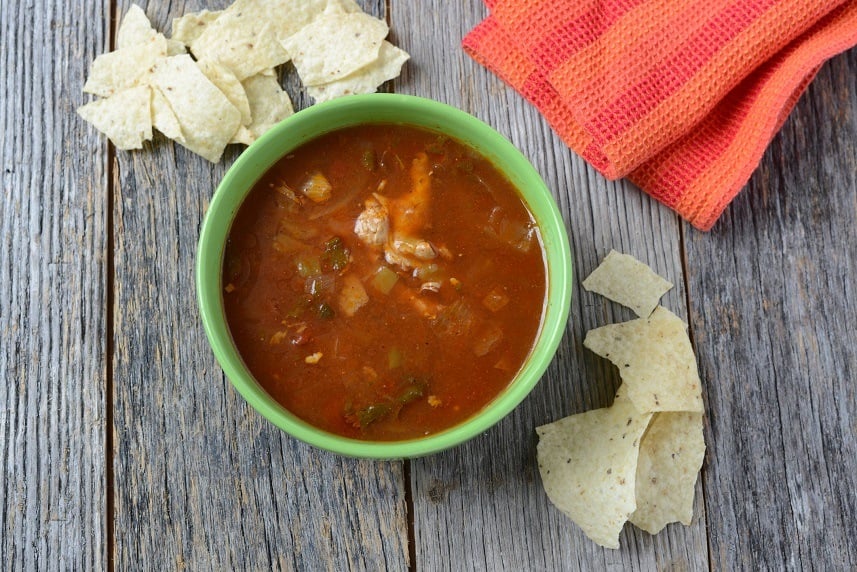 Why: lack of broth varieties and high cost
Not only do other stores provide more broth options (organic, vegetarian, etc.), but broth costs more at Walmart. Next time you make a big pot of stew or soup, look to Kroger for the broadest selection or Aldi for the cheapest prices (by about 10%). Then, use a loyalty card to save even more.
Next: Your health is at risk with this breakfast item.
7. Honey Smacks Cereal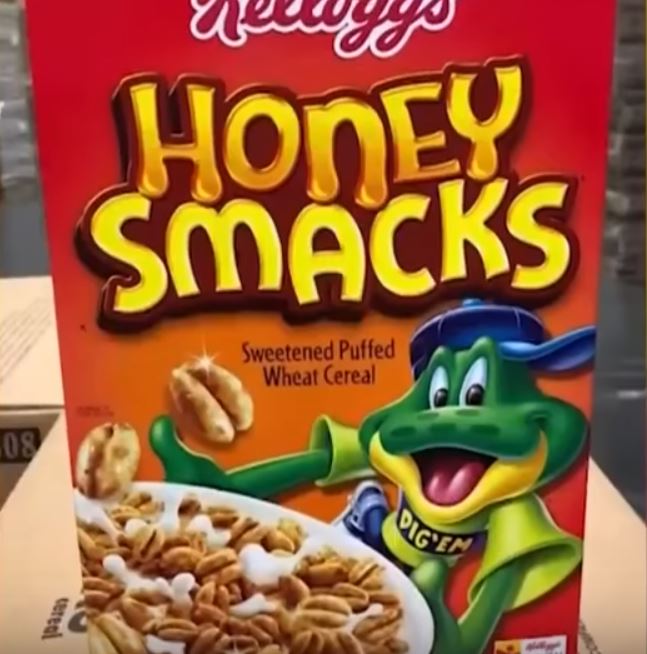 Why: In 2018, the FDA announced a multi-state outbreak of salmonella linked to Honey Smacks cereal sold at Walmart stores.
No matter how much this sweetened, puffed cereal costs, don't buy it. More than 70 people across 31 states reported the illness, with 24 consumers being hospitalized. The FDA advises you toss all Kellogg's Honey Smacks, regardless of box size or distribution date, bought from Walmart.
Next: Save this purchase for Costco, too.
8. Vanilla extract
Why: Vanilla extract costs $0.62 at Costco versus $1.84 at Walmart.
According to the Krazy Coupon Lady, a 16-ounce bottle from the big-box store will last a long time and many believe the quality is far better than Walmart's.
Next: Where's the beef? Not here.
9. Ground beef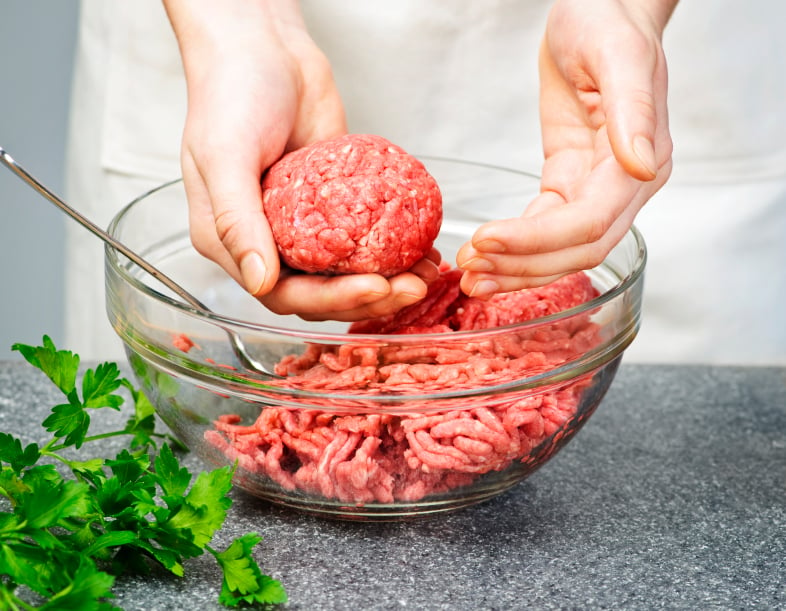 Why: Compare Walmart's prices to other discounted stores, which sell ground beef for 15% less.
Aside from the fact that it may not be the best quality, Walmart's ground beef isn't a good deal. Aldi offers more affordable options with "no added hormones, antibiotics, animal byproducts, or other additives," reports AOL.
Next: Don't eat fresh here.
10. Fresh produce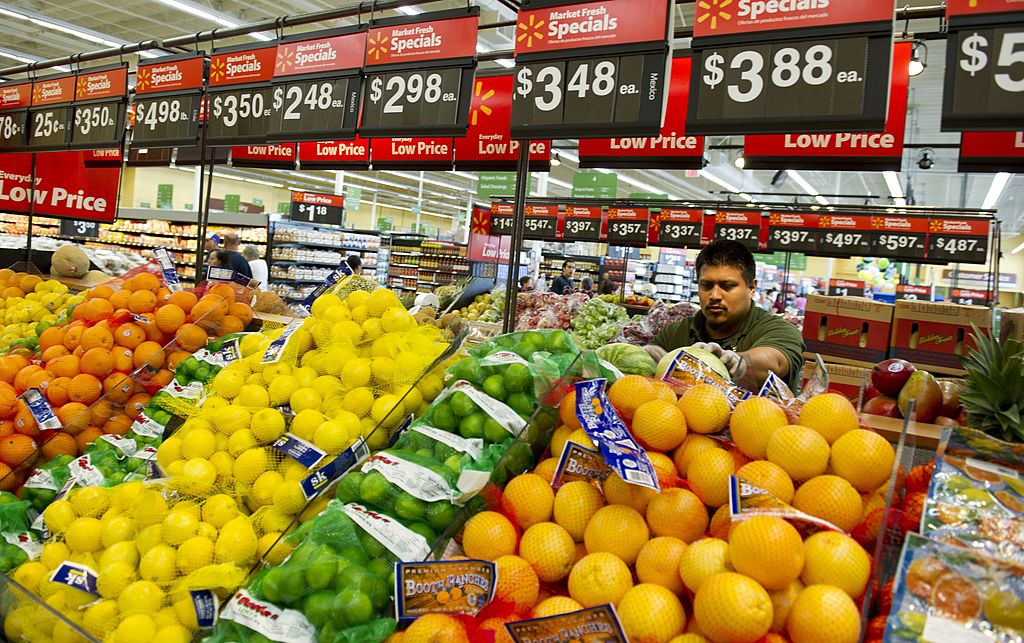 Why: Walmart produce is not usually fresh or local.
Get your fruits and veggies at your neighborhood grocery store or farmers market, and save your Walmart budget for other things.
Next: Got what, now?
11. Organic milk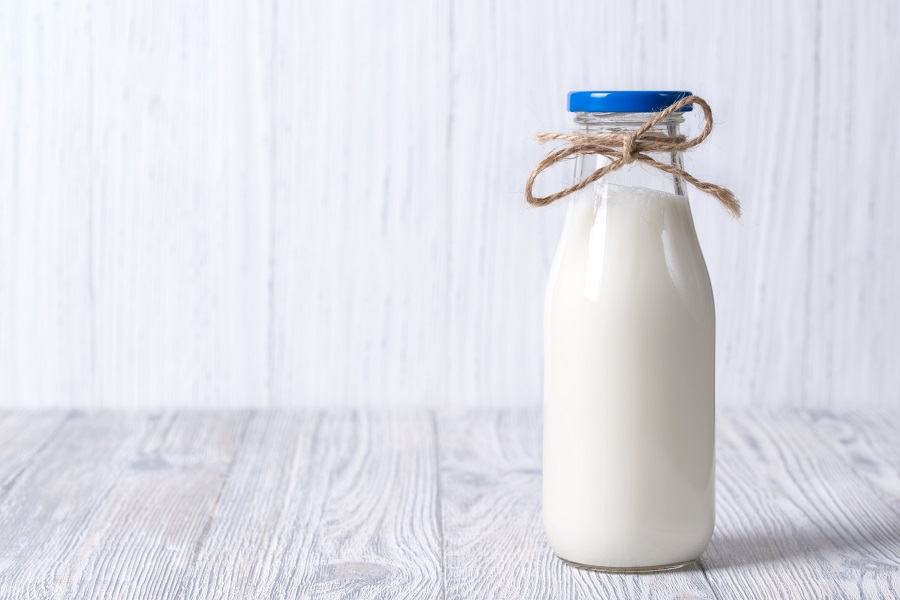 Why: Walmart's organic milk tends to be more expensive than Trader Joe's and even Whole Foods.
Most Walmarts carry organic milk, but not for a lower cost than you'll find anywhere else.
Next: Think before you make your next PB&J.
12. Peanut butter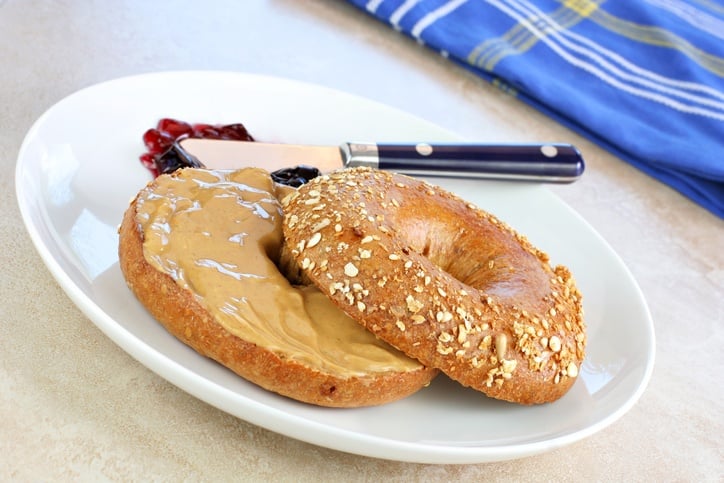 Why: Even Target tends to sell cheaper peanut butter; just check for sales.
There's nothing wrong with the peanut butter at Walmart, but you won't get a great deal. Check the competition and you'll usually find other grocery stores that sell it cheaper.
Next: If you're going to indulge, do it wisely.
13. Great Value French Toast Sticks
Why: Similar brands of frozen French toast sticks have 50% fewer calories than Walmart's Great Value version (per serving).
Five sticks of the Great Value brand French toast are 320 calories and have 15 grams of fat and 11 grams of sugar. With those unhealthy stats, it's worth buying French toast sticks from another brand like Trader Joe's.
Next: Consider your caffeine before you buy at Walmart.
14. Coffee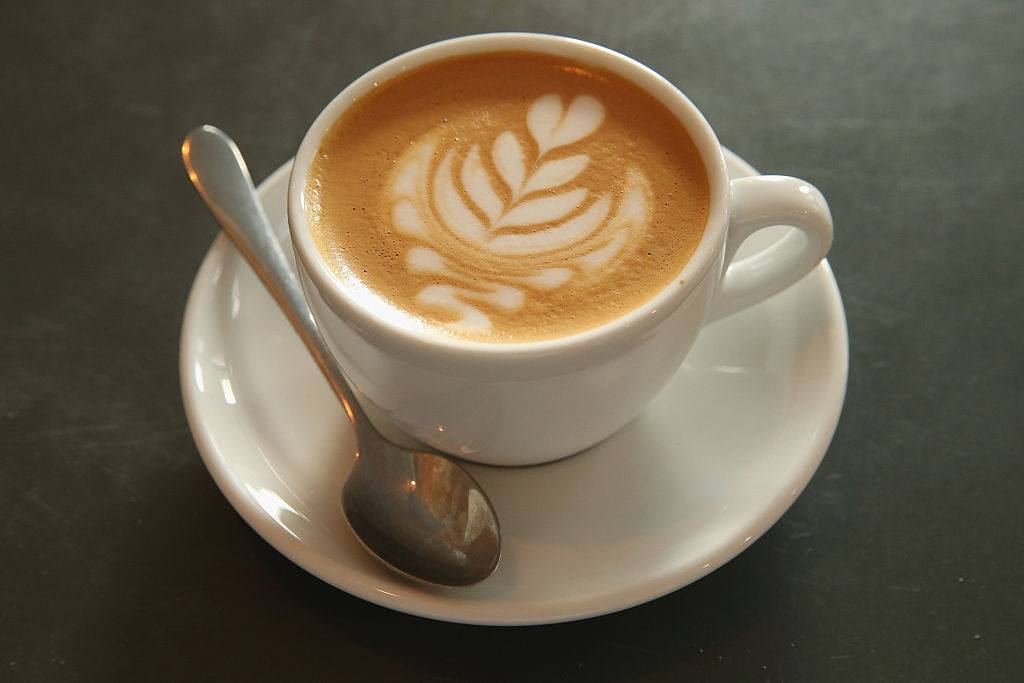 Why: Bargain brands like Folger's are often sold elsewhere for less.
When it comes to coffee, buy carefully at Walmart, especially with bargain brands. However, sometimes you can find deals on "nicer" coffee brands like Starbucks.
Next: Put your "dough" to better use than buying this item.
15. Baking ingredients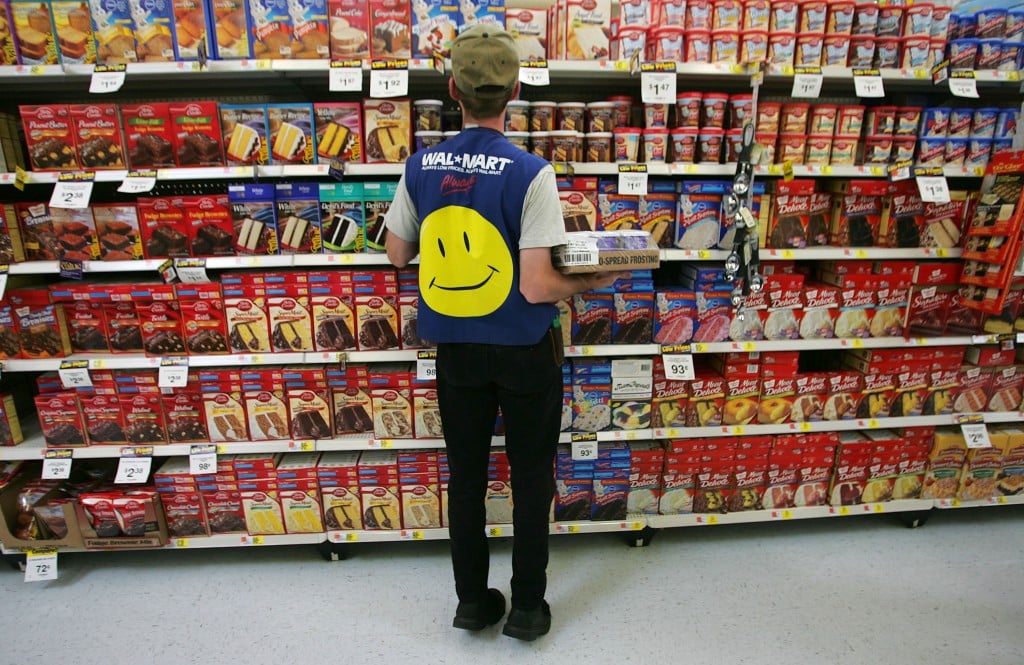 Why: Experts say everything from flour to baking soda — especially if you want the name-brand versions — is more affordable elsewhere.
Walk right past the baking aisle at Walmart. According to Brent Shelton of FatWallet, go for store-brand versions if you must buy your sugar, salt, or other baking ingredients at Walmart. And make sure to buy them in bulk.
Next: Don't go nuts while shopping at Walmart.
16. Nuts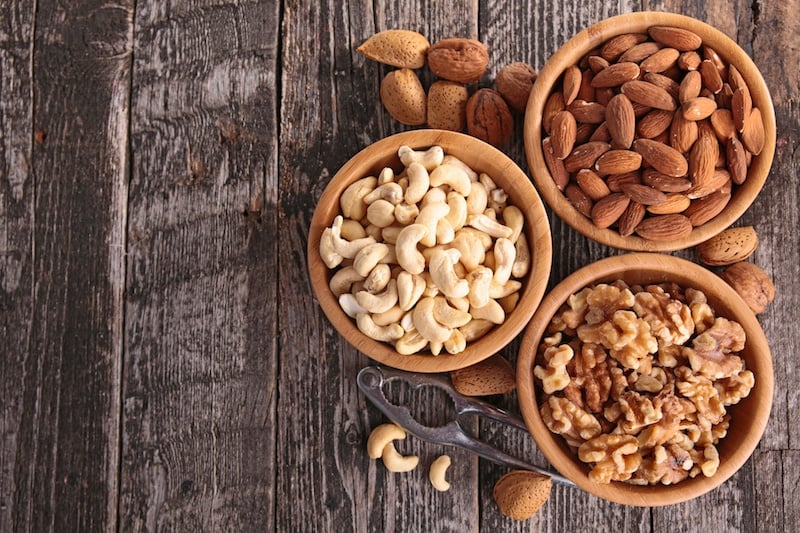 Why: Trader Joe's and Costco beat Walmart in terms of price on this one.
Nuts are nutritious, but if you buy them at Walmart, you'll spend too much. Have a Costco membership? "A 24-ounce bag of lovely Kirkland organic pine nuts are a steal at around $24," reports Today, "While a 3-pound bag of Kirkland almonds costs $13." Both are better deals than Walmart's nuts.
Next: A different way to eat your meals … that's still a waste.
17. Restaurant gift cards
Why: Walmart sells restaurant gift cards at full price.
This seems reasonable until you do some digging. For example, if you want a $50 Olive Garden gift card, you'll pay $50 at Walmart. But on other sites, like Gift Card Granny, you can buy discounted $50 gift cards for closer to $40 (with free shipping).
Next: Check those expiration dates.
18. Foods with a short shelf life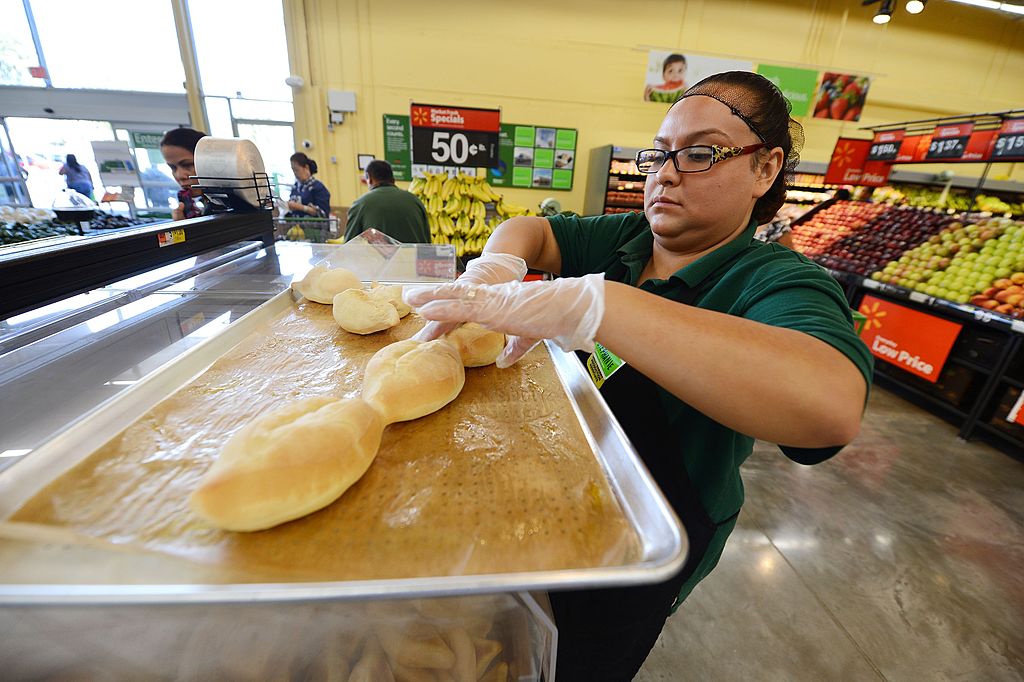 Why: Foods with shorter shelf lives tend to cost more at Walmart than they're worth.
Michael Catania, savings expert and co-founder of PromotionCode.org, explains that if you're buying something that expires soon, you're better off shopping at Trader Joe's, which typically has a better selection.
Next: Then double check the expiration date.
19. Foods with a long shelf life.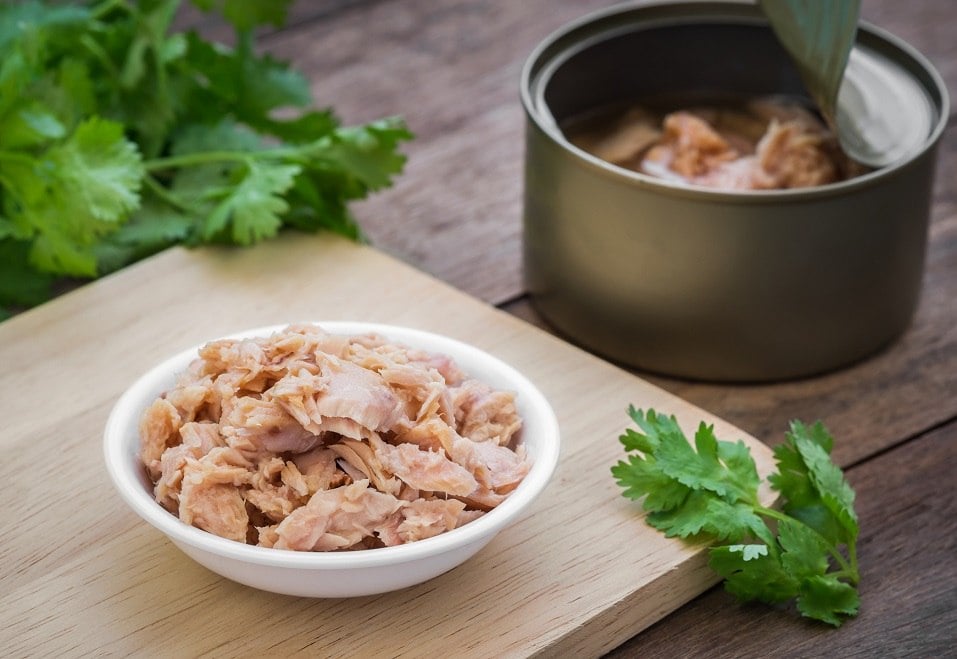 Why: Long shelf-life items will go stale before you use them all.
Catania also says to avoid food with a long shelf life. Although it might technically be good, "Once the cereal goes stale and you throw it away, you've also thrown away the initial savings," he said.
Next: Something you should buy at Walmart
Great news for wine lovers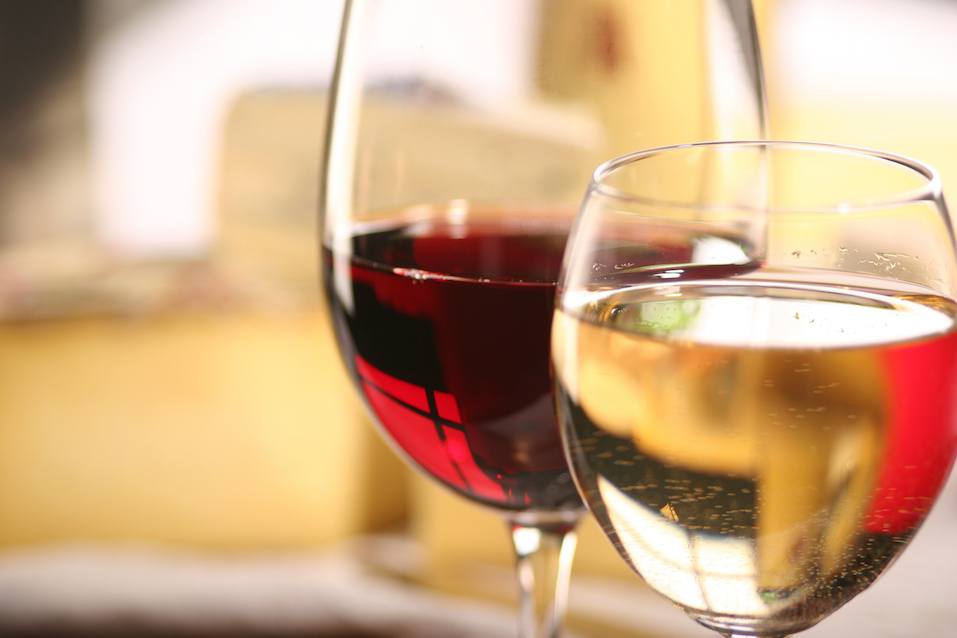 Do you love your vino? Great news: Walmart has an award-winning red wine that costs less than $7 per bottle. Cheers!
Next: Here's how to get more savvy about Walmart shopping.
How to find the best deals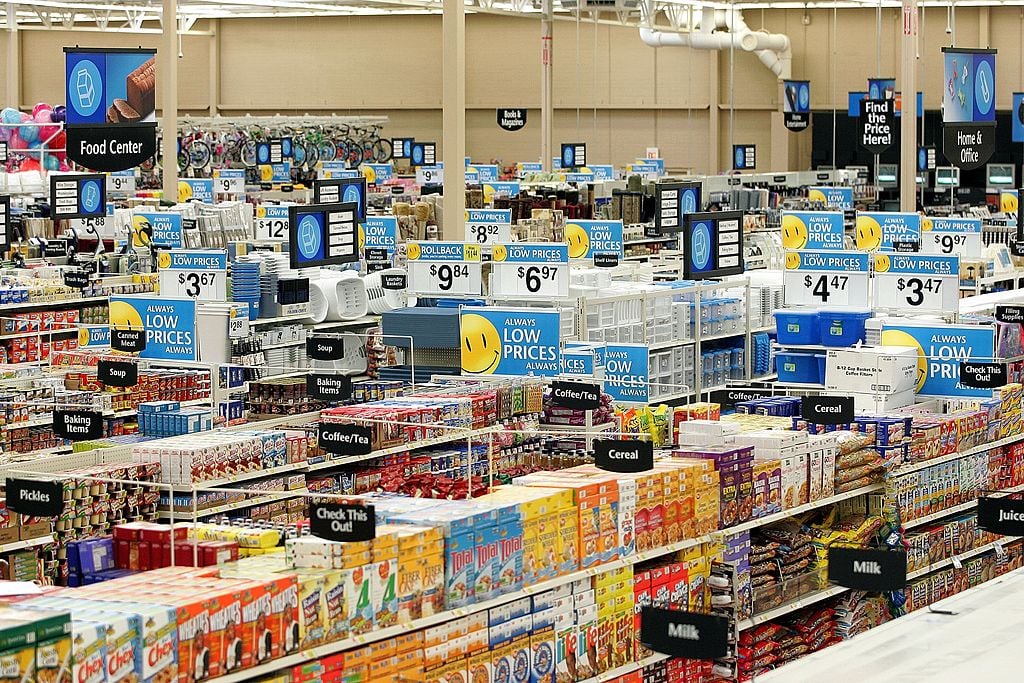 It's tempting to get all your grocery items at Walmart for the convenience — and at first glance, they all do appear cheaper. But first, do your research by reading blogs dedicated to deals, like the afore-mentioned Krazy Coupon Lady and The Penny Hoarder.
Check out The Cheat Sheet on Facebook!