10 Recipes for Middle Eastern-Inspired Meals
Ancient traditions will meet modern standards in an old world-new world fusion when you take your kitchen on a trip to the Middle East. Geographically, the Middle East covers a fair amount of land, so you'll have plenty of options to choose from when it comes to your culinary choices. The USA Today describes Middle Eastern food as having a quality of homogenous diversity. Certain dishes will be the same — or similar — across regions while others have a distinctly local stamp. Yogurts, cheeses, chicken, beef, lamb, peppers, and lentils are staple ingredients in meals, boosted by spices like cumin, tumeric, and nutmeg. Spicy, strong, and simple to prepare, which of these 10 recipes will you be making?
1. Shakshuka
When providing this recipe to The New York Times, Melissa Clark explains that she had countless versions of shakshuka – eggs baked in tomato sauce — while she was there. You'll only need one skillet to make it, and it can easily transition from breakfast, to lunch, or dinner. Serve with pita bread if desired.
Ingredients:
3 tablespoons extra-virgin olive oil
1 large onion, halved and thinly sliced
1 large red bell pepper, seeded and thinly sliced
3 garlic cloves, thinly sliced
1 teaspoon ground cumin
1 teaspoon sweet paprika
1/8 teaspoon cayenne, or to taste
1 (28-ounce) can whole plum tomatoes with juices, coarsely chopped
3/4 teaspoon salt, more as needed
1/4 teaspoon black pepper, more as needed
5 ounces feta cheese, crumbled (about 1 1/4 cups)
6 large eggs
Chopped cilantro, for serving
Hot sauce, for serving
Directions: Heat oven to 375 degrees Fahrenheit. Heat oil in a large skillet over medium-low heat. Add onion and bell pepper. Cook gently until very soft, about 20 minutes. Add garlic and cook until tender, 1 to 2 minutes; stir in cumin, paprika and cayenne, and cook 1 minute. Pour in tomatoes and season with 3/4 teaspoon salt and 1/4 teaspoon pepper; simmer until tomatoes have thickened, about 10 minutes. Stir in crumbled feta.
Gently crack eggs into skillet over tomatoes. Season with salt and pepper. Transfer skillet to oven and bake until eggs are just set, 7 to 10 minutes. Sprinkle with cilantro and serve with hot sauce.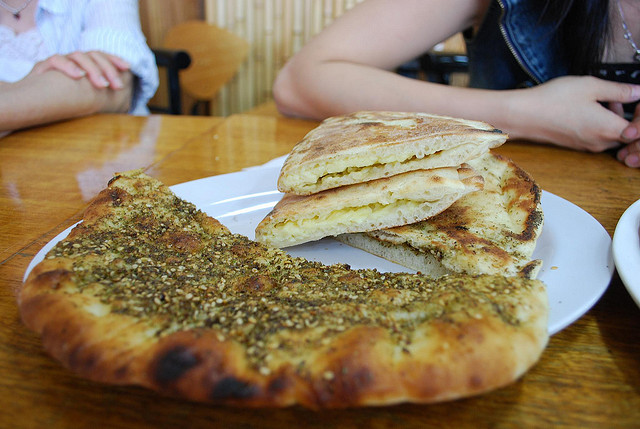 2. Manakish Zaatar
For a Lebanese-inspired breakfast, make the manakish zaatar from The Kitchn. "Zaatar" refers to the blend of spices that tops the manakish (or manakeesh) flatbread, and other popular variations involve meats and cheeses. Store-bought pita can be substituted if you'd only like to use the spice topping.
Ingredients:
1 cup lukewarm water
1/2 teaspoon sugar
1 (1/4-ounce package) active dry yeast (about 2 1/4 teaspoons)
3 cups unbleached all-purpose flour, plus more for dusting
1 teaspoon salt
2 tablespoons extra virgin olive oil, plus more for greasing
Zaatar topping
1/4 cup ground sumac
3 tablespoons dried thyme
3 tablespoons dried oregano
2 tablespoons toasted sesame seeds
1 teaspoon coarse salt
1/2 cup extra virgin olive oil
Directions:  Combine the water, sugar, and yeast, and let it stand for about 10 minutes until foamy. Meanwhile, combine the flour and salt in a large bowl. Add the olive oil and work it in with your fingers. Make a well in the center, add the yeast and water mixture, and stir to form a soft dough. Turn the dough out onto a lightly floured surface and knead for about 10 minutes until smooth and elastic. Form it into a ball and place it in a lightly oiled bowl. Cover the bowl with a damp cloth or plastic wrap and leave the dough to rise in a warm, draught-free place for about 1 hour until it doubles in size.
Preheat oven to 400 degrees Fahrenheit. Place a baking stone or baking sheet in the oven as it heats. Knead the dough briefly and divide it into 8 balls. Place the balls on a lightly oiled baking sheet, cover with a damp cloth or plastic wrap, and let stand for about 15 minutes. Meanwhile, combine the zaatar topping ingredients in a small bowl.
On a lightly floured surface, flatten each ball of dough and roll it into a circle 1/8-inch thick and about 7-8 inches in diameter. Press each circlele with your fingertips to make little indentations for the topping to rest in. Spread 1 heaping tablespoon of zaatar topping over each round, leaving a 1/2-inch border around the edges. Bake until lightly browned and crisp, about 8 minutes. Depending on the size of your oven and baking stone or baking sheet(s), you may need to do several batches. Serve warm right away or else cool on racks.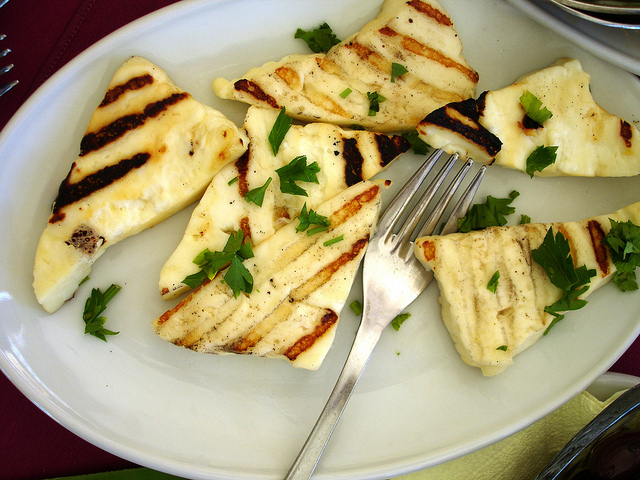 3. Grilled Halloumi 
Think of this recipe from Gourmet via Epicurious as a deconstructed grilled cheese, with lemon. All three are thrown on the grill, and meet later on a plate for savory snack that can serve 8.
Ingredients:
2 lemons
1/2 pound Haloumi cheese
1 large garlic clove
1/4 teaspoon salt
1/4 teaspoon sugar
1/4 cup plus 2 tablespoons olive oil
4 (3/4-inch thick) slices peasant or country-style bread
2 tablespoons finely chopped fresh dill
Directions: Prepare a gas grill for direct-heat cooking over moderately high heat. Cut 8 thin slices from lemons, then squeeze enough juice from remainder to measure 2 tablespoons and put in a bowl. Halve cheese diagonally, then cut each triangle, cut side down, into 1/3-inch thick slices.
Mince garlic and mash to a paste with a pinch of salt using side of a large heavy knife, then add to lemon juice. Whisk in salt and sugar until dissolved, then add 1/4 cup oil, whisking until combined. Separately toss lemon slices and cheese each with 1/2 tablespoon dressing. Brush both sides of bread with remaining 2 tablespoons oil.
Grill bread, cheese, and lemon slices on grill rack, covered, turning over once (use a metal spatula to scrape under cheese to loosen before turning), until bread is toasted (2 to 3 minutes total), grill marks appear on cheese (3 to 4 minutes total), and lemons begin to wilt (4 to 6 minutes total.) Whisk dill into remaining dressing. Divide bread among 4 small plates and top with cheese and lemon slices. Drizzle with dressing and serve immediately.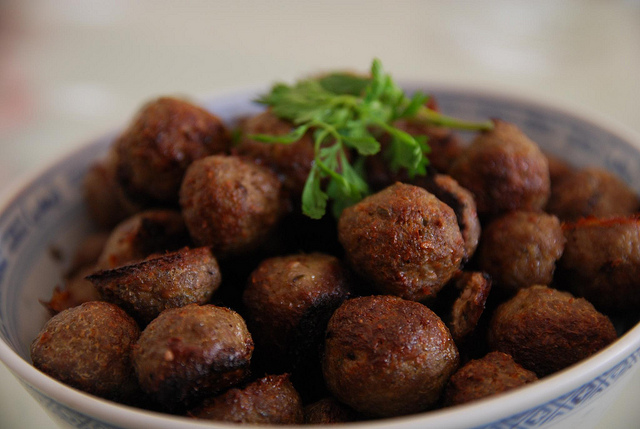 4. Kibbeh
When you want Middle Eastern meatballs, make Cooking Light's kibbeh, served with spiced yogurt. For a lighter take on meal, serve the meatballs with fresh vegetables, and pita bread — which will be delicious with the spiced yogurt.
Ingredients:
1 1/2 cups plain nonfat Greek-style yogurt
1 cup shredded seeded cucumber
1/2 teaspoon ground cumin
1/2 teaspoon minced garlic
1/8 teaspoon salt
1/8 teaspoon black pepper
3/4 cup uncooked bulgur
2 cups cold water
1 pound lean ground lamb (20 percent fat)
1/4 cup minced shallots
1/4 cup minced fresh parsley
3/4 teaspoon salt
1/2 teaspoon ground cumin
1/2 teaspoon ground allspice
1/2 teaspoon ground cinnamon
1/4 teaspoon ground red pepper
1 tablespoon olive oil
Directions: Combine first 6 ingredients; chill. Combine bulgur and 2 cups water in a medium bowl. Let stand 30 minutes; drain bulgur through a fine sieve, pressing out excess liquid. Combine bulgur, lamb, and next 7 ingredients (through red pepper) in a food processor; process just until smooth. Cover and chill 30 minutes.
Form lamb mixture into 20 (2 1/2-inch) football shaped meatballs. Heat oil in nonstick skillet over medium-high heat. Add meatballs to pan; cook 12 minutes, browning on all sides. Serve with sauce.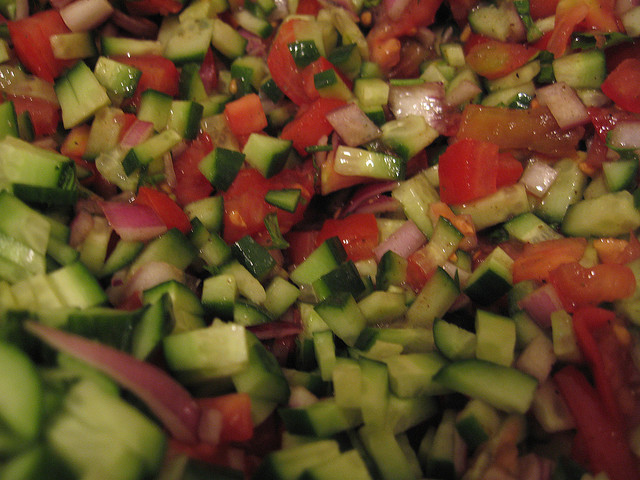 5. Israeli Chopped Salad
Bright and robustly flavored, the Israeli salad from Saveur can be stuffed into pita or served as a side salad. The recipe is from Janna Gur, who wrote The Book of New Israeli Food, and uses cinnamon and sumac to draw out other ingredients.
Ingredients:
1/4 cup minced cilantro
1/4 cup minced mint
1/4 cup minced parsley
2 teaspoon ground sumac
1 teaspoon ground cinnamon
1/2 cup olive oil
6 scallions, thinly sliced
4 cloves garlic
4 medium ripe tomatoes, cored, seeded, and minced
3 medium cucumbers, seeded and minced
2 serrano chiles, stemmed, seeded, and minced
1 red bell pepper, stemmed, seeded, and minced
1 large white onion, minced
Juice and zest of 3 lemons
Kosher salt and freshly ground black pepper, to taste
Directions: Mix all the ingredients in a bowl. Let sit 20 minutes before serving.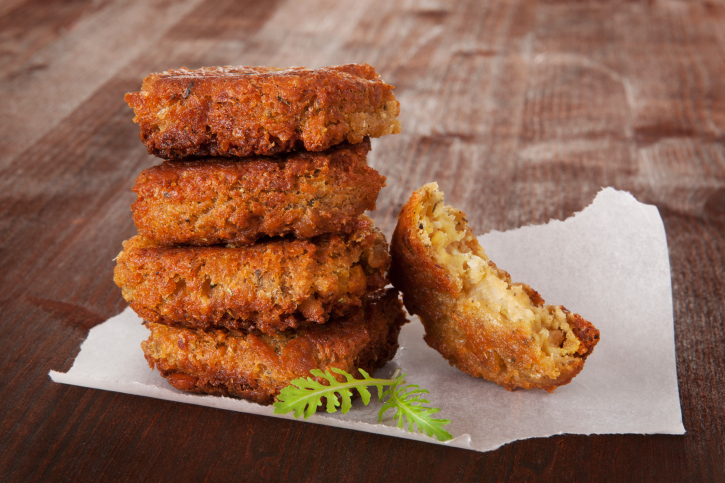 6. Falafel Burgers
For lunch or dinner, why not try the falafel burger recipe from PBS. The addition of jalapeño spices everything up a bit — literally and figuratively — since the hot pepper is not traditionally used in Middle Eastern cooking.
Ingredients:
1 (15-ounce) can chickpeas
1/2 red onion, minced
2 garlic cloves, minced
1 jalapeño, minced
3 tablespoons + 2 teaspoons of olive oil (divided)
1/2 teaspoon turmeric
1 teaspoon coriander
1 teaspoon sea salt
Juice of 1 lemon
1/4 cup tahini
1/2 cup Panko breadcrumbs
1 egg white
Directions: In a food processor, combine the chickpeas, 2 teaspoon of olive oil, lemon juice and tahini. Blend well and scoop out into a large bowl. Set aside. Heat up 1 tablespoon of olive oil over medium high heat in a large skillet. Once hot, add the onions and jalapeño and sauté for about six minutes or until tender. Add the garlic and sauté for another minute until toasty and fragrant. Add coriander and tumeric and mix well. Add onion mixture to the chickpea mixture and stir well to combine. Add the salt, egg white and breadcrumbs and mix well.
Heat the remaining 2 tablespoons of olive oil in the same skillet as before. Form patties with the chickpea mixture and fry for about three-four minutes per side, until golden and crunchy. Drain on paper towels. Serve falafel burgers in warm whole wheat pitas with tahini sauce, hot sauce and sliced red onion.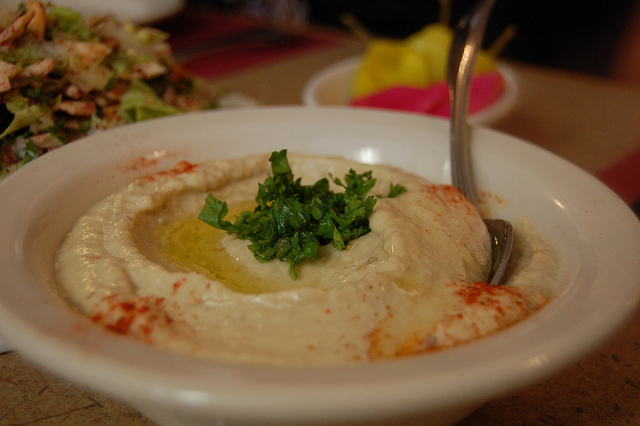 7. Baba Ganoush
Ditch the hummus (at least temporarily) for your new favorite dip, spread, side dish, or however you want to classify this smoky accompaniment for your food. Food Republic's recipe is easy, makes enough for four servings, and can be spread on just about anything. Even if you don't like hummus, give it a try, you might find that replacing chickpeas with eggplant is just the switch needed so you can delight in a Middle Eastern dip.
Ingredients:
2 large eggplants
2 tablespoons extra virgin olive oil, plus more to garnish
1 tablespoon Greek yogurt
1 clove garlic, roughly chopped
Juice of half a lemon
1 teaspoon salt
Parsley and cayenne pepper, to garnish
Directions: Halve the eggplants and rub them with a tablespoon of olive oil. Broil the eggplants in the oven until soft and mushy. Be sure to turn them as needed so that they cook all over and don't burn. Remove the eggplants from the broiler and put them directly onto the exposed flame on a stovetop. Keep your eye on the eggplant. A couple of minutes will do for a nice smoky char.
Allow to cool for a couple of minutes. Once cool enough to handle, cut open the eggplant and scoop out the flesh, while trying to get rid of as many seeds as you can. Don't worry if you end up with some seeds in the flesh.
Add the eggplant to a food processor or blender, and combine with the rest of the ingredients. Blend until almost smooth with a little bit of chunkiness. Serve cool and garnish with parsley, olive oil and cayenne pepper.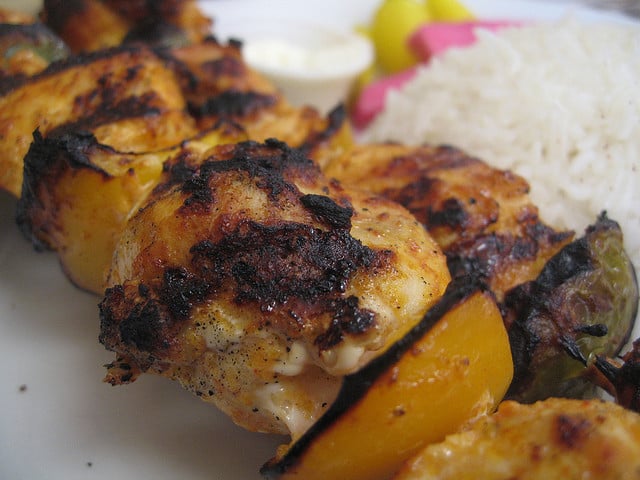 8. Shish Tawook Grilled Chicken
Pop into a Middle Eastern restaurant and you'll likely find shish tawook on the menu. Mama's Lebanese Kitchen states that how it is prepared varies across the Middle East, and the skewered chicken likely has Turkish origins but is popular across the region, and often comes served in a pita sandwich. Enjoy AllRecipe.com's shish tawook still on the skewer, or as a sandwich. It makes about 6 kabobs worth of chicken.
Ingredients:
1/4 cup lemon juice
1/4 cup vegetable oil
3/4 cup plain yogurt
4 cloves garlic, minced
2 teaspoons tomato paste
1 1/2 teaspoons salt
1 teaspoon dried oregano
1/4 teaspoon ground black pepper
1/4 teaspoon ground allspice
1/4 teaspoon ground cinnamon
1/8 teaspoon ground cardamom
2 pounds skinless, boneless chicken breast halves – cut into 2 inch pieces
2 onions, cut into large chunks
1 large green bell pepper, cut into large chunks
1 cup chopped fresh flat-leaf parsley
Directions: Whisk together the lemon juice, vegetable oil, plain yogurt, garlic, tomato paste, salt, oregano, pepper, allspice, cinnamon, and cardamom in a large bowl; add the chicken and toss to coat. Transfer the chicken mixture into a large plastic bag; refrigerate at least 4 hours.
Preheat an outdoor grill for medium-high heat and lightly oil grate. Thread the chicken, onions, and pepper onto metal skewers. Cook on preheated grill until the chicken is golden and no longer pink in the center, about 5 minutes each side. Sprinkle the parsley over the skewers.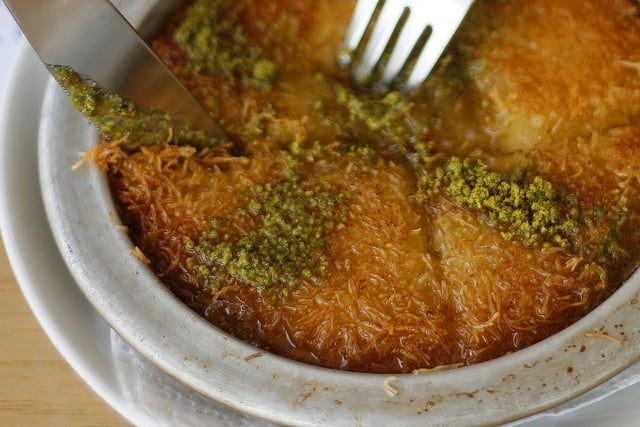 9. Knafeh
Cheese lovers, we have found your dessert, and it is knafeh. Cheese melts into layers of crisp shredded phyllo in Closet Cooking's take on the pastry, which can be made with the cheese and sweetener of your choosing.
Ingredients:
1/2 pound shredded phyllo, thawed as directed on package
1/2 cup unsalted butter, melted
2 cups mozzarella, shredded
2 cups feta (soaked in water for an hour) or goat cheese, crumbled
1/2 cup simple syrup or 1/4 cup apple and/or pear sauce
Directions: Break the pastry apart into one or 2-inch long pieces, separating the strands. Mix the butter into the pastry with your hands in a large bowl until coated and press half of it into the bottom of a greased metal baking pan in a thin layer.
Pulse the cheeses in a food processor until the mixture reaches the consistency of a coarse meal and press it into the dough in the pan. Press the remaining dough onto the cheese and bake in a preheated 350 degrees Fahrenheit oven until lightly golden brown, about 20-30 minutes. Serve warm covered in syrup or topped with apple and/or pear sauce.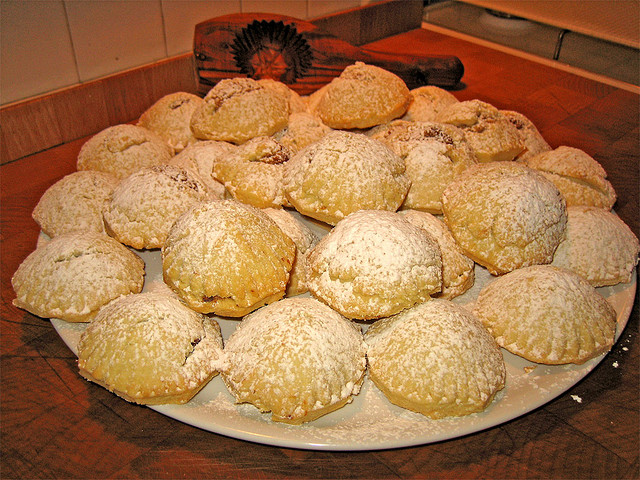 10. Maamoul (Date-Filled Cookies)
Traditionally, maamoul are made with a special mold, and many recipes utilize this tool. Unfortunately, it is not one to be found in most American kitchens, and instead we've turned to a recipe that doesn't require one. You may just find yourself addicted to this Food Network recipe for date-filled cookies though, in which case you may want to try and invest in one for a slightly more authentic take on the dessert.
Ingredients:
Filling
1/2 pound pitted soft Medjool dates
2 tablespoons water
Pinch fine salt
1/4 cup finely chopped crystallized ginger
1/2 teaspoon finely grated orange zest
Dough
2 cups all-purpose flour
1 teaspoon baking powder
1 tablespoon confectioners' sugar, plus about 1/2 to 2 cups more for dusting
Pinch fine salt
1/2 cup unsalted butter (1 stick), plus 2 tablespoons
2 tablespoons neutral flavored oil, such as canola
1/4 cup milk
Directions: Preheat the oven to 325 degrees Fahrenheit. To make the filling, puree the filling ingredients in a food processor until evenly combined, about 1 to 2 minutes. Remove and set aside. Clean the processor bowl. Put the flour, baking powder, the 1 tablespoon confectioners' sugar, and salt in the bowl of food processor and pulse 3 to 4 times to mix. Add the butter, oil, and milk pulsing until the dough just comes together. Take care not to overwork the dough; it will be slightly wet.
Remove dough from the processor, and roll into 20 equally sized balls. In the palm of your hand, press and pat each ball of dough into a 2 3/4-inch round. Place a rounded teaspoon of filling in the center of each round and draw the edges up and around the filling. Pinch the dough together to make a sealed ball, and then carefully roll the cookie between your palms to make a smooth round ball. Press gently to flatten the cookie slightly, then place them seamed side down on a parchment-lined baking sheet. Repeat with the remaining dough and filling. Gently prick the cookies with a fork or a wooden skewer in a decorative pattern taking care not to pierce the dough to the filling.
Bake the cookies until firm and slightly puffed, and the tops are pale but the bottoms are just beginning to turn slightly golden, about 25 to 30 minutes. Dust generously with confectioners' sugar, cool and dust again.
More From Wall St. Cheat Sheet: