10 Recipes Proving Sweets and Treats Are Nicer With Nutella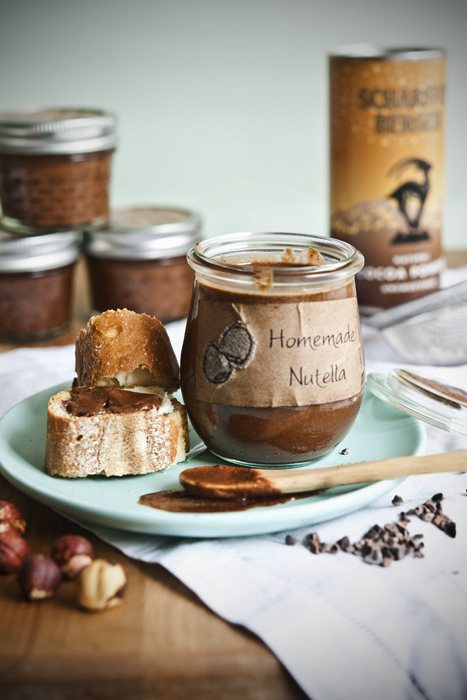 Nutella — that rich, creamy, chocolate-hazelnut spread — has a way of quickly disappearing after it comes home from the store. Eaten straight from the jar, slathered on toast, or used as a dip for fruit, it is irresistible. It is also a handy ingredient for making cookies or muffins, and it can improve tried-and-true dishes. If your jar lasts long enough, you'll definitely want to try one of these 10 recipes.
1. Nutella
If you don't want to buy Nutella, you can make your own chocolate-hazelnut spread at home — like with this version from Bon Appétit. You will need jars to store the gianduja, the chocolate hazelnut paste you end up making.
Ingredients:
2 cups (heaping) hazelnuts, preferably skinned (about 10 ounces)
¼ cup sugar
1 pound semisweet or bittersweet chocolate, coarsely chopped
½ cup (1 stick) unsalted butter, cut into 1-inch pieces, room temperature
1 cup heavy cream
Directions: Preheat oven to 350 degrees Fahrenheit. Spread out nuts on a rimmed baking sheet or in an ovenproof skillet. Roast, shaking sheet once for even toasting, until deep brown, 13-15 minutes. Let cool completely. (If nuts have skins, rub them in a kitchen towel to remove.)
Grind hazelnuts and sugar in a food processor until a fairly smooth, buttery paste forms, about 1 minute. Place chocolate in a medium metal bowl. Set bowl over a large saucepan of simmering water; stir often until chocolate is melted and smooth. Remove bowl from over saucepan; add butter and whisk until completely incorporated. Whisk in cream and salt, then hazelnut paste.
Pour gianduja into jars, dividing equally. Let cool. (Gianduja will thicken and become soft and peanut butter-like as it cools.) Screw on lids. Gianduja can be made up to four weeks ahead; keep chilled. Let stand at room temperature for 4 hours to soften. Can stand at room temperature up to four days.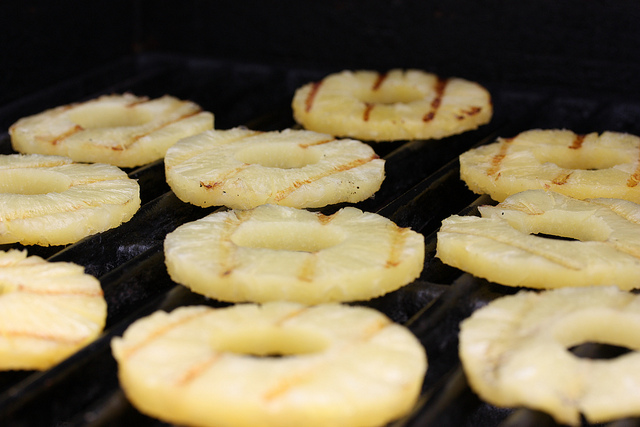 2. Grilled Pineapple with Nutella
From Giada De Laurentiis and Food Network is a Nutella recipe that doesn't require any baking. Instead you'll be topping grilled pineapple with the hazelnut spread, along with a mascarpone cheese mixture.
Ingredients:
2 pineapples, peeled, cut crosswise into half-inch-thick slices, and core removed
⅔ cup mascarpone cheese, room temperature
½ teaspoon vanilla extract
⅔ cup chocolate-hazelnut spread
6 tablespoons whipping cream
olive oil
3 tablespoons chopped toasted hazelnuts
Directions: Prepare the outdoor barbecue to medium-high heat. If you do not have a barbecue, you can use an indoor grill pan set to medium high heat. Lightly oil the grill. Grill the pineapple slices until heated through and beginning to brown, about 3 minutes per side. It's important to leave the pineapples on the grill, untouched, so that you can create the grill marks. While the pineapples are cooking, whisk the mascarpone and vanilla in a small bowl to blend. Set aside.
Combine the chocolate-hazelnut spread and cream in a small bowl and stir to combine. Place in a microwave on high for about 2 minutes, stirring every 20 seconds to blend well. Alternatively, you can combine the chocolate-hazelnut spread and cream in a small saucepan, set over low heat, and cook for about 5 minutes, stirring constantly. Heat until satiny smooth and easy to pour, about 3-5 minutes.
Transfer the pineapple slices to a large platter. Drizzle the warm chocolate-hazelnut sauce over. Dollop the mascarpone mixture atop. Sprinkle with the hazelnuts and serve.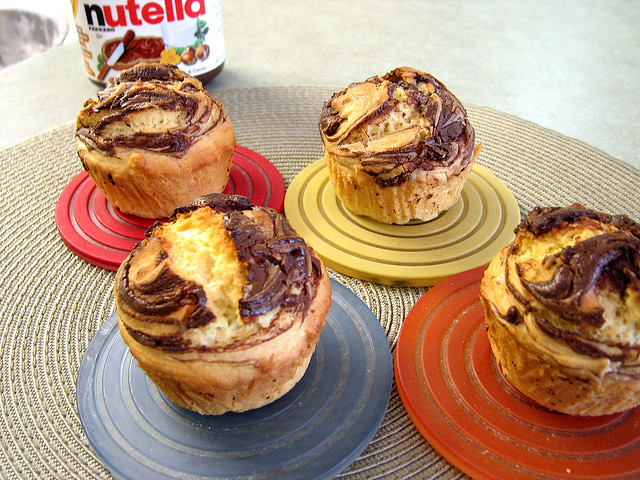 3. Banana Muffins with Nutella Swirl
Peanut butter and banana have been the source of sensational reviews for years, but with Nutella, that combination is taken to an even higher level. If you haven't had a Nutella, banana, and peanut butter treat yet, you will definitely want to make Stew or Story's muffins.
Ingredients:
1 cup all-purpose flour
½ cup oat flour (made by pulsing ¾ cup rolled oats in food processor until smooth)
2 tablespoons rolled oats
⅓ cup sugar
⅓ cup brown sugar
¾ teaspoon baking soda
½ teaspoon salt
3 tablespoons coconut oil or butter, melted
2 eggs
2 ripe bananas, mashed
⅓ cup plain Greek yogurt
⅓ cup creamy peanut butter
1 teaspoon vanilla extract
3-4 tablespoons Nutella
Directions: Preheat oven to 350 degrees Fahrenheit. Prepare a 12-muffin pan with liners or with non-stick spray. In a medium bowl, whisk together flour, oat flour, oats, sugar, brown sugar, baking soda, and salt.
In a large bowl, whisk together eggs and coconut oil. Add bananas, Greek yogurt, peanut butter, and vanilla. Stir until combined. (Mixture may be slightly lumpy with the bananas). Gradually add dry ingredients to wet ingredients, stirring until just combined.
Scoop mixture into muffin tins, filling until about 3/4 full. Spoon Nutella into a small bowl. Whisk vigorously with your fork to soften and warm the Nutella. Spoon a teaspoon or so onto the top of each muffin. Use a toothpick or butter knife to swirl the mixture around. Bake for 18-20 minutes, or until edges are browned.
4. Nutella Muddy Buddies
Muddy buddies, also known as puppy chow, are a sweet treat made with Chex cereal. It has commonly featured peanut butter, chocolate, and powdered sugar, but now Nutella has been added to the mix thanks to Defloured Baker.
Ingredients:
4 cups Chex cereal
½ cup chocolate chips
2 tablespoons butter
¼ cup Nutella
¼ cup peanut butter
½ teaspoon vanilla extract
roughly 1 cup powdered sugar
Directions: Measure cereal and place in large bowl, which you will be mixing everything into later. In a medium saucepan, melt together the chocolate chips, butter, Nutella, and peanut butter until smooth. Once removed from the heat, add vanilla extract. Pour chocolate mixture over cereal and start mixing! Having a big wooden or bamboo spoon on hand to help stir helps a lot and avoids burned hands.
Next, pour powdered sugar over the cereal and keep mixing everything until it looks fairly homogenous. Don't forget to be gentle so that you're not crushing all the cereal! Refrigerate for at least an hour before moving into an airtight container. Enjoy! Muddy buddies are a simple fix for all your gluten-free snacking needs — feel free to experiment with flavors!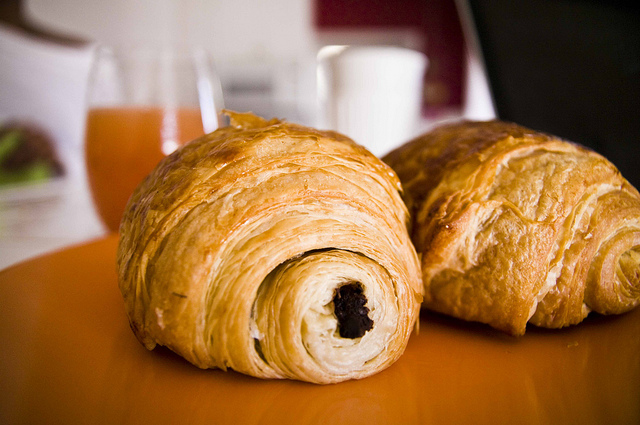 5. Nutella Croissants
For the Love of the South has a simple way to get Nutella croissants in no time flat. By using a puff pastry, these sweet rolls will be ready in about 30 minutes from start to finish.
Ingredients:
1 package of puff pastry (thawed)
½ cup of Nutella
1 egg, slightly beaten
4 Lindt truffles (optional)
Directions: Preheat oven to 400 degrees Fahrenheit. Lay out each sheet of pastry on a cookie sheet layered with parchment paper. The pastry will be creased in thirds (which is perfect for this recipe!): Just cut along the creases and you will have three equal pieces. Then, cut each piece in two long triangles. You will have 6 pastries on each cookie sheet.
Lightly brush the egg mixture on the edges of the pastry — this acts as the glue to the pastry and also is a line that the chocolate dares not cross! Put about half a teaspoon of Nutella on a spoon and spread the Nutella across the pastry (starting on the fatter end makes this easier).
Then you can add a nugget of truffle at the fat end; this is completely necessary for chocolate lovers. Starting at the fat end, gently roll up the pastry to the skinny end. Lay the pastry on the cookie sheets and brush more egg wash on top. Bake for 20 minutes or until golden and lovely. Eat (or devour) immediately!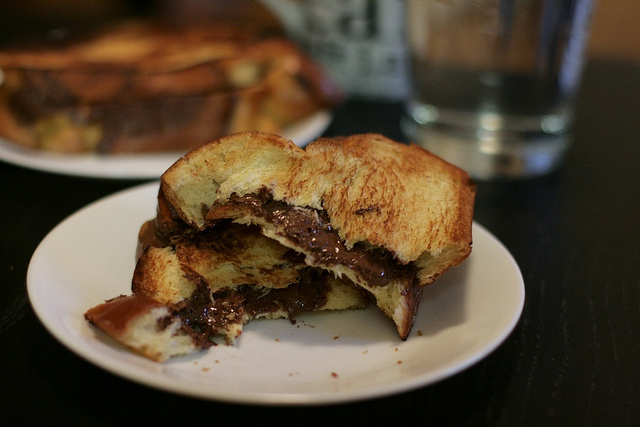 6. Nutella Panini
Warm Nutella will ooze out of every bite when you make a Nutella panini like Diet Hood did. No panini press? Make it on the stove in a skillet, like you would a grilled cheese.
Ingredients:
2 bread rolls, halved lengthwise
1 tablespoon butter, softened, divided
4-6 tablespoons Nutella, divided
Directions: Turn on the panini press. Spread one side of each bread slice with a coat of butter. Spread the other side of each bread slice with Nutella. Sandwich the bread slices together, and place onto the panini press. Allow it to grill for about 1 minute, or until lightly browned. Serve immediately.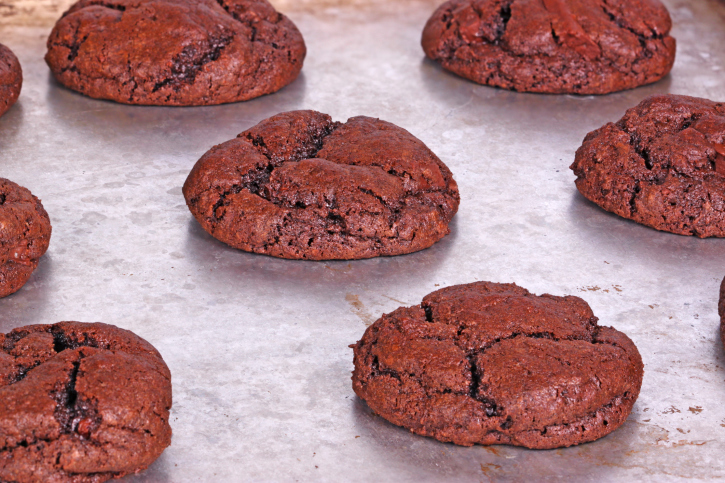 7. Gluten-Free Chewy Nutella Cookies
The measurements below from The Tasty Bite Blog yield 12 gluten-free, decadent cookies. You can buy hazelnut already ground, or grind it yourself in a food processor.
Ingredients:
¾ cup ground hazelnut
¾ cup confectioner's sugar
2 tablespoons unsweetened cocoa powder
⅛ teaspoon salt
1 large egg white, preferably cold
2 tablespoons Nutella
Directions: Preheat oven to 320 degrees Fahrenheit. Line baking sheets with parchment paper. In a large bowl, mix together ground almond, sugar, cocoa powder, and salt. Meanwhile, with a stand mixer or hand-held mixer, beat egg white until stiff peaks are formed.
Using a spatula, transfer half the egg white mixture into the dry ingredients and fold until incorporated. Repeat with the remaining half of the egg white mixture. Fold in Nutella until incorporated. Spoon one tablespoon of batter onto prepared baking sheets, leaving two inches of space in between. Bake for 15-18 minutes, or until small cracks start to form on top of the cookies. Transfer cookies to a cooling rack and let them cool completely before serving.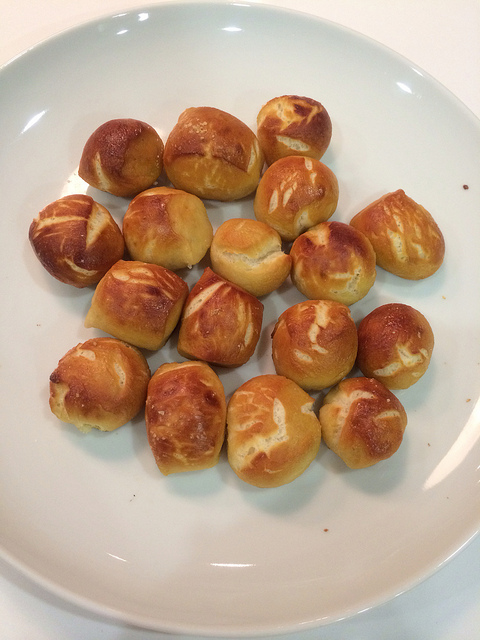 8. Nutella-Stuffed Pretzel Bites
Pretzel bites with Nutella are a bit of effort, but they are an amazing appetizer for your next gathering. Make Million Moment's recipe when you really want to impress a gathering.
Ingredients:
4 cups of flour
¾ cups warm water
1 packet of rapid-rising yeast
⅓ cup sugar
5 tablespoons butter
2 teaspoons salt
Nutella
1 tablespoon vegetable oil for coating the dough
6 cups of water for boiling
⅔ cup baking soda
Directions:
To make the dough, combine your butter, sugar, water, and yeast in a large bowl and stir. A mixer is recommended for this, but it will still be fine if you use a spoon or your hands. Slowly add in your flour and salt and mix thoroughly on low speed until it isn't sticking to the sides of the bowl. You can add more flour gradually if you need to.
Once mixed, coat it in vegetable oil, cover with plastic wrap, and place it in a warm spot for 30-45 minutes to rise. While you are waiting, you can preheat your oven to 400 degrees Fahrenheit and get ready for the next step.
After your dough has risen, portion it out, roll it into equal-size "ropes" and cut into equal-size pieces. Flatten each piece out and dollop Nutella in the middle with a decorating bottle, pastry bag, or other like tool. Don't squirt out too much, or else your Nutella will spill all over the place when the pretzel bites are cooking.
Seal up each pretzel bite by pinching all the sides together tightly. There are several ways to do this: It's a matter of whichever way works for you. When you are finished with all your bites, boil 6 cups of water and your baking soda in a large pot. This will be very foamy, but that's OK. Drop each bite in for 10-15 seconds and arrange them on your baking sheet. DO NOT go over 20 seconds — they will end up tasting extremely salty. Arrange them on your baking mat and pop them in the oven for 15 minutes. When they come out, brush them with a little butter and let them cool. Enjoy!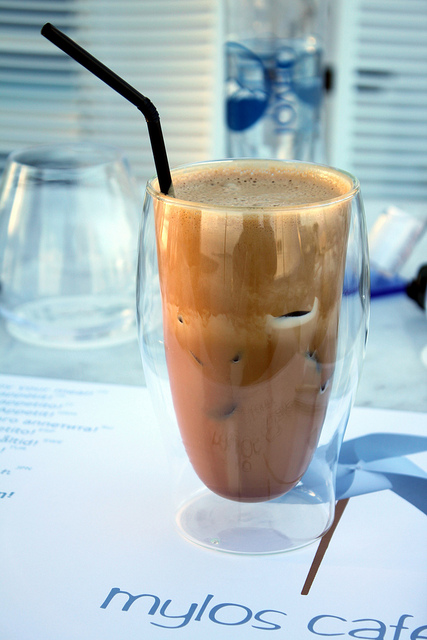 9. Nutella Iced Coffee
The thick, creamy consistency of Nutella is perfect for sweetening coffee. Make this recipe from Miss in the Kitchen the next time you want your coffee to have a little something extra. Who could resist an early morning pick-me-up like this?
Ingredients:
2 cups coffee ice cubes
½ cup milk
2 tablespoons Nutella
Directions: Add all ingredients to a blender and blend until smooth. Pour into a glass and serve immediately. Simple and sweet.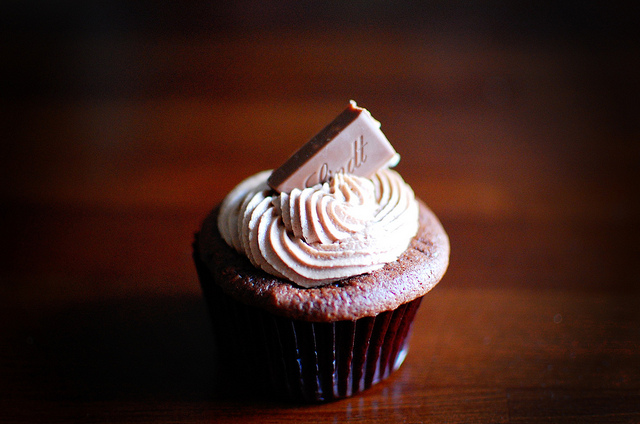 10. Nutella Buttercream
When you just want a touch of Nutella flavoring, use Kitchen Treaty's Nutella buttercream to frost cakes or make sandwich cookies. The recipe makes enough for 12 cupcakes, so adjust as needed.
Ingredients:
1 cup (2 sticks) unsalted butter, room temperature
2 cups powdered sugar
⅔ cup Nutella or other chocolate-hazelnut spread
1 teaspoon pure vanilla extract
pinch kosher salt (up to ¼ teaspoon, to taste)
2 tablespoons heavy whipping cream
Directions: In a stand mixer with the paddle attachment, beat together the butter and powdered sugar on low until well blended. Add the Nutella and increase the speed to medium. Beat for 2 minutes. Add the vanilla extract and salt and whip for an additional 30 seconds. Add the whipping cream and beat for about 1 minute, until the frosting lightens slightly in both color and texture.
More From Wall St. Cheat Sheet: