8 Unique Ways to Satisfy Your Peanut Butter and Jelly Cravings
Peanut butter and jelly are a match made in heaven. If you're looking for creative ways to celebrate this duo in all its nutty, gooey glory, we suggest taking a look at these eight recipes. Learn how to make the perfect peanut butter and jelly sandwich, turn the classic lunch item into one you can enjoy for breakfast, or incorporate peanut butter and jelly into your dessert dishes. Peanut butter and jelly has never tasted so great!
1. Gourmet Peanut Butter and Jelly Sandwich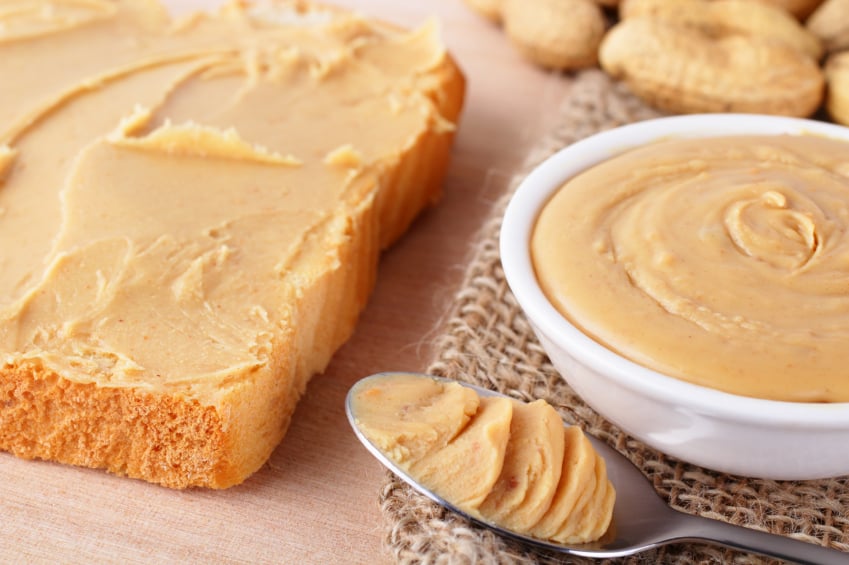 Give a classic peanut butter and jelly sandwich a gourmet makeover using About.com's recipe, which requires you to grill your sandwich like you would a grilled cheese. This results in a sandwich that is warm, gooey, and superbly satisfying. For the perfect peanut butter and jelly sandwich, The Daily Meal notes that a wide assortment of breads (like white, pumpernickel, and pita) will work wonderfully. To ensure the sandwich's flavors aren't compromised in any way, avoid breads that are pungent and seedy, such as rye and focaccia. Additionally, you always want to have a little more peanut butter than jelly in your sandwich. The Daily Meal suggests following a 2 to 1 ratio.
Ingredients:
2 slices good-quality bread
Peanut butter, smooth or crunchy
Jelly or jam, your choice of flavor
Butter or margarine, softened
Directions: Take two slices of bread, spreading peanut butter on one slice and jelly on the other. Assemble sandwich. Heat a frying pan on the stove. Melt about one tablespoon of butter in the span. Tilt pan to spread it around. Butter one side of the sandwich. Place buttered side down in the pan.
If possible, place a steak weight or bacon press on the sandwich. Once side is golden brown, butter other side. Turn sandwich over and place the weight back on the sandwich. The second side will cook quicker. Remove from pan, cut diagonally, and serve immediately.
2. Peanut Butter and Jelly Doughnuts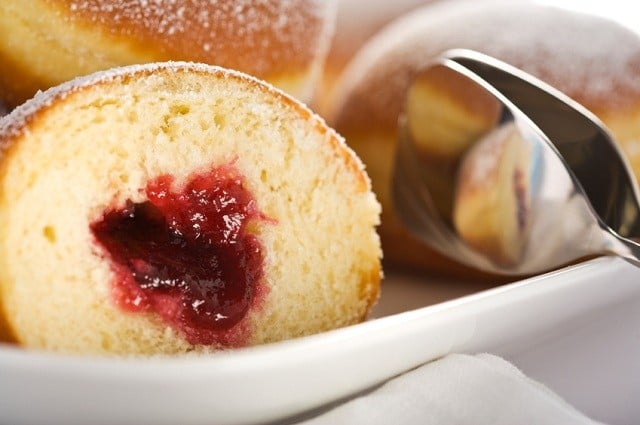 What better way to start your day than with Heather Christo's peanut butter and jelly doughnuts? Raspberry jam creates a rich filling for the doughnuts, while a creamy peanut butter glaze provides this recipe with the perfect finish. Make sure you wash these doughnuts down with a cold glass of milk — it's the perfect complement to this divine PB&J dish!
Ingredients:
Peanut butter glaze
¼ cup peanut butter
1½ cups powdered sugar
Pinch of salt
¼ cup whipping cream
Directions: Prepare the doughnuts according to recipe. Add jam to a pastry bag or a clean squeeze bottle, then insert tip into each doughnut, and squeeze to fill. Flip over and repeat on other side of doughnut.
Whisk peanut butter, powdered sugar, salt, and cream to combine in a medium bowl. If needed, adjust consistency with additional cream or powdered sugar. Dip each doughnut in glaze and transfer to a rack. Let glaze set before serving.
3. Uncle Mac's Peanut Butter and Jelly Cookies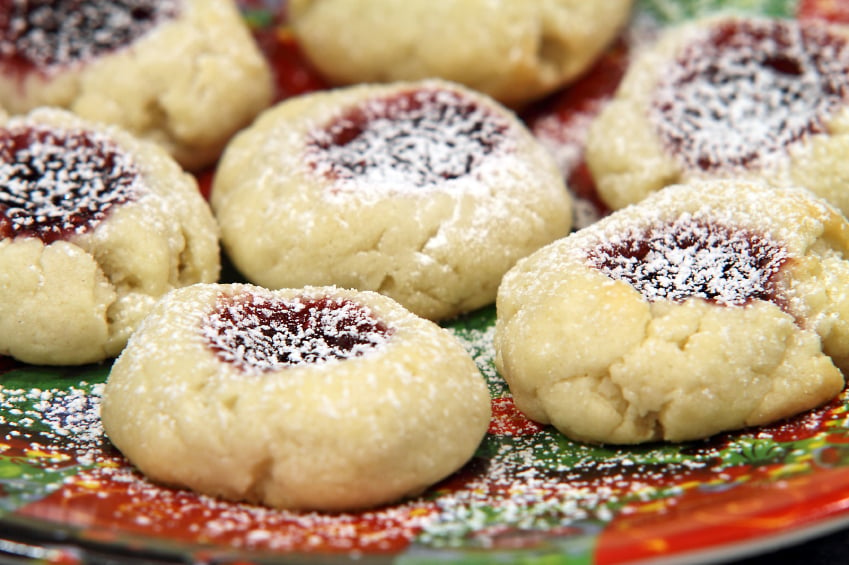 Allrecipes.com gives thumbprint cookies a PB&J makeover. You'll love how easy it is to prepare this recipe, which only requires 5 ingredients and yields 12 servings. You may want to consider doubling the recipe; these cookies will go quickly!
Ingredients:
1 cup peanut butter
1 cup white sugar
1 egg
1 teaspoon vanilla extract
2 tablespoons fruit preserves, any flavor
Directions: Preheat oven to 350 degrees Fahrenheit. In a medium bowl, mix together peanut butter, sugar, egg, and vanilla until well blended. Drop in teaspoonfuls onto ungreased cookie sheets. Use a fork to make a criss-cross pattern on the top. Make a small hole in the top of each cookie using the handle of a wooden spoon. Fill the holes with preserves. Bake for 8 to 11 minutes in preheated oven. Allow to cool for a couple of minutes on the cookie sheets before transferring to wire racks to cool completely.
4. Miniature Peanut Butter and Jelly Pies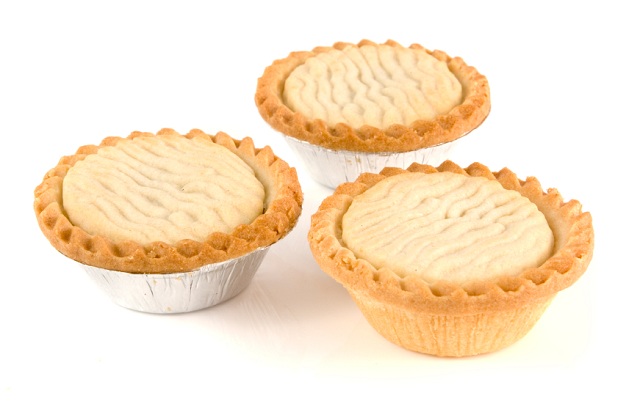 Filled with peanut butter, jelly, and graham cracker flavors, Food Network's miniature pies are the perfect way to end your evening meal. Jelly is first placed on the bottom of your mini graham cracker pie crusts, followed by a rich and creamy peanut butter filling. After your pies have chilled in the refrigerator for four hours, you'll place a dollop of whipped cream on each, add a little more jelly, and finally, garnish with roasted peanuts. Sometimes, the most delicious desserts come in the smallest packages!
Ingredients:
3 cups whole milk
⅓ cup granulated sugar
¼ cup cornstarch
⅛ teaspoon kosher salt
3 large egg yolks, beaten
¾ cup smooth peanut butter
12 miniature graham cracker pie crusts
¾ cup of your favorite fruit jelly
1 cup heavy cream
2 tablespoons confectioners' sugar
¼ cup roughly chopped roasted peanuts
Directions: Heat 2¾ cups of the milk in a large saucepan over medium heat until hot but not boiling. Whisk the granulated sugar, cornstarch, and salt in a large bowl. Whisk in the egg yolks and the remaining ¼ cup milk. Whisk half of the hot milk into the egg mixture until smooth, and then gradually whisk the egg mixture into the heated milk. Cook over medium heat, whisking constantly, until the mixture boils and thickens, 4 to 6 minutes. Remove from the heat and whisk in the peanut butter until melted. Transfer to a bowl and cool slightly, about 5 minutes, stirring occasionally to prevent a skin from forming. Meanwhile, place the pie crusts on a baking sheet or large platter.
Place 2 teaspoons of the fruit jelly on the bottom of each pie crust. Smooth out slightly with the back of a spoon or a small offset spatula. Evenly divide the slightly cooled pudding among the pie crusts. Use the back of a spoon or a small offset spatula to spread the pudding to the edges of the pie crusts. Press plastic wrap directly onto the surface of each pie and chill until set, at least 4 hours. Whip the heavy cream and confectioners' sugar in a large mixing bowl with a hand mixer to medium to stiff peaks. Refrigerate until ready to use. To assemble, whisk the remaining fruit jelly with 2 teaspoons water until smooth. Place a dollop of whipped cream on top of each pie, using the back of a spoon to create a small well in the center of the whipped cream. Spoon a small amount of jelly into the well and garnish with some roasted peanuts.

5. Peanut Butter and Jelly Cookie-Stuffed Pies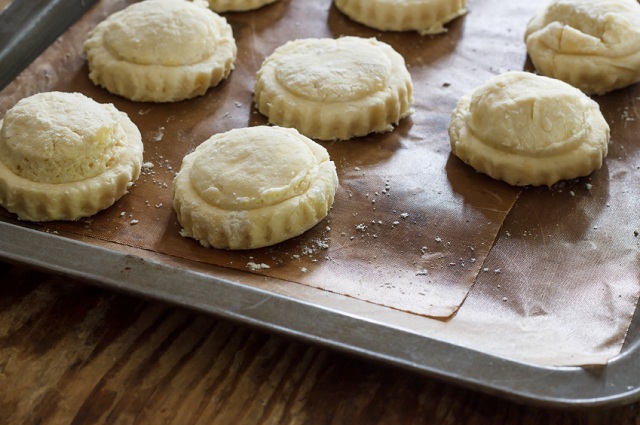 If you can't decide between PB&J cookies or pie, we suggest combining the two with Pillsbury's peanut butter and jelly cookie-stuffed pies. It's the best of both worlds! The recipe yields 8 servings.
Ingredients:
1 box  refrigerated pie crusts, softened as directed on box
1 (16.5 ounce) roll refrigerated peanut butter cookies
8 teaspoons strawberry jelly
1 teaspoon sugar
Directions: Heat oven to 450 degrees Fahrenheit. Remove pie crusts from pouches; unroll on work surface. Cut eight 3½-inch rounds from each crust. Open cookie dough; cut eight ⅓-inch slices off cookie dough roll. Place 1 unbaked cookie slice in center of each of 8 of the rounds; top each with 1 teaspoon jelly. Brush edge of each crust with water. Top with remaining 8 rounds. Press edges together with fork to seal. Brush top of each with water; sprinkle with sugar. Bake 10 to 12 minutes or until golden brown.
6. Jelly-Filled Pound Cake Cupcakes with Peanut Butter Frosting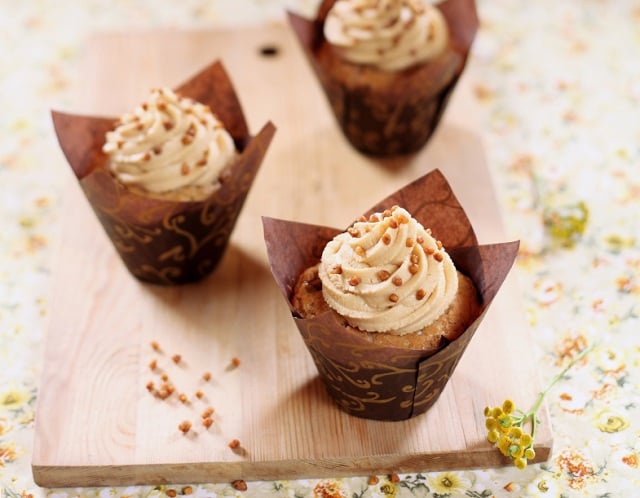 A moist yellow cake, a jelly-filled center, and a heavenly peanut butter frosting await you with Food.com's recipe. Once you've prepared your cupakes with peanut butter frosting, make sure you garnish them with a combination of peanut butter chips, chocolate chips, and Reese's Pieces; it's the perfect way to top off this delicious dessert!
Ingredients:
Cupcakes
1 package yellow cake mix
1 cup sour cream
3 eggs
⅓ cup butter, melted
¼ cup milk
1 cup jelly or 1 cup jam, the flavor of your choosing
Frosting
1 cup butter, softened
4 ounces cream cheese, softened
½ cup creamy peanut butter
1 (16-ounce) box powdered sugar
Peanut butter chips or chocolate chips or Reese's Pieces, for garnish
Directions: To make the cupcakes, preheat oven to 325 degrees Fahrenheit; line 24 muffin cups with paper or foil liners. Combine the cake mix, sour cream, eggs, melted butter, and milk; beat with an electric mixer on low speed for 30 seconds. Increase mixer speed to medium; beat 2 minutes more. Divide batter evenly in the prepared tins; bake for 30 minutes, or until the tops spring back when lightly pressed and a toothpick inserted in the center comes out clean. Cool for 10 minutes in the tins; invert onto wire racks, turn right-side up, and cool completely. With a knife at a slight angle, starting about 1-inch from the edge, cut a 1-inch deep circle in the center of each cupcake top.
Use the knife to slip out the cake scraps; trim the pointed ends. Spoon the jelly into a large zip-lock bag; snip 1 corner. Pipe the jelly into each cupcake hole; replace cut out centers. To make the frosting, with an electric mixer on medium-high speed, beat together the butter, cream cheese, and peanut butter until smooth. Reduce mixer speed to low; gradually blend in the powdered sugar, then enough milk until smooth and spreadable, 2 to 4 tablespoons. Spread each cupcake with frosting; garnish as desired.
7. Peanut Butter 'n' Jelly Scones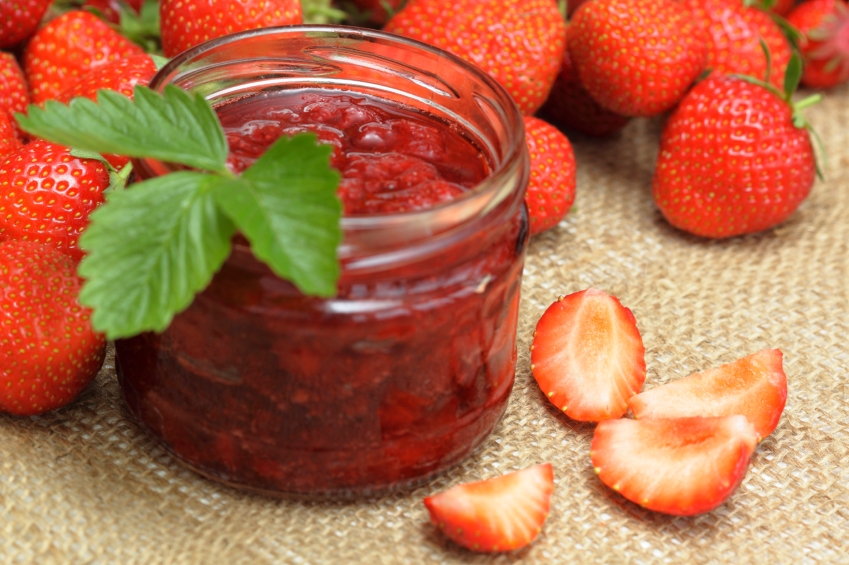 Peanut butter scones are delicious on their own, but Oxmoor House takes them a step further by topping each one with jelly. The recipe yields 12 servings. For scones that are extra scrumptious, we suggest filling your baked goods with Mommy's Kitchen's easy homemade strawberry jam.
Ingredients:
3¼ cups all-purpose flour
⅔ cup firmly packed light brown sugar
1 tablespoon baking powder
¾ teaspoon salt
½ cup cold unsalted butter, cut into pieces
½ cup chunky peanut butter, chilled
½ cup semisweet chocolate morsels (optional)
⅔ cup whipping cream, divided
2 teaspoons vanilla extract
2 tablespoons turbinado sugar
About ¾ cup strawberry jelly
Directions: Preheat oven to 425 degrees Fahrenheit. Combine first 4 ingredients in a food processor. Pulse briefly until combined. Add butter, and pulse to make a coarse meal. Add peanut butter, and pulse briefly to disperse evenly. Be careful not to overmix. Transfer dough to a large bowl. Add chocolate morsels, if desired. Make a well in center, and add ½ cup plus 1 tablespoon whipping cream and vanilla. Stir with a fork just until dry ingredients are moistened.
Knead dough in bowl 2 or 3 times to incorporate dry ingredients in bottom of bowl. Drop mounds of dough using a ⅓-cup measure onto a baking sheet lined with parchment paper. Smooth tops, and brush scones with remaining cream. Sprinkle with turbinado sugar. Make a deep indentation in center of each scone using thumb or the back of a small spoon; fill each with a scant tablespoon jelly. Bake for 18 to 20 minutes or until scones are lightly browned around edges. Cool completely.
8. Peanut Butter and Jelly Banana Bread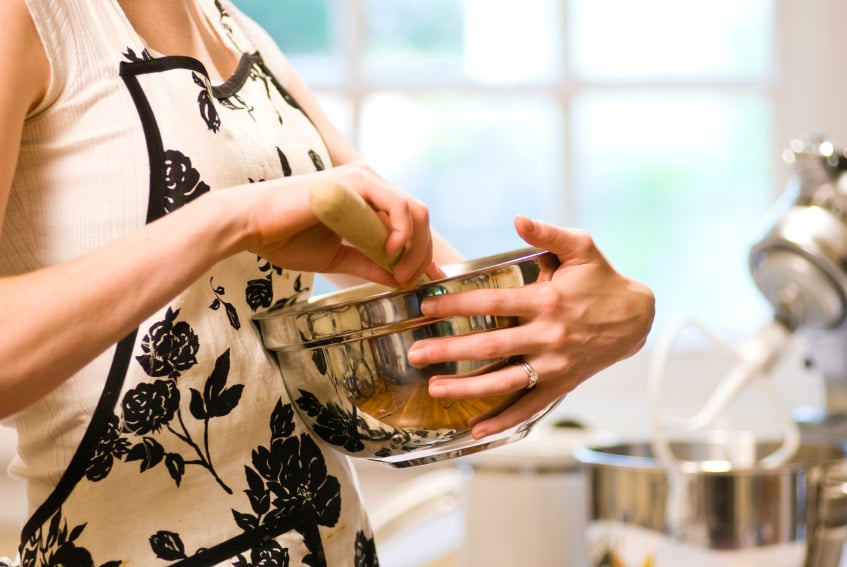 Better Homes and Gardens' recipe combines delicious PB&J flavors with banana bread to create one tantalizing treat. Although it is optional, we highly recommend topping your bread with the streusel-peanut mixture; it adds the perfect amount of sweetness and crunch! It makes 16 servings.
Ingredients:
1½ teaspoons

baking powder

½ teaspoon ground cinnamon

¼ teaspoon salt

¼ teaspoon ground nutmeg

2 eggs, lightly beaten

1½ cups mashed bananas (4 to 5 medium)

¼ cup creamy peanut butter

1 cup sugar

½ cup vegetable oil or melted butter

¼ cup chopped dry-roasted peanuts

1 tablespoon

all-purpose flour

¼ cup strawberry preserves

1 recipe Streusel-Peanut Topping (optional)

2 tablespoons strawberry preserves
Streusel-Peanut Topping
3 tablespoons packed brown sugar
2 tablespoons all-purpose flour
4 teaspoons butter
¼ cup chopped peanuts
Directions: Preheat oven to 350 degrees Fahrenheit. Grease bottom and ½ inch up the sides of one 9-by-5-by-3-inch pan; set aside. In a large bowl combine flour, baking powder, baking soda, cinnamon, salt, nutmeg, and ginger. Make a well in center of flour mixture; set aside.
In a medium bowl, stir together eggs, bananas, peanut butter, sugar, and oil. Add egg mixture all at once to flour mixture. Stir just until moistened. Fold peanuts into batter. Spoon batter into prepared pan. Swirl the ¼ cup strawberry preserves into batter. Sprinkle Streusel-Peanut Topping over batter.
Bake for about 70 minutes or until a wooden toothpick inserted near the center comes out clean. If necessary to prevent overbrowning, cover loosely with foil for the last 15 minutes of baking. Cool in pan on a wire rack for 10 minutes. Remove from pan. Cool completely on rack. Wrap and store overnight before slicing.
After bread stands overnight, place 2 tablespoons strawberry preserves in a small microwave-safe bowl. Microwave on 100% power for 15 to 20 seconds or until melted, snipping any large pieces of fruit. Drizzle melted preserves over the top of the bread.
For the topping, in a small bowl combine brown sugar and flour. Using a pastry blender, cut in butter until mixture resembles coarse crumbs. Stir in peanuts.