11 Ideas for Giving Your Pizza Nutritious and Delicious Toppings
Sometimes, all you need is a slice of delicious pizza. It doesn't have to ruin your diet, though. You already know that if you're going to adapt your pizza to be less of a carbs-and-fat belly bomb, you should revamp your crust with fiber-rich whole-wheat flour or low-calorie cauliflower. But what about everything that comes after that — the sauce, the cheese, the toppings? You don't have to sacrifice flavor and satisfaction for a healthier slice of pizza. By focusing on strong flavor combinations instead of two-napkin piles of greasy cheese, you can feed your pizza habit in a healthier, still very delicious way.
Get saucy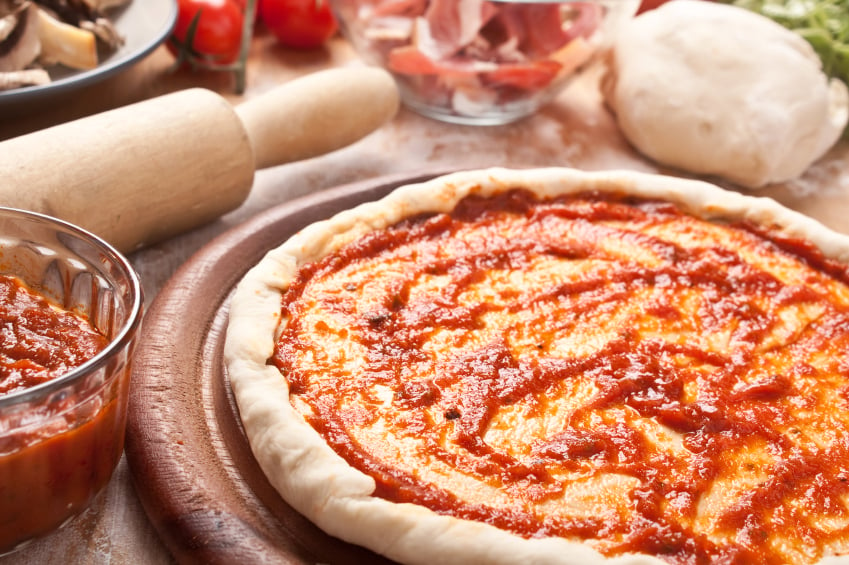 Put the jarred sauce down! That thing is packed with either sugar or sodium (and sometimes both). Instead, grab a can of whole stewed tomatoes to make the super easy sauce from Smitten Kitchen's favorite margherita pizza. Instead of spending an hour cooking it down, drain as much liquid as you can out of the tomatoes and blend them, no cooking involved, with some garlic and spices. It's tangy, delicious, quick, and easy — and it lets you control the added salt and sugar.
Don't limit the cauliflower to the crust. If you have a soft spot for alfredo-sauced pizzas, trust in the creaminess of cooked and pureed cauliflower to dramatically reduce the cream and the cheese in your pizza sauce. To compare Pinch of Yum's cauliflower alfredo with a traditional alfredo recipe, the butter is more than halved, a cup of cream becomes ½ a cup of milk, the 1½ cups of cheese is omitted entirely, and — here's the kicker — you get four times more sauce from Lindsay's vegetable-packed recipe. And it's just as creamy and delicious as a traditional sauce, but so much more virtuous.
If you have an extra can of pumpkin puree laying around, put it on your pizza! Not just for sweets, pumpkin can add a lovely spin on pizza sauce while also packing in an extra dose of beta carotene, fiber, antioxidants, and potassium. Either go for straight pumpkin or slide into a tomato-pumpkin hybrid sauce like this one from Eats Well With Others.
Really letting the sauce be the star of the show means you can go lighter on the cheese and other toppings where calories can start to pile up. Many recipes for onion jam add a fair bit of sugar, but if you take the time to really cook down the onions, you don't need most of it. For a low-sugar recipe, try this one from Shutterbean. When you build your pizza, let the sauce do the talking and sparsely top your pizza with just a little goat cheese and arugula.
Be a little cheesy
The calories can really add up in pizza when it comes to cheese. If you're a sucker for melty, stringy cheese, grate your own. Pre-shredded cheese has additives to keep it from clumping in the bag, according to Serious Eats, which prevents it from melting properly — and that means you'd need a lot more cheese to create that melty effect.
Don't limit yourself to mozzarella! Super flavorful cheeses like goat cheese and Parmesan can add big cheesy flavor in smaller quantities. Ricotta, too, can offer big pillows of cheesy goodness for fewer calories, like in this pizza from Shape.
Skip the cheese altogether and go for a vegan alternative, if you dare. It can take a little getting used to, but a sprinkle of nutritional yeast offers dairy-free cheese flavor without piles of cheese, and it's a great way to increase vital vitamin B12 intake. Think of it as a substitute for grated Parmesan with the flavor of cheddar.
Load it up
Don't undo your good intentions by loading up your pizza with fatty, greasy toppings teeming with sodium! We're looking at you, pepperoni and sausage. If you must have sausage on your pizza, reach for the turkey or chicken sausages for leaner protein. According to SELF Nutrition data, pork sausage contains 96 calories, 8 grams of fat, and up to 338 milligrams of sodium per ounce, whereas turkey sausage contains 55 calories, 3 grams of fat, and 186 milligrams of sodium per ounce.
As any parent knows, pizza is a great way to sneak in foods you wouldn't otherwise eat. If beets aren't your thing, slice them thinly for your pizza like in this slice from Cooking Light, and reap the benefits of their high levels of folate and betaine. Men's Health also recommends putting chicken liver and black olives on your pizza to pack in a ton of metabolism-enhancing B vitamins.
Go for unusual combinations like a thin schmear of low-fat cream cheese and lox for omega 3s and knock out both your pizza and bagel craving in one go. Make the pizza even more flavorful with fresh dill, capers, and sliced red onion like in this recipe from Health.com.
Try a fruity pizza! Greatist recommends grilled peaches, figs, pears, grapes, apples, strawberries, and blueberries for sweet additions to a satisfying pizza pie. They all pair really well with balsamic vinegar drizzles, goat cheese, and arugula for a simple recipe.
More from Culture Cheat Sheet: