26 of the Tastiest Ways You Can Use Tortillas
Dinner, breakfast, lunch, or dessert are all within reach when you have tortillas on hand. The handy ingredient serves as the base for a wide range of dishes from chilaquiles and tacos to wraps and tortilla pies. You can make your own tortillas if you'd like, following a recipe like this one for Corn Tortillas from AllRecipes.com or The Café's Flour Tortillas. But no one will fault you for picking up a pack at the store, especially after they dig into one of these 26 recipes.
Chilaquiles
1. Tortilla chip lovers watch out, because if you have never made or tried chilaquiles, you might just become addicted to Macheesmo's Chipotle Chilaquiles. Corn tortillas are crisped into chips before being paired with spices, eggs, and cheese for a crispy breakfast dish you can eat anytime of the day.
2. A slightly different take on the egg and tortilla combo is one that uses a green salsa, like Herbivoracious' Chilaquiles Verdes.
3. But you could want your crunchy dish to have more meat — literally. In that case, try the Shredded Turkey Chilaquiles Rojos From Away made. It can be made with either chicken or turkey, and is an excellent use of leftovers, especially around Thanksgiving.
4. Another meaty entrée can be found at The Latin Kitchen where beef, pinto beans, and cheeses are baked in a casserole with your homemade tortilla chips. This Beef Chilaquiles Casserole is a mildly spiced, easy to make dish.
5. The Chilaquiles Casserole by Three Many Cooks skip the homemade aspect of the tortilla chips, but you could easily make your own if you want by following any of the previous methods.
Wraps
6. Tortillas make your meals portable, like Chicken Caesar Salad Wraps. The Recipe Critic's recipe is simple and comes with great advice. By wrapping your wraps in plastic wrap, you can store them in the fridge for a grab-and-go meal.
7. Wraps also reimagine your favorite sandwich pairings, as shown in this this BLT Wrap from Center Cut Cook. Plus, the cream cheese, mayonnaise, and dijon spread will become a favorite for all sandwiches and wraps.
8. When you want to wrap up your pulled pork, you need to try Guilty Kitchen's Pulled Pork Wraps with Country Coleslaw. You could find that rolling your shredded pork and slaw makes eating your barbecue a little less messy, too.
9. You've probably never had a wrap quite like this one by Coffee and Quinoa. Roasted portobello mushrooms and quinoa are robustly seasoned by a homemade pesto in these Portobello Quinoa Wraps with Cilantro Pepita Pesto for a flavorful and unique lunch or dinner.
10. Crunch your way through lunch by making Mel's Kitchen Cafe's recipe for Thai Chicken Wraps. Satisfying and delicious, pack it for a lunch that will be anything but boring.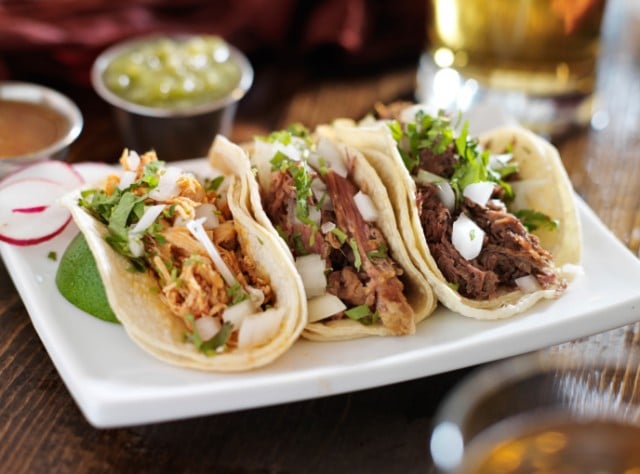 Tacos
11. Put a filling vegetarian taco will be on your dinner menu by making the Quinoa, Black Bean, and Corn Tacos from Cooking Classy. It is a comfort food with a healthy twist that you absolutely must try.
12. Fill your fish tacos with seared salmon like Peas & Crayons did. The Seared Salmon Tacos with Honey-Lime Slaw and Sriracha Ranch are full of flavor and an exceptional use of fresh fish.
13. Tacos call to mind Mexican flavors, but Krafted Koch will change that perception with Greek Chicken Tacos with Whipped Feta. Greece isn't the only country flavoring the meal, and the chicken gets a dose of Italian seasoning before being grilled.
14. Carne Asada is ideal as a taco filling because you can easily make a big impact with a simple recipe. This is what No Recipes creates in this Carne Asada that fills about 8 to 10 tacos.
15. An even easier way to add flavor is to put your crockpot to work, like Gimme Some Oven chose to do for Slow-Cooker Shredded Beef Tacos. Your beef won't be bland, and you'll find you want to make this crockpot recipe even when it isn't taco night.
16. One Good Thing By Jillee takes Baked Tacos to the next level by making semi-homemade hard taco shells. Your store-bought tortillas will be crisped in the oven, then filled with beef and beans before returning to bake for about 10 to 12 minutes.
Tortilla Pie
17. Your skillet will be packed with tortillas, cheeses, beans, and seasonings as you cook Hungry Couple's Mexican Tortilla Pie. You'll use the skillet for both baking the pie in the oven and prepping ingredients on the stovetop.
18. You'll be looking forward to leftover night thanks to The Galley Gourmet. That is because a few cups of shredded leftover chicken go into making this Chicken and Spinach Tortilla Pie with a Roasted Tomatillo Salsa.
19. Kohler Created has a new way for you to eat rice and beans: Easy Vegetarian Tortilla Pie. Topped with avocados, sour cream, and any other garnish you'd like, the pie is easy dish that can be used to get rid of any leftovers in your fridge, too.
20. For a slice of pie in the morning, make Diet Hood's Layered Breakfast Tortilla Pie. It also makes a great breakfast-for-dinner option, since the layers of egg, cheese, and tomato will fill up even the hungriest stomachs.
21. Get as much protein out of the Creamy Chicken Taco Pie from Garnish & Glaze by choosing Greek yogurt instead of sour cream. The simple swap will also add more calcium to your diet, and potentially less fat than you'd get from using sour cream.
Desserts
22. Make a dessert with tortillas, and while you're at it, make your own tortillas. Table shows just how simple this process is in the course of making these Fruit Dessert Tacos with Cream Cheese Topping, which features a homemade chocolate tortilla.
23. For those who want a slightly more indulgent dessert without having to make a tortilla, there are the Cannoli Chimichangas from Chef in Training. The dessert uses a ricotta cannoli filling, and fries the cannoli before rolling each in a cocoa sugar.
24. 52 Kitchen Adventures is also using tortillas to create a new take on a classic sweet. This time, a shortcut is introduced for churros. There is no frying involved, and the Faux Churros with Mexican Chocolate Sauce are baked instead.
25. Some might consider the cinnamon sugar nachos in this recipe by Sally's Baking Addiction enough of a dessert, but for anyone whose sweet tooth isn't satisfied with that simple fare, worry not. Chocolate and fruit add to the sweetness of the Dessert Nachos, and you could always make salted caramel sauce, too.
26. There is no need for a campfire to make s'mores with tortillas once you have the Quesadilla S'mores recipe from Qué Rica Vida.
More from Life Cheat Sheet:
Want more great content like this? Sign up here to receive the best of Cheat Sheet delivered daily. No spam; just tailored content straight to your inbox.