4 Menus That Let You Make Takeout Restaurant Food at Home
If it's been a long day, if your kitchen is under construction, or if it's two in the morning, sometimes takeout is a necessity. Sometimes, though, all you really want is some crab rangoon and General Tso's chicken, and it's not possible to make those from home, right? Wrong.
Making classic takeout at home is a great way to save a little money and control things like fat and sodium levels. It takes a little more effort than opening up Grubhub, but delivery time from stove to mouth is comparable. If you want a big, greasy pizza from your favorite Italian joint, you're better off getting takeout. Otherwise, make these five menus for when you're craving Chinese, Indian, Greek, or Thai.
Menu 1: Chinese Take-out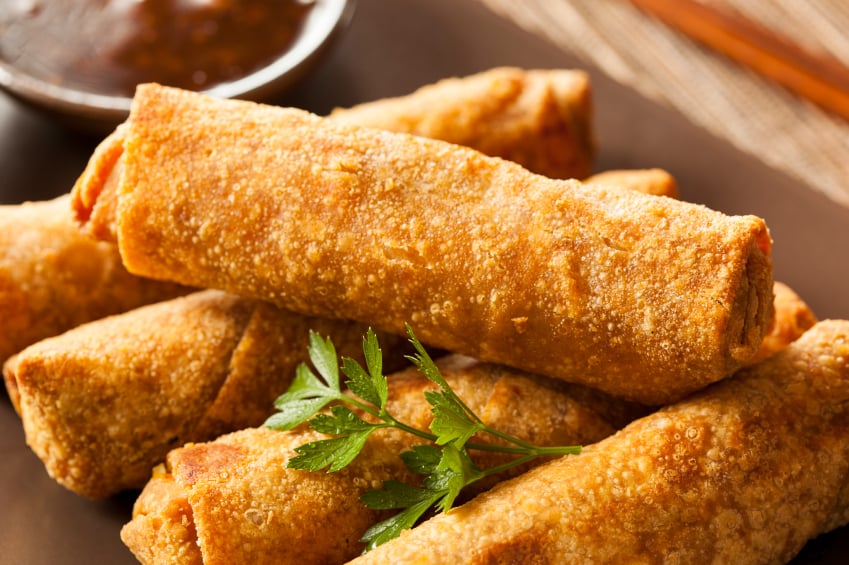 For homemade egg rolls, don't try to make big, fist-size ones stuffed to the brim with filling; they'll fall apart when they're cooking and get oily, and that's gross. Instead, roll finger-size egg rolls like these from Steamy Kitchen. These take a little while to do right, but it's worth it in the end. Make a big batch and freeze them for eggrolls anytime the craving hits!
With homemade crab rangoon, you have an option: Go all the way and fry them, or lighten up a little and bake them. They're both going to satisfy a craving for creamy, crab-filled wontons. If you're going to try to cut the fat, make this baked rangoon from Six Sisters' Stuff. If you're down with deep frying them, check out this recipe from Damn Delicious.
Fried rice is the perfect leftovers vacuum. It's actually best with day-old rice, because the starch reforms around the individual grains, creating the classic fried rice texture. Other than that, anything goes. Leftover chicken from dinner last night? Toss it in. Spare veggies lying around? Those go in, too. Anything goes. For a jumping off point, make this recipe for Chicken Fried Rice from The Recipe Critic.
You could use frozen, breaded chicken poppers for a quick General Tso's fix. If you're serious about perfect General Tso's chicken, though, look no further than Serious Eats' recipe. After a lot of testing, they came up with four secrets to getting it just right.
Menu 2: Indian Takeout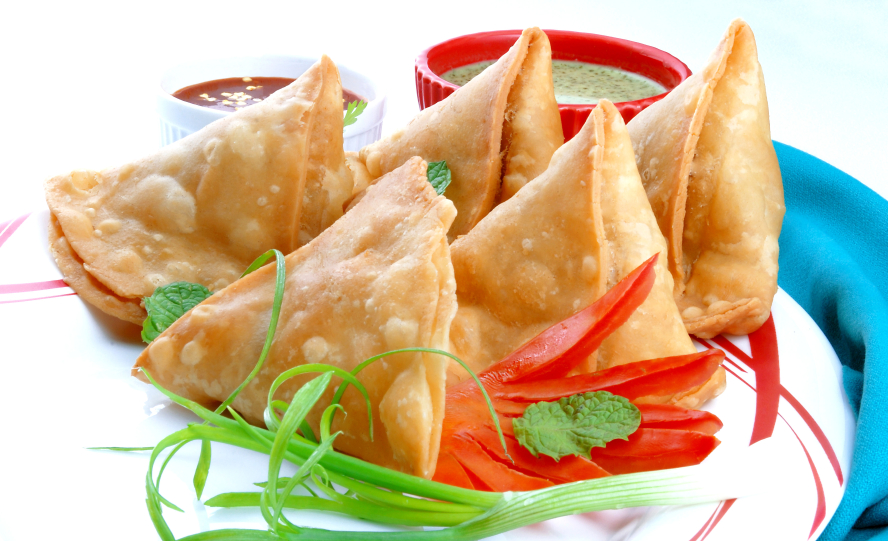 Unless you're gluten-free, no Indian takeout meal is complete without naan. If you have the patience to wait for the dough to rise, it's even better hot out of your own oven. The yogurt in the dough of this recipe from Half Baked Harvest is important to the texture and flavor of the naan, so don't skip it. If you like garlic or coconut naan, add the extras when you're making the dough.
If you're big into samosas, the little spiced potato pillows fried to crispy perfection, it's absolutely worth it to learn how to make them at home. Like egg rolls, you can make big batches and freeze them to make on a whim. This recipe from Veg Recipes of India is for Punjabi-style samosas, which retains some structure to the potato.
You can't eat naan and samosas without condiments! Learn to make cilantro dip from Fine Cooking and learn to make chili onion chutney from Raks Kitchen.
Chicken tikka masala is the top comfort food of England, and it's easy to see why. It's heavily spiced, creamy, and full of tender chunks of chicken. The yogurt is important in tenderizing the chicken; that's the secret. Try this recipe from Bon Appétit to get your fix.
The quicker, easier, and vegetarian takeout main dish counterpart is chana masala, a spiced chickpea dish in a light, chunky tomato sauce. This recipe from Chow is a great place to start.
If you have mangos, ice, yogurt, and a blender, you have a mango lassi. Add more or less ice to this recipe from The Food Network according to how thick you like your lassi. 
Menu 3: Greek Takeout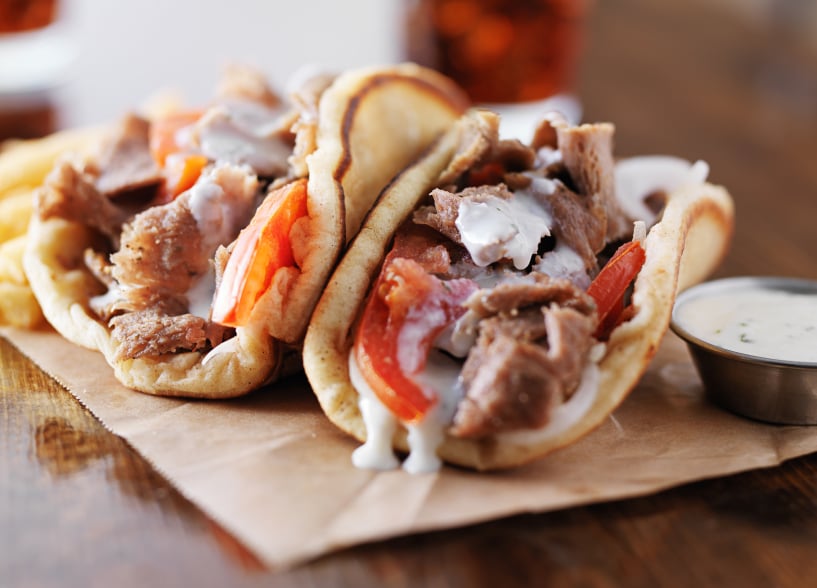 Nothing compares to homemade hummus, and if you use canned chickpeas, this one from My Greek Dish comes together in less than 10 minutes. To make a little mezze plate, grab some marinated olives, feta, roasted red pepper, and pita bread.
Speaking of pita bread, have you ever thought about how great they'd be if you made them from scratch at home? Now you can, with this recipe from King Arthur Flour. If you have kids, watching the flat disks puff up in the oven is basically magic.
Did you know you can buy jars of grape leaves? Yep! Now you have no excuse not to make your own dolmades, or stuffed grape leaves. You can make them with rice, bulgur wheat, or ground lamb. Start with this recipe from The Food Network.
Feeling adventurous? Serious Eats has done a lot of trial and error testing to bring you delicious Greek-American lamb gyros without having a huge piece of meat roasting on a spinning stile.
Whether you're team walnut or team pistachio, baklava is a sticky, delicious, flaky miracle. This recipe from The Pioneer Woman uses walnuts. There's no getting around it, though; you're going to need a lot of butter and enough patience to let it sit, undisturbed, for several hours. You'll be rewarded.
Menu 4: Thai Takeout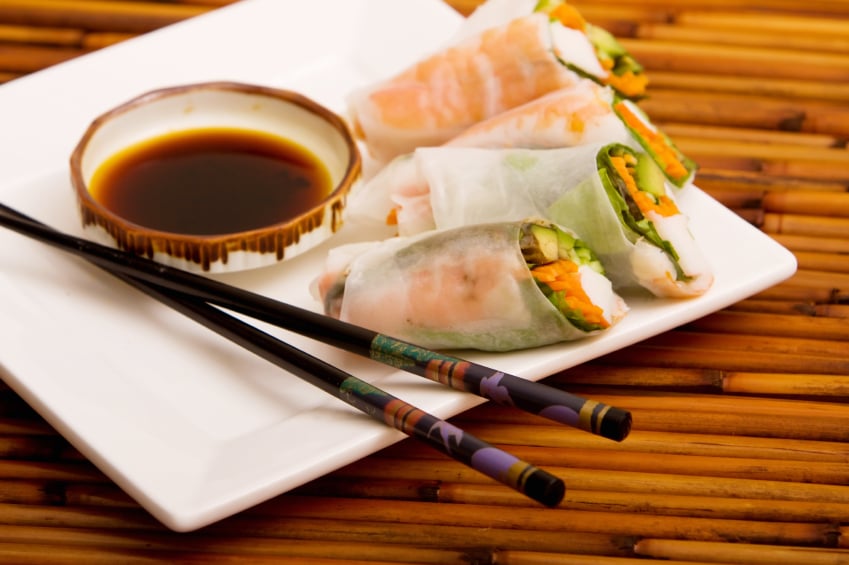 It can be hard to get all the ingredients for a good Tom Kha Gai — do you even know what galangal is? (it's in the ginger family) — so this recipe for Thai Chicken Soup from Bon Appétit makes a point of using easier-to-find components.
Spring rolls can be very fun to make or very frustrating to make. The difference is in how you handle the rice wrappers. Don't over soak them; they'll continue to soften a little as you take them out of the water. Just a quick dip! Try your hand at rolling them with one of these 3 recipes from WrightFood.
Whether you prefer tea or coffee, there's a thick, sweet, solution for you. It's super simple to make your own Thai iced tea with this recipe from the White on Rice Couple or Thai iced coffee with this recipe from Kitchen Confidante.
If you're not making your own pad thai, you're doing it wrong. This easy pad thai recipe from Eating Well boasts half the calories and sodium of traditional takeout pad thai.
More from Culture Cheat Sheet: