4 Nutrients Your Healthy Breakfast Needs, Plus Morning Meal Recipes
They say breakfast is the most important meal of the day, but are you getting the most out of your morning meal?
Eating breakfast makes you less likely to be hungrier later in the day and less likely to eat more food at night, according to the Harvard School of Public Health. Skipping breakfast has been linked to obesity, high blood pressure, high cholesterol and diabetes, and heart disease.
Not only is it important to eat breakfast, but you should try to eat the right kind of breakfast – a meal packed with nutrients to get you off to a great start and keep you going throughout the day. Avoid sugary breakfast cereals, or meals packed with fat.
Instead, browse our list of breakfast-friendly additions and recipes packed full of nutrients to help kick off your day.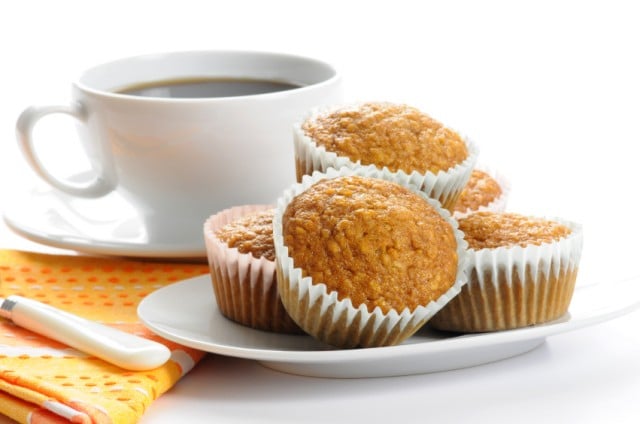 1. Whole-Grains
Whole-grains, which can be found in muffins, bagels, cereals, or toast, will provide a nutritious addition to your breakfast and help keep you feeling full for hours, the Mayo Clinic states. The United States Department of Agriculture's Choose My Plate adds that whole-grains are full of fiber, vitamins, and minerals, and they can help reduce the risk of heart disease and help you manage your weight.
For a make-ahead breakfast recipe, try the Whole-Wheat Banana Nut Muffins the Culinary Institute of America developed for the Harvard School of Public Health's The Nutrition Source. They are full of protein, fiber, and healthy carbs. Try pairing them with a glass of milk and a hard-boiled egg to work some calcium and protein into your meal.
Visit The Nutrition Source for this recipe.
2. Lean Protein
A breakfast that combines lean protein with carbs and a small amount of good fat can help provide energy, maintain your blood sugar, and stave off hunger, Clemson University explains. Just be sure to choose proteins low in saturated fat and cholesterol; Clemson recommends eating fish, nuts, and seeds, which are also full of healthy oils.
For a high-protein, convenient breakfast, try the Chicken Sausage Frittata Burritos featured by the American Council on Exercise. You can also make these burritos ahead of time, wrap each one individually and store them in the refrigerator or freezer. Then, on a busy weekday morning, pop one in the microwave or toaster and head out the door to start your day.
Visit the American Council on Exercise for this recipe.
3. Calcium
Dairy products high in calcium – such as milk, yogurt, or cheeses – are important to help build strong bones and teeth and to help our nerves and muscles work properly, according to Clemson University. Some of those products, such as milk and fortified yogurt, are also high in potassium and vitamin D.
Breakfast provides a great opportunity to work some dairy products into your diet with cereal or oatmeal and milk, fruit and yogurt, or cheeses. But, many dairy products are also high in fat, so Clemson recommends choosing low-fat or fat-free varieties, when possible.
Follow the American Council on Exercise's Cherry Chia Smoothie recipe for a nutritiously blended breakfast. The smoothie is made with Greek yogurt and chia seeds, both of which are full of calcium. Chia seeds are also a good source of protein, according to the council, and cherries offer vitamin C and fiber.
Visit the American Council on Exercise for this recipe.
4. Fiber
If you want a nutritious and satisfying breakfast, the Mayo Clinic says to have fiber with protein, complex carbs, and a little fat in your morning meal. The American Council on Exercise explains that fiber can found in fruits, veggies, and whole-grains.
One type of fiber, such as that found in apples and citrus fruits, can help lower cholesterol. Another type of the nutrient, which is found in whole-wheat flour, nuts, and vegetables, can help move foods through your digestive system, the clinic adds.
The Mayo Clinic recommends choosing breakfast cereals – particularly those with "whole-wheat," "bran," or "fiber" in the name – as a source of fiber. Or, for a tasty treat, try this Savory Baked French Toast recipe from Whole Foods Market. It's full of protein and dietary fiber, but also contains sugar and fat.
Visit Whole Foods for this Recipe.
More from Life Cheat Sheet:
Want more great content like this? Sign up here to receive the best of Cheat Sheet delivered daily. No spam; just tailored content straight to your inbox.