5 Awesome Airport Amenities That Make Travel Much Better
Whether you're there during a long layover, got through security more quickly than expected, or your flight was delayed for any reason, airports have never been the most desirable place to get stuck. Some airports, though, are working hard to change that.
While flying is becoming more and more of a cramped, soulless experience, airports are rising to the challenge. Charging stations and Wi-Fi are becoming ubiquitous, while very creative amenities are popping up all over the place. Some of these amenities are small miracles that make the stress of traveling bearable, while others make us wonder why they don't come standard.
1. CoatChex kiosk
If you're flying from New York to somewhere warm, there are at least 7 months of the year you need to suffer the age-old internal debate: Do I take my coat? If you're flying JetBlue from JFK, though, debate no more. CoatChex has partnered with the airline to save travelers the extra room in their bags, because for many vacations, cold weather stops after you pass through security.
CoatChex is an automated kiosk attended by a single employee that visually matches people with their coats and uses scans of boarding passes to track arrivals. When you touch down back in New York, your coat will be waiting for you in the terminal, and there's no ticket for you to keep track of. You provide the last 4 digits of your phone number and voila, you get your coat back and you're ready to face the whipping New York wind once again.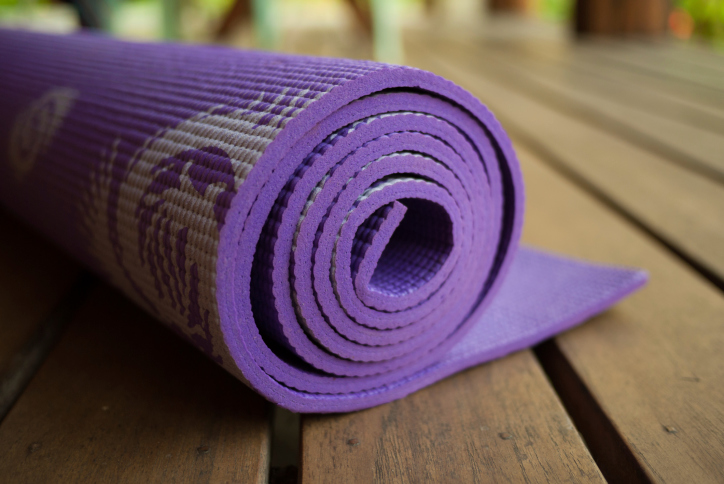 2. Exercise options
What do San Francisco, Burlington, Dallas Fort-Worth, Albuquerque, and Raleigh-Durham airports all have in common? They offer harried travelers yoga rooms to unwind, stretch out, and find peace during hectic and often stressful trips. From BTV's softly lit green room to SFO's groundbreaking, first-of-its-kind mirror-lined yoga room, you'll find a quiet, calm oasis.
Less into yoga but still want to get up and move? At Philadelphia International, passengers can hop on stationary bikes, whereas BWI in Maryland allows passengers to ride outside during a layover with one of its self-serve Zagster bikes on a TSA-patrolled 12.5-mile trail outside the airport. Various airports, like Phoenix Sky Harbor, have indoor and sometimes outdoor marked walking trails.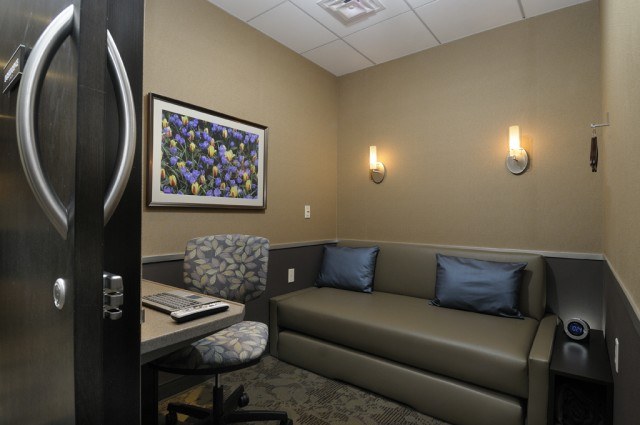 3. Nap pods
Sleeping at an airport has always been one of the most uncomfortable experiences in travel. Luckily, Atlanta, Philadelphia, and Dallas Fort-Worth airports are working on making it easier for passengers to catch up on some Z's. In each airport, the Minute Suites offer a daybed with fresh linens, HDTV, and either an in-room alarm clock or a wake-up call for $30 per hour.
While Atlanta, the first location, only offers five suites, PHL offers 13 suites and two workstation cubicles, all staffed by Temple University students from the School of Tourism and Hospitality Management. In Dallas Fort-Worth, the latest site, there are 10 suites and two shower rooms. We can't wait to see where they'll pop up next.
4. Therapy dogs
This may be the best airport amenity we've seen. Normally, the only dogs in airports are strictly off-limits. These pups, though, are fair game for all the de-stressing petting you can handle. This has been standard practice in San Jose since 9/11, but airports have since been making belly rubs standard across the country. Therapy dogs and their human handlers from the organization Pets Unstressing Passengers, or PUP, can be found in 20 major U.S. airports including Miami, Los Angeles, San Jose, San Francisco, Fort Lauderdale, and Gerald R. Ford International. LAX has 30 therapy dogs in all shapes and sizes, while SFO has a smaller troupe of 12.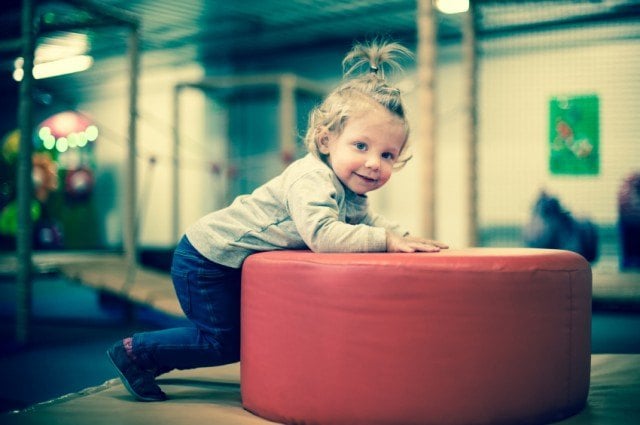 5. Playgrounds
As if traveling with kids isn't hard enough, long layovers can be a nightmare for parents and children alike when there's just nothing to do. Rather than letting them run the halls of the terminals, some airports like Lambert-St. Louis International has a 1,500-square-foot Magic House that has a kid-size plane and an air traffic control tower fit with a slide, car rental counters, luggage conveyor belt, and a pretend X-ray machine in a fake screening area.
Chicago's O'Hare Airport has an aviation-themed playground designed by the Children's Museum, while SFO has a weather-themed play area featuring a plasma wall displaying colorful, sound-activated arcs. Boston's Logan Airport has two kid-approved play areas, and Orlando has a 3,000-gallon aquarium, an arcade, and an interactive space museum.
More from Life Cheat Sheet:
Want more great content like this? Sign up here to receive the best of Cheat Sheet delivered daily. No spam; just tailored content straight to your inbox.