5 Breakfast Tacos to Kick Off Your Cinco de Mayo
Sometimes, breakfast requires a fiesta. In those cases, and especially when you're expecting to eat a lot later in the day, a breakfast burrito is simply too much food. At times like these, turn to a breakfast taco or two. They're an infinitely customizable breakfast food with all the fun and tastiness of being wrapped in a little taco package. While some say that a breakfast taco must contain egg to be considered a true breakfast taco, we're stretching the boundaries to include vegan tacos. Starting your Cinco de Mayo with a couple of these — and maybe a paloma — will kick off your day just right.
1. Breakfast Tacos with Crispy Potatoes, Chorizo, and a Fried Egg
Serious Eats believes that in order to be considered a breakfast taco, it should at least include an egg — though it should hardly stop there. This one includes a combination of Mexican chorizo (not to be confused with Spanish chorizo; if need be, make your own), potatoes, and salsa to round it out.
Ingredients:
1 large Russet potato, cut into ½-inch cubes
Kosher salt
1 tablespoon distilled white vinegar
1 tablespoon vegetable oil, divided
3 ounces Mexican-style raw chorizo
2 scallions, thinly sliced, whites and greens reserved separately
1 serrano pepper, thinly sliced
Freshly ground black pepper
4 eggs
4 soft flour or corn tortillas, warm
1 cup homemade or store-bought roasted tomato salsa
Chopped cilantro, sour cream or Mexican crema, and lime wedges for serving
Directions: Place potatoes in a small saucepan and cover with cold water by 1 inch. Add 1 tablespoon kosher salt and the vinegar. Bring to a boil over high heat, reduce to a simmer, and cook until potatoes are softened, about 8 minutes. Drain and let rest for 5 minutes to dry.
While potatoes cook, heat 2 teaspoons of vegetable oil in a medium non-stick or cast iron skillet over medium-high heat until shimmering. Add chorizo and cook, breaking it up with a wooden spoon, until cooked through. Transfer chorizo to a small bowl, leaving oil behind.
When potatoes have dried, reheat chorizo oil over high heat until shimmering. Add potatoes and cook, tossing occasionally, until crisp and golden brown all over, about 15 minutes. Add scallion whites and serranos and continue to cook, tossing, until softened and aromatic, about 1 minute longer. Stir in chorizo and season to taste with salt and pepper. Transfer to a plate and keep warm. Wipe out skillet.
Add remaining teaspoon oil and heat over medium-high heat until shimmering. Add eggs, season with salt and pepper, and cook until whites are set but yolks are still runny, about 1½ minutes. Remove from heat.
Divide potato mixture between tortillas. Top each with a fried egg and some salsa. Serve immediately with chopped cilantro, scallion greens, sour cream or Mexican crema, and lime wedges.
2. Breakfast Tacos with Avocado Radish Salsa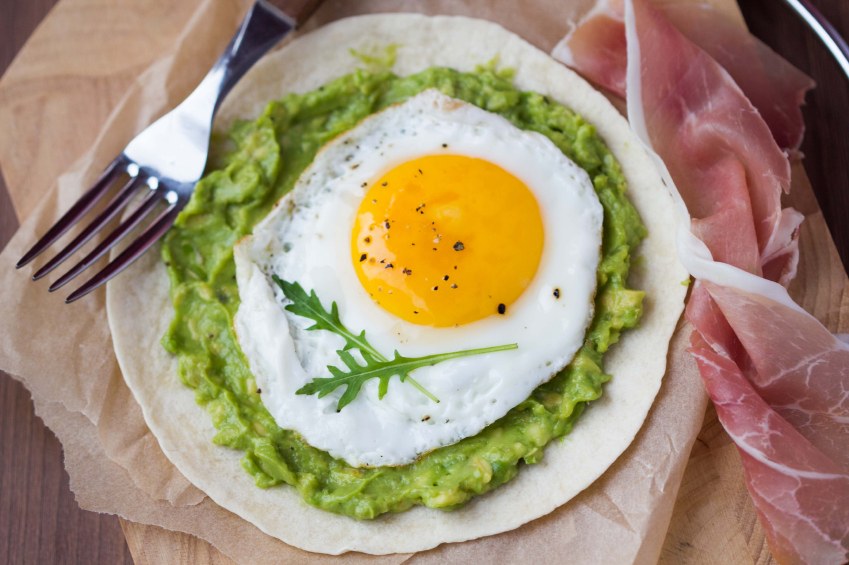 Not a fan of scrambled eggs but still want a little eggy goodness in your breakfast taco? This taco from The Year in Food cooks them up over easy. To top them off, the springy avocado radish salsa adds a little creamy, zesty flavor and a little bite from the radish, and the brined saltiness of the crumbled feta rounds it all out.
Ingredients:
Salsa
1 large avocado, scooped out of skin and diced
1 small bunch radishes, thinly sliced
½ small onion, minced
¼ cup minced cilantro
1 jalapeño, minced
Juice of 1 lime
¼ to ½ teaspoon sea salt, to taste
Tacos
8 corn tortillas
8 pastured eggs
1 cup crumbled feta
Oil for cooking
Hot sauce if desired
Directions: First, prepare the salsa. Combine the radishes with the avocado, minced onion, jalapeño, cilantro, and lime juice. Add ¼ teaspoon sea salt and adjust according to your taste.
Next, heat a large skillet over a medium flame. When the skillet is hot, add enough oil to cover the bottom. Fry eggs according to your taste, about 4 to 5 minutes, until whites have set. Set eggs aside and warm the tortillas in the skillet.
Place one egg atop each tortilla. Serve with the salsa, feta cheese and hot sauce.
3. Tofu Scramble Vegan Breakfast Tacos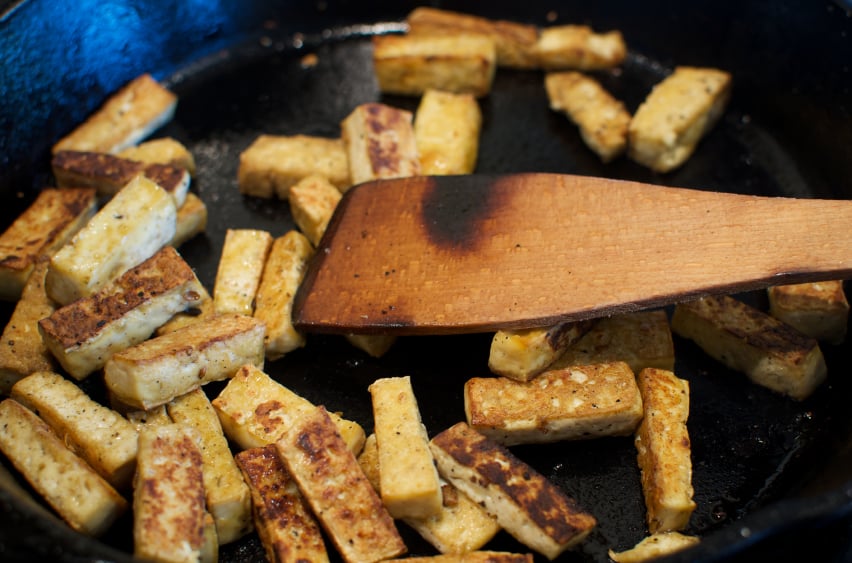 Rather than fill your tacos with eggs, meat, and cheese, make these very colorful vegan tacos from The Minimalist Baker. They feature crumbled tofu, but if you're not a fan, feel free to sub in diced, roasted sweet potato. The pomegranate adds a pop of color and tart sweetness, while the black beans add extra protein and make the tacos more filling.
Ingredients:
Tacos
8 ounces firm tofu
1 cup cooked black beans
¼ red onion, diced
1 cup fresh cilantro, chopped
1 ripe avocado, sliced
½ cup salsa for serving
1 lime sliced, for serving
¼ cup pomegranate arils
2 corn tortillas per person
Tofu seasoning 
¾ teaspoon garlic powder
½ teaspoon chili powder
1 teaspoon cumin
⅛ teaspoon sea salt
1 tablespoon salsa
1 tablespoon water
Directions: Wrap tofu in a clean, absorbent towel and place something heavy on top, such as a cast iron skillet, while prepping toppings.
Cook black beans in a small saucepan over medium heat until bubbly, then reduce heat to simmer and set aside. If the beans are unsalted and unseasoned, add a pinch of salt, cumin, chili powder and garlic powder.
Add dry tofu spices and salsa to a small bowl and add enough water to make a pourable sauce. Set aside.
Heat a large skillet over medium heat and unwrap tofu. Use a fork to crumble.
Once the pan is hot, add 1 to 2 tablespoons of oil and the tofu. Stir fry for 4 to 5 minutes to brown. Then add seasoning and toss to coat. Continue cooking until browned and fragrant, about 5 to 10 minutes, stirring frequently. Set aside.
To serve, warm tortillas in the microwave wrapped in a damp paper towel. Top tortillas with tofu scramble, black beans, onion, avocado, cilantro, salsa, fresh lime juice and pomegranate arils.
4. Gluten-Free Texas-Style Breakfast Taco
The easy thing about making a taco gluten-free is that most corn tortillas are totally gluten-free to begin with. These tacos from Hello Gluten Free are filled with scrambled eggs, potatoes, and Colby Jack cheese. You should absolutely make the effort to make your own salsa using this recipe, because it really elevates the tacos into something else entirely.
Ingredients:
2 to 3 corn tortillas
2 eggs
2 medium red potatoes
Olive oil
Colby Jack cheese, for topping
Salsa
Directions: Toast the corn tortillas in a small frying pan over medium heat. They should be slightly more brown and firm, but be careful not to overcook.
Wash the red potatoes and cut into even-sized cubes. Put in a microwave safe bowl and microwave on high for about 3 minutes.
When the potatoes are soft, place them in a pan and drizzle with olive oil. Cook slowly over medium heat until all of the edges are light brown, about 10 minutes. Add salt and pepper as desired.
Scramble up the eggs.
Place eggs, potatoes, and cheese on a flat corn tortilla. Top with fresh salsa.
5. Paleo Boneless Pork Short Rib Breakfast Tacos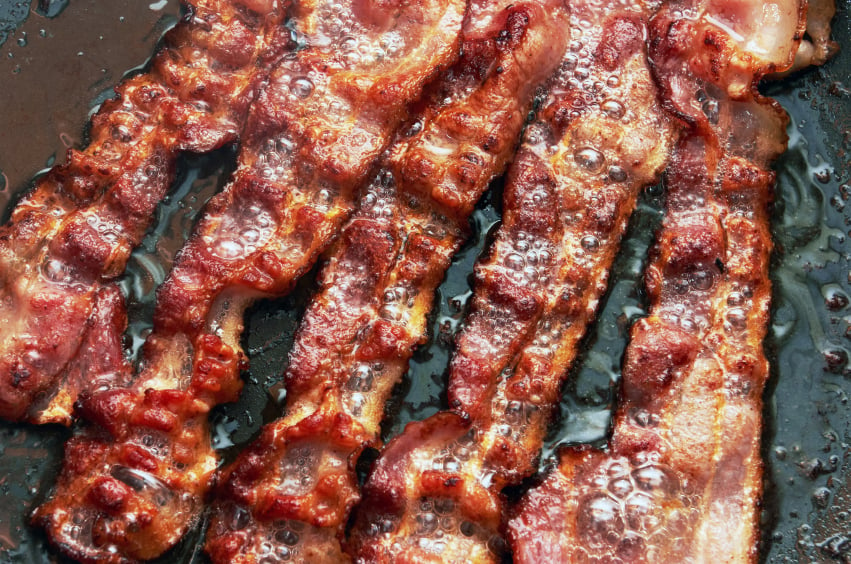 Breakfast tacos may seem totally unreasonable for folks following a Paleo diet, but this recipe from PaleOMG makes it work. The tortillas are primarily made out of coconut flour and come out as a cross between thin pancakes and a tortilla, which works well for breakfast. Because breakfast short ribs are best made in a crockpot, these are overnight tacos.
Ingredients:
Tortillas
3 eggs, whisked
½ cup canned coconut milk
2 tablespoons coconut flour
Pinch of salt
Pork short ribs
2 pounds boneless pork short ribs
2 tablespoons maple syrup
2 teaspoons garlic powder
Salt, to taste
Toppings
5 to 6 strips of bacon
1 (6- to 8-ounce) can of green chiles
2 to 3 tablespoons hot sauce
Sliced green onions
Directions: Add short ribs to the crockpot. Pour maple syrup on top of them, along with garlic powder and salt. Cook on low for 8 to 10 hours.
The next day, remove the pork ribs from the crockpot, shred them and pour some of the excess liquid from the crockpot over the shredded pork for extra flavor. Set aside.
In a medium bowl, whisk together the tortilla ingredients until smooth. Place a large, nonstick skillet over medium heat and pour into pancake-sized tortillas. Cook about 1 minute per side.
Once all your tortillas are done, place bacon on the skillet or oven to cook on both sides, cool, then roughly chop.
Mix together the green chiles and hot sauce in a bowl, place in microwave for 1 to 2 minutes or until hot. And then chop the green chiles. Now load up each tortilla. Shredded pork, green chiles, bacon, then green onions.
More from Culture Cheat Sheet: