5 Coleslaw Recipes Perfect for Potlucks and Picnics
Bringing coleslaw to a picnic or potluck? Don't settle for any old, basic, average recipe. There is nothing wrong with a good, creamy coleslaw — but by this point in the summer, it has made the rounds at every gathering you've been to and it is getting a little stale. Instead, make and take one of these 5 outstanding coleslaws.
1. Tennessee-Style Mustard Coleslaw
When you don't want to depart too much from tradition, follow Saveur's lead and use an ingredient, like mustard, to put a slightly new spin on classic coleslaw. It serves 6, and would be right at home on a plate piled high with barbecue.
Ingredients:
½ cup mayonnaise
¼ cup prepared yellow mustard
¼ cup apple cider vinegar
¼ cup sugar
2 teaspoons kosher salt
2 teaspoons ground black pepper
1 teaspoon celery seeds
1 medium head cabbage, shredded
Directions: Whisk together mayonnaise, mustard, vinegar, sugar, salt, pepper, and celery seeds in a bowl. Add cabbage and toss. Chill.
2. Central Texas Slaw
Even flavor is bigger in Texas, and with a variety of spices and peppers, this Southern Living recipe lives up to that expectation. The colors are bigger too, with bright red cabbage and bell peppers bringing bold hues to the side; it yields 4 cups.
Ingredients:
¼ cup white vinegar
¼ cup extra virgin olive oil
2 tablespoons sugar
3 to 4 tablespoons fresh lime juice
1½ teaspoons kosher salt
½ teaspoon ground coriander
¼ teaspoon ground cumin
¼ teaspoon ground red pepper
¼ teaspoon freshly ground black pepper
2 cups thinly sliced red cabbage
2 cups thinly sliced white cabbage
½ cup shredded carrot
1 medium jalapeño pepper (with seeds), thinly sliced
½ red bell pepper, thinly sliced
½ yellow bell pepper, thinly sliced
½ cup chopped fresh cilantro
Directions: Whisk together vinegar, olive oil, sugar, lime juice, kosher salt, ground coriander, ground cumin, ground red pepper, and freshly ground black pepper in a large bowl. Add red cabbage, white cabbage, carrot, jalapeño pepper, red bell pepper, and yellow bell pepper. Toss to coat. Chill 1 hour before serving, tossing occasionally. Stir in cilantro just before serving.
3. Tangy Sweet Coleslaw
When it comes to creamy ingredients, Martha Stewart's coleslaw doesn't rely only on mayonnaise. Instead, yogurt is added to the mix, too. This lightened up taken on coleslaw can be refrigerated for one day, and serves 4.
Ingredients:
½ small green cabbage, cored and finely shredded (4 cups)
1 small carrot, peeled and coarsely grated
1 small tomato, seeded and cut into 1/4-inch dice
¼ cucumber, peeled, seeded, and cut into 1/4-inch dice
¼ cup plain yogurt
¼ cup mayonnaise
1 tablespoon honey
1½ tablespoons apple-cider vinegar
¼ teaspoon coarse salt
Freshly ground pepper
Directions: Combine cabbage, carrot, tomato, and cucumber in a large bowl. Whisk yogurt, mayonnaise, honey, vinegar, and salt in a small bowl. Season with pepper. Toss with cabbage mixture.
4. Chipotle Coleslaw 
You may need to warn people before they dig into Sunset's coleslaw. It will look like any average slaw, but it has a slight kick that will surprise unsuspecting tastebuds. It yields between 6 and 8 servings.
Ingredients:
½ cup mayonnaise
½ cup sour cream
3 tablespoons white vinegar
1 tablespoon molasses (not blackstrap)
1½ teaspoons sugar
1 small canned chipotle chile, minced, plus 2 teaspoon adobo sauce from the can
1 teaspoon kosher salt
6 cups each packed shredded green and red cabbage
7 green onions, green and pale green portions, sliced into thin rounds
1 cup tightly packed chopped fresh cilantro leaves
Directions: Prepare the dressing: In a medium bowl, stir together mayonnaise, sour cream, vinegar, molasses, sugar, minced chile, adobo sauce, and salt.
In a large bowl, toss together cabbage, green onions, and ¾ cup chopped cilantro. Pour dressing over vegetables, toss well, and refrigerate for at least 30 minutes and up to 4 hours. Before serving, add more salt if you like and scatter remaining ¼ cup chopped cilantro over the top.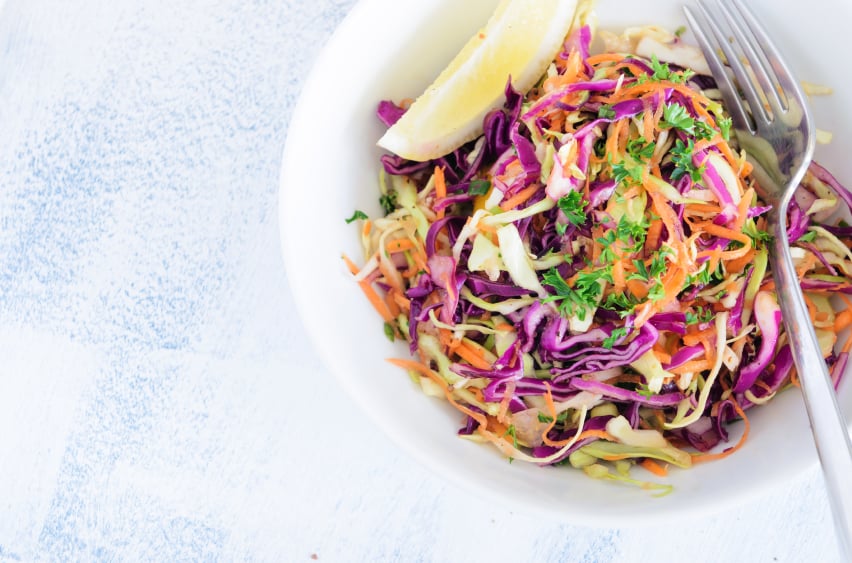 5. Tequila Slaw With Lime and Cilantro
For a kick of a different kind, try Cooking Light's bright coleslaw with tequila and lime. With only 1 tablespoon, you won't be getting buzzed for the side dish, but like with the chipotle slaw, you'll definitely want to let people know. It makes about 6 servings.
Ingredients:
¼ cup canola mayonnaise
3 tablespoons fresh lime juice
1 tablespoon silver tequila
2 teaspoons sugar
¼ teaspoon kosher salt
⅓ cup thinly sliced green onions
¼ cup chopped fresh cilantro
1 (14-ounce) package coleslaw
Directions: Combine first 5 ingredients in a large bowl. Add remaining ingredients; toss.
More From Life Cheat Sheet
Want more great content like this? Sign up here to receive the best of Cheat Sheet delivered daily. No spam; just tailored content straight to your inbox.