5 Easy Ways To Sneak in Exercise This Holiday Season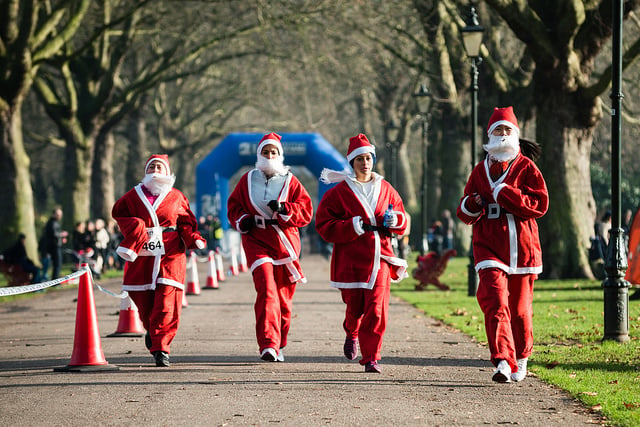 The holiday season is in full swing, and for many that means visions of Christmas decorations, traditions, family get-togethers, and cookie baking are the only things dancing in their heads. Taking a page from Andy Williams's book, it's the most wonderful time of the year, but for some, it's unfortunately also the one that they dread the most — and that's because Christmas cookies can just about kill any dieter's dream.
Not everyone is looking forward to going into the new year with a little extra padding around their waists, but luckily, not everyone has to. You can have your Christmas cookie and eat it too, you just have to exercise when you can and stay extra conscious about avoiding the lazy lane.
The holiday season is definitely not a time when revelers have a lot of time on their hands, but some exercise is better than no exercise, and today we're outlining ways you can squeeze in sweat sessions between the parties, gift wrapping, and baking that still needs to be done. So sit back and buckle up — there's no need for your belly to shake like a bowl of jelly this holiday season. Take advantage of these strategies to squeeze in exercise and there will be no need to start off 2014 with new resolutions, because you will have jumped on the exercise bandwagon early. Here are six easy ways you can stave off the holiday belly and still have fun doing it.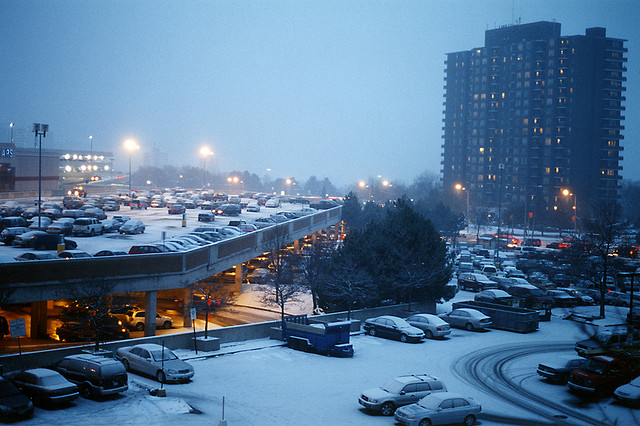 1. Beat the Crowds and Take the Farthest Parking Spot
Some of our tips are far more simple than others, and this one definitely represents one that just about anyone can do — but still, most choose not to. When you're fighting the crowds to get your last minute Christmas gifts this month, consciously decide to park the farthest away from the mall or shopping complex so you can get in a couple more minutes of active exercise. Sure, walking circles around the mall is also helpful, but voluntarily choosing to park far away will not only keep your body healthy, it'll keep your mind healthy. Almost nothing can drive a stressed shopper more crazy than trying to find the closest parking spot.
Even the Huffington Post highlighted "taking the first parking spot we see" as a characteristic that all fit people do.The report agrees that fitting in any extra exercise always pays off in the end.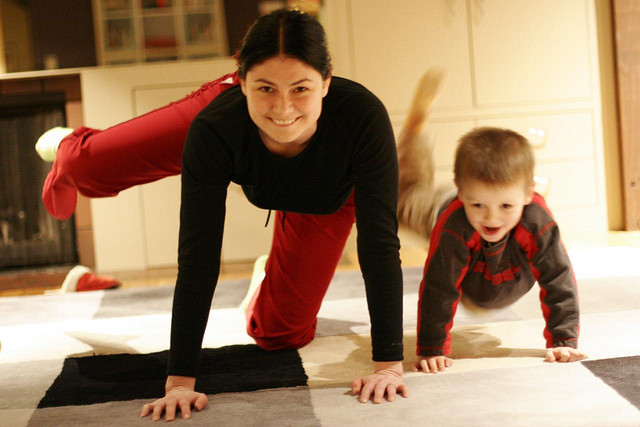 2. Do At-Home Exercises
In terms of more structured exercise, many consumers complain that they simply don't have time to make it to the gym once the Christmas season rolls around. But that's no excuse, because there's also home exercises to be done. Don't know where to begin? Start here.
Exercising at home can be just as effective as exercising in the gym because you can avoid distracting gym-goers and intimidating competition. You also don't have to commit to a set time period. If you only have 10 minutes to work out, jump rope in your living room for 10 minutes (hint: that's harder than it sounds). If you have 30, do a circuit of burpees, jumping jacks, and pushups, then repeat. All of the exercises outlined in the above article require no fitness equipment, just a good pair of running shoes and a mental will to stay in shape. Even if the only time you have to run stairs is during the commercials of your kids' favorite Christmas movies, those short time slots can add up to 45-minute workouts or more. Prevention.com even outlines three simple exercises you can get sweaty from during approximately six commercial breaks that last 3 minutes each.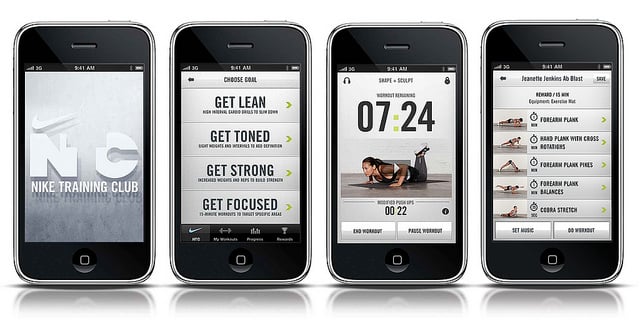 3. Take Advantage of Fitness Apps
Along those same lines, thanks to the rise of mobile apps and free exercise tutorials, there is no longer a need for personal trainers or even exercise facilities at all. Don't worry if you're spending all your extra cash this season on Christmas gifts and decorations, there's no need to spend money at the gym because many mobile fitness apps are now free for anyone and can be accessed on both your phone and PC. Take Nike Training Club, for example. This fitness app acts as your own personal trainer and provides free specialized workout plans for clients based on their goals and fitness levels they input at the beginning. Offering more than 100 custom-built workouts, the Nike app allows you to access NikeFuel and calorie data, and it also provides step-by-step instructions and video demonstrations of each drill in a workout to guide you through each step of your training.
If that's not impetus enough, we don't know what is. There's no need to skip the seasonal Christmas indulgences in fear that you'll never be able to work off the calories. With these accessible workouts, you can indulge (all in moderation), and then blast the fat with these outlined fitness plans, all while your waiting for your cookies to come out of the oven or for your relatives to arrive.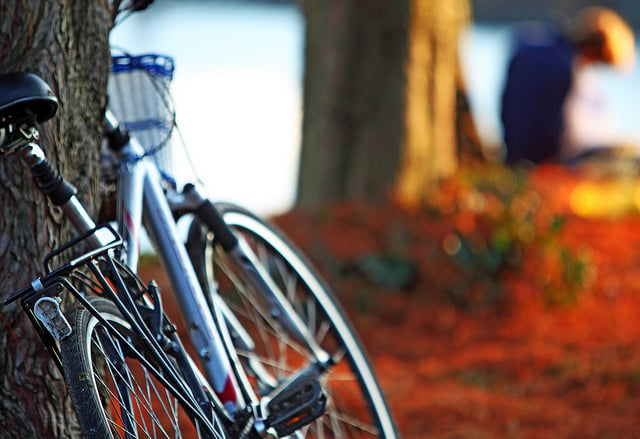 4. Walk to Work or During Your Lunch Hour
Next up is an easy one, but is still a tip that is not employed as much as it should be. Tis the season to not be lazy. That means making sure you are taking advantage of any extra opportunity to be on your feet. Read: walk or bike to work, and walk during your lunch hour. We know this is easier said than done for many, but for those who live in urban areas or are close enough to work to walk, ditching the Subway and taking the long way to work is an especially effective way to blast some calories before the day even begins and before you have to sit at a desk for eight straight hours. Of course, weather sometimes hinders any opportunity of walking to work, and it is always better to be safe than skinny, but if it is possible to commute to work on foot, it is an opportunity that should be taken advantage of.
One thing that also isn't so hard to do is take your 30 to 60 minute lunch break and go for a brisk walk, even if it means doing so in your work building. We're not encouraging you to skip lunch; we're encouraging you to either eat at your desk before, or after your break, and take advantage of those golden minutes of free time to get your blood pumping and your heart rate jumping. Sitting at a desk for hours on end is easier if you break it up with exercise, and while we're on the subject, it also wouldn't hurt to drink more water and excuse yourself for more restroom breaks. Those 5 minute trips to the bathroom can add up.

If you need even more of an incentive to get moving during your lunch break, a study highlighted by the Huffington Post reports that eating at your desk can make you more stressed and less creative. Somehow, we don't think stress is something you need a little more of this holiday season.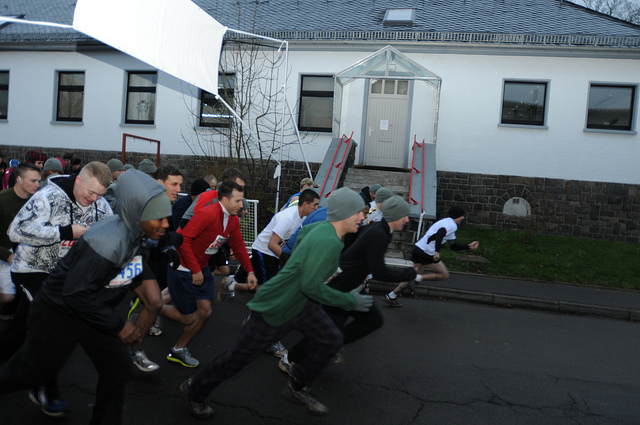 5. Organize a Family 5K
Lastly — something you can do to get your relatives out of your house, and out of your hair. Organize a family run, because everyone can benefit from those extra endorphins, even Buddy the Elf. Though running gets a bad rap from many, it is one of the best full-body workouts, and can be fun when you are doing it alongside those whom you love. A 5K might sound daunting, but it really is only 3.1 miles, and can be scaled up or down depending on your family's fitness level. So if you're looking for a new Christmas tradition, this could be it.
You don't have to get technical and require a payment of race fees (although you could), but you could make things fun and have everyone dress in ugly Christmas sweaters or tacky Christmas pajamas. The opportunities are endless, but whatever way you do it, you can finish the race with a new tradition, a good workout, and a heart full of endorphins. Especially if you're a Grinch, a holiday family 5K could make your heart grow three sizes just that day.
Don't Miss: 7 Scrumptious Christmas Cookie Cut-Outs to Make This Season.