5 Enticing and Affordable American Cities to Drive to This Summer
The lazy, hazy days of summer are on the horizon, and with the season comes plans for travel. CBS travel editor Peter Greenberg recently compiled a list of cities that are affordable summer vacations (based on travel costs, accommodations, etc.) and also within driving distance. But just what can you do in the five cities on the list Greenberg cultivated? We're glad you asked, because these destinations are brimming with potential for any vacation-goer. We've done a little digging to give you a brief overview of what you can expect when you load up the car and hit the road to one of these great holiday spots.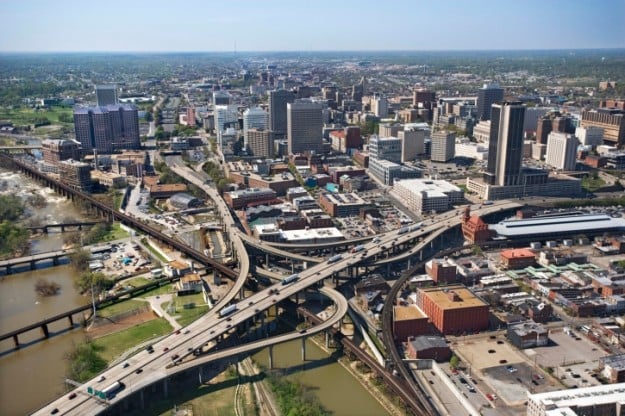 1. Richmond, Virginia
For half of the U.S. population, Richmond is just a day's drive (or less) away. That accessibility remains once you're actually in the city, too, according to Visit Richmond VA. As the seat of the Confederate government, Civil War history lovers will delight in battlefield tours, museums catering to life during the war, trails, cemeteries, and more than 500 historic markers explaining the city's Civil War past. Special events also take place throughout the year, so you'll want to check out what is going on around your dates of travel.
But don't think the best that Richmond has to offer comes from pieces of the past. Outdoor concerts are held from May to September, and the city has a thriving arts scene. Museums aren't solely for the Civil War; you can peruse a number of galleries. Since it is summer, you'll want to spend at least some of your time outside, and Richmond's gardens provide a picturesque setting for your fresh-air needs. You could also spend your days wandering around the unique shops of Richmond, viewing antiques and Virginia-made goods.
The city has several farmers markets, or you could wind your way down the Canal Walk, which will give you a taste of history and spectacular views of the city. Nearby, the Metro Richmond Zoo, Rockwood Nature Center, and Three Lakes Nature Center are great options for kids and adults alike, promising that no one will be bored on this trip. With all of those activities, you'll have worked up a massive appetite: Richmond has over 900 restaurants you can choose from. A mix of local restaurants and well-known chains serve every type of cuisine imaginable, including traditional Southern and international dishes.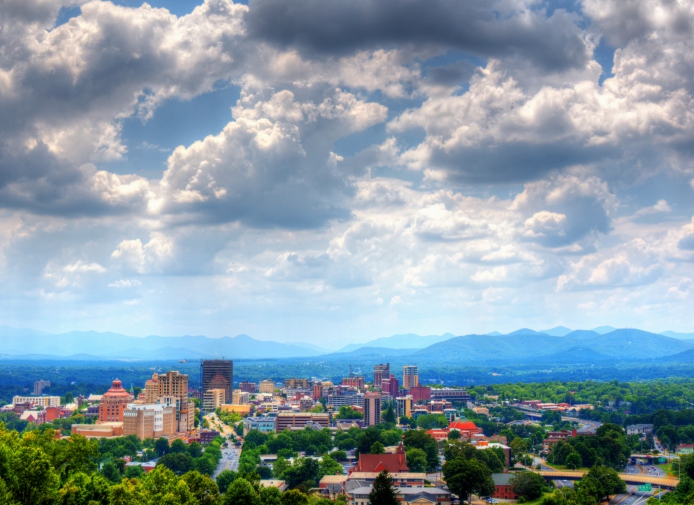 2. Asheville, North Carolina
Nestled in the Blue Ridge Mountains, you'll find Asheville, North Carolina. Don't let the location fool you: This isn't a sleepy Southern town that can be overlooked when planning a vacation. For every lifestyle, Explore Asheville explains, there are more activities than can be packed into a short stay. Starting with outdoor adventures, your trip to Asheville might include hiking one of the area's 26 trails, visiting a state or national park, stargazing, or zip-lining your way through the mountains. Of course, you may appreciate looking at nature but not necessarily being in nature. From the seat of a car, you can marvel at breathtaking views of the Blue Ridge Parkway, watching as mountain ranges unfold before your eyes.
A touch of history and plenty of style can be found in Asheville, too. "America's Largest House," the Biltmore, is located in Asheville, and a day can easily be spent wandering the 250-room home and expansive gardens. For a more modest, less Gastby-esque home tour, visit the Smith-McDowell House, Asheville's oldest residence. Here, time and space are altered as you step into the different rooms, which reflect different periods of its history. Art deco architecture abounds around the city, including at the Basilica of St. Lawrence, a beautiful Catholic church.
It would be remiss to talk about Asheville without mentioning the culinary delights that await visitors. Like Richmond, Asheville isn't just about Southern food — although you can find plenty of that, too. In addition to the barbecue and biscuits are chefs who have crafted farm-to-table menus, taken organic ingredients into consideration, and are inspired by the flavors of the Mediterranean. Crafting menus isn't the only crafting activity that takes place here: craft beer and breweries are a thriving industry, and the city has roughly one brewery per 8,000 people — the most per capita breweries of any city in the U.S. You can sip an Asheville brew as you take in live music downtown as the perfect local nightcap to a day spent exploring. For the under-21 and non-drinking crowd, there are a number of coffee houses to choose from for a bit of Asheville-based flair for your drinks.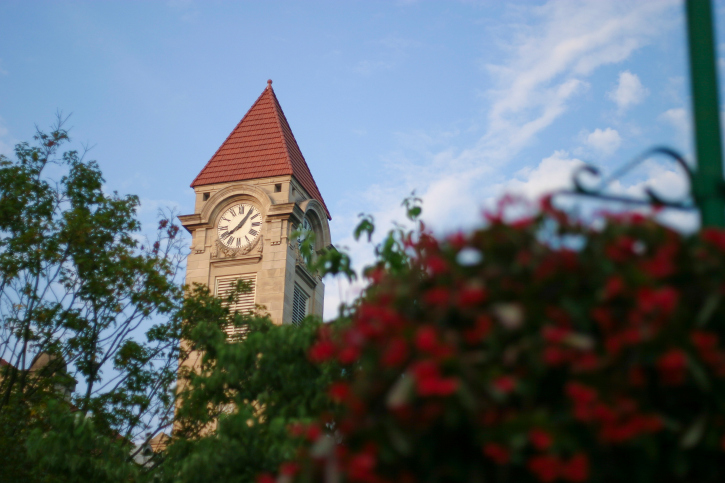 3. Bloomington, Indiana
Visit Bloomington immediately calls to attention the fact that this is a college town, and that that's a huge positive for residents and visitors alike. Because of the University of Indiana, there is an array of cultural opportunities located throughout Bloomington. All of that culture is packed into a close community, creating a friendly, welcoming vibe. In the downtown area, you'll discover museums, art galleries, vintage clothing shops, parks, and restaurants. History and architecture go hand-in-hand at the Monroe County Courthouse and City Hall. On the courthouse lawn sit a variety of monuments, and inside City Hall is an art gallery with monthly exhibits. Next to City Hall is southern Indiana's largest farmer's market, which transforms the plaza into a vibrant shopping center filled with food, crafts, flowers, tastings, and music. While you're downtown, you'll want to eat at one of numerous restaurants or visit a brewery or winery, or see a live music performance.
Leaving downtown, you can take advantage of one of the enriching experiences offered in Bloomington's cultural centers. The Tibetan Mongolian Buddhist Cultural Center was founded in the 1970s by the Dalai Lama's brother, and it offers retreats, classes, speakers, and other events. There is also the Neal-Marshall Black Culture Center, the Asian Cultural Center, and the Mathers Museum of World Cultures, which are affiliated with the university; they host events and exhibits throughout year. Local heritage is proudly displayed, too, with places like the Hinkle-Garton Farmstead Community Historic Site, which serves the community as a historical resource and as a reminder of the need for preservation.
Get your daily dose of vitamin D when you go to Bloomington by following one of the many trails or visiting a park like Yellowwood State Forest, which is just outside of Bloomington – you can camp, fish, hunt, picnic, or follow a trail throughout parts of it. There is also Cedar Bluff Nature Preserve, Cedar Creek Trail, and Monroe Lake to consider when figuring out just where in nature you'll be staying and playing while in Indiana.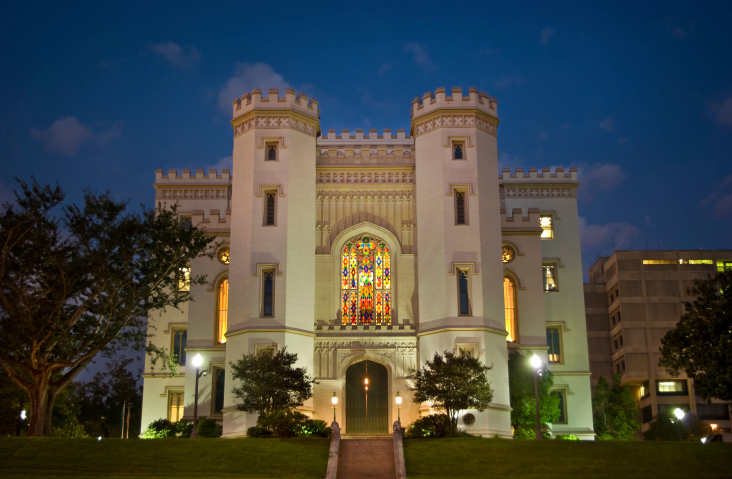 4. Baton Rouge, Louisiana
Stately antebellum mansions aren't just for looking at: Visit Baton Rouge says that you can experience what life was like in one when you tour Baton Rogue Plantation County. Plantations have been restored to capture their previous glory in an excellent display of Greek and and Federal architecture. At the Houmas House Plantation — the Sugar Palace — visitors can tour gardens, hear ghost stories, eat at Latil's in the rear wing of the house, and take tours. The restoration really does make it the "Crown Jewel of Louisiana's River Road" and one of several options when visiting the Baton Rouge region.
Arts and cultural events occur regularly, and a booming live music scene is a must-see. Baton Rouge didn't escape the foodie movement that has taken over America, but before diving into restaurants and bars, think about taking a cooking class while on vacation. It's a fun way to relax and improve your skills in the kitchen, and you will learn about classic Louisiana cuisine and learn how to prepare dishes so that a little bit of your Baton Rouge trip will always be just a few ingredients away. It isn't all about Louisiana, as other traditions have made their presence in this capital city. You could indulge in a Chicago-style hot dog at Al's or go international with Chinese food from 9 Dragon Noodle House.
Another college town, Baton Rogue is home to Louisiana State University, which has a museum that boasts 17,000 square feet of exhibition space where you can view permanent and rotating exhibitions. On Government Street, you can pop into an art gallery for a piece of art to take home with you (good thing this is a driving destination), or simply admire the works for sale. You could even paint your own Picasso at a painting party with Corks n Canvass. With so many "the more the merrier" activities possible, you'll need to load up the car with friends, family, and luggage and head down South this summer.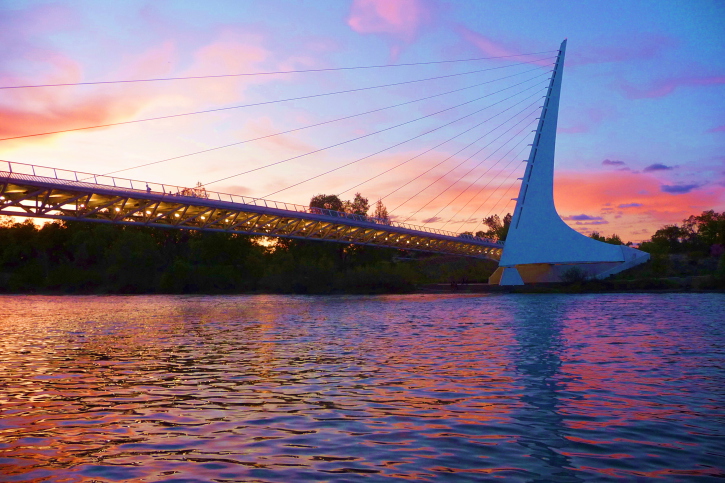 5. Redding, California
Giving the West Coast a little love, Redding was the last city to make Greenberg's list, and with wineries, bed and breakfasts, and parks galore on Visit Redding's website, it is easy to see how he settled on this California locale. The Sacramento River and two nearby lakes (Whiskeytown Lake and Shasta Lake) provide opportunities for water lovers to raft, boat, swim, paddle, or fish on their vacation. While you're at the river, you'll want to check out the Sundial Bridge, Spanish engineer Santiago Calatrava's first free-standing bridge in the U.S. Made of steel, granite, and glass, the bridge inspires feelings of weightlessness and is certainly an interesting experience to have in Redding. It connects the north and south sides of Turtle Bay Exploration Park, where you can spend countless hours in gardens, at the museum, or biking  When your legs are tuckered out from swimming and walking, hop on a Segway to tour the trails.
When you head indoors, the options are just as expansive as the acres of open-air amusement. The shopping scene specializes in everything from antiques to clothing at local boutiques, while art lovers will be able to take in local culture from the North Valley Art League. This nonprofit group is located in downtown Redding at the Carter House and promotes the sale of area artists' works. While you're downtown you could have a romantic dinner for two, eat a family friendly meal at an authentic Mexican restaurant, or sample seafood.
Also downtown, you'll find a number of entertainment options. In the summer, Viva Downtown Redding says a Market Street Faire takes place on Thursday evenings from 5 to 8. This event includes a mix of vendors and performers, and places the culture of downtown Redding at your fingertips. You can also visit several theaters, pop in on the Old City Hall and Shasta County Arts Council, or stay at the Bridgehouse Bed and Breakfast. To help further flesh out your Redding itinerary, the city has several agendas based on what is highest on your priority list when visiting.
More From Wall St. Cheat Sheet: