5 Healthy Alternatives to Common Meals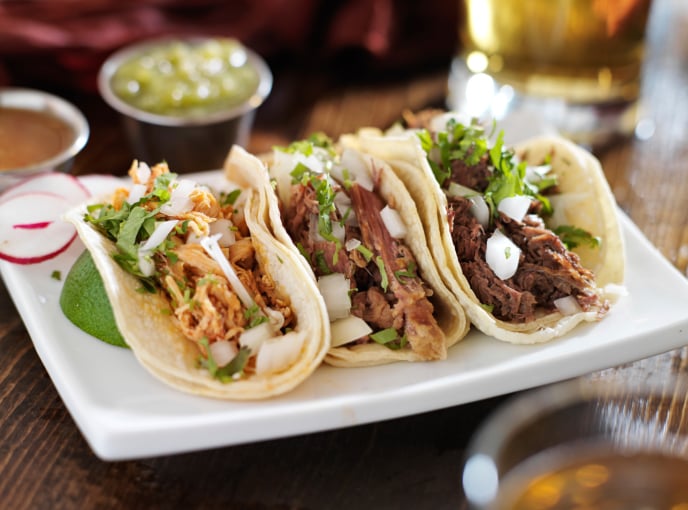 Many families turn to old favorites, such as mac and cheese and tacos, for dinner time. Unfortunately, some of these go-to meals aren't always made with the healthiest ingredients. But, the recipes are easy and taste delicious, so you can't help but make them week after week. The good news? Healthier versions of these recipes do exist, and they're just as easy to make (and taste just as good.) Just make sure you plan out your meals and shop accordingly to ensure you have your healthy ingredients on hand when it comes time to cook dinner, writes WebMD. With a few simple switches, you'll quickly be on your way to putting healthier food in front of your family. Try one of these five healthy recipes to start — you won't be disappointed.
Tacos
For your next meal, swap out your standard tacos for Andrea's chicken tacos instead, per America Now. The chicken is much healthier than beef, and the vegetables add more flavor, allowing you to cut back on the cheese and sour cream you usually pile on your taco.
Ingredients:
1 pound chicken (boneless/skinless breast)
4 green chiles
1/4 yellow onion
2 cloves garlic
1 bay leaf
Salt/pepper
Dry ground oregano
Directions: Roast the fresh green chiles by placing them in the oven under a high broil setting. Blacken each side, and then immediately place the blackened chiles in a large zip-lock bag for 10 minutes. Under running cold water, remove the blackened skin, stem, and (optional) seeds. Roughly chop the chiles into large chunks or strips.
Preheat the oven to 350 degrees Fahrenheit. Place the chicken in a large roasting pan, adding water (just enough water to cover the chicken.) Roughly cut one-fourth of a yellow onion into slices. Add to chicken. Finely chop two garlic cloves, adding to the chicken. Add salt and pepper to taste. Then add in about one teaspoon of oregano, followed by one bay leaf.
Cover and roast the chicken for about 1 hour, 30 minutes. Shred the chicken and return to the oven for an additional 30 minutes. Then, load your taco shells (preferably whole wheat) with the chicken, lettuce, and a touch of hot sauce for a delicious taco alternative.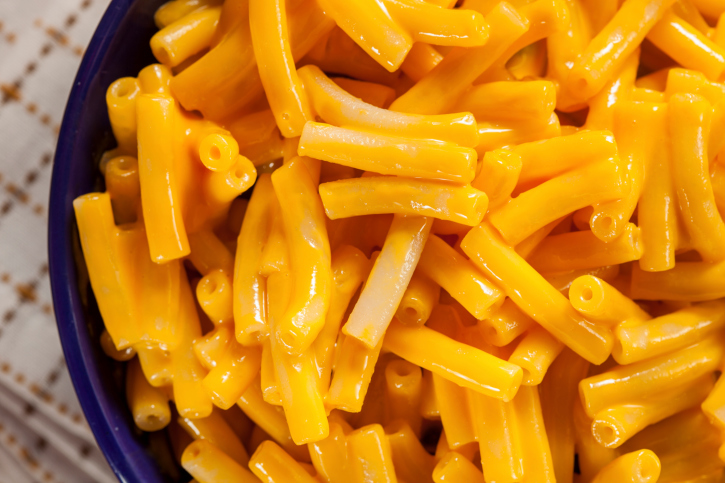 Mac and Cheese
According to Everyday Health, the easiest way to make mac and cheese healthier is through portion control. There are also several ingredient swaps you can make, too. "Use whole-wheat pasta, low-fat cheese, and individual baking dishes to turn this comfort food into a healthy recipe," per Everyday Health. You can also add pureed vegetables (cauliflower is a good one) to the casserole, and add bell peppers to boost the dishes flavor while making it more filling.
You can also opt for Everyday Health's low-fat macaroni and cheese dish, which makes six servings. Each serving has 203 calories, one gram of saturated fat, and 331 milligrams of sodium. 
Ingredients:
3/4 cup milk, fat-free evaporated
1 cup low-fat cottage cheese
1/2 cup low-fat ricotta cheese
1/2 cup low-fat cheddar cheese
1/2 teaspoon ground nutmeg
1 dash salt and black pepper
1 teaspoon Parmesan cheese
1 tablespoon bread crumbs (fine and dry)
1 pound cooked, elbow macaroni pasta
Directions: Preheat the oven to 350 degrees Fahrenheit. Heat the milk in a saucepan over low heat. Add the cheeses until they melt, stirring constantly. Stir in the nutmeg, salt, and pepper. Remove the cheese sauce from the heat. Add the cooked pasta to the cheese sauce and mix well.
Pour the mixture into a two-quart casserole dish. Sprinkle with Parmesan cheese and bread crumbs. Bake the casserole for 15 to 20 minutes until bubbly and the top is browned.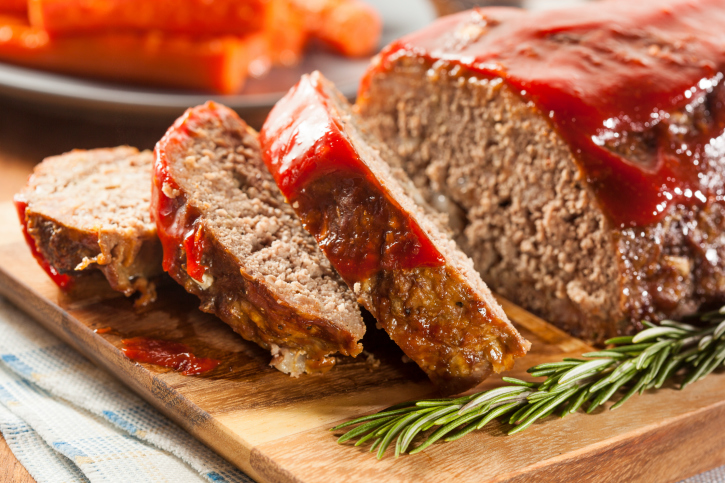 Meatloaf
Eating Well's healthy spin on meatloaf incorporates dried mushrooms "and the whole-grain goodness of bulgur increases the vitamins and minerals and decreases the saturated fat of this meatloaf." This recipe makes 10 servings and includes 313 calories, 10 grams of fat, six grams of fiber, and 467 milligrams of sodium.
Ingredients:
1 cup dried mushrooms, such as shiitake, porcini or chanterelle
1 cup bulgur (Bulgur is made by parboiling, drying, and coarsely grinding or cracking wheat berries. It just needs a quick soak in hot water for most uses.)
1 cup boiling water
2 teaspoons extra-virgin olive oil
1 small onion, chopped
1 stalk celery, chopped
2 cloves garlic, minced
1 tablespoon Worcestershire sauce
1 15-ounce can diced tomatoes, drained
1/2 cup nonfat evaporated milk
1/2 cup ketchup
1 large egg
2 large egg whites
1 1/2 pounds 90 percent-lean ground beef
1 cup fine dry breadcrumbs
1/4 cup chopped fresh parsley
2 teaspoons dried thyme
1/2 teaspoon salt
Directions: Place the mushrooms in a small bowl and cover with warm water, and let stand for 30 minutes. Combine bulgur with the boiling water in another small bowl and let soak until the bulgur is tender and the water has been absorbed, about 30 minutes. Remove the mushrooms from the liquid, trim the stems, and coarsely chop the caps.
Preheat the oven to 350 degrees Fahrenheit. Coat a baking sheet with cooking spray. Heat the oil in a small skillet over medium-low heat and add onion, celery and garlic. Cook, stirring occasionally, until the vegetables are softened, five to seven minutes. Add Worcestershire sauce and cook for three minutes, scraping the pan as the mixture becomes sticky. Add tomatoes, evaporated milk and ketchup, and stir to combine. Continue cooking until the mixture is very thick, about three minutes. Remove from the heat and let cool.
Whisk the egg and egg whites in a large bowl. Add beef, breadcrumbs, the soaked bulgur, the mushrooms, and the tomato mixture. Stir in parsley, thyme, and salt. Mix gently but thoroughly with your hands. Mound the meatloaf mixture into a free-form loaf on the prepared baking sheet. Bake until the internal temperature reaches 165 degrees Fahrenheit, approximately 50 to 60 minutes. Let it cool for 10 minutes before slicing and serving.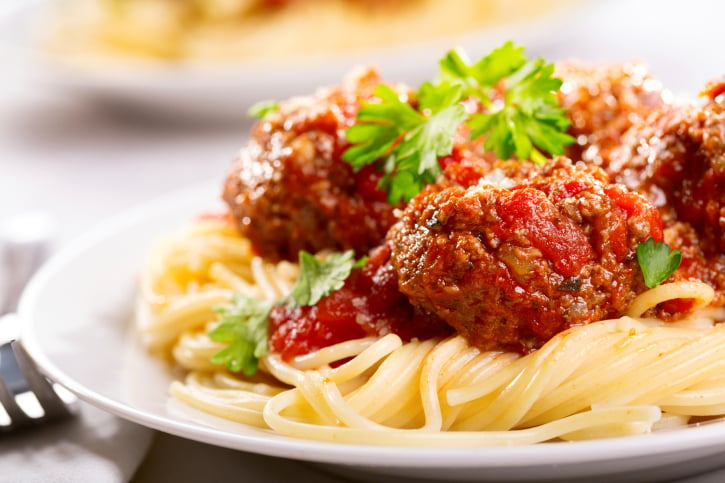 Spaghetti and Meatballs
Here is another popular meal you often see at family dinners. But this popular dish includes a lot of carbs and too much fat. Don't despair, pasta lovers — just try this healthier version instead, per The Dr. Oz Show.
Ingredients:
51 ounces marinara sauce
1/2 cup chopped onion
1 pound ground chicken breast
1/4 cup whole wheat flour
3/4 cup whole wheat bread crumbs
1/2 cup chopped broccoli
1/2 cup chopped onion
1/2 cup white mushrooms
1/2 cup tomato sauce
1 tablespoon chopped parsley
1 teaspoon dried basil
1 teaspoon garlic powder
1 teaspoon onion powder
1 pound whole-wheat spaghetti
1/2 cup Parmesan cheese
Directions: Combine the sauce ingredients in a 10-quart pot and set over low heat. Do not allow the sauce to boil. In a large mixing bowl, combine all the meatball ingredients and kneed well. Use a mini ice cream scooper or your hands to make 14 to 18 meatballs. If you're using your hands to make the meatballs, you might want to have cold water nearby or spray your hands with a little cooking spray. Spray a 14-inch pan with cooking spray, heat the pan and brown the meatballs on all sides.
Transfer the browned meatballs to the pot with the sauce. Raise the heat to medium and simmer for 30 minutes until the meatballs are cooked through. While the meatballs simmer, cook the spaghetti according to the package directions. Drain and divide among eight plates. Top the spaghetti with equal portions of meatballs and sauce. Sprinkle each portion with one tablespoon of Parmesan. Serve at once.
Hamburgers
With summer right around the corner, you can anticipate plenty of family grill-outs. But, rather than opt for a standard, fatty hamburger, try Health's caramelized onion veggie burger instead. Each delicious burger will only cost you 337 calories, and includes eight grams of fat and 653 milligrams of sodium. Enjoy!
Ingredients:
1 large garlic clove, chopped
1/2 pound cremini mushrooms, stems removed
1 tablespoon fresh thyme leaves
2 tablespoons olive oil, divided
1 large onion, chopped (about 3 cups)
1 cup canned lentils, rinsed and drained
3/4 cup whole-wheat breadcrumbs
1 large egg, whisked
1 teaspoon salt
1/2 cup yellow cornmeal
2 ounces goat cheese, crumbled (about 1/4 cup)
6 whole-grain buns
8 tomato slices (optional)
Fresh basil leaves (optional)
Directions: Pulse the first three ingredients in a food processor until finely chopped. Heat one tablespoon of oil over medium-high heat in a skillet. Turn the heat down to medium, and cook onion, stirring occasionally, about 15 minutes or until golden brown. Add the mushroom mixture, and cook, stirring, about two to three minutes or until liquid evaporates. Remove from heat, and let cool.
Stir the cooled mushroom mixture into lentils, and combine with the next ingredients (through salt) until well-combined. Form the mixture into six patties (about one-half cup each.) Put cornmeal on a shallow plate, and coat burgers evenly. Heat the remaining one tablespoon oil in a nonstick skillet over medium heat, and cook burgers about three minutes or until golden brown on the underside. Flip burgers, and top with cheese. Cook about three minutes more or until golden brown and cheese is melted. Serve burgers on buns topped with tomato and basil, if desired.
More From Wall St. Cheat Sheet: