5 Hearty Bread Salads to Serve for Lunch or Dinner
Looking for a hearty salad to appease your appetite? Ditch the greens, and instead opt for one that is chock-full of chunks of bread. Not only does it give you an opportunity to put your stale bread to good use, but it also creates a salad that has a satisfying crunch and texture. Dressings, vinaigrette, and juices will soak into your bread pieces, ensuring your salad is filled with great flavor. Read on — you won't want to miss these 5 bread salad recipes!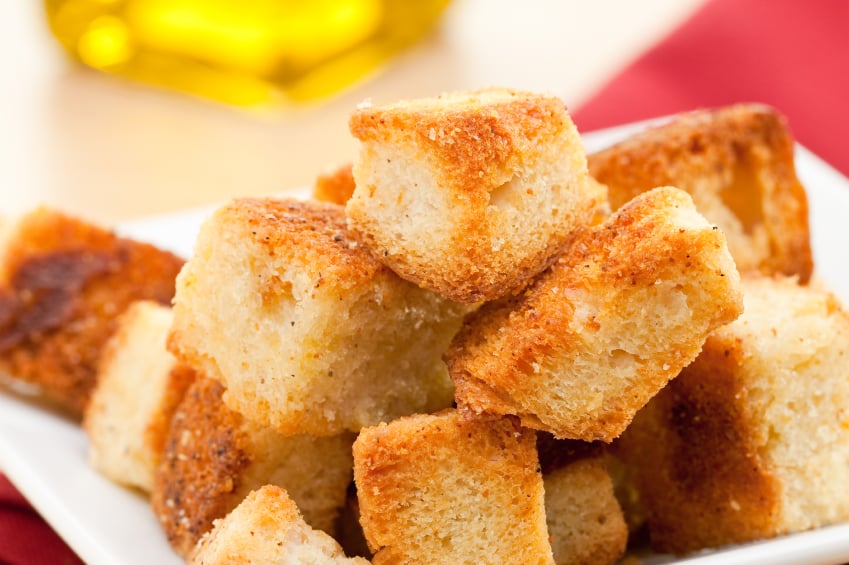 1. Pan-Roasted Salmon-and-Bread Salad
Chunks of salmon combine with crunchy ciabatta bread, tomatoes, capers, and lemon, creating a unique dinner dish that will fill you up. To prepare Food & Wine's recipe, start by lightly toasting the ciabatta pieces; meanwhile, in a large bowl, toss the tomatoes with garlic, capers, lemon, parsley, pepper, and olive oil. Stir the mixture into the bread, and roast until the tomatoes begin to soften. Finally, add the salmon to the bread mixture, roasting for a bit longer, until the fish is just cooked. The end result is one that is fragrant, healthy, and delicious.
Ingredients:
8 (1-inch-thick) slices of ciabatta (from a 12-ounce loaf), cut into large chunks
5 tablespoons extra-virgin olive oil
2 pints grape tomatoes, halved
2 large garlic cloves, minced
2 tablespoons salted capers, rinsed and coarsely chopped
1 lemon, halved lengthwise and very thinly sliced
¼ cup chopped flat-leaf parsley
½ teaspoon crushed red pepper
Kosher salt and freshly ground pepper
2 pounds center-cut skinless salmon fillet, cut into 2-inch chunks
Directions: Preheat the oven to 450 degrees Fahrenheit. In a large roasting pan, toss the ciabatta chunks with 2 tablespoons of the olive oil. Roast for about 5 minutes, until the bread is lightly toasted. In a large bowl, toss the tomato halves with the garlic, capers, lemon, parsley, crushed red pepper, and 2 tablespoons of the olive oil; season with salt and pepper.
Stir the tomatoes into the toasted bread. Roast for 10 to 12 minutes, until the tomatoes begin to soften and break down. Meanwhile, in the same bowl, toss the salmon with the remaining 1 tablespoon of olive oil and season with salt and pepper. Nestle the salmon into the bread and tomatoes, spooning some of the tomatoes on top. Roast for about 6 minutes, until the salmon is just cooked through. Serve right away.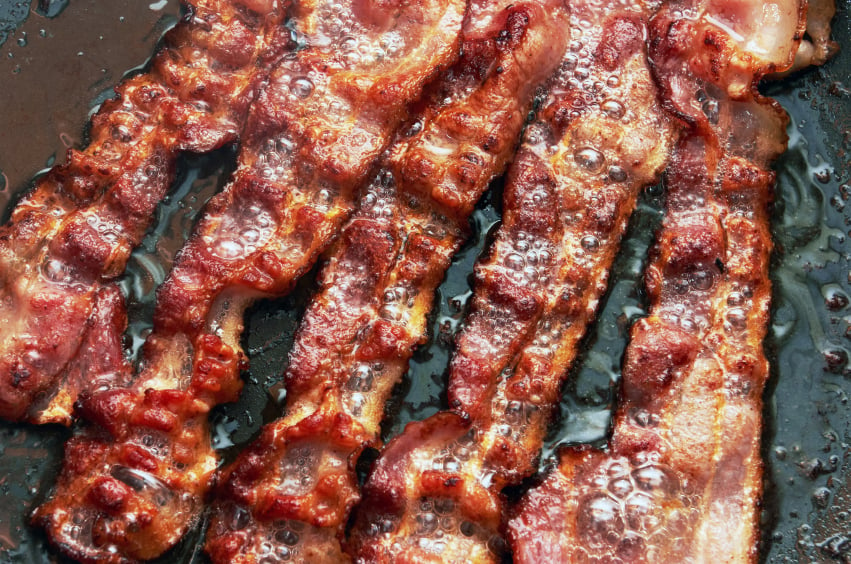 2. BLT Bread Salad
Enjoy a classic BLT sandwich in salad form with Cooking Light's recipe. Chunks of French baguette are transformed into large croutons, and paired with bacon, lettuce, tomatoes, onions, and a zesty vinaigrette. Each serving has 315 calories, making this a great diet-friendly option to enjoy for lunch or dinner.
Ingredients:
6 ounces French bread baguette, cut into ½-inch cubes
Cooking spray
4 slices hickory-smoked bacon
1 tablespoon olive oil
¼ cup red wine vinegar
¼ teaspoon freshly ground black pepper
⅛ teaspoon salt
6 cups torn romaine lettuce
1½ pounds plum tomatoes, cut into ½-inch wedges
3 green onions, thinly sliced
½ cup (2 ounces) crumbled feta cheese
Directions: Preheat oven to 350 degrees Fahrenheit. Layer bread on a baking sheet; coat with cooking spray. Bake at 350 degrees for 18 minutes or until toasted. Cook bacon in a large nonstick skillet over medium heat until crisp. Remove bacon from pan, reserving 1 tablespoon drippings in pan.
Cut bacon into ½-inch pieces. Stir oil into bacon drippings in pan; remove from heat. Stir in vinegar, pepper, and salt. Combine lettuce, tomatoes, and onions in a large bowl; drizzle with vinaigrette. Add bread; toss well to coat. Sprinkle with bacon and cheese. Serve immediately.
3. Grilled Eggplant, Corn, and Bread Salad with Tomato-Basil Vinaigrette
Filled with fresh, sweet, and smoky flavors, this dish will quickly become one of your favorites. Grilled eggplant and charred corn contrast wonderfully with basil and a tomato vinaigrette, creating a dish your dinner guests will love. Adapted from Dina Cheney's cookbook, New Flavors for Salads, Williams-Sonoma's recipe serves 6 to 8.
Ingredients:
2 large ripe tomatoes, about 1 pound total
6 tablespoons thinly sliced fresh basil
2 tablespoons balsamic vinegar
8 tablespoons extra-virgin olive oil
2 large garlic cloves, minced
½ teaspoon sea salt, plus more, to taste
Freshly ground pepper, to taste
3 ears of corn, husks and silk removed
2 large eggplant, about 2½ pound total, cut crosswise into slices ½-inch thick
1 loaf pane pugliese or other coarse country bread, cut into 1-inch cubes (about 4 cups)
Directions: Bring a saucepan two-thirds full with water to a boil over high heat. Fill a bowl two-thirds full with ice water. Using a paring knife, score an X on the bottom of each tomato. Drop the tomatoes into the boiling water and heat until the skins loosen, 15 to 30 seconds. Using a slotted spoon, transfer the tomatoes to the ice water and let stand until cool. Remove the tomatoes from the ice water and pull off the skins. Core the tomatoes and halve them crosswise. Gently squeeze each half to ease out the seeds, then coarsely chop the tomato flesh. You should have about 1½ cups chopped tomatoes.
Transfer the chopped tomatoes to a nonreactive bowl. Add 2 tablespoons of the basil, the vinegar, 1 tablespoon of the olive oil, the garlic, the ½ teaspoon salt, and several grinds of pepper. Using an immersion blender, process until a chunky vinaigrette forms. Adjust the seasonings with salt and pepper. Set aside. Prepare a medium-hot fire in a grill. Brush the ears of corn on all sides with 1 tablespoon of the olive oil and season with salt and pepper. Brush the eggplant slices on both sides with the remaining 6 tablespoons olive oil and season both sides with salt and pepper.
Grill the eggplant slices, turning once, until softened and grill-marked on both sides, about 12 minutes total. Transfer to a cutting board. Grill the corn, turning frequently, until charred in spots, 10 to 12 minutes. Transfer to the cutting board. Cut the eggplant slices into ¾-inch pieces. Using a chef's knife, cut the ears of corn in half crosswise. Stand each half, flat end down, on a cutting board and cut the kernels from the cob. Alternatively, remove the kernels using a kernel cutter.
In a large bowl, combine the eggplant, corn kernels, the remaining 4 tablespoons basil, and the bread cubes. Pour in the tomato vinaigrette and stir well. Transfer to a platter or serving bowl and serve immediately.
4. Chili Corn Bread Salad
Perfect for potlucks, Taste of Home's Chili Corn Bread Salad will feed (and fill up) a large crowd. It's also relatively easy to make: Prepare the corn bread batter, stir in chilies, cumin, oregano, and sage, and bake. Crumble half of the corn bread into a dish, layer with beans, a mayo mixture, corn, tomatoes, pepper, onions, bacon, and cheese, repeat the layers, and cover and refrigerate for about 2 hours. The recipe makes 12 servings, but don't expect to have many leftovers — this delicious dish will go quickly!
Ingredients:
1 (8½-ounce) package corn bread/muffin mix

1 (4-ounce) can chopped green chilies, undrained

⅛ teaspoon ground cumin

⅛ teaspoon dried oregano

Pinch rubbed sage

1 cup mayonnaise

1 cup (8 ounces) sour cream

1 envelope ranch salad dressing mix

2 (15-ounce) cans pinto beans, rinsed and drained

2 (15¼-ounce) cans whole kernel corn, drained

3 medium tomatoes, chopped

1 cup chopped green pepper

1 cup chopped green onions

10 bacon strips, cooked and crumbled

2 cups (8 ounces) shredded cheddar cheese
Directions: Preheat oven to 400 degrees Fahrenheit. Prepare corn bread batter according to package directions. Stir in chilies, cumin, oregano, and sage. Spread in a greased 8-inch square baking pan. Bake at 400 degrees Fahrenheit for 20 to 25 minutes or until a toothpick inserted near the center comes out clean. Cool.
In a small bowl, combine mayonnaise, sour cream, and dressing mix; set aside. Crumble half of the corn bread into a 13-by-9-inch dish. Layer with half of the beans, mayonnaise mixture, corn, tomatoes, green pepper, onions, bacon, and cheese. Repeat layers. Cover and refrigerate for 2 hours.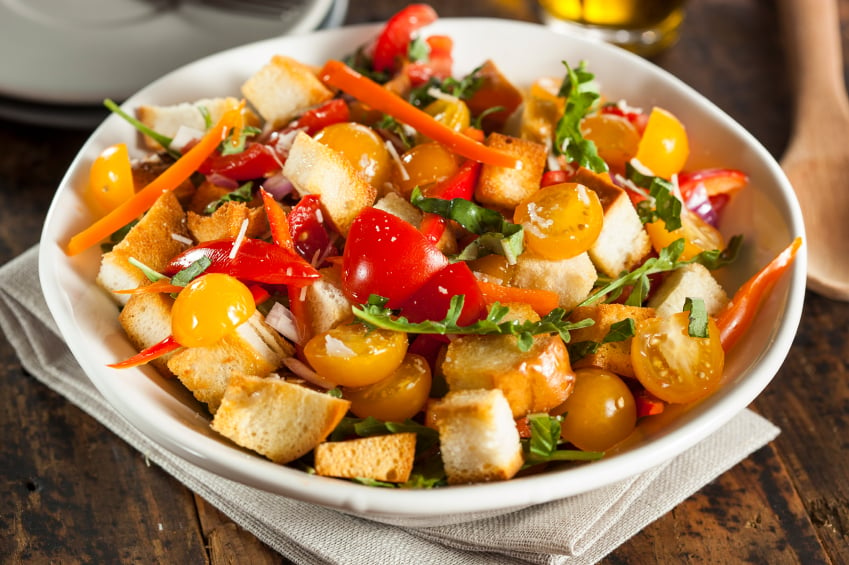 5. Panzanella Bread Salad
Simply Recipes shows you how to whip up a classic Tuscan bread salad, which takes advantage of superb summer produce. The bread absorbs juices from the tomatoes and cucumbers, ensuring every bite you take is bursting with fresh flavors. The recipe serves 6 to 8.
Ingredients:
4 cups tomatoes, cut into large chunks
4 cups day-old crusty bread (Italian or French loaf), cut into chunks the same size as the tomatoes
1 cucumber, skinned and seeded, cut into large chunks
½ red onion, chopped
1 bunch fresh basil, torn into little pieces
¼ to ½ cup good olive oil
Salt and pepper to taste
Directions: Mix all of the ingredients together and let marinate, covered, at room temperature for at least 30 minutes or up to 12 hours. Serve at room temperature.
More from Life Cheat Sheet:
Want more great content like this? Sign up here to receive the best of Cheat Sheet delivered daily. No spam; just tailored content straight to your inbox.