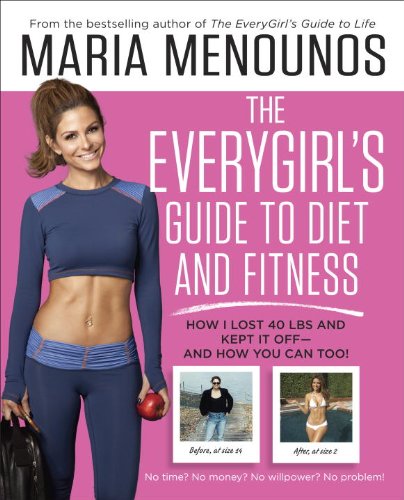 Summer weather has finally arrived, causing many of us to rev up our diet and fitness routines in preparation for swimsuit season. Sometimes the easiest way to achieve your diet and fitness goals is by following a plan that lays out exactly what you should be eating and how you should be working out. From following a Mediterranean diet to eliminating wheat, this collection of health books includes something for everyone. Ready to take the first step toward living a healthier lifestyle? Check out this list of must-read health books hitting the shelves this summer.
1. The EveryGirl's Guide to Diet and Fitness: How I Lost 40 lbs and Kept It Off — And How You Can Too!
Maria Menounos, host of Extra, kicks off this list with the June 3 release of her book, The EveryGirl's Guide to Diet and Fitness. The book details the importance of following a Mediterranean diet, designed to get women to look at weight-loss and healthy eating as a lifestyle change rather than a restrictive diet. Why should you bother to hear what she has to say? She based this diet on her firsthand experiences.
Menounos struggled with her weight in the past; there was actually a time when she was more than forty pounds overweight. Frustrated with her low energy and poor immune system, Menounos tried every diet that was available, having very little success. Finally, Menounos decided to take matters into her own hands. She spent a year developing a commonsense diet, realistic exercises, and lifestyle techniques. Guess what? It worked for her, and she was able to shed those pesky pounds. In her book, Menounos is sharing her secrets, along with tips and input from some of the world's leading health and fitness experts, to bring readers a realistic diet plan. 
The book details a nine-step weight loss plan, easy and healthy recipes, and quick and effective workouts, along with other tips and tricks for losing weight, getting fit, and maintaining it. For example, Menounos acknowledges there will be times you can't get in an hour-long workout at the gym. So, what should you do? "There will be times when you can't fit in exercise, so you have to figure out a way to make it work. One way I do it is something I've coined 'convenience conditioning.' I make sure I'm getting in my workout throughout the day. When I'm in the office, I'm not sauntering from spot to spot, I'm speed walking. I'm always moving, which is why I'm able to maintain my figure without being a gym rat," Menounos shares with Shape.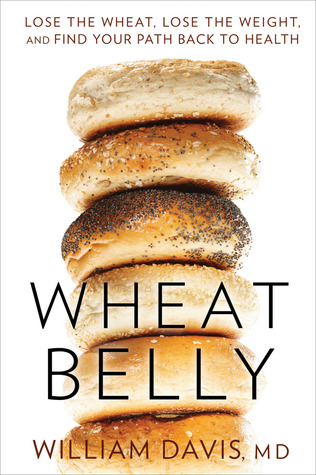 2. Wheat Belly: Lose the Wheat, Lose the Weight, and Find Your Path Back to Health
Another June 3 release, Wheat Belly is by author and cardiologist William Davis. Americans consume a ton of wheat (over 200 million Americans consume wheat daily), and Davis believes it's significantly impacting our health, causing mysterious rashes, high blood sugar, and stomach bulges. Davis says these health ailments, along with America's obesity epidemic, can all be linked to one thing: whole grains. But he's not just basing this on speculation — he has the research and facts to back up his findings. Over the years, Davis has had countless patients who were overweight and sick, but regained their health after giving up wheat. 
Davis details the harmful effects of eating wheat, and breaks down an easy step-by-step plan for readers to follow to live a wheat-free lifestyle. A Web MD review writes that the diet involves eliminating all wheat, such as bread, pasta, cereal, pretzels, and doughnuts, as well as anything with wheat, barley, rye, spelt, and certain oats. Davis also suggests cutting out food such as high-fructose corn syrup, sucrose, salt, sugary foods, rice, potatoes, soda, fruit juice, dried fruit, and legumes.
So, what can you eat? All vegetables, some fruit, raw nuts, and ground flaxseed, to name a few. In addition, you can also chow down on grass-fed, humanely raised meat and eggs; full-fat cheese; as well as limited quantities of full-fat, unsweetened cottage cheese, yogurt, milk, and butter; soy in its fermented forms (tofu, tempeh, miso, and natto); and olives, avocados, pickled vegetables, and raw seeds. 

3. The Yoga of Food: Wellness from the Inside Out
Set to be released June 8, The Yoga of Food: Wellness from the Inside Out, emphasizes the importance of feeling connected to your body. Author Melissa Grabau, who is also a psychotherapist, writes about her battles with eating disorders that she's had since she was a kid. However, by living a yoga lifestyle, Grabau has transformed her way of thinking, and now feels connected to food and her body. The book mixes yoga philosophy with contemplation prompts and meditation in an effort to help readers develop an appreciation for their bodies.
According to Publishers Weekly, "The book includes her experiences, anecdotes from her clients, and quotes from yoga master B.K.S. Iyengar. Although Grabau is trained as a yoga teacher, readers will find neither asana instruction nor recipes here, though she encourages readers to move from a 'SAD' (standard American diet) to an alkalizing diet with more fiber, veggies, and complex carbs (she calls it 'GLAD' — guzzling lettuce, arugula, and dates.) Grabau wants readers to relate to food in a conscious, loving, and mindful manner."

4. The Fast Beach Diet: The Super-Fast Plan to Lose Weight and Get In Shape in Just Six Weeks
The Fast Beach Diet is set to hit bookstores June 24. Containing a foreword by Dr. Michael Mosley, who wrote The Fast Diet (a New York Times bestseller), this book focuses on a modified, high-intensity version of Mosley's plan, written by Mimi Spencer. What exactly is the Fast Diet? You eat as you normally would for five days a week. Sounds easy, right? The other two days are where the diet comes into play. For those two days, you consume a quarter of your normal calorie intake, which is around 500 calories for women and 600 calories for men, resulting in modified, intermittent fasting. "I've written the Fast Beach Diet to be used as a primer for the summer holidays; the idea is to start the six-week regime in May, June, or July, in good time for takeoff (that's clothes, not planes.) The longer, brighter days and fresher produce of late spring and early summer make it an ideal time to embark or improve upon a weight-loss program. And, as we've already established, there's nothing like an approaching bikini — or T-shirt — to make you think twice about that piece of pie," Spencer says in a Mail Online article. 
The weight loss plan includes plateau-busting techniques, methods to help you become a conscious eater, habit-changing techniques, a high-intensity training plan that can be done in less than 10 minutes a day, and a bunch of new calorie counted recipes.

5. The Paleo Approach Cookbook: A Detailed Guide to Heal Your Body and Nourish Your Soul
The Paleo Approach, by Sarah D. Ballantyne, hits bookstores August 26. If you're suffering from an autoimmune disease, Ballantyne says she can help. By following a Paleo diet, you can calm your immune system, reduce inflammation, and help your body heal itself. This book walks you through the foods you should be eating, and Ballantyne breaks it down, taking a budget friendly approach. She says taking a Paleo approach doesn't need to be pricey, and she details many tips throughout on how to make the switch as easy and economically friendly as possible. The book even includes complete food lists, shopping guides, and meal plans. Ballantyne didn't forget about those who may not be very kitchen savvy, either. She walks you through essential kitchen techniques — from chopping vegetables to using a pressure cooker safely, giving you the confidence to push forward and make your own healthy meals.
More From Wall St. Cheat Sheet: